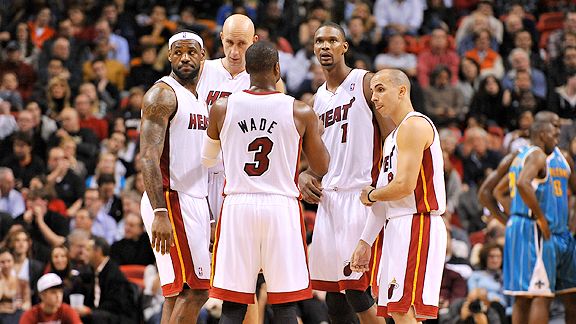 James Riley/NBAE/Getty Images
The Heat begin the second half of their regular season on Saturday night in Chicago.
CHICAGO -- It's the midway point of the season for the Miami Heat. So that can mean only one thing: The midterm grades are in.
Despite literally limping into the second half of the season, which starts with Saturday's game against the Chicago Bulls, the Heat's season has been defined so far by the team's ability to regain its footing after stumbling from the gate with that 9-8 start.
At 30-11, the Heat have matched their best start in franchise history through 41 games and are right on the Boston Celtics' heels for the best record in the Eastern Conference. Along the way, Miami has had to overcome injuries to key players, chemistry issues with Dwyane Wade, LeBron James and Chris Bosh and inconsistent play from its battered bench.
The highlight through the midway point of the season was a recent stretch during which the Heat won 21 of 22 games, including 13 in a row on the road. But Miami enters Saturday's game coming off consecutive losses to the Los Angeles Clippers and Denver Nuggets, and could be without James for a second straight game as he recovers from a sprained left ankle.
James, who continued to receive treatment on the ankle Friday, is listed as day-to-day.
Heat coach Erik Spoelstra has seen plenty of improvement, but believes his team remains very much a work in progress as the process continues to reach Miami's championship potential.
"We've gotten better," Spoelstra said in evaluating his team halfway through the 82-game schedule. "We've gone through enough that it's built some toughness and resiliency. Now, the next 20 games or so for us should be about finding that next level of improvement. We have to move on from these two [losses], but we can't absolutely forget what happened. We need to collect ourselves now."
As the Heat begin the second half of the season, we grade the players, coach and team president for the work they've put in to the midway point.
Joel Anthony: C. Being demoted and replaced by Zydrunas Ilgauskas 10 games into the season as the starting center was best for Anthony, whose lack of size and skill contributed to him struggling with the first team. A better fit off the bench, Anthony remains one of the NBA's top shot-blockers per minutes played.
Carlos Arroyo: B. Yes, the point guard position is the weakest link. But Arroyo's assist-to-turnover ratio is nearly at 3-to-1, and he improved his shooting to rank among the league's leaders in 3-point accuracy (.459). Arroyo is not as bad as some make him out to be at times.
Chris Bosh: B+. Once Bosh found his rhythm, embraced his role and rediscovered his confidence after a rough start, he became the Heat's most consistent and efficient player. His overall numbers aren't where they were in Toronto, but neither is the loss total. He still needs to operate more in the low post.
Mario Chalmers: C-. An offseason ankle injury, early season conditioning concerns and a lack of consistency on both ends of the court led to a disappointing first half for Chalmers. The Heat were hoping for a breakthrough of sorts in his contract season. But Chalmers remains a work in progress.
Erick Dampier: C. Was brought in to add needed bulk on the front line and is the third option in a center-by-committee approach. Dampier hasn't necessarily delivered much in limited minutes. But he hasn't really disappointed, either. His contributions should increase in the season's stretch run.
Udonis Haslem: I. Haslem was the team's leading rebounder when he suffered a season-threatening foot injury that required surgery Nov. 23. His grade is incomplete. A possible return in late March or April could be a boost to Miami's playoff push. The Heat could use his toughness and leadership.
Eddie House: C. House certainly didn't sign on to sit at the end of the bench. But that's exactly his predicament, with Chalmers, James Jones and, now, Mike Miller ahead of House as the team's primary 3-point shooters. Will he want out via trade or release? Or is House willing to patiently wait his turn?
Juwan Howard: C+. Howard was brought in to be a solid locker room presence and a valuable asset in practice. But Haslem's injury has forced him into a rotation role as Bosh's backup at power forward. Howard has defended and rebounded well enough to convince the Heat to hold off on a roster move.
Zydrunas Ilgauskas: B. Big Z didn't sign up for this, either. He followed LeBron from Cleveland and would have been content with a spot-duty role off the bench. Instead, he's been thrust into the starting lineup. He's scored in double figures six times and finished with at least eight rebounds in nine games.
LeBron James: A. With three triple-doubles, tons of highlight plays and stretches of dominance on both ends of the court, James certainly has brought his talents to South Beach. He's performed up to the initial hype and expectations. The boos and controversy haven't hurt his game; they've enhanced it.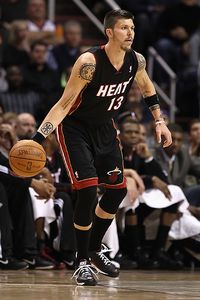 Christian Petersen/Getty Images
Mike Miller hasn't gotten on track since returning.
James Jones: C+. Two weeks ago, this would have been a "B" for Jones. But his shooting has failed him a bit lately. Jones hasn't allowed that to affect his defense. He leads the Heat in charges drawn. His solid start and play on both ends has allowed him to hold off Miller and House to stay in the rotation.
Jamaal Magloire: A. He's been relegated to the "inactive list" as the odd man out in that center-by-committee rotation. But Magloire made his biggest contribution of the season with that forearm shiver as Ron Artest ran into the Heat bench during Miami's blowout victory against the Lakers on Christmas.
Mike Miller: C-. Credit Miller, who worked his tail off to return sooner than expected from preseason thumb surgery. But he's had a tough time finding playing time and getting into a rhythm. Miller, primarily signed to stretch the floor for James, Wade and Bosh, has struggled with his shot and seems lost so far.
Dexter Pittman: B. This grade is based on the work Dex put in to get his body in NBA condition. He's had two stints in the D-League to work on his game, and the rookie has put up impressive numbers. Pittman's time will come next season, with Anthony the lone center guaranteed beyond 2010-11.
Dwyane Wade: A. With LeBron and Bosh helping with the heavy lifting, Wade has regained his status as arguably the league's best finisher. The relentless attack is back. Wade shared NBA player of the month with James in December, when he averaged 27.8 points and shot 54.3 percent from the field.
Erik Spoelstra: B+. When you've got LeBron, Wade and Bosh on the roster, success is inevitable. But Spoelstra's leadership, resolve and ability to hold his stars accountable have been remarkable. He withstood the storm amid the 9-8 start, tweaked his rotation and has Miami rolling at the midway point.
Pat Riley: A. At some point, it would be nice if Riley came out and offered his public evaluation of this team. But until then, you can judge the Heat's president only on his actions. Even with the Big Three in place, Riley might have to make a move by the trade deadline to strengthen Miami's subpar bench.