Ten questions facing the Miami Heat
February, 2, 2011
2/02/11
10:18
AM ET

By Michael Wallace
ESPN.com
Archive
As the Miami Heat approach the All-Star break, 50-game mark and stretch run of the season, ESPN.com's Heat Index writer Michael Wallace examines 10 key questions facing the team the NBA loves to hate.
Injuries: Can the Heat hold up down the stretch?
While it might be a stretch to suggest the Heat are soft, it's safe to say they're a bit fragile. LeBron James (ankle), Chris Bosh (ankle), Dwyane Wade (knee, wrists), Mike Miller (thumb) and Udonis Haslem (foot) are all dealing with nagging to serious injuries that have prevented the Heat from being whole -- meaning all five of their top players being available at the same time. But the silver lining is that the injuries, particularly to James, Bosh and Wade, have come in the middle of the season during a favorable stretch in the schedule. With Haslem aiming for a late March return from foot surgery, there remains hope that the Heat team that broke training camp on that military base in October will eventually come together again in time to build some momentum going into the playoffs.
Trust: Does Erik Spoelstra trust LeBron James?
Forget the code words and the recent tiptoeing around the touchy subject. It's time to come right out and tell it like it is. Spoelstra has repeatedly used the term "trust" over the past week or so to refer to his team's need to make the extra pass and run through sets as diagrammed. What he's saying, in essence, is that LeBron James needs to quit playing hero ball. James has progressed from saying he didn't know what Spoelstra meant by "trust" after a Jan. 18 home loss Atlanta, to embracing the concept enough to pass to Mario Chalmers and Eddie House in key spots over three consecutive games with the outcome in the balance. The bottom line is that Spoelstra and James need to meet somewhere in the middle. LeBron has a capable supporting cast beyond Wade and Bosh. But Spoelstra also has a two-time, reigning MVP whose instincts and judgment are as good as that of anyone who's played the game.
Statement game: Is Thursday's Heat-Magic showdown a big deal?
The Heat and Magic have split their first two games and sit atop the toughest division in the Eastern Conference. These teams despise one another, from the executive suites down to the last man in the playing rotation, which makes it a pivotal game anytime these teams meet. Thursday night will be the Heat's first shot at the new-look Magic since the trades that brought back Hedo Turkoglu and landed Gilbert Arenas, Jason Richardson and Earl Clark. The Magic made those deals, in part, to better counter the star power in Boston and Miami. Orlando has won 15 of the past 19 in the series, but has lost a bit of its grip with the teams splitting the last six meetings. The Magic still have plenty of post-trade kinks to work out. For now, Boston and Chicago loom as larger threats to the Heat.
Deadline deal: Will Pat Riley stand pat or make a roster move?
Heat president Pat Riley is performing his due diligence and working the phones, as always, as the Feb. 24 trade deadline approaches. Bosh's recent four-game absence amid Haslem's long-term recovery from foot surgery exposed the Heat's lack of interior toughness, athleticism and scoring. It revealed that Miami is one sprained ankle away from potentially losing a first- or second-round playoff series. But the Heat not only passed on their chance to use an injury exception for Haslem last month, they might also be forced to forego any meaningful move this month. The assets just aren't there. Riley isn't trading Haslem or Miller, the only meaningful chips that could fetch something legitimate in return. That leaves only Joel Anthony and a bunch of minimum contracts (Chalmers, Carlos Arroyo, Jamaal Magloire, etc.) with which to bargain. And those won't fetch much in return to help this team right now.
Top seed search: Can Miami supplant Boston for the East's No. 1 seed?
Can they? Yes. Will they? Probably not. Injuries, of course, can change the outcome here. But the Heat still face their toughest stretch of the season, with seven of 12 on the road in February. Then comes the toughest month of the season in March, which opens with games against Orlando, San Antonio, Chicago, Portland, the L.A. Lakers, Memphis, San Antonio again, Oklahoma City, Atlanta and Denver. Not only will it be a huge obstacle to pass Boston and hold off Chicago in the standings, it might be a major challenge to get to 60 victories -- something that was thought to be a lock entering the season.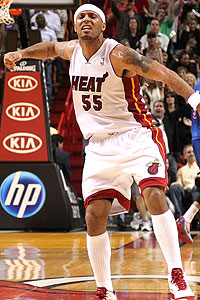 Mike Ehrmann/Getty
Eddie House: Improbable closer
House call: Will Eddie House keep this up?
Of all the players in the rotation beyond James, Wade and Bosh, sharp-shooting guard Eddie House appears to be the one least intimidated by taking shots in big moments. House made a pair of clutch free throws to help the Heat escape Detroit last week and he drilled a huge 3-pointer in the final seconds in a victory at Oklahoma City on Sunday. He's scored in double figures in six of the past eight games and is 17-of-36 (47.7 percent) from 3-point range since he returned to the rotation after falling out of favor. Considering the way House played, you wonder why he hasn't been in the mix all along. Credit House for staying ready amid his deep freeze on the bench. But this is not a new role for him. He won a title in Boston playing off the Big Three and hitting clutch shots.
Double standard: Does Wade get a pass while LeBron gets pounded?
It's hard to ignore this latest example. James was recently torched by some in the media for allegedly shrinking in the big moment Sunday in Oklahoma City, where he turned down a relatively open shot and passed to House for the game-winning 3-pointer. James was criticized for passing off his responsibility to lift his team in that spot, for making the wrong kind of game-winning play, because Kobe and Michael would have taken that shot. Ironically, Wade was in a similar situation back on Nov. 5 in New Orleans, with the Heat trailing by three in the final seconds. The Heat ran a play for Wade, who used a high screen at the top of the key and rose for what appeared a good look at the basket. In midair, Wade instead passed off to House on the wing. Two things worth remembering from that 96-93 loss: One, it wasn't an occasion for House to do his Sam Cassell dance. Two, Wade escaped any criticism for passing up a relatively open and in-rhythm look in the clutch.
All-Star nod: Should Bosh be worried about an All-Star snub?
Nope. Bosh is in. It should be a lock, especially in the East, where one might be hard-pressed to find 12 legitimate, All-Star-worthy players. In the West, Bosh would have to sweat. The past few seasons, Bosh's numbers in Toronto made an easy case for him to make the All-Star team. While his scoring and rebounding have dipped in Miami, his impact on the team was obvious once he went down with an ankle injury and missed four games. Counting the game against Chicago, which he didn't finish, Miami was 2-3 in that stretch. Bosh will get the nod from league coaches as an All-Star reserve and join James and Wade in Los Angeles, where the Big Threes from Boston and Miami could make up half the East's roster.
Weak links: Can Miami overcome shortcomings at point guard and center?
Spoelstra has shaken up his point guard rotation, where Mario Chalmers has replaced Carlos Arroyo as the starter. The Heat are 4-1 since that change, but three of the wins came against Toronto, Detroit and Cleveland. Tim Hardaway could have come out of retirement to start those games and the Heat's record would have been the same. Miami just can't stack up against the top contenders in those spots. That's why we've seen more stretches recently when the Heat go without a true point guard and rotate Bosh and Joel Anthony at center to close games. It's also primarily why Riley continues to preach that this is a two-year building project. The plan all along was for the Heat to land Wade, Bosh and James one summer, and address the other needs around them the next summer. For now, Wade might need to embrace those late-game matchups with the Westbrooks, Roses and Rondos of the league.
LBJ for MVP: Does LeBron stand a real chance to extend his reign?
It'll end here. LeBron sacrificed his MVP candidacy for a shot at the Larry O'Brien Trophy. In a sense, LeBron is a victim of his own success. After you've won two in a row, voters tend to find reasons not to vote your way a third consecutive time. Only Bill Russell, Wilt Chamberlain and Larry Bird have won three consecutive MVP trophies. Magic didn't do it. Michael didn't do it. Neither did Steve Nash. If I had to handicap the midseason pecking order for MVP, LeBron would fall around third behind Derrick Rose and Kevin Durant and slightly ahead of Dwight Howard, Chris Paul and Manu Ginobili. It's hard to argue against Rose, considering where he's gotten the Bulls so far amid injuries to Carlos Boozer and Joakim Noah. And Durant, who entered the season as the MVP favorite, has not disappointed as the league's leading scorer. But it's possible LeBron will lead his team to a better record than the Bulls and Thunder, with averages on par with the numbers Durant and Rose produce. Still, it won't be enough.