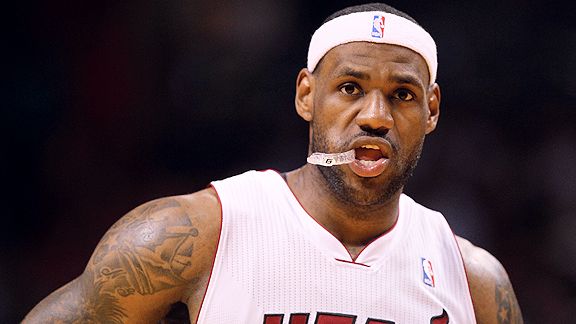 Mike Ehrmann/Getty Images
Here's something to chew on: LeBron James might the best option to defend the ball in crunch time.
MIAMI -- Earlier this week the Heat played a tightly-contested game with fairly high intensity against the Pacers. It didn't exactly have a playoff atmosphere but, from the Heat's perspective, it certainly had a playoff look.
The game's last eight minutes could've been an interesting window into the postseason. During that stretch, Miami deployed a fascinating, if somewhat risky, unit that could be a weapon in a title run or an Achilles heel.
Erik Spoelstra inserted a huge lineup that featured LeBron James not just playing offensive point guard but also defensive point guard.
The Pacers, who are in eighth place in the East, could potentially be a Heat playoff opponent. Deeper than that, though, they are a reasonable facsimile of the two teams that might stand in the way of the Heat getting to the Finals. Much like the Bulls and Celtics, the Pacers have a lightning quick point guard (Darren Collison) and dynamic scoring wings (most notably Danny Granger).
It's not exactly Rajon Rondo or Derrick Rose or Ray Allen or Luol Deng, but you can see the similarities.
Getting hurt by Collison's quickness and ability in pick-and-rolls, Spoelstra put James on the shifty guard in an effort to slow him with sheer size and length. Joining James in the game were Mike Miller and Dwyane Wade at the wings, Chris Bosh at power forward and Erick Dampier at center.
The scheme worked, as the Pacers were unable to get into their offense with Collison having trouble getting inside or space off screens with James on him. The strategy contributed to the Pacers shooting just 28 percent in the fourth quarter after shooting 57 percent over the first three quarters.
"They shut down our first options and our second options when they ratcheted it up in the fourth," Pacers coach Frank Vogel said. "LeBron on Collison slowed down our pick-and-roll game and we didn't move the ball well enough."
The man at the center spot may change in such a configuration. It could be Joel Anthony or Zydrunas Ilgauskas -- or even Udonis Haslem if he gets healthy. But, in general, that is the Heat's most dynamic lineup and the one they envision using in tight, big games.
It means there may be crunch-time playoff minutes with James trying to check Rondo or Rose, and Wade dealing with Allen, Paul Pierce or Deng. If nothing else it represents an intriguing use of the Heat's talent, especially considering the potential headaches opposing stars like Rondo and Rose could present.
"That's arguably our best rebounding lineup and we want to keep the ball in front of us as much as possible," Spoelstra said. "It can be tougher to get into the paint and tougher to make pinpoint passes."
Players like Rondo and Rose (and even Collison) are very hard to keep out of the paint, of course. And when players like that get past the first layer of defense, the schemes start breaking down.
The idea with using James is, with his athleticism and size, he can play off the small guards and still block passing lanes and be hard to handle in pick-and-rolls because he can fight through them.
It's not a new idea. The book on Rondo and Rose is to back off and attempt to bait them into taking jumpers. This presents a risk, because not pressuring the ball enables them to put defenders on their heels by using the space to attack and/or easily find passing lanes with no one in their faces.
James, if he plays it properly, has the skills to stay off the guards but still impact their ability to drive and pass. For this reason, the Cavs used James off-and-on against Rose and Rondo in separate playoff series last year.
The results were mixed. There were moments when James showed off his defensive talents and slowed the opposing All-Stars. In general, though, Rondo tortured whatever defender the Cavs put on him. Rose averaged nearly 27 points per game in his series against Cleveland. It got to the point where Cavs coach Mike Brown didn't end up using the alignment much because it created matchup problems elsewhere.
But in small bursts, such as for a handful of crucial possessions in the fourth quarter of a playoff game, James does have the tools to slow the engines of the Heat's biggest rivals.
"Those guys are quicker than me but I'm just as fast as those guys from baseline to baseline," James said. "I can use my length and my strength and using my I.Q. and knowing what those guys like to do. I can fight over some picks and keep my body in front of them."
The big perimeter lineup also puts pressure on the opposition at the other end. With Miller, James and Wade in the game, there are going to be some defensive challenges for Heat opponents. There are likely going to be mismatches when the Heat are on offense.
"With that lineup we're kind of interchangeable," James said. "We'll be cross-matched but we're never going to be mismatched because we can all guard [shooting guards] and [small forwards]. That is a luxury."
In theory, it is indeed. In reality, there's a wide range of potential outcomes. Either way, it may be interesting to watch unfold starting Sunday, when the Heat first see the Celtics with this lineup in their pocket.