CHICAGO -- To help or not to help. That is the conundrum.
The crucial moment in the Bulls' 93-89 victory Thursday night came with 16 seconds left and the game tied. How it played out is a classic argument in the game of basketball, an odd crossroads for the Heat's defensive system and the decision led to some raw feelings within the team.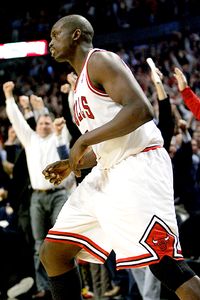 Jerry Lai/US Presswire
Luol Deng stuck the dagger. Was Dwyane Wade to blame?
LeBron James was defending Derrick Rose, who had the ball at the top of the key in a classic star vs. star situation. Dwyane Wade was on the Bulls' other main scoring threat, Luol Deng, who was positioned in the corner.
Rose drove, as is his specialty, and James retreated and poised himself for a pivotal moment in a big game. That moment came, just not in the way James expected.
Wade left Deng in the corner to collapse into the lane and offer James help on one of the best drivers in the game. Technically, in the Heat's system this is a proper play the majority of the time, as they are a team that will accept a long jumper instead of a higher percentage shot in the paint. The Heat players are taught and drilled on these principles from training camp on.
The problem was, in a spot like that, leaving Deng for such a clear look was a big risk -- especially when James appeared to recover and have a favorable angle to challenge a Rose shot, as well as some back-line support from the Heat's interior defenders.
But Rose saw Wade's decision and exploited it quickly and expertly, hitting Deng with a perfect pass as Deng nailed the game-winning shot.
So who was right and who was wrong?
It depended on who you asked.
"You try to shrink the floor and you make someone else beat you," said Wade, defending his actions.
"You can look at it over and over again and maybe at the end, when he bobbled it, LeBron had him but by then I was stuck. He made a great pass and Deng hit a heck of a shot."
Deng is a 34 percent 3-point shooter and was 0-of-3 on the night. Wade's stance, especially considering Rose's skill at avoiding defenders in the paint, seems to have merit. But James clearly didn't see it that way.
"I felt like I played good defense on Rose … I had position," James said. "And he made a good play and they hit a great shot."
James was instantly upset Wade had come to help and fired his teammate an angry glare. As Wade rushed back toward Deng, his head dropped, knowing he'd given up too easy of a look.
Heat coach Erik Spolestra declined to take a clear side, but it seemed like he felt Wade should have stayed at home on Deng in such a situation.
"Regardless of what happened, we made several mistakes defensively," Spoelstra said. "In a tight game like this, it is tough to come up with open looks. We showed a lack of discipline too often in a close game like this and we paid for it."