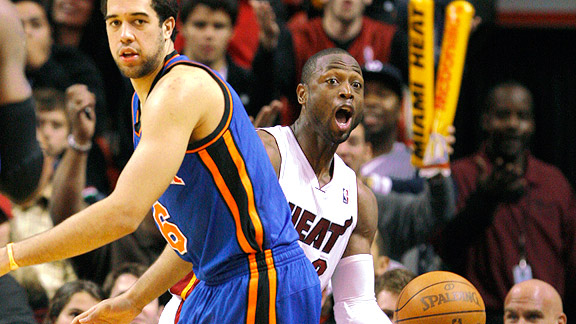 AP Photo/J Pat Carter
Mouths will be agape as the Heat and Knicks renew an old rivalry on Sunday.
Force the Knicks to defend
When you have offensive weapons as dangerous as LeBron James and Dwyane Wade, it's tempting to take a sledgehammer rather than a scalpel to each possession. The Knicks play a high-octane game, preferring a track meet to a half-court battle. If the Heat aren't careful, they can be easily lured into pull-up jumpers in transition and quick one-on-one strikes. While that might be a sensible strategy against the Bulls, as we saw in the first half on Thursday night, the Knicks invite that sort of chaos and thrive off it. But force the Knicks into a methodical, grind-it-out game and you can have success. As Jeff Fogle of Hoopdata pointed out, since the Carmelo Anthony trade, the Knicks have had the fortune of facing the NBA's worst two offenses -- Milwaukee and Cleveland -- and failed miserably in defending either of them. They fouled incessantly, gave up a ton of second-chance opportunities, and generally failed to contest shots both inside and out. When the Heat put their minds to it, move the ball and they can pick teams apart. The Knicks simply don't have the instincts on the defensive side of the ball to make prompt, smart decisions. Let them off the hook and they don't have to.
Get to the line
Want to know the single most foolproof way of preventing a team like the Knicks from getting easy buckets in transition? Make them inbound the ball from the far baseline after a successful free throw. The free points generated at the charity stripe not only pad the score, but they allow a team to get its defense set, which, against an efficient offensive team like New York that can run you into submission, is no small task. The Knicks are also very thin behind their starters after emptying the bench in the Anthony/Billups acquisition, and can ill-afford any foul trouble to their principals. Meanwhile, the Heat are the third-best foul-drawing team in the league. James worked his way to the line for 19 attempts on Friday night against Washington, while Wade racked up 12 chances at the stripe on Thursday night in Chicago. Along with their other sins against Cleveland and Milwaukee, the Knicks allowed 76 free throws over those two games against a couple of pretty desperate offenses. If the Heat attack the rim early and often, they could win this game without having a banner night from the perimeter.
LeBron vs. Carmelo
This is the mano-a-mano almost everyone will be watching, even with Anthony nursing a sore right elbow. James has had success over the years as Anthony's primary defender. On possessions when the two superstars have been matched up one-on-one since 2004-05, Anthony has shot 15-for-40 (37.5 percent) and generated only 0.79 points per play. James has had a bit more success, shooting 13-for-28 (46.4 percent) and scoring 0.94 points per play. We've seen James' best defensive performances of the season when he's matched up against premiere counterparts at the small forward spot, such as the Jan. 30 win over Oklahoma City, when James did solid work on Kevin Durant. Anthony and Durant are different talents -- Melo is far more physical creating space for himself -- but James certainly knows that a national audience will be focused in on those one-on-one battles out on the wing.
Welcome back, Joel?
One of the more curious subplots of the previous three meetings between the Heat and Knicks has been Joel Anthony. Teams are always looking for "star-stoppers" when they confront a dynamic offensive player and Anthony has had relative success matching up against Stoudemire. In three games, Stoudemire has shot 13-of-38 from the field (34.2 percent) with three fouls drawn with Anthony as his primary defender. Anthony has played more sparingly as of late, giving up many of his minutes to the bulkier Erick Dampier. But against a more up-tempo New York squad that relies on pick-and-rolls to get Stoudemire many of his looks, expect Anthony to log significant time. Anthony demonstrates quick anticipation against Stoudemire, both in pick-and-roll situations and in isolation. Anthony uses his quick feet to cut off Stoudemire's right-handed drive and doesn't yield Stoudemire a whole lot of space to launch from 18 feet.
Control the glass
In their effort to leak out in transition at every opportunity and without a willful rebounder, the Knicks leave themselves vulnerable on the defensive glass. They rank 25th in the league in the percentage of rebounds secured on the their opponents' backboard, and got ravaged on Friday night in Cleveland (the NBA's 29th-ranked rebounding squad). Theoretically, Anthony brings a little help on the wings, where Landry Fields is already a pretty capable rebounder, but if the Heat set their minds to it, they should have plenty of chances to get multiple looks at the basket. But crashing the offensive boards comes with a calculated risk. If the Heat's speedy wings are overly aggressive, then the Knicks will get opportunities in the open court. The key for the Heat is to be smart and selective. Let guys like Anthony squirt into the paint and establish position, then kick the ball back up top for a reset.