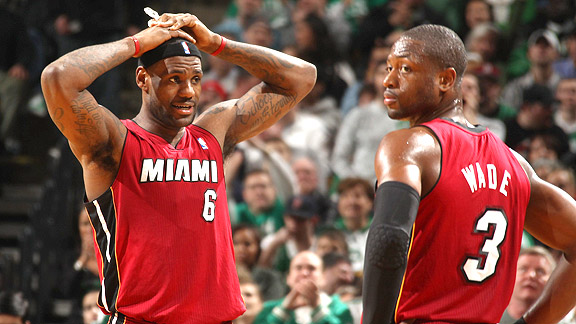 Nathaniel S. Butler/NBAE/Getty Images
Dwyane Wade is Miami's primary slasher, while LeBron James has been more comfortable on the perimeter.
My favorite analogy for player development in sports comes from tennis. Imagine a young professional tennis player has a deadly forehand and relatively weak backhand. Should he spend the majority of his training time working on his backhand, or working on the angles and footwork that will allow him to hit his forehand more often? In other words, should he spend more time shoring up his weakness or finding ways to utilize his strength?
When LeBron James joined Dwyane Wade in Miami in the summer of 2010, both players had more or less the same reputation -- talented slashers and passers with suspect perimeter games. From day one, most NBA fans had the same question on their minds: How would James and Wade coexist in the same offense? The two certainly experienced growing pains while learning to play with one another, and the Heat's offense still isn't a finished product, but we now have a clear picture of the adjustments Wade and James have made in order to fit in with one another.
Returning to our tennis analogy, on the Heat, James has opted to improve his shortcomings, while Dwyane Wade has chosen to maximize the best features of his game.
Last season, LeBron James led the league with 5.0 made baskets at the rim per game, and his 10.2 free throw attempts per game tied him with Kevin Durant for the league lead. 33.8 percent of James' shots came at the rim, and 47 percent of those attempts were assisted. This season, LeBron has been making 4.1 baskets at the rim every game. Only 30.5 percent of his field goals have been at the rim, and he averages 1.4 fewer free throw attempts per game this season.
Most surprisingly, only 34.9 percent of LeBron's attempts at the rim have been assisted; a higher proportion of LeBron's shots at the rim were set up by passes in each of his past four seasons with the Cavaliers. While Cleveland's offense was designed to maximize LeBron's productivity, Miami's offense has been more focused on using James' versatility to make things easier for the rest of his teammates.
Of the Heat's three stars, Wade is the only one who has become significantly more aggressive with All-Star teammates around him. He has been living around the basket. He has been making almost the exact same number of shots at the rim this season as he did last season, but they represent a significantly higher proportion of his shots. This season, 39.9 percent of his attempts have come at the rim (up from 37.8 percent last season), and 56.2 percent of his field goal attempts have come from inside of 10 feet. Wade is also getting set up with shots at the rim far more often than he did before James and Bosh arrived -- a full 41.4 percent of Wade's attempts at the rim have been assisted, which is way up from last season's 31.8 percent mark.
When James first announced that he was planning to join Wade and Bosh in Miami, my first vision of the team was that Wade would play more of a point guard role while LeBron would spend more time working without the ball for dunks and layups. Clearly, the opposite has been true.
Why has this been the case? First of all, Wade is a much more versatile slasher than James is. Since before his rookie season, James has maintained that his "second step" is much more dangerous than his first step. James can drive either to his left or his right with confidence, and he's all but impossible to stop when he's taken a dribble or two to get some speed going, but he needs some room to build up a head of steam, and he has more of a point guard mentality than Wade does.
On the Cavaliers, there was room for LeBron to be the primary playmaker most of the time and have sets that were designed to get him the ball at the basket, but that isn't the case in Miami. Given the choice between having the ball in his hands most of the time or having more opportunities to be set up with easy baskets, LeBron chose the ball.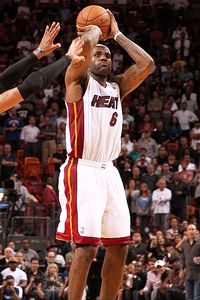 Mike Ehrmann/Getty Images
LeBron James' setups on his jumpers are more fluid this season.
On paper, Wade's slash-slash-slash game looks somewhat one-dimensional, but that's only because he can essentially get to the rim from any angle at any time. He constantly searches for ways to get the ball near the rim, and when he does he barely needs any space to unleash his "Eurostep." When Wade picks up the ball and makes that rapid change in direction, it's nearly impossible to stop him without fouling.
The improvements in LeBron's perimeter game aren't as impressive as Wade's slashing. After all, LeBron's scoring efficiency is lower than it has been in either of the past two seasons. But he is making some strides toward becoming a more complete offensive player. James has more natural shooting range and a more efficient stroke than Wade, who shoots the ball with his torso nearly perpendicular to the basket and looks more comfortable dribbling into a 3-pointer than he does in catch-and-shoot situations.
LeBron's long-range shooting isn't much better than it has been in previous seasons. He is shooting the exact same percentage from 16-23 feet as he did in the past two seasons, and after a brief stretch in December when it looked like catch-and-shoot 3s were becoming a legitimate weapon for LeBron, he has gone back to being a mediocre 3-point shooter.
However, LeBron's setups for his midrange jumper appear to be smoother this season, and he seems to be less of a streak shooter than he was with the Cavaliers. In Cleveland, LeBron was fully capable of burying a team by making four or five long jumpers in a quarter, but he would immediately lose all confidence in it after missing one or two and, ultimately, become much easier to stop.
While LeBron's heat-checks are still inexplicably present in Miami, his jump shot seems to be a more organic part of his game than it was in Cleveland. LeBron's 41.6 percent mark from the 10-15 foot range is particularly promising; he doesn't take many shots from that range yet, but he is far more accurate from 10-15 feet than he has been before.
It used to be that LeBron was fairly dangerous from outside, deadly if he was able to get all the way to the paint, and completely helpless if he was forced to make a shot from somewhere in between. Now he's shown that he's willing to take one or two dribbles and step into an easy free-throw line jumper if his defender goes under a screen. In the past, LeBron has been shut down in the playoffs by defenses that were able to stop him from getting to his favorite spots on the floor. But LeBron's improved ability to be effective from any spot on the court could mean the difference between a championship parade and an early playoff exit.
So there you have it: 60 games into the LeBron/Wade experiment, Wade has emerged as the team's designated slasher while LeBron has made strides toward putting the finishing touches on his offensive game. Whether that is the best use of their respective talents is something we won't truly know until the Heat's playoff run is over.