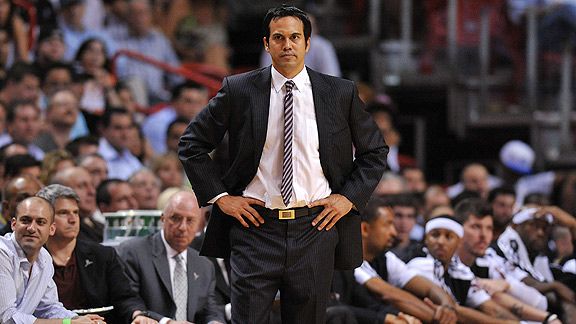 Steve Mitchell-US PRESSWIRE
The Miami Heat lost their fifth straight as the bench came up empty -- again.
MIAMI -- In their first game against the Portland Trail Blazers back in January, the Miami Heat needed 78 points from LeBron James and Dwyane Wade to pull out the victory. On Tuesday night, the tandem combined to score 69 points, but the monster effort wasn't enough as the Heat dropped their fifth game in a row, losing to the Trail Blazers 105-96.
As has been true all season, the Heat need each of their "big three" to come up big. Because if either James, Wade or Chris Bosh has an off night, the supporting cast has continually come up short.
Bosh finished with seven points on 3-for-11 shooting and pulled down just four rebounds. Outside of Wade and James, no one else picked up the slack. In all, the bench totaled just eight points in 63 minutes of playing time.
"We need a little bit more from everybody," Heat coach Erik Spoelstra said after the loss. "I said that yesterday. When you're in a vortex like we are right now, everybody has got to give a little more commitment, a little bit more sacrifice, a little bit more effort, a little bit more attention to detail."
In a five-game losing streak, there's a lot of blame to go around. And after the game on Tuesday, the Heat are still searching for answers. When asked about what needs to change going forward, Wade said it's not his call. But he certainly didn't hesitate to offer suggestions about personnel on the floor.
"That's going to be on our coach and what he felt," Wade said. "Whatever lineup he puts out there, we're going to do our best with it. Hopefully, guys can be aggressive and contribute more. Of course, there are guys on the bench that can help us, there's no question about it. That's all on Coach."
Spoelstra chose to finish the fourth quarter with an unconventional lineup that included Wade, James, Mike Bibby, Mario Chalmers and Chris Bosh. That's the starting lineup with newly acquired Bibby in place of center Erick Dampier. For those keeping track, that's four ball handlers and a power forward.
When explaining his crunch-time lineup after the game, Spoelstra sounded like a coach desperately looking for a catalyst.
"I'm trying to find anything to spark us and get us back in the game and get us over that hump," Spoelstra said.
Wade voiced his disagreement with the lineup choices after the game.
"Of course we've had guys like Eddie [House] to help us win games and James Jones, etc," Wade said. "But [Spoelstra's] going have to decide whether or not people are on the floor."
In Tuesday's game, reserves Joel Anthony, Zydrunas Ilgauskas and James Jones played a total of 18 minutes and not one of them took a single shot from the floor. Mike Miller played 24 minutes off the bench and shot just 1-for-7 from the field. House, who averaged 20.6 minutes in the month of February, received a DNP-Coach's Decision for the second game in a row.
The dearth of production outside the big three won't grab headlines and perhaps that's with good reason. When the Heat lose, the spotlight falls squarely on the stars, the same trio that welcomed the spotlight on the big stage in the preseason.
But this isn't a three-on-three tournament at the local YMCA. This is a full NBA roster with former All-Stars and players who started for playoff teams last season.
And right now, there's not a weaker supporting cast in the league.
"Of course we'd be more dangerous if there were more productivity off the bench," Wade said. "But also guys have to play more. It's hard for guys to get into certain rhythms coming in and getting three to five minutes. That's going to have to be something that Coach is going to have to put the guys on the floor and give them confidence."
The bench has been a sore spot all season for the Heat. Entering Tuesday night's game against Portland, Miami's reserves averaged a league-low 22.3 points per game. And the production is only getting worse. In the team's past 10 games, the bench has produced 14.4 points per game, a whopping 7.7 points fewer than the second-worst scoring bench over that time.
When the Heat need a boost, they're not getting it. Outside of James and Wade's spectacular scoring display on Tuesday night, the rest of the team shot 35.5 percent from the floor while contributing only 27 points, 14 rebounds and seven assists. James practically exceeded the production of the entire supporting cast on Tuesday as the two-time MVP tallied 31 points, 11 rebounds and eight assists.
No, the Heat won't need all 10 rotation players to hit on all cylinders in order to win games. But they'll certainly need more than two players to show up if they want to compete against the two-time defending champion Los Angeles Lakers on Thursday night.
"Right now, we're all being measured," Spoelstra said. "We will reveal a lot about ourselves as we move forward. Each and every single one of us, all of us collectively will reveal what our makeup is. No one wants to go through this."