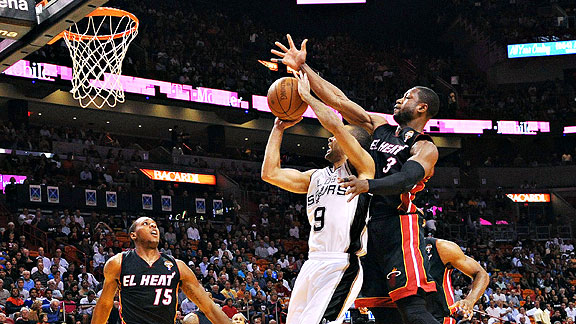 Steve Mitchell/US Presswire
Slowing Tony Parker and making smart help decisions keyed the Heat's defense Monday night.
Basketball teams are rarely as bad as they play in their worst moments, nor as good as they look in their proudest moments. It's fair to say the two meetings between Miami and San Antonio -- both resulting in 30-point routs for the home team -- represent outliers for both squads. For instance, on March 4 in San Antonio, the Spurs knocked shot 68.2 percent on catch-and-shoot 3-point attempts (15 for 22), but on Monday night in Miami, that number dropped to 25 percent (5 for 20).
Were the Heat more attentive to the Spurs' snipers on the wing and in the corners? Sure they were, as Sebastian Pruiti at NBA Playbook illustrates. Having been burned for 17 3-pointers last time out against the Spurs -- a Heat franchise record for field goals surrendered from beyond the arc -- anticipating the kickout off the initial pick and roll was atop the agenda for the Heat's off-ball defenders.
But was the Heat's strategy any different? As Pruiti emphasizes, it wasn't, a point confirmed by coach Erik Spoelstra after the game.
"It was our normal pick-and-roll coverage," Spoelstra said. "More than anything, it was our disposition and activity that disrupted it, but part of it might have been that they had an off night from the 3-point line."
Three of the Spurs' first five attempts from long range were legitimately open looks, but that space gradually disappeared over the course of the game.
Mario Chalmers deserves credit for fighting through screens quickly, as does Dwyane Wade and, yes, Mike Bibby. That's one of the most unheralded skills for a ball defender -- how quickly can he fight through, around or under a screen and reattach himself to his man? When we say that a big man is "showing," what we mean is that he's stepping out on the screen to buy some time for the ball defender to work through that screen and get back into the play. The longer that process takes, the more likely a guy like Tony Parker or Manu Ginobili is to break down the defense.
"Parker and Ginobili are so clever, so quick and ... slithery," Spoelstra said. "They can break your traps, split your traps, sweep your traps -- all of those things. We were trying to at least keep the ball in front of us as much as possible."
Spoelstra's descriptive powers can be very apt, and I love his portrayal of Parker and Ginobili as slithery. As reliable as the Heat's defense was at the point of attack Monday, Parker and Ginobili still got past that first line of defense plenty. But the Heat's rotations and help decisions proved sound, which wasn't the case 10 days ago in San Antonio.
We tend to kill guys for leaving shooters open in the corners to collapse on penetrators, but we'll also shake our heads when they fail to offer help and one of those slithery guards gets to the rim untouched. It's a tough decision for a defender, and a choice that has to be made in a split second.
What's that decision-making process like on the court for a guy covering a wing shooter as a penetrator streaks through the lane?
"We never leave strong-side shooters," LeBron James said.
"When you do, you get a game-winner like Luol Deng," Wade chimed in.
James laughed at Wade's confession. At the time of the Heat's 93-89 loss to Chicago on Feb. 24, Wade acknowledged he made a choice by leaving Deng in the corner and collapsing on Derrick Rose in a decisive possession, though he never really claimed responsibility for that decision. With the mood bright after the Heat's third straight victory Monday night, Wade copped a plea.
"We try not to leave strong-side shooters, but if a guy is beat and you can tell he's beat, you try to give some help." James continued. "We have rotations. Everyone is on a string. If one guy kind of messes the string up, then you get to a point where you're in San Antonio and [the Spurs] are knocking them all down because we weren't all on the same string. We have a system. We make adjustments throughout the course of the game if a team is exploiting us, but for the most part we just keep grinding and do what was taught."
That string LeBron describes isn't always apparent to the naked eye, but you can sense when all five guys are on it: Guys shift in unison and the defense looks like good choreography. The Celtics, though they play a different, more zone-ish system, demonstrate this when they're grinding down teams.
The Heat started to reclaim that kind of coordination against the Lakers and Grizzlies, though neither of those teams spread the floor the way the Spurs can. On Monday night, San Antonio's sharpshooters fanned out along the arc as they normally do, but the Heat's taut string held them in check.