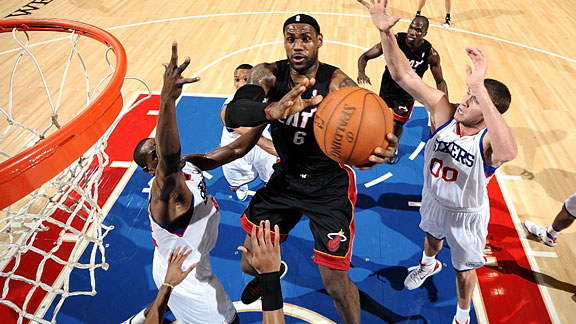 Jesse D. Garrabrant/NBAE via Getty Images
LeBron James and the Heat will face off Friday night against the 76ers, a team Miami could be facing in the first-round.
There's a little game that NBA watchers like to play during the regular season. You know, the "If the season ended today..." game where we prematurely look ahead at potential playoff matchups.
Well, now it's not so premature. The Heat have only 11 games remaining on the schedule and the playoff matchups are taking shape. Zip over to John Hollinger's Playoff Odds and you'll see his projection of the No. 3 and No. 6 seeds in the East: Miami and Philadelphia.
Basically, Friday night's matchup between the Heat and Sixers could very well be a warm-up for the first round of the playoffs.
Heat fans, pay extra close attention to this head-to-head.
The Heat are projected to finish the season with a 57-25 record which would likely award them the third spot in the standings behind the Boston Celtics and the surging Chicago Bulls. There's a small chance that the Celtics could stumble down the stretch and cede the second spot to the Heat, but the C's should enjoy the two-game cushion in the loss column.
And the Sixers? They look pretty nestled into that sixth-seed, projected to finish two games ahead of the New York Knicks and two games behind the Atlanta Hawks. Doug Collins and company have a tough slate ahead with remaining games against Miami, Chicago, Orlando and Boston -- the top four seeds in the East.
Of course, the standings could shuffle between now and Apr. 13, the final day of the regular season. But if the season ended today, Heat-Sixers would be your first round matchup.