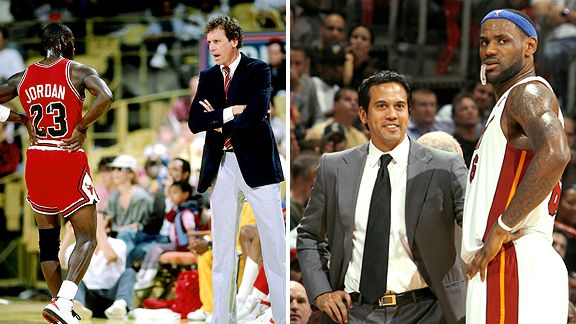 Getty Images
Doug Collins can relate to Erik Spoelstra's plight this season.
MIAMI -- For Doug Collins, Friday night had to feel a lot like looking into a mirror that revealed a reflection from 25 years ago.
When Collins glanced across the court to near the home team's bench at AmericanAirlines Arena, he saw not only a coach he recognizes and deeply respects in Erik Spoelstra, but he saw the type of challenge and talent he once had back when he was Spoelstra's age.
In his third or fourth act as a head coach in the NBA, Collins has quietly delivered one of the NBA's best performances in guiding the Philadelphia 76ers from last year's draft lottery to playoff contention this season.
But he's been more impressed with the job Spoelstra has done in Miami amid all the noise.
"My hat's off to Erik," Collins said Friday before the Heat's 111-99 victory over the 76ers. "They're the most scrutinized team in the NBA, and so every day, he has to deal with every different kind of issue you could deal with. That takes its toll. And that doesn't even count coaching the game."
Spoelstra has frequently addressed the "white noise" and scrutiny that have engulfed the Heat this season because of the presence of LeBron James, Dwyane Wade and Chris Bosh -- as well as the boastful, in-your-face way they came together in free agency last summer.
The Heat coach has had to manage several mini-crises, including complaints leaked to the media that some of his players were dissatisfied with the system during that 9-8 start in November. He's also withstood relentless speculation about his job security, with team president Pat Riley looming in the shadows.
Through it all, Spoelstra has publicly maintained an even temper, a tough chin and an unwavering commitment to holding his stars accountable on both ends of the court. With Friday's victory, the Heat improved to 50-22, giving the franchise its first 50-win season since the 2005-06 championship run and the seventh in franchise history.
Spoelstra's win total has improved over each of his three seasons since he succeeded Riley on the bench following the 2007-08 season. Collins has admired Spoelstra's work from afar, even though it's unlikely Spoelstra will land any higher than fourth on most ballots for coach of the year.
Collins remembers the blessings -- and curses -- that can come with coaching a roster loaded with promising talent and filled with expectations. He said Friday that there might be some similarities between the coaching challenges he faced while leading Michael Jordan, Scottie Pippen, Horace Grant and the Chicago Bulls in the late 1980s, and what Spoelstra has to deal with guiding the Heat's big three.
But there also are a few distinct differences.
"When Scottie and Horace came in, they were not established," Collins said of the first three seasons Jordan, Pippen and Grant played together. "But you're talking about LeBron James and Dwyane Wade being megastars. I obviously had Michael, who was a megastar. Scottie became a megastar. Aside from Michael, our guys had never really played before."
In essence, Collins' job was to mesh an elite star in Jordan with promising young sidekicks in Pippen and Grant. That process proved difficult enough for Collins, who went 137-109 and advanced to the playoffs each of the three seasons he coached the team. He was replaced before the 1989-90 season by then-assistant Phil Jackson, who presided as the Bulls blossomed into six-time NBA champions.
Spoelstra has had to find a way to get three established NBA All-Stars on the same page and guide the team through its growing pains under one of the most intense media spotlights the league has ever seen over the course of an 82-game regular season.
Collins had the challenge of coaching only one Michael Jordan. Spoelstra has the task of trying to manage the ego, pride and talent of two players who are seen, in some circles, as comparable to "His Airness" in many regards.
That, in and of itself, makes the job Spoelstra has done this season stand out among many, Collins said.
"You're taking guys who were averaging 25 points a game and putting them all on the same team," Collins said the very night James, Wade and Bosh each had a double-double, and combined for 91 points, 31 rebounds, 10 assists, six steals and six blocks. "Not only that, they're larger-than-life figures off the court. So you're dealing with that dynamic as well."
Collins was in his late 30s when he coached the Bulls, about the same age Spoelstra is now. Collins was swallowed up by all of the pressures, issues, clashes and expectations that accompanied the challenge.
These days, Collins is older, wiser and more patient, and approaches his job with the rapidly improving 76ers almost as much as an educator as a coach. He has taken on a team that was expected to go nowhere and has guided it into a potential first-round playoff matchup with the Heat.
Yes, Spoelstra's team. If nothing else, Collins is familiar with the temperature of the pressure cooker Spoelstra has had to work inside this season.
"What he's done with this team -- first of all, they're a terrific defensive team," Collins said of Spoelstra. "When you add those kind of offensive stars, and you're trying to get them to share the ball and do the things they're doing, Erik has done a great, great job. He's one of the young, rising stars in this business. I think he's handled himself with incredible class and dignity."
If the Eastern Conference standings hold true to current form, Collins could be seeing a lot more of Spoelstra next month when the games and the moments matter far more than they did Friday night.
The older, wiser, veteran coach has done some of his best work in the relative shadows, while the younger, spunkier leader has had to grind under the spotlight.
There might not be a lot of envy between Collins and Spoelstra, who have had two of the tougher jobs in the league this season.
But there's certainly plenty of admiration.