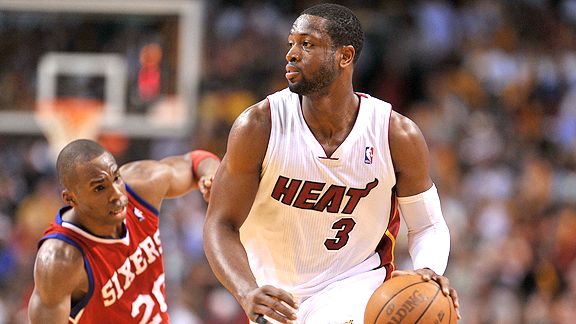 Steve Mitchell/US Presswire
The Heat's plan of attack in a postseason series with the Sixers would start with Dwyane Wade against Jodie Meeks.
MIAMI -- After the Heat's win Friday night over Philadelphia, Sixers coach Doug Collins held his usual postgame interview outside his team's locker room. Every coach in the NBA has a defined style, but Collins' manner might be the most familiar in the league, largely because we listened to his color commentary for years each Thursday night during the season.
The carryover effect from those broadcasts informs not only his delivery, but the substance of what he says. He's more forthcoming about X's and O's, almost as if he's scribbling on a telestrator or breaking it down for the audience at home.
Collins is vested in his team's performance and loves the way his guys have played. He'll tell you that Thad Young and Lou Williams are the two best sixth men in the league, that he's so proud of how players have collectively bought into the simple but demanding brand of defense he expects from them. And Collins is also acutely aware that if the Sixers encounter a Heat team playing its best basketball, Philly is a certain underdog.
"They just have another gear," Collins said of the Heat. "This team is such a great team. They have so many options they can go to. Then when they go to that small lineup they're lethal."
Ever since Udonis Haslem went down with a foot injury Nov. 20, Heat coach Erik Spoelstra has been very selective with his use of that small lineup. For one, both LeBron James and Chris Bosh prefer playing the small and power forward spots, respectively, a scheme that demands a traditional center on the floor. Second, against the Celtics, Magic and Lakers of the world, a small Heat unit presents certain issues, namely the lack of big bodies to contend with opposing 7-footers.
But Philadelphia isn't Boston, and Spencer Hawes and Elton Brand aren't Andrew Bynum and Pau Gasol. Not leveraging the Heat's power and versatility to buy more space for James and Dwyane Wade would be coaching malpractice. Usually there's a price to be paid on the defensive end for going small, but as Collins pointed out after the game, "We're not very big."
Spoelstra is well aware of this, fielded a traditional front line for only 22 of 48 minutes and abandoned it altogether for the final 15 minutes of the game. In their 26 minutes, small units finished +17.
Both at the morning shootaround and after the game (and for years on the air), Collins was emphatic that James is a matchup nightmare as a power forward.
"When you put LeBron at the 4, that's his best position," Collins said. "That's where he is a monster because you can't guard him. And he's big enough to guard you. He's bigger than Karl Malone because he's got speed and quickness and power and grace and agility and skill. So when they go small -- and that's what you're going to see in the playoffs, as much as Chris Bosh probably doesn't want to play the 5, when they put Wade out there and LeBron at the 4 and Bosh and a couple of other guys who can shoot that ball -- they're tough."
For Heat fans and observers who have been wanting to see the team unleash its primal athleticism, Collins' premonition has to be welcoming. But the Sixers' defense is no pushover. Philly came into the game leading the NBA in opponents' 3-point shooting. That tells you something important.
"We don't double team a lot and we don't scramble," Collins said. "Because when you double and you scramble, you give up offensive rebounds and then you're chasing the ball and normally you give up corner 3s."
This is a very Popovichian approach and one reason the Sixers entered last night as the league's ninth-ranked defense. But that philosophy doesn't come without compromise. By faithfully staying home on the perimeter, the Sixers risk having Wade and James abuse the rim if the scorers can beat their men off the dribble. Surrounded by three perimeter shooters and Bosh -- with no Joel Anthony or Erick Dampier clogging up the floor or allowing a defender to help without cost -- there's far more room to do that.
That's what we saw Friday night when the Heat found their game. They forced the Sixers to make an unpalatable choice: Abandon a defensive blueprint that has won them a ton of games since New Year's Day or allow Wade and James to play one-on-one basketball and/or make plays in open space.
In some sense, this is the hallmark of an elite basketball team (or starting pitcher or field general or chess player):
Challenge the opposition to question its core principles, the very beliefs that have allowed it to be successful.
Anyone can take advantage of a weakness, but the really great teams exploit an opponent's strength. That's what Spoelstra and the Heat did Friday night.
Heat Index's Brian Windhorst provided a prime example in his game column. As Windhorst noted, the Heat unveiled a new play that worked wonders against Philadelphia's defense. We saw it during the Heat's second-quarter spurt that turned a double-digit deficit into a halftime lead, and it's a winner.
Wade is the ball handler in this set on the right side, with LeBron set up in the right corner. The action is happening off the ball. Mike Bibby is a wily and effective screening guard and Spoelstra has designed a bevy of sets in the last couple of weeks to capitalize on Bibby's capacity to screen big men. Bibby heads over to the left block, where he sets a down screen for Bosh. Once Bosh is freed up, he then sets an angle screen for Wade. Meanwhile, Bibby has vacated to the left wing (courtesy of a screen from Mike Miller), where he spots up beyond the arc.
Wade literally has five options on the play:
Drive down the gut of the lane off the screen from Bosh.

If trapped and he can thread the needle, he can hit Bosh on the drag.

If Andre Iguodala (LeBron's man) opts to collapse, Wade can hit LeBron with a kickout for a wide open 3-pointer (no Sixer is in close enough proximity to close on LeBron).

If Wade moves left off the screen, he has an easy kickout to Bibby if Bibby's man lends help.

Miller is lingering off the left block. His man is a likely helper, so watch for Miller to possibly make a baseline cut or retreat to the left corner, where he can spot up.
As Collins described, Philadelphia is reluctant to scramble, which means Option No. 1 tended to be the best course of action Friday night. After all, is a respectable defense really going to help off LeBron James? Let Chris Bosh roll untouched to the rim? Leave 3-point shooters wide open? For Doug Collins and the Sixers, the answer is no.
But this reliance on strong base defense also explains why Wade racked up 39 points and 11 free throw attempts. Jodie Meeks, Wade's primary defender, is probably Philadelphia's weakest man defender. That matchup compounded the problem of Wade for Sixers, who rely on their defenders to contain penetration individually.
Wade was the central figure in the story, but James' work off the ball was also a crucial ingredient, as was Spoelstra's engineering. The Heat were somehow able to construct a play where "LeBron standing over in the corner" actually paid dividends. They also had James screen for Wade eight times in seven possessions Friday.
The yield from those seven possessions? Ten points, or 1.43 points per possession.
Off those pick-and-rolls (usually aided by a down screen for LeBron so that his man is trailing him as he sets the screen for Wade), the Heat generated two mismatches for LeBron (four points), a dribble-drive and-1 for Wade and a kickout to James Jones for an open 3-pointer.
Is Philadelphia an easier matchup for the Heat than either Atlanta or New York? Probably not. Collins has been making adjustments all season long and he's certain to come up with a couple of antidotes if these teams meet next month.
But in many respects, Philly's defensive philosophy -- far more advanced than anything the Hawks or Knicks run -- is a blessing in disguise for Miami. The Heat can't just roll the ball out and try to out-hero the defense. They have to craft a coherent, studied game plan to break down the Sixers.
Though the Heat might not always realize it, that's precisely the kind of exercise that can help tap their full offensive potential.