76ers at Heat, Game 2: Five things to watch
April, 18, 2011
4/18/11
12:48
PM ET
By Kevin Arnovitz and Tom Haberstroh
ESPN.com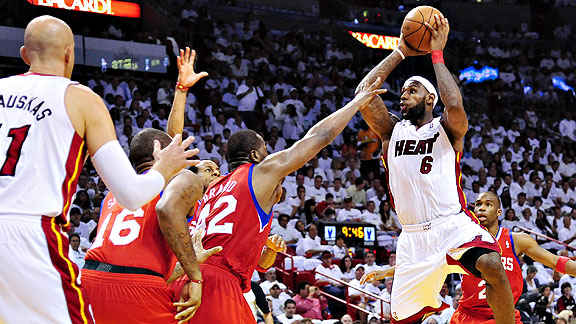 Steve Mitchell/US Presswire
LeBron James has pledged to expand his game and be more aggressive on Monday night in Game 2.
How Heat can continue winning the free throw battle
This is a matchup of the one of the best foul-drawing teams and one of the worst foul-drawing teams. Drawing whistles from the refs doesn't require hypnosis or magic tricks. To get the violation called, it's pretty simple: you need to make contact.
"We attack the rim," Chris Bosh said after Monday's shootaround. "It's nothing new. If you look at the season as a whole, we've been right up there as far as free throw attempts. There's a reason for that. We always put pressure on them and when you attack the rim, you draw a lot of fouls."
In Game 1, there was a lot of contact on one end of the floor and very little on the other. If you want to cite evidence for ref wrongdoing, merely pointing out the free throw disparity will not suffice. The stat we want does not exist -- instances of illegal contact between two players. And rewatching Game 1, the Heat were aggressive and welcoming those collisions in the paint. The Sixers were not.
However, not every Philly player joined Doug Collins' lead and alluded to unfair refereeing in Game 1. After Sunday's practice, Sixers supersub Lou Williams, who's playing with a bum hamstring, said he deserves some of the blame for the free throw disparity. "I'm not able to be as aggressive as I usually am," Williams said. "It kills half of my game when I can't get into the lane and create fouls." Williams totaled just two free throws in Game 1 while failing to get a shot off at the basket.
This is a key development to the series because Williams ranks as the best whistle-inducer on the Sixers -- nearly half of his shots come at the free throw line -- and he admitted that his gimpy leg forces him to settle for jumpers. The Heat smell blood and have been vigilant in exploiting Williams in the half court with traps and smothering. Look for Miami to continue to neutralize Williams in Game 2. If they can keep Williams and Andre Iguodala in check, the Heat will win the free throw game again.
LeBron's Game 2 plan
LeBron's Game 1 line was nothing to sneeze at. He scored 21 points, collected 14 rebounds and racked up five assists. But he shot only 4-for-14 from the field -- though he worked his way to the line for 14 free throw attempts, no small thing. But he confined himself to the perimeter for much of the game.
A familiar pattern: The ball would go to LeBron on the wing. Rather than attacking, LeBron would hold the ball, wait for the double-team, then look to pass to the open man. That's a noble strategy, and LeBron's squads have won many games over the years because LeBron leveraged those double-teams. Yet Saturday's effort seemed passive.
A fastidious prep guy, LeBron naturally hit the Game 1 tape like it was the Zapruder film, spending hours breaking it down. LeBron coyly told the media at shootaround that he wouldn't divulge his findings, lest the Sixers take advantage of his insights, but he was certain of one thing: "I know I will attack the defense tonight better than I did in Game 1," James said.
Philly didn't deploy anything fancy against James. Iguodala defended James intelligently, walling off the paint while Philly sent some weakside help as a second line of defense. Collins' key defensive goal against James is to prevent him from getting out in the open court.
"For them, it's transition," Collins said. "He and [Dwyane] Wade had six transition points in the game. That's critical. If they're out in the open court running, then we're going to be in tough straits. But if we can keep them out of the paint, we've got a chance."
LeBron generated five transition opportunities, drawing fouls on three, converting a field goal and tossing up a missed 3-pointer.
Those fast-break opportunities will certainly enable LeBron, but when the game gets tight, he'll ultimately have to find ways to manufacture points in the half court, something he didn't do all that effectively on Saturday. Look for the Heat to feed LeBron closer to the cup, particularly in their small lineups.
The Heat's half-court contingency plan: The Wade-Bosh pick-and-roll

The Heat have refined their half-court offense over the past several weeks -- the Heat have exceeded the league average in offensive efficiency in 17 of their past 20 games. One of the catalysts of that improvement has been the Dwyane Wade-Chris Bosh angle pick-and-roll. With the exception of "Kevin Durant just makes something happen," the Wade-Bosh pick-and-roll might be the most effective late-shot clock play call in the NBA right now. Against a strong Sixers base defense that guards the Heat's initial stuff quite well, that bailout play is crucial for Miami.
Bosh explains the dynamic of this play that's working wonders for Miami:
"Philly usually plays the first two triggers pretty well," Bosh said. "If things break down, we want to go right to something else. When you have Dwyane Wade, it's a quick pick-and-roll. [Sixers' defenders] coming from a help position, that's pretty tough as a big and a guard. Usually, he's going to be attacking coming downhill, so that works to our advantage. It's always something good to go to when everything else doesn't work and there are still five or six seconds left on the shot clock, and we worked our offense, worked from side to side two or three times. It's good to have that."
As Bosh describes, this action compromises the defense much the way the vaunted Wade-James pick-and-roll does. More times than not, the Heat might not have achieved their first two objectives, but they've also managed to draw the defense to the ball side. A quick swing pass over to Wade on the weak side in tandem with a decisive screen from Bosh ahead of the defensive recovery gives the Heat a huge advantage. Above all, it's yet another way to involve Bosh offensively above and beyond his elbow jumper.
Will we see Heat go zone again?
Were you surprised to see Heat coach Erik Spoelstra employ a zone defense on Saturday? The Sixers were stunned, as well. Philly point guard Jrue Holiday said after practice on Saturday that the Heat's switching to zone coverage blindsided him. "That was really out of the blue. When they came down, I was just like, 'Wow, they're really in a zone?'"
They did and it worked. Over the course of the game, the Heat went with the zone for nine possessions and the Philly offense managed to score on only two of them. But the zone was effective partly due to the element of surprise, an advantage the Heat won't enjoy going forward. The Sixers hadn't prepared to play against the zone and with good reason; the Heat went zone for just 2 percent of their defensive possessions in the regular season, according to Synergy Sports video tracking.
Here's the thing: Spoelstra doesn't like to go zone. Why? "It means our man-to-man defense is getting chewed up," Spoelstra said Sunday after Heat practice. "But I'm also not afraid to pull that trigger to change the rhythm of the game. The game will dictate it."
Consider the zone defense a last resort. The Heat have one of the best man-to-man defenses in the league but the Sixers forced Spoelstra's hand by starting the game ablaze. If the Sixers go on anther tear, don't be surprised if Spoelstra goes to it again, especially if the Sixers' 3-point shooters are sitting on the bench. To beat a zone defense, crisp passes, strong 3-point shooters and players who can exploit the seams (the space between zone defenders) are critical. We may not see the Heat go zone in Game 2, but it was so effective that Spoelstra won't hesitate to pull that card out of his back pocket. The Sixers won't be blindsided again.
The rebounding battle
The 76ers are acutely aware of their limitations, one quality that allowed them to lift themselves from a 3-13 start. Doug Collins know his team has trouble scoring in isolation, doesn't have many reliable spot-up shooters and, above all, lacks size. With early offense, the Sixers compensate for many of their shortcoming rather well (or they wouldn't be here), but there are certain tasks you just can't sweep under the court -- and rebounding is one of them.
Collins has cited the disparity in foul calls as a decisive factor in Game 1, but it was the glass where the Heat really gained the upper hand on Saturday night. Miami collected more than a third of its missed shots for offensive rebounds and held the Sixers off the defensive glass, as well.
For the Sixers, controlling the boards is a festering problem. They've done an admirable job all season treading water -- ranking 18th in rebounding rate, despite their personnel. Philadelphia plays Spencer Hawes at center and Elton Brand at power forward, neither of whom sniffs the top 20 in rebounding rate at their respective positions. To compound problems, Brand shifts to the 5 when Thaddeus Young -- who's a bit of a tweener forward himself -- enters the game. Andre Iguodala, whose numbers are fairly strong for a shooting guard, is slotted at the small forward position.
On top of that, the Sixers deploy a stay-at-home strategy on opposing shooters, their No. 1 imperative being to keep the ball out of the corners. As a general defensive scheme, it's working. But it also means that, more times than not, Philly's defenders are nowhere near the basket when a Miami shot attempt goes up. To further compound this problem, when the Heat go small -- for instance, with James Jones and LeBron James at the forward spots -- Jones drags Young to the perimeter.
Collins acknowledged that going small, which helps the Sixers' transition game, is a tough proposition. "It's hard for me because Thad plays so hard," Collins said. "It's too many minutes. Elton was actually too many minutes [on Saturday]. 40 is too many minutes ... When I went to my bench, I went to [Marreese Speights] first ... so Thad could finish the game." Again, that's a rotation that can work for Collins in a general sense, but Speights and his 16.5 rebounding rate is average for league centers (20th out of 59 qualified 5s).
One way or another, Collins will have to figure out how his team will keep Miami, the NBA's third-ranked rebounding team, at bay. Any suggestions?