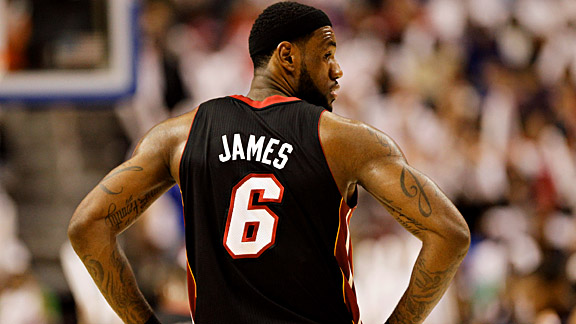 Rob Carr/Getty Images
LeBron James: 1-of-6 as a member of the Heat on shots to win or tie a game in the final five seconds.
PHILADELPHIA -- LeBron James' first season in Miami will not be defined by what he did in the final seconds of close games. But it's not responsible to ignore it, either.
After he was unable to convert with about three seconds left in Game 3 against the 76ers on Sunday, James is now 1-of-6 when trying to win or tie a game in the final five seconds this season. And before this gets into a Dwyane Wade versus James debate, consider that Wade is 0-of-5 in the same situations. The Heat, as a team, are now 1-for-19 on shots that fit these criteria in the final 10 seconds of such games.
"The game wasn't decided on the final possession," Wade said in the wake of the Heat's 86-82 loss.
That is true -- the Heat had a series of breakdowns in the final 90 seconds that ultimately led to the loss. The Sixers also made a couple of clutch 3-pointers that cannot be discounted. These things happen in games that matter. The Heat had won seven games in a row and 18 of 21, so this isn't an indictment of their title chances.
But considering that six of the eight playoff games played over the weekend featured chances for one team to win or tie in the last 10 seconds, throwing away that number this time of year is equally foolish. The Heat have a problem in this area and they are almost certainly going to face it again with huge stakes on the line.
What happened to James in Game 3 was another bullet point in what has become a trend: the big, bruising and brawny James going weakly to the rim with the game on the line. It has happened three times in just the past two months in those precious last-possession situations.
On the play in question Sunday, the Heat had multiple options for a side out-of-bounds play following a timeout. But James, the first option designated by coach Erik Spoelstra, took control. He caught the inbounds pass and rejected the path to the left that would've gotten him a pick from either Chris Bosh or Wade.
Instead, he went to an isolation look against Andre Iguodala. It wasn't a bad decision -- James had space to get a head of steam and the advantage of being bigger and stronger than Iguodala. But then something happened that has occurred repeatedly: James attempted to finesse the ball into the hoop.
After getting some contact from Iguodala, James left his feet and surrendered his leverage. He was too far away from the rim to attempt a layup and instead had to toss up a floater. Elton Brand came over in help defense, blocked the shot and sealed the Sixers' win.
"I thought I put enough loft on the ball that I could get over his outstretched hand, but he made a great play," James said.
Brand did make a play. But there's something wrong with that sentence and that philosophy. James doesn't loft shots. James doesn't shoot floaters. He goes to the rim and expects to finish or draw a foul. Most of the time, he expects to finish with the foul. No player has recorded as many three-point plays in the past five years than James.
If this was a singular event, then this could be passed off as unfair scrutiny. It is scrutiny but it isn't unfair at this point. Once is a fluke, three times is a trend.
In late February, James had a chance to win a game against the Knicks in Miami. James drove to the rim with his left hand. But at the moment of truth, James avoided some contact and tried to float a ball over Carmelo Anthony. Amare Stoudemire came over in help defense and easily blocked the shot to clinch the game.
A week later against the Bulls, James again had a chance to win at home. He got a screen that allowed him to match up with the slower Joakim Noah on the outside. So he started to attack by, again, driving left toward the basket. But when it came time to go for the hoop, James again leaned back and attempted to float the ball over Noah instead of looking for the contact. There was none, and the shot missed badly.
Then Sunday he tried lobbing the ball again, this time going to his right, as he prefers.
"Earlier in his career we all thought that LeBron avoided contact when going to the rim at the end of the game because he didn't want the pressure free throws," a former James teammate said.
"But he was relentless in that Detroit series [in 2007], and I thought he'd gotten past it. It doesn't look like that anymore, but I don't know why, he's a freight train when he wants to be. You can't stop him without fouling him."
James, however, has proved to be a clutch free throw shooter. This season he shot 85 percent from the foul line in the final five minutes of games when the game was within five points either way. But for some reason, he recently seems to be avoiding some contact and attempting to go for a more finesse approach.
The season is a long way from over, and James will likely have more chances. But so far, the stats and the video don't lie -- he hasn't been as aggressive as normal and he hasn't been able to get it done.
"It's disappointing, but we're not going to hang our heads all the way to the ground about it," James said. "It's unfortunate but at the same time we'll have a better game plan, we just have to execute better."