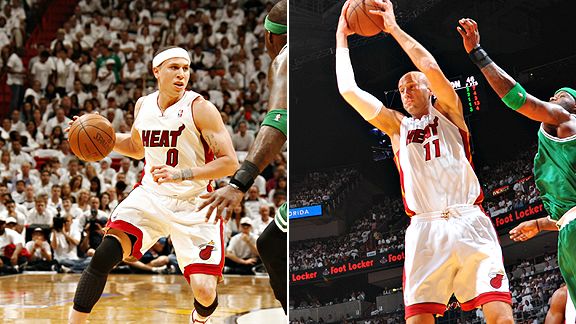 Getty Images
The starting lineup with Mike Bibby and Zydrunas Ilgauskas continues to struggle, but no one seems to know why. Until now.
Have you noticed how bad the Heat's starting lineup has been in the playoffs?
If you haven't, then pay attention to this: the Heat have been outscored by 46 points in the playoffs with the starters in the game (Opponents 165, Heat 119). Yes, a lineup starring LeBron James, Dwyane Wade, Chris Bosh, Mike Bibby and Zydrunas Ilgauskas -- 23 All-Star selections and all -- has been pummeled by their playoff opponents.
Now, defensively, we expected the Heat to make some concessions with Mike Bibby and Zydrunas Ilgauskas sandwiching the Big Three. And, according to NBA StatsCube, the defense has hemorrhaged 116.3 points per 100 possessions to Philadelphia and Boston while on the floor (the average NBA team allows 104.4 points per 100 possessions). It's terrible, yes, but it's also understandable enough to give it a free pass for now.
But the offense? That side of the ball has been a disaster as well, and that's the shocking part. Normally, we'd expect two floor-spacers to be as complementary to the Big Three as grape jelly is to peanut butter. But that hasn't been the case. Don't let Sunday deceive you: the starting unit scored just 13 points in 13 minutes of action.
But statistically, how bad has the offense been? Try 82.3 points per 100 possessions, which is 17 points worse than the sorry Milwaukee Bucks, the worst offensive team in the league this season. No excuses for playing slow in the playoffs -- the "per 100 possessions" part neutralizes the effects of tempo. Sure, that five has played the majority of their minutes against the opposing team's starting lineup, but that shouldn't completely paralyze their effectiveness.
Don't buy it because it's a small sample? Fair enough. Let's bring the regular season into the picture. That adds about 48 minutes worth of information. The Heat's offense improves to 92.8 points per 100 possessions, but that still ranks as the Heat's worst offensive lineup this season. For comparison, the Cavaliers' most used starting lineup this season was eight points better than that.
So what's the deal? How does a Big Three lineup with two offensively-focused veterans perform that poorly?
I decided to peak under the hood and find out. Here are the essentials for each lineup:
Minutes

ORtg - offensive efficiency, which is points scored per 100 possessions

FG% - field goal percentage

3FG% - 3-point field goal percentage

eFG% - effective field goal percentage, which places extra weighting for 3-pointers

OR% - offensive rebound rate, which is percentage of available offensive rebounds recovered

TO% - turnover rate, which is turnovers per 100 possessions
Below is the tempo-free statistical profile on the ten most used lineups:
Miami's most used lineups 2010-11
Data: NBA StatsCube
Notice anything peculiar about the current starting lineup' stat line (bolded)?
Yeah, that 14.3 in the middle there. The Heat's starting lineup has shot a mind-boggling 14.3 percent on 3-pointers in 2010-11.
That's 4-for-28.
In the playoffs: 2-for-20.
Combine that with a high turnover rate (14.1 turnovers per 100 possessions compared the team's average of 11.3), and you have the makings of a basement-dwelling offense. Amazingly enough, the Heat's current starting lineup (92.8) has been worse than the "LeBron Time" lineup, when the two-time MVP doesn't have to share the ball with Wade and Bosh (94.0).
So what do we make of this?
As pedestrian as LeBron and Wade are from beyond the arc, the team isn't going to shoot 14.3 percent going forward. But let's imagine for the moment that they were just average from downtown, not 14.3 percent. How would they look in this parallel universe?
Well, a quick and dirty method lifts their offensive efficiency to 100.4 which is still nothing to write home about. Those turnovers still need to come down for them to be around league average.
Heat coach Erik Spoelstra made no indication at Monday's practice that he'll adjust the lineup for Game 2, so he will most likely trot out the same underperforming five. The 3-point percentage will correct itself over time, but the defense? That's another issue.
With that said, if a Heat starter hits a 3-pointer on Tuesday, it may warrant a standing ovation from the Miami crowd.
They don't come around that often.