The Heat bench was rocking. Twitter was popping. My phone was buzzing.
All in awe of Udonis Haslem.
There was the weakside swat on Derrick Rose, which was followed up by a posterizing dunk on Keith Bogans. There was the fast-break one-handed slam on the freshly minted MVP. There was the timely midrange jumper -- and then another. There was the off-the-ball cut that led to a thunderous two-hand slam past a contesting Gibson.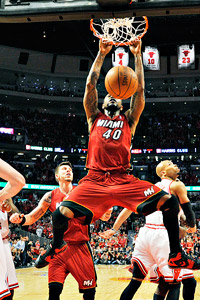 Rob Grabowski/US Presswire
One of Udonis Haslem's three dunks during his breakout Game 2.
Haslem was making big play after big play, single-handedly quieting the Chicago crowd. He was grabbing rebounds and stepping in for the charges. It was an inspiring performance from a player who had recently been shelved for about six months with a foot injury. Haslem's play was so transformative that it prompted Dwyane Wade to say following the final buzzer, "He's the player of this game. We don't win this game without him."
And yet despite all the highlight-reel plays, the knockdown shooting and the postgame shower of praise, we are hit with this conflicting information:
The Bulls blew out the Heat with Haslem on the floor in Game 2.
As stunning as it might be, the Heat were outscored by 11 points in the 23 minutes that Haslem played in Game 2.
What?
How is this possible?
At Hoopdata.com, the great Jeff Fogle tried to reconcile Haslem's surprising plus-minus with the glowing response.
Udonis Haslem made his presence felt with 13 points and 5 rebounds. Mike Miller added 7 rebounds.

I'm not sure what to make of the contributions of Haslem and Miller. It sure felt at the time like it was a big deal that somebody outside the big three was finally doing something. And, Haslem in particular was almost crowned as Mr. America after the game. On TNT, Charles Barkley called him the "X factor" that turned the game around. There was certainly a consensus growing that Haslem's presence could turn the series around too.

The problem with that shows up in the plus/minuses. Remember, Miami won by 10 points.

Game Two Plus/Minuses:

Bosh: +22 points (-12 without him)

Wade: +19 points (-9 without him)

James: +8 points (+2 without him)

Miller: -11 points (+21 without him)

Haslem -11 points (+21 without him)

So, the "X-factor" saw his team get outscored by 11 points when he was on the floor for 23 minutes. Then, he watched them outscore the Bulls by 21 points when he was on the bench??!!

This can be a goofy stat in the short term. And, maybe Bosh, Wade, and James had more energy to produce because of the "on floor rest break" they were getting thanks to Haslem when he was in the game. Then their production increased significantly when Haslem sat back down.

Or, maybe, Haslem was messing up some defensive rotations in a way the untrained eye didn't see because nobody was really paying attention at the time. It will take more of a sample size to get it pegged properly. The truth very likely falls between "-11" and "turned the series around." Miami fans are hoping it ends up registering much closer to the latter.
First, let's respect one-game plus-minus for what it is: a piece of information.
There's nothing magical or advanced about plus-minus. It is a form of accounting, nothing more. It informs us about a player's stint in a game (the change in score when he checked in and checked out), but it is riddled with noise in one-game samples, because players simply don't have that much control over the ebb and flow of a single basketball game, much less 23 minutes of action. Correlation is not causation.
What we make of this information is important. Do we discard it completely? Was the scoreboard lying? Is plus-minus just another one of these new-fangled stats that are poisoning our basketball experience?
No. Plus-minus tells us something and, rather than dismissing it entirely, let's use it as a launching pad for rational analysis. Let's acknowledge this information and ask ourselves: Why did the Heat get outscored by double-digits with Haslem on the floor?
Haslem entered the game with 4:37 remaining in the first quarter and the Heat leading 14-11. He replaced Jamaal Magloire, who was called in for emergency duty after Joel Anthony picked up two early fouls.
And on the first defensive possession, Haslem got dunked on. It wasn't his fault necessarily, since he was rotating to help Bosh, who had left Carlos Boozer to help out on Rose's penetration. But Boozer dunked on Haslem, and did his typical howling head shake as he ran back on defense.
On the following Heat possession, Haslem rebounded a missed Bosh jumper, but the ball was stripped away from him as he went up for the putback. The Bulls went the other way, and somehow Haslem made it all the way back to draw a charge on Rose. Ball goes back to the Heat.
For the first few possessions, Haslem was in the middle of everything, good and bad. But then, Erik Spoelstra made the puzzling decision to go with a super-small lineup against the Bulls' frontline of Deng-Boozer-Noah. And this is a big reason why one-game plus-minus should be taken with a grain of salt. The minus-11 says as much about whom Haslem played with as how Haslem played.
Spoelstra took out Dwyane Wade and Chris Bosh, and inserted Mike Miller and James Jones. Essentially, the Heat sent out a bunch of 6-foot-8 guys against the intimidating Bulls frontline. What followed was as completely expected. With the wiry Jones trying to defend Boozer in the post, Noah made a beautiful entry pass to Boozer who turned around for an easy bucket. That's not a winning matchup. The Bulls' frontcourt proceeded to score six straight points on the Heat. Suddenly, the Bulls were on a 12-3 run.
And then the Deng 50-foot heave at the buzzer happened. Haslem came in with the Heat up 14-11 and just four short minutes later, the Heat were down 26-19.
But the first-quarter deficit was a reflection of questionable lineup configurations and prayer shots from the Bulls, and not an indictment of Haslem's play. At the end of his first stint, Haslem was already -10, thanks to Spoelstra's decision to have Miller and Jones guard Noah and Boozer.
And then there's Mario Chalmers. The backup point guard delivered his worst performance of the posteason, coughing up the ball three times, tallying three personal fouls, and missing his only shot of the game in just five minutes of action -- all next to Haslem.
Should we blame Haslem for Chalmers' boneheaded plays? Of course not. Again, correlation, not causation.
Haslem played well individually, but he also happened to be on the court with oddball lineups, a half-court heave and a trainwreck performance by Chalmers. After that ugly first stint, the Heat played the Bulls evenly with Haslem on the court the rest of the way.
Taken in that context, the Haslem minus-11 doesn't seem so fraudulent any more, does it? With one-game samples, we need that context to help explain puzzling objective data.
A player can play well and own a poor plus-minus, which is no different than watching a great starting pitcher in front of a terrible defense. Florida Marlins starter Josh Johnson can pitch brilliantly one day, but the Marlins could let him down with porous fielding and soft hitting. The scoreboard may not reflect Johnson's brilliance due to elements out of his control -- namely hitting and defense -- but it shouldn't take away from his individual performance.
Similar story for Haslem in Game 2. In the long-run, plus-minus can be enlightening, but in a sample size of one game, it is just a piece of information.
Analyze responsibly.