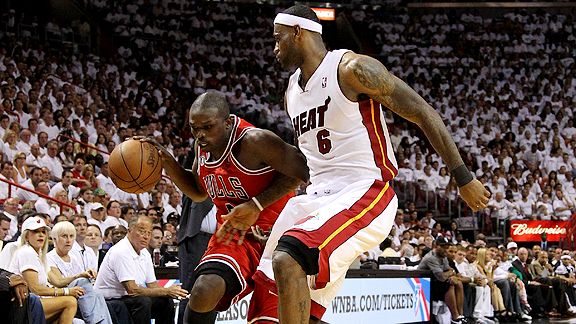 Mike Ehrmann/Getty Images
LeBron James didn't look for his shot as much in Game 3, but came up huge in other areas.
In terms of points per game, LeBron James is the fourth-leading scorer in the history of the NBA playoffs, and the leader in playoff points per game among active players. But what makes James truly special is that he's so much more than a scorer; James can impact a game in more ways than perhaps any other player in the league. In the playoffs versus the elite defensive teams, James has traditionally struggled to score efficiently, but he often tries to compensate by ratcheting up his effort level on both ends of the floor, and this postseason has been no different.
The Heat took a 2-1 series lead in the East finals with their victory over the Bulls on Sunday night, but James didn't look for his shot for most of Game 3. He had only 12 points coming into the fourth quarter. Yet LeBron had already used his ancillary skills to make his mark on the game:
Passing
Statistically speaking, James has actually been a less effective passer in Miami than he was in Cleveland, despite being flanked by more talented teammates. James averaged 1.6 fewer assists per game in Miami than he did in the 2009-10 season. What's more surprising is that more of his passes led to high-percentage opportunities for his Cavaliers teammates than they have for his squad-mates in Miami.
According to Hoopdata.com, James averaged four assists per game that led to layups or dunks in the '09-10 season. This season, that number was cut in half; James set up only 2.1 dunks or layups per game. In Game 3, however, LeBron was back to making home run passes, and some of his 10 assists were absolute beauties:
With just under seven minutes to go in the first quarter, LeBron held the ball near the sideline well outside the 3-point line. Joel Anthony, whom the Bulls were wisely ignoring in order to build a wall between James and the hoop, was able to sneak under the basket. LeBron then made a pass that would be impossible for most players -- an absolute frozen rope of a look-away pass that whizzed by the ears of the confused Chicago defense and found its way into Anthony's hands for an easy dunk.

Later in the quarter, James forced a rare Chicago defensive breakdown by grabbing a rebound, starting a semi-transition break himself, and weaving through the Chicago defense near the top of the 3-point line. When the Chicago defense was forced to collapse, James flipped an easy little look-away pass to Chris Bosh, who got his two easiest points of the night on a wide-open dunk.

With just over a minute to go in the half, James set up Bosh for another dunk. James actually doesn't deserve most of the credit for this score, as Bosh got open by making a beautiful curl to the rim off a well-placed Mike Bibby screen. Still, LeBron read the play perfectly and delivered a bullet, and a dunk was the result.

With the game tied halfway through the third quarter, LeBron stepped up and played perfect help defense to contest a Carlos Boozer layup and force a miss. On the ensuing fast break, LeBron forced four Chicago defenders to swarm to the paint, then calmly swung the ball out to Bibby for a wide-open, go-ahead 3. The Heat led the game the rest of the way.
Those were the highlight-reel passes for LeBron, but those plays don't fully capture the value of his passing in Game 3; he did set up his teammates with some open midrange shots that they were kind enough to knock down for him, and the "hockey assists" LeBron got whenever the Heat posted him up and forced a Chicago double-team almost always led to a good look.
Defense
It's incredible to watch a game like the one on Sunday and remember that LeBron really wasn't an impact defender during his first few years in the league. James was absolutely everywhere on defense in Game 3, and it would have been one of the better defensive performances of his career if he hadn't fallen asleep on a Luol Deng backdoor cut early and gambled to set Deng up with an open corner 3 late in the game.
James has the reputation among some as being a "flash over fundamentals" defender from people who see only his breathtaking chase-down blocks and the occasional lapses like the ones described above. The truth is that his size, speed, athleticism and instincts have turned him into one of the best perimeter defenders in the game, even if his defensive stance still looks a little flat-footed and he doesn't put on the "pull up your shorts and bark at your assignment for 60 feet" antics that most top man-to-man defenders engage in.
LeBron's off-ball defense was amazing in Game 3. LeBron can sometimes get caught ball-watching, over-gambling or taking possessions off as a weakside defender in the regular season, but he seems to take a special pleasure in demoralizing teams by regularly coming out of nowhere to make plays in the postseason.
In this game, LeBron swatted two of Boozer's shots at the rim; LeBron was in perfect position to help on his former teammate, and stopped multiple fast breaks by sprinting back and either getting in front of the ball handler or putting the fear of the chase-down block in his head. James also came up with two steals, the latter of which led to an and-1 in transition that effectively ended the game.
Somehow LeBron was still able to shut down Luol Deng -- one of the Bulls' two players capable of creating his own shot off the dribble -- in man-to-man coverage while seeming to be everywhere at once on the weakside. James got up into Deng's body and forced him to try to go left, which Deng didn't seem comfortable doing at all. Deng needed 13 shots to get his 14 points, didn't get to the foul line once and scored only four unassisted points, two of which came on an offensive rebound. The Bulls came into this series with the best defense in the league, but the argument can be made that James has been the best defensive player in the series over the course of the first three games.
LeBron also did some other "little things." He dove for loose balls and drew a quick second foul on Joakim Noah (which led to an unfortunate alleged homophobic slur from Noah on the bench) by properly boxing Noah out and forcing him to come over LeBron's back. James once again played the role of closer, scoring 10 of his 22 points in the final period and putting the Bulls away with the aforementioned steal/and-1 to put the Heat up by double digits with just over five minutes to play.
LeBron came into the league as a special athlete with otherworldly court vision for a man his size. Over the first few years of his NBA career, he quickly honed his offensive game enough to become one of the best scorers in the league. When the Cavaliers started making deep playoff runs, LeBron transformed himself into an impact defensive player.
LeBron's scoring will always be the thing people focus on most, but on Sunday his biggest contributions came from the passing skills he came into the league with and the defensive ability he worked so hard on in the middle of his career as he tried to make the jump he now finds himself six wins away from making: the leap from one of the NBA's best talents to an NBA champion.