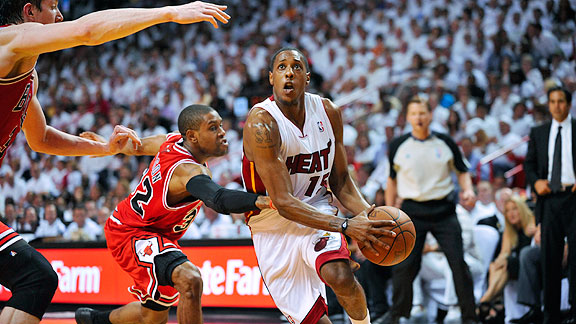 David Dow/NBAE/Getty Images
After a miserable performance in Game 2, Mario Chalmers bounced back in style on Sunday night.
MIAMI -- Heading into Game 3, the Heat's point guard play was considered an Achilles' heel -- and with good reason. Mike Bibby couldn't hit a shot, and Mario Chalmers was coming off an atrocious five-minute stint in Game 2. To make matters worse, they were burdened with handling Derrick Rose, a star point guard and the league's MVP.
But during Sunday's Game 3 win, the Heat's point guard combo showed a steady hand on both ends of the floor.
Heat coach Erik Spoelstra has likened Rose to a tornado several times in recent days since the Bulls' leading scorer is an uncontainable force on the court. But oddly enough, Bibby and Chalmers just about contained him.
According to ESPN Stats & Information, Rose shot just 4-for-12 when guarded by Bibby and Chalmers, including 0-for-3 on isolations. Against the Heat's point guard tandem, Rose scored just 12 points on 15 plays where he ended the possession. Heading into the game, Rose had scored 50 percent when guarded by Bibby and Chalmers.
"They were great tonight," LeBron James said after the Sunday's game. "Our point guards just try to stay in front of him as much as possible, trying to contain him. They're doing a great job so far."
This wasn't supposed to happen. Rose was supposed to chew up the Heat's point guards and force James and Wade to come to the rescue. After all, Bibby may be the NBA's most maligned defender at the point guard position, and is a decade older (and slower) than the guy he would have to cover.
Of course, Spoelstra went back to the tornado metaphor when describing Bibby's play after the game:
"He arguably has the toughest fight of anybody, and that's trying to get his chest in front of a tornado," Spoelstra said.
Bibby's job isn't necessarily to stay in front of Rose, but to impede his penetration just long enough to allow his help defenders contest the inevitable shot.
A first-quarter possession provided an instructive demonstration of this task. In the open court, Rose dribbled the ball at full speed right at a backpedaling Bibby. Instead of pulling out the red carpet and allowing Rose to drive right to the rim, Bibby stopped Rose's initial dribble move to his left, and forced Rose to slow down, redirect his momentum into a spin move, then take an unbalanced shot to his right.
Bibby caused Rose to decelerate and, in doing so, allowed Joel Anthony to come over and swat Rose's attempt at the rim. After hitting Anthony's hand, the ball ricocheted off of Rose out of bounds. Anthony was credited with the block but if Bibby hadn't provoked Rose to slam on the breaks, Anthony might not have gotten there in time.
Bibby also knocked down two key 3-pointers Sunday, after entering the game 9-for-40 from downtown in the playoffs. His lack of production sunk to all-time lows in the Boston series as his player efficiency rating (PER) dipped to 1.1, the lowest of any player in NBA history with at least 180 minutes of action in a single postseason.
But Spoelstra stuck with Bibby, and the veteran rewarded his patience with timely shooting.
Bibby isn't the only Heat point guard who needed to turn it around. Chalmers' five minutes of action in Game 2 was a basketball player's nightmare. On the playoff stage, he turned the ball over three times, tallied three personal fouls and missed his only shot attempt, a wide-open 3-pointer from the left wing.
Rather than burying Chalmers on the bench Sunday, Spoelstra called his number to start the fourth quarter. Chalmers never came out until the final buzzer.
"It felt good especially after the way I played in Game 2," Chalmers said. "I think I had a horrible game."
All season long, Spoelstra has pushed Chalmers -- literally, pushed him -- to get the most out of his young point guard.
Following every Heat practice, after all of Chalmers' teammates leave the court, Spoelstra takes the court with the 25-year-old to run the same shooting drill over and over. It goes something like this: Spoelstra shoves the third-year guard in his side and Chalmers has to bounce back and shoot the ball off-balance. Twenty times over (see video below).
It's a good thing he got in that extra practice time Saturday. On a second-quarter possession, C.J. Watson trailed behind Chalmers as the Heat point guard took a handoff from Udonis Haslem. As Chalmers grabbed the ball, Watson put his hand on Chalmers' back and shoved him to the left, just like Spoelstra did so many times on Saturday. Chalmers gathered himself and hit a jump shot. Just like he did so many times on Saturday.
Usually, Chalmers is a headache on the basketball court, but he was an unlikely source of calm Sunday, coughing up the ball just once in 21 minutes of action. And the turnover only came after Chalmers ripped the ball from Joakim Noah.
"Our point guards are very key to our team," James said. "When they play big and make shots and also defend like they are doing, we're a pretty good team."