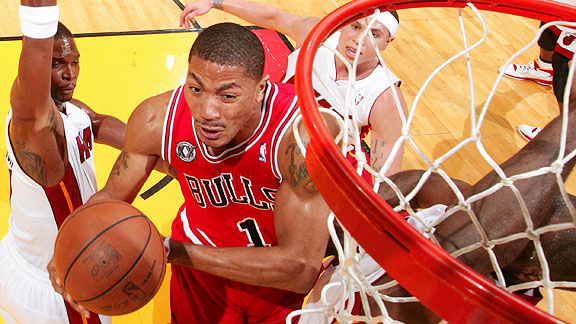 Victor Baldizon/NBAE/Getty Images
Derrick Rose is encountering multiple Heat defenders every time he steps foot in the paint.
MIAMI -- Now three years into his career, Derrick Rose has seen every defensive trick and scheme that the NBA has invented.
His relative struggles in the Eastern Conference finals -- relative because he's still averaging more points than either the Miami Heat's Dwyane Wade or LeBron James and is still shooting a higher percentage than he did in a first-round series against the Indiana Pacers -- are not a result of any tactical wizardry.
It would be an interesting storyline to declare the Heat have come up with an original set of "Rose Rules" to shackle the Chicago Bulls' most valuable player in the series they now lead 2-1. But that just isn't the case. The reason Rose is looking merely like a leading scorer instead of the one-man tornado, as Heat coach Erik Spoelstra has branded him, is more simplistic.
The Heat are just doing the defensive basics better than anyone Rose has seen in his career. And it is smothering the Bulls' offense so far in the series.
"Atlanta's double-team was different, Orlando's was different," Rose said Monday. "It's totally different, they are way athletic."
What Rose is calling a double-team is the Heat's pick-and-roll coverage on him so far in the series. Just that he's using the term "double-team" speaks volumes because, well, the Heat generally aren't using double-teams. They're just moving so quickly and playing together so well that it seems like they are doubling him.
"It's a learning experience," Rose said. "I have to read what they're doing."
Rose is still averaging 23 points and six assists on 39 percent shooting in the three games. That's pretty good. But considering that's seven points, four assists and six percentage points lower than his nightly efforts in the previous round against the Hawks, it certainly seems like he's struggling. With the Bulls having difficulty scoring against the Heat, it is only magnified.
Let's explain what is going on and how it can be summed up in one possession from the fourth quarter back in Game 2 in Chicago, which is where this series turned into a display of the Heat's defensive ability.
With the Bulls trailing 76-73 and four minutes left, Bulls coach Tom Thibodeau called for a 1-4 pick-and-roll. His team ran it almost perfectly.
Rose had the ball on the wing when Taj Gibson came to set a screen on Rose's defender, in this case Mike Bibby. Rose turned the corner skillfully and quickly, effectively shaking Bibby and Gibson's man, Chris Bosh, in the same instant.
He's literally done this hundreds of times this season and it's one of the main reasons he's the MVP. Usually, it will result in an easy shot or a foul at a moment the Bulls badly needed points.
But here is where the Heat are different. When Rose got into the lane there were two Heat defenders already waiting. It slowed him down as he shifted and looked for a crease to release a shot. By the time he got the ball in the air, about four feet from the rim, he was surrounded by all five Heat defenders on the floor. He missed.
This scenario has played out over and over, not usually in the extreme with all five defenders on him but usually with at least three. Rose can beat double-teams, but triple-teams in his scoring zone are proving quite hard. Then there are those quadruple-teams, which the Heat are pulling off regularly as well.
"Our only job is to make sure that when he comes to the basket that he sees three guys if not more," Wade said. "He's going to hit some but hopefully we can continue to wear him down at the end of the games where he doesn't make the same ones he made earlier."
The Heat are getting away with this because they clearly do not fear any of the other Bulls' offensive options. They routine leaves them to swarm to Rose no matter who he's involved with in the pick-and-roll.
All the attention is making it harder for Rose to pass out to the open teammates because of all the hands and arms that tighten around him. In the fourth quarter of Game 3, for example, Rose tried to make the correct play out of a descending triple-team as he drove to the rim. But James intercepted the pass intended for Luol Deng and it resulted in a 3-point play as James got an easy basket and foul at the other end.
Watch all the drives to the basket Rose has attempted in his series and you will routinely see Deng or Kyle Korver or Keith Bogans standing wide open with their hands up waiting for a pass. The Heat even generously leave Carlos Boozer, Joakim Noah and Gibson when they are closer to the basket in even better scoring position. But
Rose is having increasing trouble seeing them or getting it to them.
It has flustered Rose to the point that on Monday he seemed to want to abandon running pick-and-rolls just to relieve some of the pressure that's been in his face. He'd rather try to just go one-on-one and beat his man that way. In other words, largely just abandon the offense at times.
"That would be great," Rose said of the suggestion of isolation plays. "I think like more step-ups, things like that, more isolation-type things instead of double-teaming all the time."
Of course, that's not a real solution either, which is why the Bulls spent their off day before Game 4 going over film and seeing where they could have Rose exploit the sacrifices the Heat are making to slow Rose. He called them "release points."
The Bulls will adjust but the Heat won't much, as they have shown they are selling out to swarm Rose. So far it is working.
"Every series, the team is different and they're doing something different," Rose said. "The thing is catching on to it and trying to do something different."