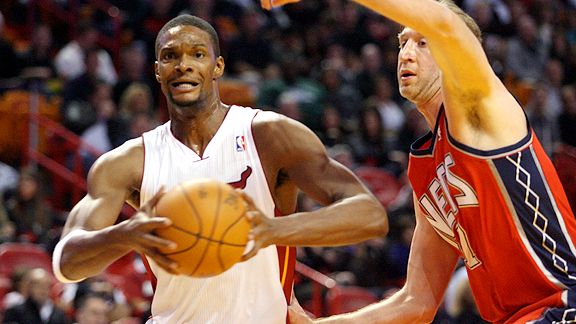 Marc Serota/NBAE/Getty Images Sport
Chris Bosh's season-high 21 points ended a drought not seen since 2004.
MIAMI -- Of all the highlight-reel acrobatics and buzzer-beaters from LeBron James and Dwyane Wade, it was Chris Bosh who induced the most raucous cheer from the AmericanAirlines Arena crowd during the Heat's Saturday night's 101-89 victory over the Nets.
With about seven minutes to go in the third quarter, Bosh received a no-look dish from LeBron, soared through the air and downed a thunderous dunk over a flying Brook Lopez to put the Heat up six, starting a 20-8 run that iced the game.
Feeding off the electricity from the audience, Bosh then took a moment and unleashed a roar to the crowd. This wasn't showboating; it was a charged sigh of relief.
It took seven games, but the five-time All-Star finally eclipsed the 20-point threshold Saturday night, scoring a season-high 21 points on 6-for-12 shooting from the floor. Bosh's output snapped his sub-20-point streak at six games, his longest since 2004.
We often hear about a player having a breakout game and a few months from now, we may very well refer to tonight's performance as Bosh's coming out party in Miami. Admittedly, it feels a bit silly that a home game against the lowly Nets -- a team that the Heat already beat by 23 points one week ago -- would be a worthy stage for a statement game.
But consider the circumstances.
Entering Saturday's game, Bosh was in the midst of one of his worst stretches of his career. He had grabbed only one rebound in two of his previous three games, which is almost unthinkable given his status as one of the league's most productive rebounders. After averaging 24.0 points last season, Bosh hasn't led the Heat in scoring in any of the team's previous six games, despite Wade and James having their own off-nights in the points column.
It's safe to say that, statistically, the 6-foot-10 power forward was in a funk entering Saturday night's game -- and it went much deeper than the numbers. Bosh looked timid and disoriented in a Heat uniform.
"I've kind of just been on my heels for the first part of the season," Bosh said. "I'm starting to figure it out. It's starting to come to me.
"I get a little lost out there because it's different," Bosh said. "We have a system but at the same time when the games happening so fast, sometimes I get lost. I don't know whether to cut, whether to go, whether to get back. Playing with those talented two guys, it gets real fast."
It took a while, but after the exultation of the third-quarter slam, Bosh looked like himself again -- not just the aggressiveness but the emotion, too.
"I've always shown my emotion, the excitement, and the controlled rage," Bosh said. "I think that's always been a strong point for me. I really have to get back to that."
It's fitting that it was James who set up Bosh with the high-flying dunk. The two-time MVP and the struggling former Raptor each spoke after the game about a much-needed chat they shared during their overnight flight back from their New Orleans defeat Friday.
"I knew a little about Chris but I know a lot more now from last night's conversation," James said. "He was able to open up to me and I was able to listen and get a good feel where he is coming from. That conversation definitely helped and it showed in his play tonight."
Bosh finally got back to initiating contact and drawing fouls on Saturday night. His ten free throw attempts was a season-high.
"It was the most efficient game he's had," James said. "I think when you get to know someone off the court and get to know what they're all about, it makes the game that much easier."
The Heat will undoubtedly face a tougher test on Tuesday night when they host the Utah Jazz in front of the Miami crowd. If Bosh's performance serves as any indication, he's starting to feel at home.