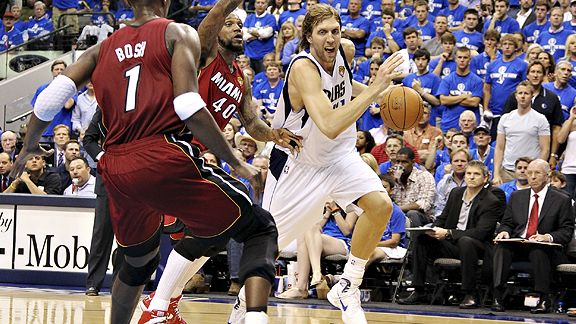 Mike Ehrmann/Getty Images
Dirk Nowitzki has been smothered by a Heat defense that was established back in September.
DALLAS -- Even before the doors opened to the basketball courts at Aderholt Fitness Center on that military base that late September afternoon, the competitive chaos could be heard.
"Bulls---," LeBron James barked at teammate Dwyane Wade.
The Miami Heat teammates were in the middle of an animated exchange at the end of their first official practice together in training camp.
"Game over," James shouted as dozens of reporters filed into the cramped gym on the Hurlburt Field base. "We won. Y'all lost. It's over."
At issue was the final score of a scrimmage that pitted James' team against Wade's group. Assistant coach and Hall of Famer Bob McAdoo was the scorekeeper, referee and the subject of ridicule and scorn at the moment. This wasn't your typical practice scrimmage.
Points were awarded for swarming, physical, relentless defensive stops.
Not scores on offense.
Your squad forces a turnover or a missed shot, you stay on the court and take on the next group of five players waiting on the sideline.
Elbows extended and flailing. Brutal box outs. Tenacious trash talk. Dominant defensive stands.
It was all part of James' Day 1 indoctrination into the Heat's culture and the franchise's defensive demands.
The suffocating defense the Heat have brought to the NBA Finals against the Dallas Mavericks -- and throughout a postseason run that has them within two victories of a championship -- was born on a military base nine months ago on the first day of training camp.
It's a defense that was molded over the course of a turbulent season, and has now manifested itself into something of a nightmare for the Mavericks to execute against as the teams head into Game 4 on Tuesday, with the Heat looking to take a commanding 3-1 series lead.
If it seems the Heat have been hard on the Mavericks defensively, it's because they've sharpened their skills by being callous on one another since their first practice together.
"I remember that day," Wade said Monday as he shook his head in disbelief as the memories rushed back. "Obviously, it set a tone from the standpoint of how much, defensively, we were going to get after it. We played on different teams through the whole training camp. And we knew that if we were able to have that intensity versus each other, we could do that versus any team."
The defensive seeds that were planted that day back in September have the Heat in position to reap a championship harvest if they can muster two more performances like they delivered in Game 3.
"We knew that defense, like we've been playing, was going to be the staple of our team," Wade said. "And if we were going to win a championship, it had to start there."
The Heat have gained control of this series by forcing the Mavericks into uncharacteristic mistakes and locking down on them defensively better than any team Dallas has faced. The numbers are staggering in some areas through three games, including a Dallas victory in Game 2.
The Mavericks averaged 100.2 points per game during the regular season, but have managed just 88.3 against the Heat. They shot 47.5 percent from the field during the season, but have been held to 41.7 percent in the Finals. Dallas also is averaging nearly six fewer assists per game against Miami than in the regular season.
In short, the Heat's speed and athleticism have handcuffed the Mavericks, who repeatedly have seen their mistakes converted into made baskets for Miami. Dallas regrouped for practice Monday hoping to reverse a frustrating trend.
The Heat have scored 273 points through three games, including 62 that have come directly off 45 turnovers by the Mavericks.
"If you see a window, they close it extremely fast," Mavericks point guard Jason Kidd said. "Sometimes, our best turnovers -- if we do make one, throw it into the stands so we can set our defense. Because if you don't, and they get their hands on the ball, they are laying the ball up on the other end."
Miami has placed a premium on perimeter ball pressure since the preseason. Heat coach Erik Spoelstra said from the very first team meeting that the biggest benefit of having James and Wade on the same team was that it gave Miami two of the league's most dogged defenders on the wings.
Phil Jackson used to refer to Michael Jordan and Scottie Pippen as "Dobermans" during the Chicago Bulls defensive-charged heyday.
Spoelstra once likened Wade and James to relentless pit bulls when they're locked in defensively.
Add in Udonis Haslem's footwork and knowledge, Joel Anthony's shot-blocking, Chris Bosh's length and motor (when he's motivated) and Mario Chalmers' aggressiveness in the passing lanes, and it equates to a unit that leaves Mavericks coach Rick Carlisle with a frustrating search for answers.
"They do a great job at the point of attack, and so it puts a bigger premium on stopping them so that you can get the ball and run it and get it up the floor," Carlisle said. "Because if you take it out of the basket and try to go against their set defense, they're one of the very best in the league. They're extremely athletic. The caliber of athlete they have is, you know, top-level."
Dirk Nowitzki has put up strong numbers in the series, averaging 28.3 points and 10 rebounds. But his 45.9 percent shooting from the floor is down considerably from the combined 56.5 percent he shot during the Western Conference finals against Oklahoma City and the four-game sweep of the Los Angeles Lakers in the semifinals.
Nowitzki is dealing with the same swarming defense the Heat employed to smother league MVP Derrick Rose and render Chicago's supporting cast nearly nonexistent in the conference finals. And Rose was introduced to the same frustrations that Paul Pierce and Kevin Garnett met the previous round. And there are folks in Philly still searching for Andre Iguodala, who never really showed up in the Heat's first-round series win against the 76ers.
That's been the Heat's plan from Game 1 of the opening round of the playoffs -- make the opposing star work harder than he's ever had to get off a shot, then shut down any secondary options.
Nowitzki credited Haslem, who defended him effectively in Miami's series victory over Dallas in the 2006 Finals, with returning to form just in time from a foot injury that kept him out most of the season.
"He's one of the best defenders we have at power forward," Nowitzki said of Haslem, who also forced him into a turnover and missed shot in the final seconds of Game 3. "He's back in time. He's kind of a glue guy. He does all the little things. He sets screens, he does all the dirty work."
Haslem, who missed 69 games as he recovered from his November foot surgery, was healthy when those dirty-work duties were established back in training camp for the Heat's newcomers.
Wade and Haslem, the lone holdovers from the Heat's 2006 title run, were often teamed against Bosh and James on those early scrimmage teams. Before there was ever chemistry among them, there were those defensive clashes that served as Miami's orientation process.
"From the first day, Spo made sure to set the tone for some of the things we're able to do now," Haslem said. "It's no coincidence that he matched D-Wade up against LeBron and me up against Chris. Did we have the schemes down then? Nah, we didn't. But defensively, the mentality and the competitive spirit started right there. It's been six, seven, eight, nine months of building habits right up until this point."
Therein lies the roots of their defensive resistance.
If the Heat's defense is capable of being this lethal out in public, just imagine what it was like nine months ago when they laid the foundation in private.
If the Heat are to shut the door on this series, they'll have to do it defensively.
And it'll be with those same principles they established on Day 1 back in training camp, way before the doors ever opened on this season.