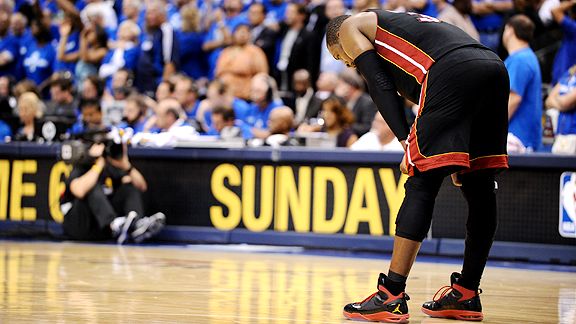 Garrett Ellwood/NBAE/Getty Images
An injured hip limited Dwyane Wade to 34 minutes in Game 5, but that's not all he's hurting from.
DALLAS -- It's a safe bet Dwyane Wade will wake up sore and angry Friday morning.
The question is which bruises will hurt more as the Miami Heat retreat back to South Florida facing elimination after Thursday's 112-103 loss to the Dallas Mavericks dropped them into a 3-2 series hole heading into Game 6 on Sunday.
There's the injury: a left hip contusion he insists won't keep him out of action with his team's season and title aspirations hanging in the balance.
And then there's the agony: knowing that the Heat have allowed the Mavericks to hang around long enough to gain momentum on the heels of their most complete game of the series.
Wade sustained the hip injury with 4:01 left in the first quarter as he drove to the basket and ran into Mavericks forward Brian Cardinal, who was called for a blocking foul while attempting to draw a charge. Wade made both free throws, left the game two minutes later and collapsed on the floor in front of the Heat's bench before he was escorted to the locker room.
Wade refused to make the injury an issue after the game, but it was serious enough to require extensive treatment that kept him in the locker room for the start of the second half and it affected his play down the stretch as Dallas closed the game on a 17-4 run.
"I don't talk about injuries -- it was unfortunate I had to leave the game, but I came back and finished," Wade said. "Once you're on the court, you're on the court. I don't have no excuses. I'm smart enough to play the game without obviously being 100 percent. That's all I did when I came back."
Wade finished with a team-high 23 points on 6-of-12 shooting from the floor. He also was 10-of-12 from the free throw line and had eight assists, two rebounds, two steals and four turnovers in 34 minutes. Wade missed the first seven minutes of the third quarter while he was treated by doctors and trainers before he returned to replace Mike Miller, who started the second half at shooting guard.
Heat coach Erik Spoelstra said he went into the second half anticipating that Wade wouldn't return.
"My plan was for him not to go," Spoelstra said. "I didn't even see him on the bench when he came back. We went on from there. We still had an opportunity to close this out. We weren't able to do it, and so now, when we go back to Miami, we wouldn't have it any other way. Nothing we've achieved this year has been easy. So we're certainly not going to start now."
With Wade still in the locker room, the Heat got a boost early in the third quarter from Miller, who made two 3-pointers and scored six of his nine points in the period. After Miller tied the game at 60 on his first shot of the half, Dallas outscored Miami by seven before Wade re-entered the game.
The Heat committed five of their 18 turnovers in the third quarter and could never get on track.
Heat forward LeBron James said the team tried to play through Wade's absence but could never really make up any ground when he was out of the game.
"We just tried to work our same offense," said James, who tried to be more aggressive offensively while Wade was out. "I was able to get into the lane a couple of times, hit out for 3s, hit out for guys that got some layups, and also I was able to get to the rim a couple of times, put a little pressure on the defense. But it's nothing that you can really change.
"It's our habits we've been working through all season. With him being out, we just try to do the same thing as if he was in, but knowing that one of our scorers is down. Guys had to come in and try to make plays, pick up the slack."
Wade returned and had his most productive stretch in the fourth quarter, when he led the Heat with 10 points and three assists and played all 12 minutes. Defensively, the Heat's perimeter players struggled to keep up with Dallas guards Jason Terry, J.J. Barea and Jason Kidd, who combined for 19 of their team's 28 points in the fourth quarter.
Terry said he couldn't tell how much the leg injury affected Wade down the stretch.
"When he came back in the game, he came back aggressive," Terry said. "So I don't know if he was hurt or what. To us, it doesn't matter. He was on the floor. He got opportunities. He drove to the basket. So he's a tough cover. If he's out there, he's a threat."
Wade vows to be back out there again Sunday. He'll have two full days of rest and treatment on his left hip. Wade has had similar injuries with both legs in the past despite wearing protective pads beneath his uniform near his hips, thighs and knees.
As Wade walked out of the American Airlines Center late Thursday, he was mocked by Mavericks fans who asked whether he needed a wheelchair. He smiled and kept walking toward the Heat's bus. Despite the discomfort and disappointment he felt Thursday, he was focused on the larger dilemma his team faces.
"I'll be fine Sunday," Wade said. "The good thing about life, good thing about this game, we get another opportunity, another crack at it. We'll do whatever it takes to win [Game 6]. We're confident."