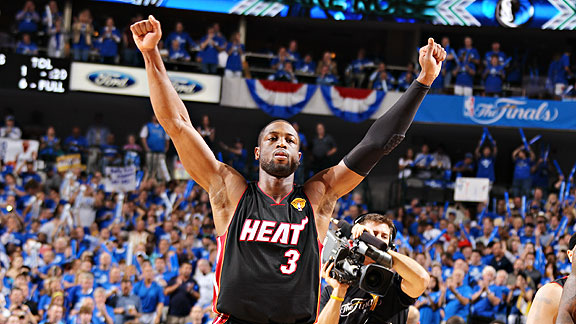 Nathaniel S. Butler/NBAE/Getty Images
It's Dwyane Wade's time to take the reins and try to bring the Heat back from the brink.
MIAMI -- Before the hydraulic lifts would catapult them onto the stage, before the fireworks boldly and flamboyantly introduced this unprecedented union and before their numerous detractors around the basketball world had a chance to dig their nails in with disdain, there was a much more humbling reality developing backstage that night in July for the Miami Heat.
Before they made their first public appearance as the core of a team much of America would soon love to hate, they were simply two dudes who were tentative and overwhelmed by the occasion they were about to step into being comforted by one obvious leader.
As LeBron James walked onto the lift, he grabbed a railing, leaned over and stared toward the ground with an expressionless face and appeared almost nervously uncomfortable.
Chris Bosh was on the exact opposite end of the emotional landscape, as giddy, fidgety and hyped as a 12-year-old on a shopping spree at a video game store.
And then there was Dwyane Wade, literally and figuratively in the middle, the mayor of the moment -- as cool and collected as the Dos Equis man -- simultaneously calming the jitterbug friend to his right and cheering up the buddy on his left.
"We've done this before fellas," Wade reassured James and Bosh seconds before they rose to the stage for that rock concert-like introduction at AmericanAirlines Arena to kick off their signing party. "It's just like in the All-Star Game. Remember?"
Eleven months later, it's Wade who must again step to the forefront and rescue the Heat from a potential meltdown in the NBA Finals they won't soon forget.
Despite how many headlines and how much hoopla would accompany the transition of James and Bosh to Miami, there was never much debate whether this was Wade's town.
And with James seeming reluctant to impose his will along with Bosh's consistent stretch of inconsistency in falling down 3-2 against the Dallas Mavericks, there's no question it's Wade's time.
It was Wade who played the lead role in bringing these guys together. And it's his obligation to carry them home, with the Heat needing a victory Sunday in Game 6 and another in Game 7 on Tuesday to deliver a championship. A loss in either of those games would almost assuredly trigger the pundits' process of ranking Miami's meltdown among the most stunning collapses in recent Finals history.
Much like last July, this is another moment when Wade might need to make it clear that it's his town, his team, his time. From there, everyone else falls into place and everything else falls in line.
"I understand the importance of it, obviously," Wade said of the moment at hand for the Heat. "Up to this point, the leadership that I've portrayed will come to the forefront and my teammates will understand the things that I've been saying. The time is now. The time is here."
And only time will tell if Wade can lead the Heat past the most daunting test of his career.
Dirk Nowitzki and the Mavericks have snatched momentum away in this series by perfectly timing some clutch shooting and playmaking late in games with the Heat's penchant to collapse in the fourth quarter. When the Heat blew a 15-point fourth-quarter lead in a Game 2 loss, they insisted it was an aberration.
When they squandered a 13-point lead in the second half but rallied back for a win in Game 3 to take a 2-1 series lead, the Heat vowed to end the disturbing trend.
But when they couldn't hold a nine-point lead with less than 10 minutes to play in Game 4, the sobering reality began to set in. A series that could have been a sweep was now in danger of being swiped away.
Dallas was simply the better team in Game 5. And as a result, the Mavericks are a more confident team.
They've fought off doom and are embracing the notion of destiny, with two shots to get one win for a title. And considering the way the Mavericks regained their shooting stroke in Game 5 that allowed them to sweep the Los Angeles Lakers in the semifinals and get past Oklahoma City to advance to the Finals, the Heat will be flirting with disaster if they find themselves locked in another tight game Sunday.
These are times when teams lean on leaders.
D-Wade is that for this Heat team.
Especially at this time.
"It's not just on [Wade], and it's not just on myself or [Bosh]," James said. "It's on all of us. D-Wade knows that it takes to win a championship, coming back when you're down. But we know none of us can win it by ourselves. That's why we're here. That's why we came together."
Sacrificing money in free agency to get Bosh and James here was fine. Now, it's time to get a little selfish with the season on the line.
Deferring to make sure James would eventually find a comfort zone with the team, the town and the coaching staff was admirable. Now, it's time for Wade to get back to dominating.
James might break out of his fourth-quarter funk just in time to help save the season. But if you're Wade, can you really sit back and trust that it will happen, giving the circumstances of this series?
Bosh might distance himself from those in-game disappearing acts when the offense either goes away from him, or he fails to assert himself. But if you're Wade, can you afford to wait?
Of course, Wade can't do it alone. But for 102 games this season, including the playoffs, having James and Bosh was a unique luxury. Bosh is still figuring out what it takes to be a big-time presence in postseason basketball. James has a history of doing his best work in the regular season and through the first two or three rounds of the playoffs.
But if there were any doubts as to whether the waters at this stage of the season would prove to be too choppy for James and Bosh, they've confirmed at times in the Finals that this is uncharted territory.
Wade is the lone player among them who has navigated this path to a championship, conquering the Mavericks back in 2006 with four consecutive heroic performances to rally from a 2-0 series deficit. The message he delivers before Game 6 will be listened to more intently. The way in which he'll lead on the court will be followed.
"He's tasted this before, he's been here before," Bosh said. "He's experienced being in this situation and has come out on top. Just to hear his side of it and what he says, and with him knowing exactly how much you have to give to come out on top, we can take something from that and we'll go as he goes."
Bosh said Wade has mixed up his leadership style throughout the playoffs.
Against Philadelphia in the first round, Wade led more vocally. He started by organizing a team dinner the night before that series opened and broke out his championship ring from 2006 to remind everyone around the table what they were all there to accomplish.
Against Boston in the second round, Wade allowed his game to do the talking as he shot 52.6 percent from the floor and averaged 30.2 points and 6.8 rebounds.
He struggled against Chicago in the conference finals, but led by example in showing that the best team leaders can also be devoted followers. That was the series James carried the Heat and delivered them to the Finals.
Now, teammates say Wade is bringing all the pieces together.
"The action is always there," Bosh said. "Once he's locked in, he challenges everybody else. And I think that's good for all the guys to hear, because he got a great voice for that."
Now is the time when that voice needs to come through as loudly and as clearly as it ever has before.
"His leadership is evident every single day," Heat coach Erik Spoelstra said. "It's the moment that every professional wants right now. We are not going to overexaggerate it. We are still going to be who we are. But Dwyane's been here. Guys respect his voice because there's integrity behind what he says. There's absolute substance and meaning. And he's backed it up with his actions."
Spoelstra went on to say that the special thing about this Heat team is that different guys have been able to step up at different times and lead, based on need.
The need now is clearly for it to be Wade's time.
As sore as that left hip he bruised in Game 5 might feel, he must provide the foundation for the Heat's fight Sunday night to keep their title hopes alive.
Just like last July, Wade was the only one on that hydraulic lift who had any idea what to expect when they hit the stage as both the fireworks and music blasted and the flashbulbs popped.
The other day, Wade used a cinematic analogy to describe the moment and urgency with which the Heat needed to respond in this series.
"Now, we're getting down to when, really, the popcorn is popping and the movie is about to -- well, the movie has started, and we've got to get there."
Yep, Joakim Noah. You're right. They are Hollywood as hell. Have been since July.
But that's fine. As long as the right guys are cast in the right roles.
Until this point, Wade has done the right thing by moving over to make space for James to share equal billing on the marquee.
But with the Heat's season on the brink, it's obvious who the leading man should be.
"I look across the locker room and I see the guys I'm coming out on the floor with -- and we look forward to it," Wade said. "I'm excited about this and I'm confident in my team."
It was Wade who set the tone when this show started 11 months ago.
That's when the movie started. The popcorn has been popping since then.
And it'll be up to Wade to prevent the curtain from closing too soon on what would be a stale finish to a Heat season that's been, at times, dominant.
Yet always dramatic.