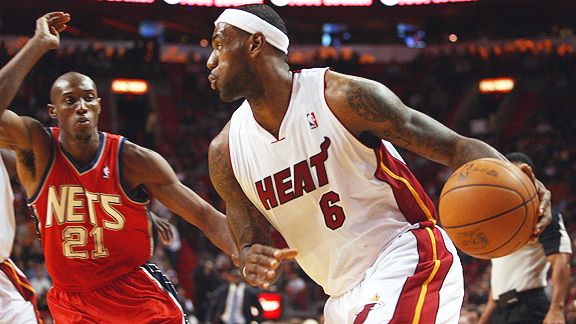 Marc Serota/NBAE/Getty Images Sport
A more sure-handed LeBron James is starting to make himself at home in Miami.
MIAMI -- Perhaps it was the playful barbs he shouted at Miami Heat teammate Dwyane Wade during Wade's interview session with reporters after Monday's practice. Or maybe it was the way he sat in a corner hounding rookie center Dexter Pittman about his poor passing ability during a drill. By the time LeBron James started to loudly complain about the falling temperatures in Miami, it was obvious.
King James seems to be finding his comfort zone again -- on and off the court.
Privately, James hasn't had an easy transition in his move to Miami after he spent the first seven seasons of his NBA career with the Cleveland Cavaliers. But publicly, James is finally starting to let his headband down and loosen up a bit. And it's beginning to show on the basketball court, too.
After opening the season mired in a turnover-riddled slump through his first five games, James has strung together consecutive outings in which his turnovers were relatively down while his assists -- and overall productivity -- were up.
James said he's "absolutely" been more comfortable and confident in his role over the past three games.
James has 55 assists and 33 turnovers through the first seven games of the season. But the past three games have shown drastic improvement in his mastermind-to-miscue production as the Heat's de facto point guard. During a three-game stretch that included Tuesday's win over Minnesota, Friday's loss at New Orleans and Saturday's victory against New Jersey, James tallied 31 assists compared with only eight turnovers.
"I wasn't worried about those first couple of … high-turnover games," said James, who had 25 turnovers and 24 assists in Miami's first four games. "Early on, am I trying to learn my teammates? Yeah. It's just getting comfortable with one another. Me and (Dwyane Wade), in the first games, we had some plays when I thought he was going back door and he stayed at the three-point line. We haven't had those plays in a while because we're learning each other."
There's a strong sense that the chemistry level with James has grown beyond Wade as the Heat prepare for the second game of a six-game homestand Tuesday against the Utah Jazz. In the past three games, James has executed lob passes for dunks to Chris Bosh and has consistently found James Jones for open 3-pointers. James has even increased the degree of difficulty in those connections with Wade, as evidenced by a nifty, behind-the-back pass to Wade to complete a fast break against the Nets.
"I was at a point when I was averaging nine turnovers a game, so I'm cracking down," James said, inflating his turnover rate. "Once you stop turning the ball over and get more shots at the goal, you see the assists get high and the turnovers go down."
Heat teammates said breakdown sessions during film study have shown that James was not as responsible for as many of the turnovers as the box scores have indicated.
"It's really not been all his fault," forward Udonis Haslem said. "Some of his turnovers, you can't really put that all on him -- even though he was the guy that made the pass. Guys have been bobbling balls, some balls have dropped through some guys' hands. It's just miscommunication. As everybody gets more comfortable, that has helped LeBron get more comfortable as well."
But before there was comfort, there was accountability. The trend for James started to turn in a more positive direction after he met with coach Erik Spoelstra recently to discuss ways to limit mistakes and put himself in more advantageous spots on the floor.
"You will continue to see him get more comfortable with our system, but more importantly with tendencies of other guys," Spoelstra said. "He's a high I.Q. player, and it doesn't take much for a guy like him to figure it out. He also knows, like everybody, how important it is philosophically for us to be efficient and hold each other accountable."