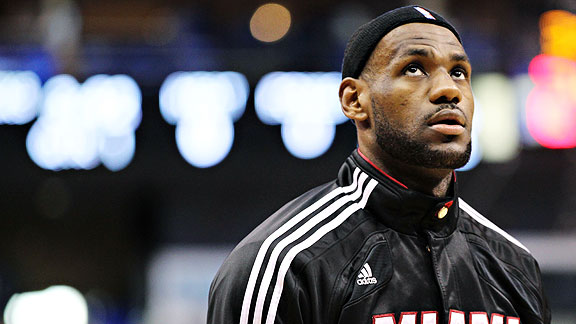 Mike Ehrmann/Getty Images
LeBron had a series of rivals during the first stage of his career. That list has been whittled down to one.
Wilt had Russell. Magic had Larry. Michael had the Pistons early in his career, and Stockton and Malone in its latter stages. Shaq had Duncan.
Today, LeBron James has LeBron James.
Through the first 97 games of the regular season and the playoffs, LeBron once again proved why he is a talent without peer in the league. He led the league in player efficiency rating (PER) for the fourth consecutive season, and would have won his third straight MVP award if some questionable late-game play from James hadn't allowed Derrick Rose's Bulls to finish with a better regular-season record than the Heat. It seemed like LeBron settled that particular score in the Eastern Conference finals, when he dominated Rose on both ends of the floor -- especially in crunch time -- and put the Bulls away in five games with some incredible performances.
After a convincing Game 1 Finals victory, LeBron's first win on that stage, he seemed closer than ever to answering the questions that have dogged him since his earliest days in the league. He put up 24 points, nine boards and five assists on 70.5 percent true shooting in the opening game. His supporting cast looked fearsome, not only because Dwyane Wade and Chris Bosh were playing well but because of the way the entire Heat team was playing defense. After a great start to Game 2, it looked like LeBron's first championship was only days away.
You all know what happened next. There was the Game 2 collapse, during which LeBron was beaten on defense and ineffective with both his shot selection and accuracy as the Heat's lead crumbled. There was the Game 4 meltdown, when the Heat blew a nine-point fourth-quarter lead as James scored eight points on 3-for-11 shooting. There were Games 5 and 6, when he forced pass after pass instead of trying to do things himself, force the issue, and try to atone for the performances that had allowed Dallas to take control of the series.
All credit is due to Dirk Nowitzki and the Mavericks for their performance against the Heat; they showed skill, intelligence and heart as they dismantled James and the Heat.
But LeBron's ineffectiveness in the Finals can't simply be explained by anything the Mavericks were doing defensively. Dallas did a good job of shutting off the paint against LeBron and threw some zone at him from time to time to keep him off balance, but LeBron was coming off two very strong series against the two best defensive teams in the league.
After the Heat's collapse in Game 2 of the Finals, LeBron became a different player, and crystallized a pattern that had began to emerge over the previous seven years of his career: LeBron does not do well when facing the possibility of true failure, when the idea that his team could be sent packing enters his mind, especially if he hasn't played well in the games that put his team in a bad spot.
LeBron has been to the playoffs six times in his career, and played in eight elimination games. James' teams are 2-6 in those games, and have never won a series when they have faced an elimination game. In the elimination games themselves, James has averaged 43 percent shooting from the field and just more than five turnovers per elimination game.
While he has played well in some high-pressure games the Cavs ended up losing, most notably his 45-point performance in a 2008 Game 7 duel with Paul Pierce, LeBron's teams have tended to go out with a whimper rather than a bang after they find themselves on the brink of elimination.
In those games, as well as the ones that come before it, something seems to come over LeBron. The confidence he has in his jump shot seems to go away. He seems to become convinced that he will turn the ball over if he tries to drive to the basket with authority like he has for most of his basketball life. He becomes far, far, far too willing to pass the ball at the first hint of a potential shot for a teammate, which often ends up leading to the turnovers.
The defense often has a lot to do with it, but as much as anything else, it's about watching one of the game's best players succumb to fear. It doesn't even look like LeBron playing badly -- it looks like a completely different and far less talented player inhabits his hulking frame for the crucial minutes when his team desperately needs him to play like himself.
After another great regular season and a superlative first three rounds of the playoffs followed by an inexcusable collapse in the Finals, watching LeBron James has officially become an exercise in waiting for the other shoe to drop. James could average 45/15/15 next season, the Heat could go 82-0, LeBron could make a game winner every week, and the Heat could win the first 15 games of the playoffs with LeBron playing out of his mind, and people would still be waiting to see if the Other LeBron would show up and sabotage everything.
People have always tried to set up a rival for LeBron, to find someone to play the Bird to his Magic or the Russell to his Chamberlain. At first, it was Carmelo Anthony, and since then it's been Dwyane Wade, Kobe Bryant and, most recently, Derrick Rose and Kevin Durant. After staying in Dallas through some tough years, Dirk Nowitzki is now being hailed as the anti-LeBron.
Dirk may be the anti-LeBron because of the way he came back from being humbled by the 2006 Finals and 2007 playoffs, by never letting a rough stretch shake his confidence that he would hit the next shot he took in the Finals, and by staying with the Mavericks through thick and thin. But to try to set him up as a rival to LeBron would be a bit of a stretch, considering that Nowitzki is six years LeBron's elder.
As good as the other superstars in the league are, the truth is that LeBron's extreme talent and ability to control a game when he's fully confident and engaged have left him with only one true rival -- and LeBron sees that rival every time he looks in the mirror.
The rivalry between LeBron James and his own on-court demons has been far more compelling than any other rivalry he's had over the first eight years of his career.
Unfortunately for LeBron, the rivalry has been a fairly lopsided one up to this point.