When I was a round youngster, I somehow earned the privilege of playing at a local Five-Star Basketball camp. This was big. I wore the orange-and-white with pride; this was the closest thing to a regional All-Star team as you get in Connecticut.
I was way out of my league, though, and by the end of every session that week, I felt dizzy from the gusty athleticism on the court. My athleticism could be best described as 'bumbling.'
But I do remember that I had one scrimmage where I played out of my mind. I hit every shot that I propelled toward the basket and even made some defensive plays (taking charges mostly). It was like Mike Miller's 32-point outburst back in January against the Raptors. The role player became a star, for a day.
And to my surprise, I managed to win Five-Star's Player of the Day award from the camp's coaching staff that afternoon. As a souvenir, I received an oversized T-shirt from the Five-Star crew. ... the same exact one that LeBron James won way back when he was a camper: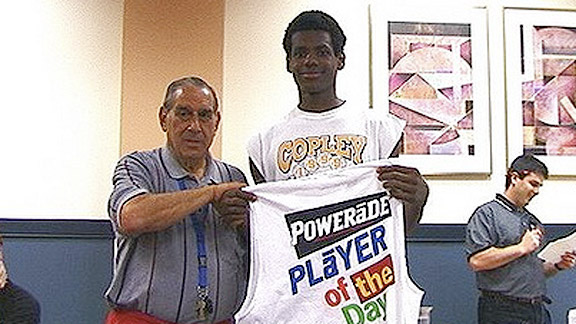 Courtesy: Five-Star Basketball
That photo was dug up by Five-Star and published Monday afternoon. I still have that shirt in my bedroom back home in Connecticut. It's probably -- no, definitely -- the only basketball distinction that I share with the two-time MVP.
Five-Star ran some more when-they-were-young photos of today's NBA stars on their site. Here's the one of Dwyane Wade, after receiving the "Mr. Courageous" honors (original pic here).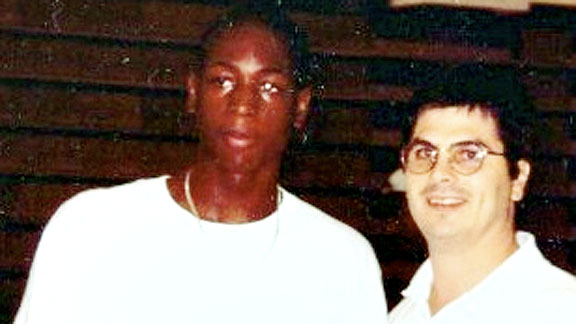 Courtesy: Five-Star Basketball
Head over to Five-Star's archive post for an awesome old-school photo of Alonzo Mourning (next to former Heat player Christian Laettner, no less). No, you won't find me on the list there.