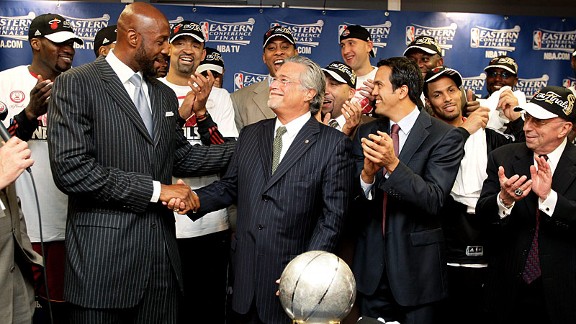 Nam Y. Huh/Getty Images
Heat owner Micky Arison has been more active in the lockout negotiations. Why?
Two weeks ago Heat owner Micky Arison took an early-morning flight from Miami to New York to sit in on what was supposed to be an important negotiating session in the ongoing collective bargaining talks.
According to sources, his presence at the meeting was met with some surprise by his peers. The meeting included the owners' labor relations committee, which is led by Spurs owner Peter Holt. But Arison is not on that committee and, after spending most of the summer in Europe on vacation and business, he hadn't even been in attendance at the most recent owners' meetings.
The reason for Arison's uptick in interest late in the process – he tweeted this week that he was changing his plans and cutting short a West Coast business trip to make sure he was in New York for next week's crucial mediation session as well – isn't hard to identify.
As the league and players haggle out what a new system might look like, the devil could be in the details for the Heat. Knowing this Arison appears to be keeping a close eye on the process with so much potentially on the line.
No one is hiding the Heat have become somewhat of a target as the talks have unfolded, one of the nasty side effects of the free agent haul of 2010 that continues to drive some bad blood amongst Arison's peers. Not just the obvious adversaries like Cavs owner Dan Gilbert and Mavs owner Mark Cuban, either.
Across the board, sources say, owners have been in favor of legislation that would potentially hamper the Heat's chase to build a multi-championship winning team. It's not directly a collective attempt to get the Heat back for working the current free agency and cap system like no one had before. There are some changes that owners had been planning to push for long before LeBron James and Chris Bosh took their talents south. But making sure the Heat have a harder time is a tantalizing side benefit for some.
"There's a feeling that, looking at teams like the Heat, you just can't allow them to have certain benefits right now," one league official said. "Yes, everyone is fighting about money. But there is also a fight about competitive balance and that is an important issue. You have to give everyone a fighting chance against the Heat, the Lakers and the Bulls of the world."
The biggest threat to the Heat may have been averted recently when the owners dropped their long-standing request for a hard salary cap. Depending on how that was worked out, there was a chance the Heat would have to break up their core of James, Bosh and Dwyane Wade just to be able to field a team. While that doomsday scenario for the team looks like it can be forgotten for the moment, there are other issues that Arison and Pat Riley are keeping a close eye on.
What becomes of the mid-level exception is at the forefront right now. The players are firmly attempting to keep it to allow teams over the salary cap to be involved in free agency each summer. The mid-level exception has developed into the most important free agent mechanism.
The league initially wanted to kill altogether it to force owners to reduce spending. The players, naturally, started out with a plan to get two mid-level exceptions. There's no ambiguity there. Needless to say, it's been an ongoing issue during the talks. The most recent proposals have it being eliminated for teams who are paying the luxury tax, which the Heat most certainly will be.
After locking five players into contracts five years or longer in 2010, the Heat won't have cap space coming any time soon. After trading away five first-round picks as they cleared that cap space and then in making sign-and-trade deals for James and Bosh, getting up and developing young players will also be much more of a challenge in Miami. Because of the construct of their roster plus the age and injury issues that Mike Miller and Udonis Haslem have, the Heat also currently have very limited trade options as well.
That leaves the mid-level exception as the primary tool for the Heat to attempt to upgrade their team. With a significant hole at the center position, the Heat are hoping to have that money available to them to sign a legitimate center before next season, for example. And to plug whatever holes open around James, Bosh and Wade over the next three seasons. If that is taken away and they are forced to attempt to pick up aged veterans past their prime at the league minimum they may find themselves in the same position they were in last season. That was relying on players like Juwan Howard, Zydrunas Ilgauskas and Mike Bibby to play key roles.
The Heat have proven they can draw veterans to Miami for less than market value for a chance to win. But they haven't proven those end of the road players can help them win a championship.
Another issue the Heat will be keeping a close watch on is how the so-called Bird exception is changed. That rule, created nearly 30 years ago, has always allowed teams to exceed the salary cap to sign their own free agents. NBA Commissioner David Stern said this week on WFAN in New York that some owners were in favor of eliminating the rule entirely. In most recent talks, there have been league proposals to restrict its usage to one player per season or perhaps even just once over a two-year span.
Any sort of restriction on the Bird exception might have consequences. With Bosh, Wade and James all scheduled to be free agents together again in 2014, it might make it impossible to re-sign them. That may seem like it's a long way off to be concerned with but it isn't. Such a rule might force the Heat to look to break up their Big Three early to make sure they don't lose one or two of them for nothing. Combined with a more restrictive mid-level exception, the Heat may be forced into closely examining trading one of their big names before 2013.
Then there's the potentially punitive luxury tax that owners want to enforce. Various reports have suggested the owners want to increase the penalty for teams way over the cap. Recent proposals have included a quadrupling of the dollar-for-dollar tax in certain situations. The Heat are headed in this direction. They already have $71 million in salaries committed for the 2013-14 season to just six players, for example.
Despite their success, the Heat currently do not have the sort of high-dollar local television deals like the traditional big tax payers like the Lakers and Knicks. While Arison is one of the wealthiest NBA owners – Forbes recently listed him as the third-richest at $4.2 billion – his history does not indicate he enjoys deficit spending. Despite the Heat's windfall over the last year, most employees are currently swallowing 25 percent pay cuts and that could grow if the lockout continues. At the tax numbers proposed by his fellow owners, Arison could be headed for massive tax bills in two or three years.
And the reality is, no one will be in the least bit sympathetic to the Heat if these changes force them to alter their plans. Arison doesn't enjoy much support for his position. The small markets want his tax money and don't want him to continue to bid against them for free agents. The big market teams don't want to see the biggest competition get better.
If there was anyone in the league who didn't mind the status quo it was the Heat. No one is sure just how much will be different once all this is finally settled but there's no chance of no change. Which means the Heat might be forced to make some unwanted changes, too.