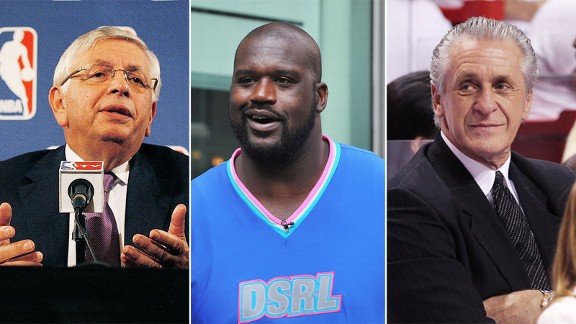 Getty images
The Heat have been the source of some negative attention as of late, thanks to David Stern and Shaq.
MIAMI -- The unresolved NBA lockout ensures LeBron James, Dwyane Wade and Chris Bosh won't play tomorrow night against the New York Knicks in the originally-scheduled season opener.
But it's clearly open season on the Miami Heat.
At some point, when the owners and players hash out the final details of a new collective bargaining agreement, coach Erik Spoelstra will address some of the kinks in Miami's offense.
But these days, the offensive shots involving his team are already coming quickly.
So far this week, the Heat have been at the center of two of the NBA's bigger stories, with owner Micky Arison getting slammed Monday by commissioner David Stern with a $500,000 fine for prohibited comments - and characters - he posted on Twitter regarding the lockout. That same day, Deadspin released excerpts from Shaquille O'Neal's soon-to-be-released book in which the retired center posted up for more dunks on his former teams.
Let's get one thing straight up front. The Heat aren't victims in either case here.
Targets? Yes.
Innocent bystanders being unfairly picked on? Hardly.
The Heat's combination of success, arrogance, talent, swagger, money, relevance and bravado continue to make them easy marks at which many in the league and opposing fans tend to unleash pent-up frustrations. In some cases, those characteristics makes this franchise difficult for an objective-minded follower to defend.
This, clearly, doesn't qualify as one of those occasions.
It's not the Heat's smugness or actions that should be called into question after this latest one-two punch delivered by Stern and Shaq. Nope. That would be getting it twisted. It should be the other way around.
Instead, the backlash should be focused squarely on the questionable to flat-out comedic credibility these days of David and Goliath.
Arison's episode speaks for itself.
He was completely fine when kept his tweets to Carnival Cruise business, eating burgers and steaks and expanding business partnerships with arena hype man DJ Irie. But Arison was rightfully fined when he used those precious 140 characters last Friday to defend his position on the lockout and take what easily could be seen as veiled shots at some owners vehemently holding up progress.
Result: Billionaire DM'd a half-million dollar fine.
Who's LOL'ing now?
Arison's a grown man. He knew the risks he was taking when he took to Twitter. He can afford the consequences. This isn't like Michael Beasley failing to see that little plastic baggie on the corner of the coffee table in the infamous twitter pic he once posted to show off his new back tattoo.
I just wonder what the fine might have been had Arison really spoke his mind instead of poked his fingers on a hand-held device.
In a sobering and ironic way, what Arison's actions – and Stern's reaction – unintentionally underscores is the fact that these billionaire owners are ready, willing and abundantly capable of sacrificing millions from a potentially lost season to prove a point.
Having said that, I'm still trying to figure out what point Shaq intends to make in dishing more dirt and details about his final turbulent weeks with the Heat.
In his book, co-authored by ESPNBoston.com's Jackie McMullen and titled "Shaq Uncut: My Story, the Diesel" regurgitates fumes from a heated altercation at practice during the 2007-08 season with current team president Pat Riley, who was in his final season as coach.
Deadspin released the following excerpt from the book:
My ticket out of Miami was punched in mid-February 2008. There was a lot of tension between Pat and the players. So we're about to start practice and Jason Williams comes in about ten seconds late. Pat being Pat, he starts swearing at him and screaming, "Get the hell out of here!"...

I tell Pat we're a team and we need to stick together, not throw guys out of the gym. Pat is screaming at me and says if I don't like it, then I should get the hell out of practice, too.

That's when I said, "Why don't you make me?"

I start taking a couple of steps towards Pat. Udonis Haslem steps in and I shove him out of the way. Then Zo tries to grab me. I threw him aside like he was a rag doll. Now it's me and Riley face-to-face, jaw to jaw. I'm poking him in the chest and he keeps slapping my finger away and it's getting nasty. Noisy, too. He's yelling "(Expletive) you!" and I'm yelling back, "No, (expletive) you!"

Zo is trying to calm us both down and he has this kind of singsong panic in his voice. He keeps saying, "Big fella, no big fella, big fella!" I finally turn around and tell him, "Don't worry, I'm not going to hit the man. Do you think I'm crazy?"
Two things immediately jump out about that incident. One, Shaq's timing is way off, because that practice blow-up happened months earlier when both Mourning and Williams were healthy and actually able to practice. Two, credit the Big Fella for at least being smart enough to not go Sprewell on Riley in that moment.
That season quickly went into a tailspin due to injuries, poor attitudes and pettiness. It was equal parts bad management, bad manners and bad luck. It essentially was a season doomed from the start.
It started with Antoine Walker showing up out of shape and injured, yet feeling there should have been more compassion after he had recently been robbed at gunpoint in his Chicago home.
It got worse when Riley was desperately trying to salvage one last run from the core that won a title in 2006. So the natural, um, solution was to trade Walker for Ricky Davis and Mark Blount.
Then it grew disastrous when Mourning shredded up his knee that December in what proved to be a career-ending injury. Wade couldn't get all the way right following offseason knee and shoulder surgeries and would eventually sit out the duration of that season.
And it became toxic when Shaq and Riley threatened to go Hearns-Hagler.
Shaq was traded that February in a sort of six degrees of separation move that eventually led to the cap space created for the 2010 free agency haul that landed LeBron and Bosh alongside Wade. But at that time in the spring of 2008, the immediate payoff for all of that pain was a franchise-worst tying 15-67 season and the No. 2 pick in the lottery.
The jackpot from what then was christened a "God-forsaken season" by Riley: Beasley.
Yep, even the Heavens sometimes have a cruel sense of Heat humor.
Riley isn't a man that regrets much. He's fond of telling stories of how his best championship teams were often shaped by the bloody practice battles and bitter tension behind closed doors. He subscribes to a theory that only two results resonate in sports: winning and misery.
Shaq was a big reason Riley endured plenty of both in their tumultuous time together.
Now, it's just one of many juicy – if not all too accurate – details Shaq is spinning in the type of tell-all book he despised groupies for writing at his expense.
Miami is the NBA's most polarizing franchise, whether it's playing games or posturing amid a lockout.
That will always make this team a target with a price to pay.
This week, both David and Goliath snagged a petty pound of flesh from the Heat.