Friday, May 25, 2012
Miller, Chalmers help boost surging Heat

---
By Michael Wallace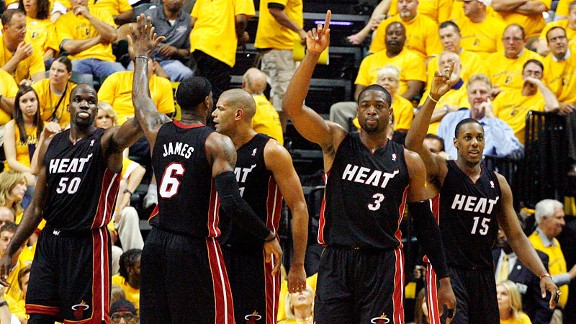 Brian Spurlock/US Presswire

In addition to Dwyane Wade showing the way, the Heat got key bench performances in eliminating Indiana.


INDIANAPOLIS -- On a night when the Miami Heat were all about accessorizing, not many complementary pieces could quite compare with the pink rubber-soled shoes and pink finger bandage Dwyane Wade donned with the hot-pink pants he wore to the arena Thursday.

"Those your close-out game pants, D-Wade?" Heat teammate LeBron James asked as he jokingly mocked Wade's creative wardrobe. "That's how you roll? Really?"

The short-handed Heat made far more than a fashion statement in eliminating the Pacers in six games with a 105-93 victory to advance to the Eastern Conference finals; Miami fashions itself as more than a two-man show.

While James and Wade again put up huge numbers and continued their remarkable play, the Heat also got a significant contribution from their role players for the third consecutive game in the series to run away from the Pacers.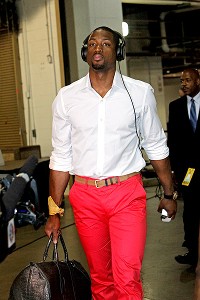 Ron Hoskins/Getty Images
It's gotta be the pants. Dwyane Wade made a bold fashion statement when he stepped into the arena.



Miami has been without All-Star Chris Bosh since Game 1 because of an abdominal strain and was missing forward Udonis Haslem due to a one-game suspension for a hard foul he committed in Game 5.

So that left more voids than usual to fill for the Heat. But long-struggling shooter Mike Miller regained his stroke Thursday and point guard Mario Chalmers put together a third straight solid performance as the two combined for 27 points to round out a balanced effort from the Heat.

For the second consecutive series, there were doubts whether the Heat's bench could neutralize the opposing team's group of reserves. After outperforming the injury-depleted Knicks bench in the first round of the playoffs, Miami benefited from some timely production by its supporting cast to overcome the supposedly deeper Pacers.

While much of the focus in the Game 6 win centered on James and Wade combining for 69 points two games after tallying 70, their teammates were far more than bystanders.

"You can't be a championship team unless you're a true team," forward Shane Battier said. "For as much fanfare as LeBron, Dwyane and Chris get, everyone in this locker room knows we need a total team effort. So when we get those contributions, those are contributions other teams aren't counting on. And those make us tough to beat."

The Heat don't necessarily have one role player capable of providing the 18 points and eight rebounds every night that Bosh averaged before he went down with the injury. Much like Wade's wardrobe Thursday, coach Erik Spoelstra has had to mix and match rotation players in hopes of coming up with a level of support that's productive enough.

Those contributions started coming from a variety of sources after the Heat fell into a 2-1 series hole. In Game 4, the night Wade and James torched the Pacers for 70 points, 27 rebounds and 15 assists, it was Haslem who stepped up off the bench to score eight of his 14 points in the fourth quarter to help close out a 101-93 win to tie the series.

In Game 5, it was Battier's shooting in the first quarter that helped Miami set a dominant early tone on the way to a 32-point route to take a 3-2 series lead in Miami. Like Miller, Battier had been struggling with his shot for much of the season and had made just two 3-pointers through the first four games of the series. He drilled four of five Tuesday.

Miller's turn came Thursday when he made four of seven shots from 3-point range, including two during a 14-point swing in the second quarter in which the Heat rallied from a 10-point deficit to their first lead of the game.

"We've obviously got some talented guys on the bench," Miller said. "When we came here, it's not like we forgot how to play basketball. We came here from some important roles on other teams. When we get opportunities, we've got to help, no doubt about that. There's times we've been really good at it and times we've been poor. But we just have to keep working."

As the Heat prepare for their second trip to the conference finals in as many seasons, the key from here is to eliminate the guesswork when it comes to who's going to step up. Miami will face either Boston or Philadelphia in the next round, and it might need to rely on specific players to come through amid the uncertainty surrounding Bosh's return.

"Right now, it's still indefinite," Spoelstra said Thursday when asked when Bosh might be cleared to play. "We said all along that we have enough. Our role players give us a lot of different things. In terms of [Chalmers] and Mike stepping up and being offensive-minded, that took a lot of pressure off our team, particularly LeBron and Dwyane."

Much like fashion, there's value in variety.

"That's the thing about our team," said Chalmers, who averaged 10.8 points and 4.8 rebounds per game against Indiana. "Everybody don't always get to show what they can do every night. But when our numbers were called these past few games, we were ready. Somebody's got to step up. With those two guys, we just have to be ready."

Those two guys -- James and Wade -- appreciated the boost, even though the Heat's stars have played like they haven't need much of one lately.

"Without their defensive help, without their defensive tenacity and without the things they do offensively -- they spread the floor, set the screens -- this was a total team effort," Wade said. "They helped to guide us to this win. We just feel blessed to have the core we have and support system we have to allow us to do the things that we do."


---