Monday, May 28, 2012
The long history of the James-Pierce rivalry

---
By Brian Windhorst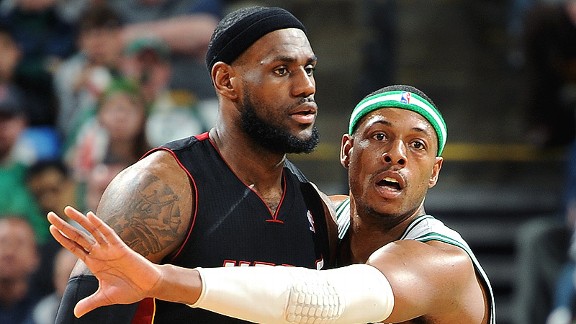 Brian Babineau/NBAE/Getty Images

Forget Kobe, Carmelo or Durant. The closest thing to LeBron James' rival is Paul Pierce.


MIAMI – When LeBron James played his first game against Carmelo Anthony, the home opener in his rookie season in 2003, the Cleveland Plain Dealer ran a boxing-style promotional poster with the tag "Rivalry begins tonight!"

By 2005, every time James and Dwyane Wade played against each other, the game was ticketed for national television.

The desire to create a genuine duel between James and Kobe Bryant led Nike to create a series of commercials in which the puppet version of each would trash talking each other. Even if the men themselves showed little interest in doing it for real on the court.

For various reasons, these attempts to generate a rivalry for James failed. But he does have a less-publicized but legitimate rival, in a fierce competition that has been nurtured organically through postseason battles and periods of authentic dislike, genuine bad blood and some hard-won respect.

When the Eastern Conference finals open tonight, James will play his 19th career playoff game against Boston Celtics future Hall of Famer Paul Pierce. For the 19th time they will likely be each other's primary defender. For the 19th time there's probably going to be some hard stares, complaints to the officials about the other and perhaps even a few borderline dirty plays.

"Oh, we know each other," James said. "More than any other matchup in the league. We know each other's likes and dislikes."

This is the fourth time in the five-year run of the Celtics' Big 3 era -- starting when Kevin Garnett and Ray Allen joined Pierce in 2007 -- that James will face Boston in the playoffs. The Celtics' success partially willed James to form a competing triumvirate of his own. After losing in a seven-game series to the Celtics' newly created super team in 2008, James sat on the podium in Boston and demanded his team make some move to improve its talent level. When his season ended again there in 2010, after a series of Cavs trades failed to produce a title, James proclaimed he and "his team" had a plan in place for his free agency.

The product of that plan is James' arrival with the Heat, and they'll be taking on the Celtics in the playoffs for a second consecutive year.

"[Pierce] is the closest thing to a rival, if LeBron has one," Wade said. "They make it tough on each other."

That James felt the need to partner up with Wade and Chris Bosh to compete with the Celtics is a sign of esteem. But the skirmishes between Pierce and James started long before they worked to create their own All-Star teams. At times, it has gotten so personal it has involved family members.

The closest thing James has ever had to a fight in the NBA came against Pierce, though most may not remember it. It happened way back in 2004, during a preseason game at Ohio State. It took place during Game 2 of the World Series, when the Red Sox were on their way to their first title since 1918 and certainly no one in Boston was paying much attention.

After things had gotten a little heated the night before during a preseason game between the Celtics and Cleveland Cavaliers at Mohegan Sun Casino in Connecticut, it boiled over when they played again in Columbus.

There was already some beef starting between the two from the previous season, James' first in Cleveland. Pierce had gotten into an in-game trashing talking war with Otis Carter, the father of James' friend Maverick Carter and someone whom James considers an uncle.

After a Pierce hard foul on James, Carter started screaming at Pierce from courtside seats. It was part of the first great James-Pierce battle. James had 37 points that night, the second-highest output of his rookie year. But Pierce ended up scoring 41, burying the Cavs with a series of offensive moves and staring at Carter after each basket in the second half. He told James late in the game he needed to tell Carter to be quiet or he'd go for 50 points. Or at least that is how the story goes.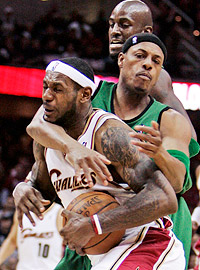 AP Photo/Mark Duncan
The origins of James-Pierce bitterness dates all the way back to James' rookie year.


It wasn't the only time Pierce would get into it with a James family member. During the 2008 playoffs, Pierce wrapped up James on a drive to the basket during Game 4 of the conference semifinals in Cleveland. The two spilled into the stands, where Gloria James, LeBron's mother, got up from her seat and began yelling at Pierce. James famously yelled to his mother to "sit your [blank] down."

In that 2004 preseason game at Ohio State, Pierce scored twice in a row on James during the third quarter. On the second hoop, he used a crossover dribble to shake James on the way to the basket and let everyone know he'd just beaten the young kid. James answered with a jumper and then picked Pierce's pocket and ran to the other end for a dunk.

Soon after the two got into each other's faces and were hit with technical fouls. Then Pierce spit toward the Cavs' bench, for which he was later fined $15,000. But that's not where the fight almost happened; it was in the dressing room area after the game. The team locker rooms were next to each other and the tempers flared again in the hallway. Pierce's teammates had to literally carry him away to prevent an altercation.

The two would eventually call for a truce at the All-Star Game the next year. Since then, their conflicts have all been centered on the floor. The rivalry, however, has only matured.

"I don't think it is like or dislike, it is what it is," Pierce said. "He's been on some great teams, I've been on some great teams and we've had to face one another. After awhile it became a mutual respect for the things he's done in this league and the things I've done in this league."

During a game in 2006, they had another great battle in a double-overtime game in Boston. James played 54 minutes, scoring 43 points with 12 rebounds and 11 assists in a Cavs win. That night Pierce did get his 50 points, the first Celtics player to do so since Larry Bird, and drew a foul on James in the final second of regulation to force overtime.

In the 2008 playoffs, Pierce and James staged several more classic battles. In a pivotal Game 5, James' 35 points weren't enough as Pierce scored 29 points and Boston took a 3-2 series lead. After James forced a final game with a supreme performance in Game 6 with 32 points and 12 rebounds, Pierce carried the Celtics to a Game 7 victory. He scored 41 points and the Celtics outlasted James' 45-point effort that Sunday afternoon at TD Garden, still ranking as the best head-to-head playoff battle of James' career.

"He's one of the best at his position and I've been considered one of the best at my position," Pierce said. "It's been a very competitive battle."

In the 2010 playoffs, Celtics coach Doc Rivers' game plan was to have Pierce concentrate on defending James and not to put as much emphasis on his own offense. It was part of an overall strategy to be physical with James and keep him away from the basket. Over the last three games of the series, which the Celtics won to pull the upset against the top-seeded Cavs, Pierce averaged just 14.3 points. But his defense helped the Celtics hold James to averages of just 21.3 points and 34 percent shooting as the spectrum of the series completely changed.

James finally got his victory over Pierce and the Celtics in 2011 after joining the Heat. In the game that essentially decided the series, Game 4, James and Pierce added another chapter to their rivalry. The Heat won in overtime in Boston, taking a 3-1 series lead (they eventually won in five). With the outcome still in doubt, James had 35 points and 14 rebounds, including the go-ahead basket in overtime. Pierce had 27 points and eight rebounds and made a hoop in the final minute of regulation that ended up forcing overtime.

Two days later, when James and the Heat closed the series out, he fell to his knee in appreciation of the accomplishment after he scored 10 points in the game's last two minutes. Playing the Celtics, and their captain Pierce, has in many ways defined this portion of James' career.

There might not be a better way to define a rival.

"We understand how competitive each other are," James said. "It's always fun to go up against the best, and he's one of them."


---