Wednesday, February 6, 2013
Going beyond the Heat's box score

---
By Tom Haberstroh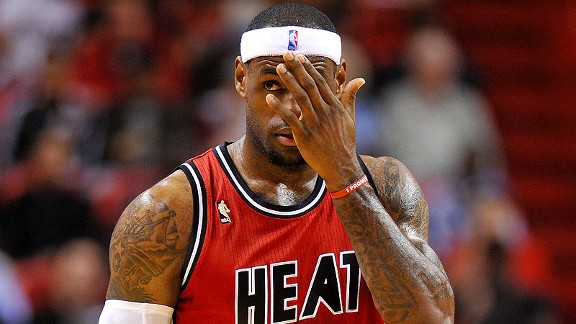 Steve Mitchell/USA TODAY Sports

Take a peek at the data provided by SportVU and you'll see the Heat in a whole new way.

It was Houston Rockets GM Daryl Morey who once said, "Someone created the box score, and he should be shot."

The numbers used in the everyday box score, the stats-driven exec of Miami's next opponent points out, are measurable but not particularly meaningful.

A box score tracks blocks but doesn't care whether they're recovered. It tracks shot attempts but not touches. It tracks assists on made shots but not assists on free throws or passes that led to good shots. It tracks offensive rebounds for big men but not screens that lead to equally important scoring opportunities.

For years, Morey has searched for new sources of data outside the box score to gain an edge. One of those sources is SportVU, the new 3-D camera system from STATS LLC that tracks every movement on the court. Fifteen teams subscribe to this analytical gold mine and -- surprise, surprise -- the Rockets were one of the first to jump on board.

SportVU can tell you how many touches each player gets in every game, how long he possesses the ball and how many dribbles and passes he makes. It can inform us how fast a player ran on average during a game, how far he ran and how often he jogged rather than sprinted down the floor.

And that's just the beginning.

The Heat have not yet subscribed to SportVU, but they have played in nine road games with SportVU cameras installed (small sample size alert!). What does SportVU say about the defending champs in these games?
It's fascinating to know that NBA players run a little under a 5K every time they're on the court. Sometimes it's more; sometimes it's less. For example, James ran 3.3 miles in that Boston double-overtime game two Sundays ago.

Another thing that's interesting: Wade averages a higher speed but a lower sprint percentage (i.e., the percentage of minutes spent in a full sprint) than James. That's what happens when you chase around opposing shooting guards. For what it's worth, Joel Anthony has the highest average speed in the Miami rotation (4.5 mph), and Shane Battier (!) isn't far behind (4.3).


Controversy! Well, maybe not. If you've watched the Heat this season, you've seen that James is the focal point of the offense. So it's not shocking to see he gets way more touches than Wade or Bosh. He is, after all, the reigning MVP and widely considered the best player in the game. But imagine if these numbers were available for Year 1 of the Big Three? That would be fun.

Don't be surprised if time of possession becomes a normal talking point in the not-so-distant future. As you can see, James possesses the ball more than Wade and Bosh combined in SportVU games (remember, sample size).

What's also noteworthy is the passing data. James passes much more often, but Wade's passes lead to assists a smidge more often. A total of 13.8 percent of Wade's passes directly lead to an assist, whereas 13.3 percent of James' do. Mario Chalmers? 8.3 percent.


What in the name of Michael Jordan does adjusted rebounding percentage mean? SportVU tracks the percentage of rebounds that a player collects when he's in the vicinity of a live ball. SportVU says that if you're within 3.5 feet of the rebound, you had a "chance" at rebounding it. So you can read the first number as follows: When James has had a chance at an offensive rebound in these nine games, he pulled it down 52.6 percent of the time.

This is really insightful stuff, especially when it comes to Bosh. This season, Bosh has caught a lot of heat for not rebounding, as his rebounds per game has dipped from 7.9 last season to 7.1. But in these games, we see that he's actually a "better" rebounder than Haslem. This confirms what our eyes tell us: that Haslem camps out in the paint for rebounds, while Bosh may not always be in the area. Rebounding is equal parts effort and positioning, so Bosh probably needs to get in the picture more. So does Wade, who is a great rebounder for his size.

Another interesting SportVU nugget is what they call "deferred" rebounds. These are instances when a player had a chance at a rebound and a teammate acquired the rebound instead -- aka "stolen" rebounds. James has had the most of those among the Heat this season. (Note: Adjusted rebounding percentage excludes all deferred rebounds.) Interestingly enough, SportVU informs us that James has a higher adjusted rebounding percentage (83.2) than Dwight Howard (81.3) in SportVU games but lower than Kevin Durant (85.3).


---