Wednesday, December 8, 2010
Heat at Utah: 5 things to watch

---
By Kevin Arnovitz and Tom Haberstroh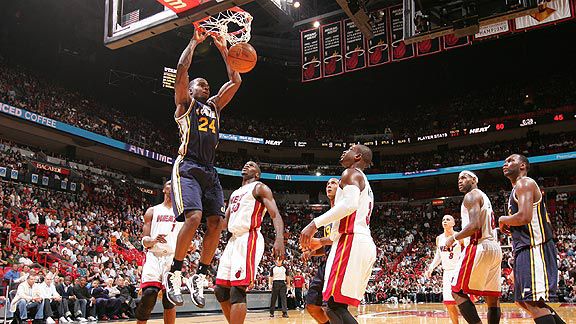 Mike Ehrmann/Getty Images Sport

The Heat saw a little too much of this during Utah's incredible comeback win in Miami.


Stop that guy
For Chris Bosh, there's an especially incriminating defensive possession at the 8:50 mark of the first quarter of the Heat's first meeting with the Jazz last month in Miami. Early in the possession, Paul Millsap holds the ball in the high post, passes it back up top, then makes a sharp cut to the basket. Bosh is well-positioned between Millsap and the hoop to defend this dive, but gets bumped out of the lane as Millsap gobbles up the space, catches the ball on the move and finishes with an uncontested layup. It's a perfectly legal move but Bosh puts up precious little resistance, and was generally manhandled by Millsap for the entire game. Utah's power forward was able to get deep catches in the paint in early offense situations and move freely in half court. Millsap flashed to the top of the key, cut baseline and rolled to the basket with ease -- and Bosh rarely laid a hand on him.  On Wednesday night, Millsap will do whatever is necessary to control the interior on the offensive end. How capable is Bosh to do anything about that?

... and him too


Millsap burned the Heat during Utah's furious second-half comeback but, as is often the case, Deron Williams lit the match. For every improbable Millsap 3-pointer, there was a gorgeous touch pass from Williams on a cut. For every bull-in-a-china-shop isolation drive by Millsap, you'll also find a graceful slip-screen choreographed by Williams that turned Carlos Arroyo and Bosh into spectators. Erik Spoelstra tried everything down the stretch. In an effort to throw additional size and ball pressure, Spoelstra moved Dwyane Wade and LeBron James onto Williams. Once Jazz center Kyrylo Fesenko checked into the game, the Heat threw a few traps Williams' way. Didn't matter. On Wednesday night, the Heat's big men must do a better job stepping out on Williams. And on possessions when Ronnie Price is in the game and Williams effectively acts as an off-guard, Wade and Miami's help defenders need to communicate as Williams moves off the ball around screens. Additional pressure won't stop Williams, but it will raise the level of difficulty on those pinpoint passes to cutters. In a close game, one or two field goals can provide the margin for a win or a loss.



Locking down LeBron


Which team inhibits opponent shots more than the Heat? You guessed it: the Utah Jazz. Looking at the league leaderboards, Miami and Utah rank 1-2 in opponent effective field goal percentage (which gives proper weighting to 3s) and the Heat did in fact struggle to convert in Game 1.  The Jazz combine toughness and length to swarm the perimeter with Andrei Kirilenko and Williams, causing opposing teams to shoot a league-low 30 percent from beyond the arc. But the key for the Utah defense tonight will be stopping James for a second time. People will remember that he notched his first triple-double but don't forget, he also missed 13 of his 18 field goal attempts and only made only lay-up in the half-court. Kirilenko got the individual assignment against the two-time MVP but the entire Utah team did a superb job of rotating and clogging the paint to deter James' attack. Can they do it again?



Heat forced to play big


Less than a month has passed since their last meeting but a lot has changed for the Heat. Miami will be without Udonis Haslem who played a big role in Game 1, grabbing 9 rebounds in 31 minutes. More importantly, Haslem enabled the Heat to go small and play Bosh at the five, an arrangement they deployed against the Jazz for nearly 20 minutes. While it makes some sense to play mobile bigs out there to keep up with the Jazz offense, Utah outscored Miami 56-46 with Haslem and Bosh on the floor together. This time around, circumstances will prevent the Heat from going small again as Erick Dampier, who's approaching 300 pounds, has filled in for the sidelined Haslem. Dampier has only taken four shot attempts in 70 minutes of action this season and until he gets into game shape and fully acclimated to the Heat offense, he's limited to put-backs in the half-court. His conditioning will be tested in this one.



Looking for a signature win
The Heat have built a five-game winning streak vanquishing Washington, Detroit, Cleveland, Atlanta and Milwaukee. You can only play the games on your schedule (although true greatness finds a way to beat opponents who aren't on the schedule), but it's been nearly six weeks since the Heat beat an elite team (Orlando) and they've yet to notch an impressive road win. Has the Heat's improvement been a product of their easy schedule or have they made sustainable improvements that can carry them against the league's best competition? Are the Heat playing inspired defense because they've tighten the screws on the interior, or have they not really been challenged in earnest? Have James and Wade established real chemistry or are they merely overwhelming inferior defenses with their sheer talent? The Jazz aren't easily overwhelmed and they always challenge in earnest -- so Energy Solutions Arena on Wednesday night should be a proving ground for the we've-turned-the-corner Heat.


---