Thursday, May 26, 2011
The Mario Chalmers Experience

---
By John Krolik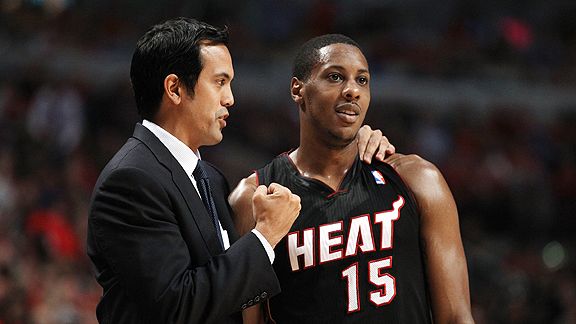 Jonathan Daniel/Getty Images

Mario Chalmers leads the Miami Heat in coaching-staff-indigestion-per-possession.


There are two schools of thought about what a role player needs to do to be successful alongside a player capable of taking over a game offensively at any time, let alone three of them.

The first is that a role player in that situation should be a player who supplements his superstar teammates by making low-risk contributions: provide defense and rebounding, convert open shots and opportunities at the basket and make smart, simple passes to keep the ball moving and in the hands of the superstars. When every possession has the potential to end in a shot for LeBron James, Dwyane Wade or Chris Bosh, a role player giving one away is an unforgivable sin.

The second theory is that a great offense, like a great defense, should consist of five players "on a string," with every player ready and willing to make an aggressive drive to the basket, a home-run pass or look for his own shot whenever the opportunity presents itself, instead of simply being passive and waiting for the superstars to get the job done.

The Heat have looked at their most vulnerable when the latter scenario has occurred. They've seemed to be content, at times, to watch each other operate instead of looking to put constant pressure on defenses with constant movement of man and ball.

The Heat's most talented and headache-inducing role player, the mercurial Mario Chalmers, provides a good argument for both points of view.

Chalmers has perhaps the best college pedigree of any Heat player. He played three years at Kansas, and shot 51.6 percent from the field and 46.8 percent from beyond the arc in his final season. He won a NCAA championship against Derrick Rose's Memphis team in that season, making a 3-pointer over Rose with seconds remaining in regulation to force OT in the title game. His Draft Express profile said that one of his strengths was being "relatively mistake-free." In spite of that, Chalmers often looks like he came to the Heat straight out of an AAU tournament, for better or for worse.

Chalmers is, by a wide margin, the Heat's most fearless role player on both offense and defense, and that often serves him well. He's never afraid to go into the teeth of the defense when a lane opens, and he will often finish the play with a nice pass or a floater in the lane. He's not an automatic 3-point shooter, but he knocks down a fair share of the ones he takes, and he seldom shows hesitation when he gets an open catch-and-shoot 3 opportunity. When he gets chased off the 3-point line, he's confident enough to take a dribble or two and fire a 20-footer, which he makes at a high rate.

Defensively, he's capable of making a big play at any time. He never backs down from a defensive challenge and uses his unbelievably long arms and aggressive defensive style to record 2.31 steals per 48 minutes, which was the highest margin on the Heat by a fairly wide margin. (LeBron came in second, with 1.94 steals per 48.) On both ends of the court, Chalmers gives the Heat a dimension that no other role player can, with the possible exception of a healthy and confident Mike Miller.

That's the good news. The bad news is that Mario Chalmers makes mistakes. A lot of mistakes. And not the usual mistakes (take a contested 20-footer with 18 seconds on the shot clock, force a pocket pass into a defense that's already collapsed, over-help and leave a shooter open, etc.).

Mario Chalmers makes spectacular mistakes. He makes "first 20 minutes of a Disney sports movie" mistakes. A compilation of Chalmers' mistakes could be made into the kind of video for young point guards the way they show horrific car crashes to kids in driving school.

Chalmers' aggressive defense cuts both ways. He averaged 4.8 fouls per 48 minutes, which was the third-highest mark among point guards this season. When you consider that most of Chalmers' fouls come on players handling the ball 30 feet from the basket or going up for jump shots as opposed to players looking for layups, that's a staggering number.

Chalmers doesn't turn the ball over that often, but his turnovers are often jaw-dropping. His unusually high handle turns the normally serene first eight seconds of a possession into an adventure when token full-court pressure is applied, and it's often impossible to discern where passes that end up becoming turnovers were intended to go.

Chalmers played the most minutes of any non-Big Three player during the regular season, and he's one of the three players whose style warrants its own adjective. A "Jamesian" play is a play where LeBron's sheer talent renders both macro and micro fundamentals temporarily moot. A "Wade-like" play is a play made possible by Wade's unparalleled ability to get to any spot on the court at any time in a way that should not be geometrically possible. (The exact meaning of "Like a Bosh" seems to shift on a daily basis, so I won't touch it here.)

A "Chalmersian" sequence is one where Chalmers makes a play that no other Heat role player is willing or capable of making immediately before or after making a mistake that no Heat role player should be excused from making.

The most Chalmersian moment of this series came in Game 3, when Chalmers followed up a beautiful bullet pass that set up Wade with a dunk with a hopeless outlet pass that was picked off at midcourt 19 seconds later. The most Chalmersian moment of the season came against the Bulls in the regular season, when Chalmers hit a 3 and a layup to put the Heat up two points with 25 seconds remaining, only to foul Luol Deng on a jump shot eight seconds later and give the Bulls what ultimately became a game-winning three-point possession.

Here's the thing: For all his flaws, the Heat need Chalmers, both in the short term and the long term. His nearly flawless performances off the bench in Games 3 and 4 were key to the team's victories. And if the Heat want to get the five additional wins they need for a title, they will need Chalmers' active defense, his physicality, his outside shooting, his ability to create off the dribble and his fearlessness, even if some crazy mistakes accompany those attributes.

In the future, Chalmers becomes even more important. Mike Bibby isn't getting any younger, and his contract expires after this season. The Heat don't have any draft picks of real value in the near future, and Chalmers and Dexter Pittman are the only players on the Heat roster 25 or younger.

Trying to picture how Chalmers would play without making mistakes is like trying to picture how Bosh would play without having arms, but if Chalmers stays healthy throughout training camp and can add a dash of maturity to his obvious talent, the Heat could potentially have something in him that they currently lack -- a true fixture at point guard and an opportunity for improvement without having to make a roster move.


---