Miami Heat Index:

2013 NBA Playoffs
June, 10, 2013
6/10/13
5:07
PM ET

By Michael Wallace
ESPN.com
Archive
MIAMI -- As the
Miami Heat
were in the midst of a dominant second-half run on the way to a Game 2 victory in the Finals against the
San Antonio Spurs
, point guard
Mario Chalmers
approached
LeBron James
near midcourt with a message.
"I felt like we had them on the ropes," Chalmers said of the powerful and brief conversation with James. "I told [James], 'Let's go for the kill.' He said, 'I'm with you.'"
Actually, it probably should have been the other way around. With Chalmers leading a group of Heat role players who sparked a 33-5 run to put Sunday's game away, it was James' supporting cast that served notice its presence would be felt as the Heat tied the series 1-1.
While much of the focus in the Finals will be on the respective Big Three members of the Heat and Spurs, the outcome of the games will likely continue to hinge on which team gets the biggest boost from its supporting cast.
That developing trend continued in Game 2 of the Finals, when Chalmers and Miami's role players stepped up in the decisive moments of the game. James got off to a sluggish start and didn't get going until late in the third quarter. Meanwhile,
Dwyane Wade
and
Chris Bosh
combined for 22 points, 12 rebounds and 10 assists in a rather pedestrian, yet productive outing from Miami's Big Three unit.
But it was the next four players in the Heat's rotation that made the difference. Chalmers had 19 points and didn't commit a turnover;
Ray Allen
continued his shooting resurgence with 13 points off the bench; and
Mike Miller
and
Chris Andersen
combined to make all six of their shots for 18 points to spark Miami's 103-84 victory.
"Obviously, there are going to be certain games where guys will have to be special," Wade said. "But we like to have games like this, where everyone is involved and the ball is moving around and guys are feeling like they're involved and they're comfortable and confident."
The most impressive aspect of the Heat's 33-5 run was that the damage was done with Wade and Bosh enjoying all but a combined two minutes of it from the bench. Chalmers, Allen, Miller and Andersen scored 22 of the 33 points and made seven of eight shots during the run. James scored the other 11 points as Miami went from trailing 62-61 late in the third to leading 94-67 midway through the fourth.
"It's the key," James said of role players swinging the series in either team's favor. "The Big Three on both sides, you know you can kind of rely on them at all times. But I think the supporting cast is really why both teams are here. They've been making an impact all year long. [The Spurs] feel like their supporting cast is better. We feel like our supporting cast is better. It's who goes out and does it each and every night to help seal the wins."
Miami's answer Sunday came in response to big plays made by role players in support of
Tony Parker
,
Tim Duncan
and
Manu Ginobili
in San Antonio's Game 1 win. Parker's miraculous bank shot in the final seconds provided the biggest highlight from Thursday's series opener. But it was
Danny Green
's 3-pointer with 2:29 left that gave the Spurs enough of a cushion to hold on for a 92-88 win.
Green,
Kawhi Leonard
,
Tiago Splitter
and
Gary Neal
accounted for 36 points and 19 rebounds in Game 1 to help make the difference. The Heat had the edge in Game 2 as Chalmers, Miller, Allen and Andersen combined for 50 points on 65.3 percent shooting, along with nine rebounds.
"This series probably is defined by all the little things," Heat coach Erik Spoelstra said. "Small things will make a major difference because the talent level is pretty equivalent. So it's going to be loose balls, rebounds, execution, guys coming in with confidence, being aggressive and that type of thing. Everybody's fine with it."
Spurs coach Gregg Popovich said the outcome of Sunday's game was determined by the struggles of his future Hall of Famers and not a lack of support from others.
Parker, Duncan and Ginobili missed 23 of their 33 combined shots in Game 2 against a Heat defense that was more aggressive and disruptive than it was the previous game. After forcing just four turnovers in Game 1, the Heat scored 19 points off 17 San Antonio turnovers Sunday.
"Tony, Manu and Timmy were the ones that were 10 for 33," Popovich said. "I'm not going to put that [responsibility for the loss] on the bench. That's when every team is at their best, when the perimeter is making shots, when the bench is playing well, when you have a lot of contributions. That helps you win basketball games."
Despite the sloppy play, the Spurs got 14 rebounds from Leonard and a perfect shooting night from Green, who made all six of his shots, five of which were 3-pointers. But even with Leonard, Green, Splitter and Neal contributing 40 points and 18 rebounds Sunday, it wasn't nearly enough.
The Spurs expect to regroup as the series moves to San Antonio for the next three games, starting Tuesday night.
"We know one of the main reasons why we are here [in the Finals] is because they had a terrific season," Ginobili said of the Spurs' role players. "Kawhi grabbing 14 rebounds, Danny shooting 5-for-5 [on 3-pointers], that really helped us. So Tim, Tony and me, we have to step up. We have basically no shot winning a game against [Miami] if none of us played good. So we definitely have to step up."
Meanwhile, Chalmers looks for those he refers to as Miami's "others" to maintain their impact moving forward.
"It's very important," Chalmers said. "Their second unit had a big game in Game 1. Our second unit had a big game [Sunday]. So it's going to be the tale of 'The Others.'"
June, 1, 2013
6/01/13
1:29
AM ET

By Michael Wallace
ESPN.com
Archive
One step away from a third consecutive trip to the NBA Finals, struggling
Miami Heat
teammates
Dwyane Wade
and
Chris Bosh
aim to regain enough of a stride to help
LeBron James
finish off the
Indiana Pacers
.
A sore right knee continues to limit Wade's effectiveness during the least-productive playoff series of his 10-year career, while a sprained right ankle has contributed to Bosh's scoring and rebounding woes the past two games.
Both Wade and Bosh hope to bounce back Saturday when the Heat carry their 3-2 series lead into Bankers Life Fieldhouse for Game 6 with a chance to close out the Pacers and advance to the Finals to face San Antonio.
"Nobody is 100 percent," Bosh said Friday before the Heat's team flight to Indianapolis. "It's just really all mental. Just knowing you have to come in, you have to do your job better than the other guy and know that everyone is ailing a bit. But that's part of the game, especially this time of the year. Everybody has to rise to the challenge."
That challenge grew steeper for Bosh when the NBA announced Friday that Heat reserve center
Chris Andersen
is suspended for Game 6 for his role in Thursday's altercation with Pacers forward
Tyler Hansbrough
.
The absence of Andersen's interior scoring, defense, rebounding and energy will create a void for the Heat that demands more production from Bosh,
Udonis Haslem
and seldom-used center
Joel Anthony
against Indiana's physical and productive big men in
Roy Hibbert
and
David West
.
Bosh said the only choice is to embrace the opportunity.
"[You] have to love pain, love basketball, love the game," Bosh said. "And love the position you're in."
May, 21, 2013
5/21/13
6:56
PM ET

By Tom Haberstroh
ESPN.com
Archive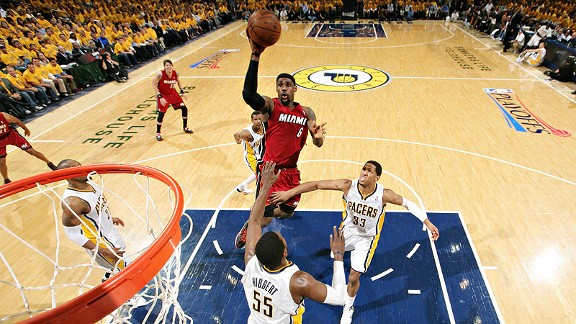 Nathaniel S. Butler/Getty Images
Don't be surprised if LeBron James breaks out his floater against Roy Hibbert and the Indiana Pacers.
MIAMI – For the past several weeks,
LeBron James
has finished up his daily routine at practice by shooting free throws with
Ray Allen
. Every practice, same thing.
But on Tuesday, things were different.
A day ahead of their Eastern Conference finals matchup against
Roy Hibbert
and the
Indiana Pacers
, James was at his normal basket at the Miami Heat's practice court, but Allen was on another hoop, practicing his 3-point shot on his own. Instead of trading free throws with Allen, James was working with Heat assistant coach David Fizdale and point guard
Mario Chalmers
on a different shot:
The running floater in the lane.
Yes, the same one he unleashed out of nowhere against Hibbert last playoffs and used to help push the Heat over the top in six games.
James' goal on Tuesday was obvious: to polish his Hibbert arsenal.
"I just dust it off when I need it," James said of his rarely-seen floater.
This was the first and only day that James has put in extra work on it this season. James started from the top of the key, barreled down the middle of the paint and launched in the air for a floater. He'd do that a few times and then switch angles. Starting from the baseline, James took a dribble on the move and then soared across the lane to drop a running hook. Over and over again.
The only thing that was missing was a 7-foot-2 cardboard cutout standing at the rim.
James knows he'll need his full repertoire against the Pacers' front line for this upcoming series. No, the thinking isn't to only drop floaters in the lane. Rather, it's to keep Hibbert honest. No more allowing Hibbert to camp out around the rim and wait for intruders. The Heat want Hibbert on the move and guessing.
"He won't just have one look," James said after Tuesday's practice. "We have to be able to give him different looks to keep him off balance."
James unveiled the crafty shot in the third quarter of Game 1 of the Eastern Conference semifinals last season, just minutes after
Chris Bosh
left the game with an abdominal strain that sidelined him for weeks. James turned the corner after a high pick-and-roll with
Udonis Haslem
and made his way to the rim as Hibbert sidestepped off
Ronny Turiaf
to park himself underneath the basket.
That's where Hibbert waited for James. But instead of trying to shoot through the 7-foot-2 giant, James hopped off two feet halfway into the lane, rose up and tossed the ball high into the air. Swish. From then on, James went to that shot without hesitation, and it proved to be a handy weapon against Hibbert's size.
Remember James' monster Game 4 against the Pacers when he registered 40 points, 18 rebounds and nine assists? James used his devastating floater on multiple occasions in that furious comeback alongside
Dwyane Wade
, but James also punished the Pacers with 16 free throws. James still attacked the rim and racked up fouls against Hibbert, but he needed the reliable floater to keep Hibbert from getting too comfortable in the paint.
Typically, James will use his otherworldly athleticism and strength to overwhelm his opponent like a wrecking ball. But there will be times when he'll need technique and grace to keep opposing big men on their toes. So for James in this series against Hibbert and the No. 1-ranked defense in the league this season, the key will be variety, not velocity.
James knows Hibbert doesn't want to be dragged away from the basket. He paid close attention to the Knicks-Pacers series and it resonated with him when Hibbert rose up for that iconic block on
Carmelo Anthony
at the rim in the decisive Game 6 (James called it "a very good block" on Tuesday). James watched every minute of the series during which the Knicks' percentage of shots in the restricted area plummeted from 39.5 percent with Hibbert on the bench to just 30.5 percent with him in the game, according to NBA.com/Stats.
This is the Hibbert effect, and James wants to neutralize it with as many weapons as he can. The floater, you can expect, will be one of them.