Miami Heat Index:

Anderson Varejao
January, 19, 2011
1/19/11
3:50
PM ET

By Tom Haberstroh
ESPN.com
Archive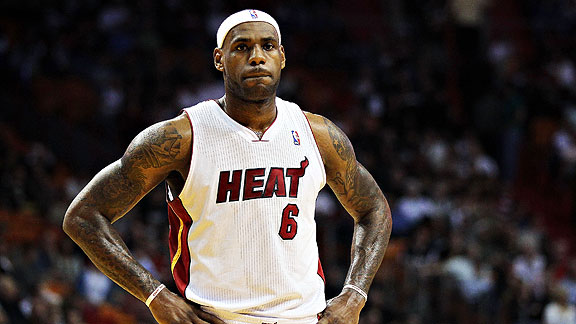 Mike Ehrmann/Getty Images Sport
LeBron James' success at power forward has a lot to do with who's playing alongside him.
LeBron James is a guard in skill but a forward in size. So when Heat power forward Chris Bosh missed his first game of the season Tuesday night, it seemed logical to slide James to the 4 and tap into the two-time MVP's versatility.
And that's exactly what Heat coach Erik Spoelstra did for long stretches against the Hawks. In all, James played 33 of his 44 total minutes in the overtime game at the power forward position. The unconventional lineup spurred the Heat to an 18-2 run in the second quarter, but it also suffered through rough patches at the conclusion of the first and third quarters. For the game, LeBron-at-the-4 lineups outscored the Hawks' units by one point.
But is that success a one-game blip or part of a wider trend this season? And what about his time in Cleveland? Moreover, does James even have the post-up game to emulate a traditional power forward?
Let's break it down.
LeBron at the 4 in Miami
With over half of the Heat's season in the books, we have watched Spoelstra deploy James at the power forward slot at several junctures, and the results have been interesting.
Overall, the formation has worked. The Heat have beaten opponents on average by seven points every 100 possessions with James playing the power forward slot. On the whole, the Heat are beating their adversaries by 9.2 points every 100 possessions, so it's not quite as effective as the status quo.
But dig deeper and we find that who plays the 5 in these lineups has a large effect on its success. More specifically, Bosh makes it very much worthwhile.
So here we see that lineups with James and Bosh manning the frontline have been remarkably effective, outscoring opponents by nearly 15 points every 100 possessions. This configuration's offense is just about unstoppable; the Heat have scored 97 points on 79 trips down the court (its 122.8 offensive efficiency is 14 points better than the Heat norm).
But there's a tradeoff. The defense gets less stingy with James and Bosh holding down the fort. In fact, when Anthony tags along with James down low, the defense has been about 10 points per 100 possessions better. (Helpful reminder: When talking about defensive efficiency, a lower number is better. Think of it like you would a golf score.)
Take notice of the stark change in the Heat's strengths. With Anthony, the Heat still manage to be a top defensive team even with James playing "out of position." But the offense suffers. And with Bosh in there at the 5, the Heat become on offensive juggernaut. Give up 10 points on defense, add 21 more on offense.
Given Bosh's and Anthony's vastly different skill sets, this shouldn't be a total surprise. But to see it illustrated so acutely in this half-season breakdown reminds us that simply putting James at the 4 doesn't guarantee a certain brand a basketball. It depends on who's flanking him.
While the sample size is limited, the success of lineups with James at the 4 seems to hinge on the center position. And if we look back even further into his days as a Cavalier, we see a similar trend.
LeBron at the 4 in Cleveland


Earlier this season, when Heat forward Udonis Haslem went down with a foot injury, I ran the numbers to find out how the Cavaliers looked when James slid to the 4. What did I discover? When Varejao played the 5, the Cavaliers were off-the-charts good. Like, outscoring opponents by nearly 30 points every 100 possessions good. Both offense and defense was stellar with the gritty Brazilian. But with Shaq? The Cavs were terrible. Same with Zydrunas Ilgauskas, whom Spoelstra has been very reluctant this season to pair with James at the 4. And that's probably not a coincidence.
Here are the illuminating numbers:
So how do we reconcile this information with what we know about the Heat? For one, the Heat don't have a player like Varejao who can run the court, score when you need him to, help out James defensively and seamlessly guard opposing centers. Granted, Bosh does most of those things well. Anthony does some of those things sufficiently. But Varejao does it all exceptionally.
And it's instructive to look at Ilgauskas' numbers. Pairing a lumbering center with James at power forward is like asking Usain Bolt to run the 100 meters while dragging a mid-size sedan. There's a reason Erick Dampier and Ilgauskas have been used sparingly with James at the 4.
But in these lineups, is calling James a power forward just an empty designation? Can he play on the block?
LeBron in the post


Finding deficiencies in James' all-around game sometimes feels silly. After all, he's already the most talented player in the league at age 25 and has been for quite some time.
James' game may be extraordinarily versatile but it is not laterally complete. If he puts his back to the basket, he suddenly doesn't look as confident with the ball. But data suggest that we may be overexaggerating his ineffectiveness on the block.
Synergy Sports' scouting reports generated from video breakdowns tell us that James has scored 42 points on 48 post-ups this season, an efficiency that ranks 40th among the 71 players with as many plays down low as James. For the sake of comparison, Paul Pierce ranks third and Kobe Bryant 19th.
But last season, James fared far better on the block, perhaps due to familiarity and continuity within the Cleveland offense. He scored 1.14 points per post-up last season which ranked first among the 55 players that matched his attempts and that included Bryant and Pierce.
So James certainly has the potential to be a great post-up presence and he's shown impressive results, but he tends to shy away from the block. The post-up game represents only 4.5 percent of his overall offense, which pales in comparison to some of his wing contemporaries. For reference, Bryant goes there four times as often. Now, part of that is due to offensive schemes, but it's also a testament to preference.
In Tuesday night's loss to the Hawks, James rarely put his back to the basket and ran limited pick-and-rolls as the screener, despite playing the role of the big man. He hasn't fully embraced what it means to play the 4 in conventional terms but he's not a conventional player, either. There's still plenty of room for him to grow as a player -- and that's a scary proposition for the rest of the league.
December, 1, 2010
12/01/10
8:20
AM ET

By John Krolik
ESPN.com
Archive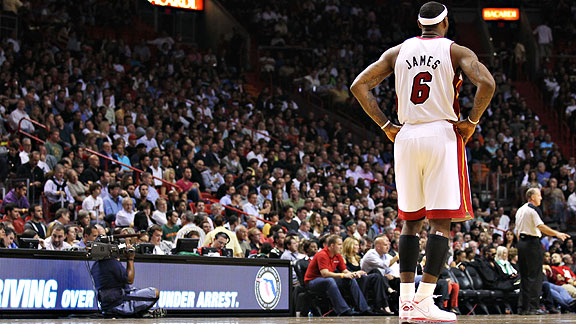 Mike Ehrmann/Getty Images Sport
Can LeBron James take the on-court lessons he learned from Cleveland and apply them in Miami?
On Thursday night, LeBron James will return to Cleveland. He will look the same, wear the same headband and may or may not go over to the scorer's table and toss the chalk the same way he always has. The number, the uniform and the reception will certainly be different, but all of that was to be expected.
What's surprising is that the LeBron James who will return to Quicken Loans Arena on Thursday hasn't been playing basketball like the man who won the last two MVP awards and was, at 25, the best player in franchise history.
From the beginning of the 2008-09 season to the end of the 2009-10 season, LeBron's teams could be best described as "pretty great." They won 127 out of a possible 164 contests, played the Magic very tough in the 2009 Eastern Conference finals, and appeared to have the Celtics on the ropes before completely collapsing in the 2010 conference semifinals. That's not bad. However, it's not the kind of résumé a player who wants to be considered one of the best to ever to play the game wants.
If LeBron had stayed in Cleveland, maybe one of those pretty great teams would have been able to put together 16 tough wins and reach the promised land. We'll never know. What we do know is that LeBron left the Cavaliers for the chance to be on a team that could be more than pretty great.
Count me among those who thought the Heat would win around 70 games this season. After all, LeBron won 66 games in 2008-09 -- wouldn't the upgrade from Mo Williams to Dwayne Wade be worth a couple of games, even if Williams fit LeBron better than Wade? Shouldn't the upgrade from Anderson Varejao to Chris Bosh be worth a win or two? How severe could the dropoff from Ben Wallace to Joel Anthony be? Isn't Mike Miller a better first-swingman-off-the-bench than Wally Szczerbiak was? (Yes, injuries have changed the equation for the Heat this season.) How much worse is Eddie House than Daniel Gibson, who had one of the worst seasons in his career in 08-09?
We could go on like this, but the bottom line is that if LeBron was playing the same way in Miami that he did in Cleveland, there's no way Wade, Bosh, and the rest of the Heat supporting cast would have been able to screw up a dominant regular-season run. Yet, if Miami wins its next 50 games, it would need to go 10-4 over its last 14 games to get 70 wins. There are a number of reasons for this; the injuries to Haslem and Miller, Wade's lingering health issues, Bosh's lack of aggression and the team's lack of size.
But the biggest reason for the Heat's struggles is this:
Given the chance to be a part of a great team, LeBron has continued to play like he's on a pretty great one.
For the better part of the last decade, LeBron has been praised for his "high basketball IQ." But the X's and O'x debacle of the Heat offense through its first 18 games obligates us to revise that sentiment a bit.
LeBron is blessed with excellent basketball instincts, but he has not shown that he has an excellent basketball IQ. With the ball in his hands, the floor spread, and a pick set for him LeBron is nothing short of a virtuoso. In a fraction of a second, he can figure things that many pro basketball players never could. If the defense shades him to his strong hand, he'll explode to his left. If the defense overloads a screen-and-roll and the screener slips the pick, LeBron can put the ball in his hands. If the defender readies himself to take a charge, LeBron can fire a skip pass to an open shooter.
It's a true gift, and it's why the Cavs were so effective offensively despite a lack of offensive imagination. The Cavs didn't run many complex sets, but on virtually every possession, they gave LeBron a number of dangerous options.
If the defense overloaded on LeBron, the Cavs would set a back-screen for a mobile shooter like Mo Williams to free him up for a 3-pointer. If the defense tried to trap James on a pick-and-roll, Varejao would roll to the hoop and get set up with an easy basket. If the other team successfully collapsed on LeBron, he'd deliver the ball to Zydrunas Ilgauskas at 18 feet or to Parker in the corner as a safety valve. If the other team relaxed when LeBron didn't have the ball, the Cavs would spring an action like their "decoy" pick-and-roll and get an easy basket.
It wasn't the most complex offense in the world by any stretch of the imagination, but it was perfectly suited to LeBron James' skills and it worked very well up until the 2010 Boston series. (Offense wasn't the Cavs' problem against the Magic.) Every role player around LeBron was mobile, ready to improvise and knew how to get high-percentage looks when the defense loaded up on LeBron.
Of course, there was a ceiling on that offense's effectiveness, and LeBron presumably came to Miami to break through it. The only problem is that LeBron didn't seem to think through how he would actually play alongside Wade and Bosh before making his decision.
Instead of trying to adapt his game to Wade and Bosh and create some absolutely terrifying offensive sets, LeBron seems comfortable playing only a Cleveland-style read-and-react offense. Get the ball on the perimeter, isolate, or get a pick, look to drive, pull up from time to time, and kick out to a shooter when the defense collapses.
The problem is that Miami isn't built around LeBron the way Cleveland was -- Bosh is actually making fewer shots per game the rim this season than Varejao did last season. Arroyo and Wade can't shoot like Williams or Parker could, and the mighty Heat are relying on 18 foot pick-and-pop jumpers while either James or Wade stands and watches.
Instead of playing smart, LeBron has been deferring, and there's a difference between the two things. This has been particularly noticeable in close games. James' ability to dominate down the stretch made the Cavs one of the league's best teams in close games during his time with the team, but four of the Heat's eight losses this season have come in games that came down to the wire.
When LeBron doesn't have the ball in his hands, his discomfort is obvious. When he sets a pick, he pops out to 18 feet rather than rolling hard to the basket. (It's worth noting here that LeBron is the size of Karl Malone.) When he sets up in the post, he floats back to the ball instead of maintaining deep position and trusting his teammates to get him an entry pass. When he does get it in the post, he faces up and waits for the double team instead of making a quick move and putting pressure on his defender. On the weak side, he waits for the ball to come to him instead of moving towards the basket and hoping his team will open up a passing lane for him.
You can see the wheels turning in his head every time he doesn't have the ball: what if they can't get the ball to me? What if a teammate breaks open and I don't find him? In Cleveland, the behavior was somewhat acceptable because the concerns had some validity. The Cavs' chances of scoring fell drastically on possessions that didn't involve James. Miami is more than capable of scoring when James doesn't touch the ball, and James' paranoia has been choking the offense.
Like a great spread-option quarterback being asked to learn a pro-style offense, a pitcher with a golden arm being asked to mix speeds and pitch types in order to fool major-league hitters, or an adolescent math whiz being asked to show his work and learn step-by-step problem solving instead of relying on his innate ability to do basic equations in his head, LeBron is being asked to trust in something greater than his talents and instincts.
He's being asked to be the smartest basketball player on earth.
Greg Maddux, who is considered one of the smartest pitchers in the history of baseball, once said, "People think I'm smart? You know what makes you smart? Locate your fastball down and away. That's what makes you smart."
Likewise, it's amazing how "smart" being able to put a pass wherever you want to can make you. Now that LeBron is surrounded by teammates capable of doing more with the ball than make spot-up jumpers or timely cuts to the basket, he's going to have to show that he understands NBA offenses on a macro level.
Given how successful James was doing things his way, that may not be an easy process. But if he wants Miami to dominate, it's an adjustment he'll need to make.
If LeBron had stayed, the Cavs could have been pretty great for years to come. He left, and pretty great will no longer be acceptable. On Thursday, tens of thousands of fans will remind LeBron that he's not a Cavalier anymore. LeBron would be well served to remember that when he's on the court with Wade and Bosh instead of Williams and Varejao.