Miami Heat Index:

Blake Griffin
January, 13, 2011
1/13/11
4:09
AM ET

By John Krolik
ESPN.com
Archive
On Jan. 12, 2004, LeBron James and the Cleveland Cavaliers came to Los Angeles to take on the mighty Los Angeles Lakers. The Cavaliers weren't setting the NBA on fire, and had long been one of the worst teams in the NBA, but hope had arrived in the form of a 6-foot-8, 240-pound rookie named LeBron James, who had come into the league as the most hyped rookie in NBA history and immediately justified some of that hype by averaging 23 points, nine rebounds, and 8.5 assists in his first two NBA games.

The Cavaliers weren't a good team yet, and their record wouldn't even become respectable until they won 11 of 13 games during a late February/early March stretch, but for the first time in years they were something to see. The Cavaliers might not have been the favorites to win on any given night, but there was always that chance that LeBron was going to do something special. Maybe it would be one play that showed just how prodigiously gifted of a basketball player he was, or maybe it would be a wire-to-wire performance that hinted at just how dominant he could become if he managed to get his game together. Either way, the 18-year-old James was more than worth the price of admission.

The Lakers, meanwhile, were the only team anybody really wanted to talk about, and for good reason. Shaq and Kobe had established themselves as two of the best players in basketball. They were both in their primes, and adding Karl Malone and Gary Payton in the off-season gave the Lakers a starting lineup that featured four potential Hall-of-Fame players. There were also off-the-court factors that made the Lakers so fascinating -- Kobe Bryant was the NBA's most controversial figure after being accused of sexual assault the previous summer, and many wondered if his image would ever recover.

Everything was set for a matchup between the league's most talented team and an upstart squad led by a young superstar whose maturity and team-first attitude had repeatedly been praised

But the actual game was anticlimactic: LeBron was held to 16 points on 6-for-20 shooting from the field. Shaq and Malone both missed the game with injuries, while Kobe scored only 10 points before leaving the game with an injury of his own, and the Lakers were able to cruise to an 89-79 win that featured no real fireworks on either side.

Seven years to the day after LeBron's Cavaliers played the super-Lakers, a lot has changed. LeBron has added at least 25 pounds of muscle, switched positions and become a small forward, turned his formerly abysmal outside shot into a strength, transformed himself from a mediocre/below average defender to one of the best defensive players in the league, taken Cleveland to the finals and won two MVP awards. He has suffered disappointing playoff losses twice, become the best player in Cavalier history, the most hated athlete in Cleveland sports history, the most controversial figure in sports, and has ultimately replaced the teammates he suited up with seven years ago -- Erik Williams, Carlos Boozer, Kendrick Brown, and Zydrunas Ilgauskas -- with Dwayne Wade, Chris Bosh, Carlos Arroyo, and, well, Zydrunas Ilgauskas. (Kobe, meanwhile, may or may not have led to Shaq getting traded, missed the playoffs, watched Shaq win a championship with LeBron's future team, win an MVP award, win two championships, and become the most respected player in basketball.)

Seven years after LeBron led his Cavaliers into the Staples Center, it was his Heat who were the favorites against Blake Griffin, the most exciting and productive rookie since LeBron, and the upstart Clippers, who have won eight of their last 11 games after a dismal start to the season. Unlike LeBron's Cavaliers in 2004, Griffin's Clippers were able to pull off the upset and snap the Heat's road winning streak behind 24 points, 14 rebounds, and 6 assists from Griffin. The rookie never appeared the least bit tentative against one of the best defenses in the NBA, nor was he afraid to keep his team from losing the lead when the Heat made runs and threatened to take over the game.

The only thing more exciting than Griffin's performance were the glimpses Blake showed of how much better he can become. Only one of Griffin's nine field goals came from outside of the paint, and there were a few moments when Griffin blew a finish at the basket after freeing himself up with a beautiful up-and-under or spin move. Griffin's energy, athleticism, and intelligence have made him into one of the league's best power forwards as a rookie . When he starts making his jump shots and free throws more consistently, improves on his already-prodigious ability to face his man up and beat him off the dribble, and gets more comfortable with advanced post moves, he'll be frightening.

Before the game, LeBron praised Griffin's talent and compared him to Karl Malone, Antonio McDyess (the young version) and Shawn Kemp because of Griffin's ability to play above the rim. Those are all favorable comparisons, and LeBron meant them as compliments to Blake, but think of all the things that prevented those players from winning a championship.

Kemp was a victim of his own immaturity. Malone was struck down by Michael Jordan. Injuries kept McDyess from reaching his potential and LeBron James prevented him from going to the finals when McDyess played for the Pistons. Microfracture surgery, a lack of commitment to defense, and the "leaving the bench" rule have kept Amare Stoudemire from reaching the finals in his career, although he's currently having a great season for the Knicks. Even LeBron, who entered the Staples Center as more or less of a finished product last Wednesday, has failed to win a championship thanks to inferior teammates, bad luck, and bad performances at the exact wrong times.

Blake Griffin and LeBron James would be the first people to tell you that they're different in a lot of ways. Blake is a power forward who lives in the paint, loves crashing the boards and has an intuitive sense of how to work off the ball to free himself up for dunks. LeBron is a perimeter player who passes and handles the ball as well as any point guard in the league, can drain a 3-pointer from anywhere on the court and is only now learning how to work without the ball in his hands. Off the court, Blake is soft-spoken. He snuck up on the league somewhat after missing what would have been his rookie year with a knee injury, while LeBron is an extrovert who has been the focus of tremendous hype and controversy since Sports Illustrated called him "The Chosen One" as a high-school junior.

Still, it's impossible to watch Blake Griffin now and not remember what LeBron James was seven years ago -- a thrilling young player with all the talent in the world, the savvy to use his strengths to take over games, the drive to shore up his existing weaknesses, the maturity to be a historically poor team's franchise player as a rookie and the hopes of a long-suffering fanbase on his shoulders.

Will Blake ever take his game to the level that LeBron took his to? Will the Clippers be able to surround Blake who complement him the way LeBron's supporting cast in Cleveland did or have the kind of talent LeBron's current teammates have? In 2018, will we be wondering why Blake hasn't won a championship yet? Will we be thinking about him at all? Or will we be wondering if he's the greatest forward since Tim Duncan? And will he ever become as important to the Clippers as LeBron was to the Cavaliers and the city of Cleveland, or as unpopular as LeBron is now both in and outside of Cleveland?

Nobody knows the answers to those questions, and now probably isn't the time to ask them. There will be plenty of opportunities in the years to come to analyze Griffin, pick apart his physical and mental weaknesses, put his performance in context, talk about what he does or doesn't represent about his generation, scrutinize every statement that comes out of his mouth or smartphone, talk about what Duncan would have done in a given situation, ask him to be responsible for a group of people he never met or asked to represent and forget about what it is that made Griffin so interesting to us in the first place.

Now is the time to marvel at a 21-year old rookie sealing a win against the NBA's best team by ducking under a Wade clothesline, double-clutching, hanging in the air, and slamming the ball through as 19,803 of the most historically downtrodden fans in NBA history lost their collective minds in appreciation. There will be plenty of time to tear down or build up Griffin for our own purposes later.

Now is the time to simply appreciate how good he is already, and dream about how great he may some day become.
January, 12, 2011
1/12/11
1:37
PM ET

By Brian Windhorst
ESPN.com
Archive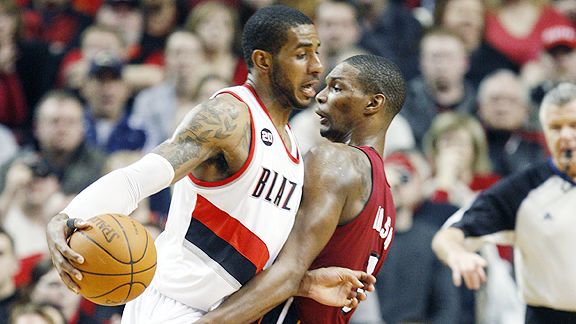 AP Photo/Rick Bowmer
Chris Bosh is facing one tough matchup after another this week at the power forward slot.
LOS ANGELES -- Chris Bosh may be in for a tough and tiring week, and he knows it.
Bosh is in the midst of a string during which he's facing some of the most talented and rugged offensive power forwards in the league. It started Sunday in Portland, where he had a fairly intense battle with LaMarcus Aldridge, an old friend from Texas.
Tonight Bosh gets his first look at Blake Griffin when the Heat take on the Clippers. And Saturday, the Heat will face the Bulls and Carlos Boozer for the first time. In between, there's a game at Denver, where Carmelo Anthony sometimes spends time at power forward.
"Oh, I know, I noticed," Bosh said. "I took a month off. With all due respect to everyone else, I didn't have many matchups where the ball was going to many guys I was guarding. Eventually we all have to deal with that and I've got my work cut out for me."
Aldridge scored 31 points with 14 rebounds in the Heat's 107-100 overtime win over the Trail Blazers. He and Bosh, who had 18 points and eight rebounds, were engaged in an ongoing battle late in the fourth quarter and overtime.
Aldridge had some moments, including a dunk and a nice turnaround in overtime. But Bosh was able to play the matchup to a relative draw when playing one-on-one late in the game. That allowed the Heat to shut down the rest of the Trail Blazers and hold them to 2-of-7 shooting in overtime. During that period, LeBron James was playing center for the Heat as they went to a small lineup.
The suggestion came from Bosh himself, who told teammates during a timeout not to give him as much double-team help on Aldridge because it was enabling the Trail Blazers to get open jumpers.
"I want my teammates to have trust in me and let me battle," Bosh said. "When somebody really challenges you it can be good because that is what happens in the playoffs. I have to do my best to make it tough on them."
One of the Heat's general weaknesses is post defense, one reason they have no fewer than four different center options on the roster with coach Erik Spoelstra regularly trying to find a formula that works on a certain night. In addition to Bosh's main backup, Juwan Howard, Joel Anthony has spent time guarding power forwards.
When the playoffs come, it is safe to assume teams will often look to attack that area, especially in late-game situations as the Trail Blazers did on Sunday.
That is why there is such a focus on how Bosh can handle tough individual matchups like the ones he'll be dealing with this week.
"It is a challenge but to get to where we want to go you have to do it," Bosh said. "Winning a championship isn't easy. From what I hear it is the hardest thing to do. But playing games like this will make you stronger and make us stronger as a team."
January, 12, 2011
1/12/11
11:45
AM ET

By Kevin Arnovitz
ESPN.com
Archive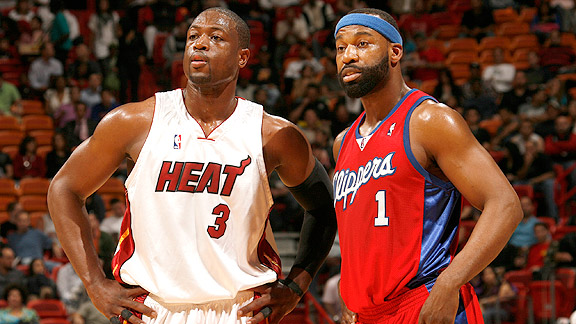 Evan Gole/NBAE/Getty Images
Dwyane Wade and Baron Davis will undoubtedly watch Blake Griffin do something otherworldly.
Heat big men, meet Mr. Griffin
You know how coaches like to yell, "Put a body on him!"? You can't put a body on Blake Griffin. He's simply too agile, physical and hungry to muscle away from the hoop. If the Heat want to combat Griffin with size, they could hand the assignment to Erick Dampier or Zydrunas Ilgauskas. Their size might give Griffin momentary pause, but the presumptive Rookie of the Year is far too quick for them. Joel Anthony had success using his quick feet and defensive instincts against Amare Stoudemire, but Griffin is more explosive at this point in his career. Chris Bosh? He's performed fairly well this season defending the post (surrendering only .76 points per possession in post-up situations), but he'll have to summon every last one of his superpowers to keep Griffin away from the rim. Furthermore, checking Griffin isn't just a matter of challenging him when he has the ball on the block. Half a defender's grade will come when Griffin is off the ball, setting screens for Eric Gordon, cutting sharply to the hoop and hanging out on the baseline waiting to pounce on the offensive glass.
Know what would be glorious to see? LeBron James guard Blake Griffin. Which brings us to ...
Can Heat afford to go small again?
On Sunday night in Portland, Heat coach Erik Spoelstra reached into his "back pocket," where he keeps all his unconventional options. He plucked out the Heat's small lineup of Carlos Arroyo, Dwyane Wade, James Jones, James and Bosh for the final stretch against Portland. Down seven late in the fourth, the Heat caught the Trail Blazers in regulation and surged past them in overtime. Miami won its 7-minute small ball stint 25-11. What made the decision interesting was the opponent. Portland is a lanky unit that ranks first in the NBA in offensive rebounding. The Clippers, meanwhile, are the league's second-best rebounding team and have the largest offensive rebounding differential. Griffin, DeAndre Jordan -- even Ike Diogu and Al-Farouq Aminu -- have been pummeling teams on the offensive glass. Those highlights you see online of Griffin and Jordan brutalizing the rim? They're the results of the Clippers' ability to use their size and athleticism to get easy buckets at close range -- only Memphis and Charlotte take a larger percentage of their shots inside of 10 feet. James and Griffin are roughly the same size, but Bosh and Jordan are not. Going small in Portland opened up the court beautifully for the Heat in crunch time. But Miami might want to find a more standard way to do so in Los Angeles on Wednesday.
Force the Clippers to move on defense
The Clippers rank only 20th in defensive efficiency but have improved a great deal since the beginning of the calendar year. They have mobile big men who can hold their own on the perimeter and a couple of sturdy wings in Gordon and Ryan Gomes who won't embarrass themselves in isolation situations. Gordon did a nice job on Wade when the Heat and Clippers hooked up last January at Staples Center, keeping Flash off the line and limiting his playmaking. Impatience only plays into the Clippers' hands, but force them into making decisions and you can find points in the half court. After struggling against the Clippers for three quarters, Atlanta picked them apart in the fourth by running a 1-2 pick-and-roll for Joe Johnson. The Hawks drew the switch virtually every time and rode that scheme to a comeback win. A few nights earlier against Utah, the Clippers turned in their worst defensive performance since ...
their last game against Utah
on Nov. 28. Utah's constant motion disoriented the Clippers, who overreacted to the Jazz's cutting big men, left Gordon Hayward wide open and were slow to commit help to Al Jefferson down low. When the Heat aren't flowing offensively, they tend to let defenses off the hook with quick jumpers. Against the Clippers, who often feature a zone, they should demonstrate patience. A good shot will usually materialize, but it might not be immediately apparent.
Keep an eye on the Clippers' backcourt
Griffin's exploits are electrifying NBA fans, but nobody is having more fun watching Griffin than Baron Davis. The point guard has had a tumultuous two-plus seasons in Los Angeles, but this season he's deferred to the Clips' young tandem of Griffin and Gordon. He's taking far fewer shots from 16 feet and beyond and has made finding Griffin at the rim his first offensive priority. Those alley-oops, deep feeds and nifty interior passes off drag screens that feed the Griffin highlight reels don't happen by accident. Griffin's freakishness finishes the plays -- but Davis' playmaking usually starts them. Like most teams that face the Clippers, the Heat will likely be posterized by Griffin at some point Wednesday night. If the Heat want to limit the fallout, they should pay Davis ample attention, because when it comes to setting up big men for pure, high-percentage looks,
Davis is among the best in the business
. Gordon, meanwhile, has become one of the league's most reliable and efficient perimeter scorers. The Gordon-Griffin angle pick-and-roll is the Clippers' bread-and-butter. As devastating as Griffin might be diving to the basket, Gordon exacts the most damage -- only Kobe Bryant, Kevin Martin and Wade have scored more per 40 minutes at the shooting guard position. The 6-foot-3 bowling ball pressures defenders because he's a potent double-threat: Gordon's 3-point touch has returned after a rough start to the season, so he must be guarded from distance. But play Gordon too close and he'll unleash his hard dribble and bully his way to the hole.
Get back to attacking the basket


When you scan Miami's game log, one fact rises to the surface: The Heat post their most efficient offensive games when they make a concerted effort to get to the line. That's true of most teams, but few squads have the one-on-one ability to force the issue more capably than the Heat. Yet over their past four games against inferior offensive opponents, the Heat are about even with the competition in free throw rate. On Wednesday night, the Heat will be tempted again to take perimeter jumpers (Clippers opponents shoot nearly 40 percent from the arc), but their best course of action will be to force the Clips to defend them on the attack. Watch out for Jordan, who has blocked 22 shots in his past four games and has become one of the league's most menacing weakside defenders. Both he and Griffin are prone to foul trouble (the former more so than the latter). Though it would be a tragedy to see Griffin sit for extended stretches of the game, the Heat shouldn't worry about entertainment value. Instead, they must force Griffin to defend actively each time down the court.