Miami Heat Index:

Boston Celtics
July, 11, 2012
7/11/12
6:11
PM ET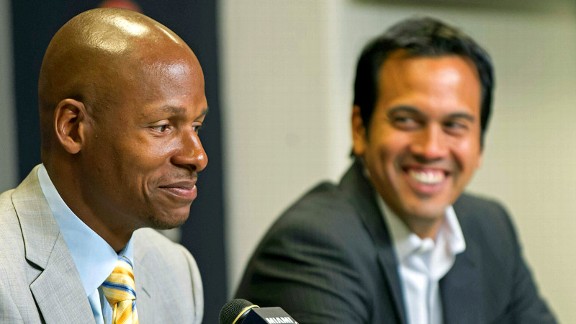 Steve Mitchell/US Presswire
Ray Allen stepped to the microphone alongside coach Erik Spoelstra and embraced his new team.
MIAMI -- Ray Allen, the most productive 3-point shooter in NBA history, officially became a member of the defending champion Miami Heat on Wednesday after signing a two-year contract to end his free agency.
It was a tough and emotional decision for Allen, who left the Boston Celtics after five seasons that included an NBA title in 2008. Here are eight storylines from Allen's Boston departure and arrival in Miami, based on some key statements from his introductory press conference.
(Connecting with Pat Riley and Erik Spoelstra)
What Allen said
: "I had an opportunity to sit down and really discuss basketball philosophy with (Riley). He's got a lot of great stories. I had a lot of questions for him. I followed him for as long as I followed basketball. Same with coach Spoelstra. We talked about every basketball philosophy we shared, to a point where he said, 'Well, I don't know if you're coming, but I'll just tell you this anyway.'"
What it means
: Boston simply might have taken Allen for granted, and Miami took advantage. There's no question Allen was feeling a bit underappreciated and overlooked. In Miami, Allen was almost treated like his character Jesus Shuttlesworth on college recruiting visits in that "He Got Game" movie.
(Friction with Rajon Rondo factoring in decision)
What Allen said
: "I haven't spoken with him at all. I know when I came down here, I texted Paul (Pierce) and Kevin (Garnett). Those are the guys I had talked quite a bit with over the years ... There are differences. We all have differences. Paul eats Corn Flakes. I might not like Corn Flakes. That's kind of who we are as individuals ... as players we have to put our differences aside."
What it means
: There really was a rift between Rondo and Allen. Boston has gradually become Rondo's team. He's its best player and most volatile personality. The difference is the Celtics still pay Pierce like a megastar and treats Garnett like one. But Allen's ego was compromised a bit.
(The role Allen expects to play in Miami)
What Allen said
: "You mean I'm not starting? I wish they would have told me that last week. Going into this process, I never said whether I wanted to start or come off the bench. That was never really an issue. Whatever is going to be best for me in this situation is going to figure itself out. This team won a championship without me. I'm not going to come in and expect for Coach to cater to who I am and what I do. I have to make it work on the floor with my teammates. I always said whether you start or come off the bench, the best compliment is who you finish the game up with."
What it means
: Allen wanted to put to rest any notion that he demanded to be a starter -- or necessarily play starter's minutes -- moving forward. The fact that he made light of the situation showed he has a sense of humor and a willingness to take on whatever role Miami has for him. But there's little doubt that Allen will play a significant role, likely as the first guard off the bench and in the closing lineup at the end of competitive games.
(Could Boston have done more to keep Allen?)
What Allen said
: "It's hard to say. It's hard to say."
What it means
: Of course there's more Boston could have done. Perhaps trade Rondo. Maybe guarantee a third year on that reported two-year, $12 million offer. More likely, the damage had already been done before the start of free agency. Allen was ready to move on. Those attempts to trade him took a toll, as did demoting him to sixth man. In reality, the Celtics and Allen were better off parting ways.
(Are "traitor" insults from Boston fans upsetting?)
What Allen said
: "I've given so much, not only on the floor but off the floor. I think that there's a sense of sadness and hurt that the people feel. And we feel that, too, as a family. And that's understandable. But we're still a part of that community. Our home is still in Boston. That's not going to change how we feel about the people there. It doesn't bother me. I know who I am."
What it means
: Allen has built up so much goodwill over his decorated career that it will be impossible for him to ever be viewed as a bad guy for long. He'll be like Joe Dumars on those Bad Boys team in Detroit. He's just too likeable and respectable. He made a decision as a free agent. But it'll still be tough for some to buy into his declaration of "always being a Celtic" while playing for the Heat and working for a man in Riley who coached the Los Angeles Lakers and the New York Knicks. That basically covers the gamut of Boston's fiercest sports rivals.
(How bad was Allen's ankle that required surgery?)
What Allen said
: "Surgery was good. I was walking within four or five days. Not a lot of swelling. Even now, if I do too much on it -- I haven't worked out, I haven't been given the clearance to work out yet -- if I do too much walking on it, it gets a little tender. But for the most part, I'm feeling really good moving forward. The playoffs, I was probably a day away from just having surgery when I decided I was going to play and try to stay along to help the team win. I think one day more, I probably would have had surgery. That's how much it bothered me."
What it means
: No one can say Allen didn't give Boston his all late in the season while playing on an ankle that obviously required serious attention. After having surgery in June to remove bone spurs, Allen says he's about a month from being cleared for serious basketball activity, putting him well on pace to be ready for training camp.
(Attempts from Garnett/Pierce to keep Allen)
What Allen said
: "When I knew I was leaning toward Miami, I actually sent a text to Kevin, just to let him know that -- I remember this process in 2008 when (James) Posey left us. And we just really wanted him back and he went to New Orleans, and we didn't get a chance to get Danny (Ainge) to try to give him a little something extra. I didn't want that to be the same case with me in this situation. So I texted Kevin and said, 'Hey, I'm leaning this way and I just want you to know, without getting into the finite details of the deals.' He said, 'Well, Danny will step up to the plate and do whatever you need him to do.' So, I was like, 'We'll see.'"
What it means
: Perhaps this was a veiled attempt by Allen to place some of the responsibility for his departure on Ainge, Boston's president of basketball operations. It sounds like Allen was at least open to hearing a better offer from Boston after he informed people he was leaning toward Miami. By then, Boston was well into its contingency plan. And rightfully so.
(Recruiting pitch from LeBron James/Dwyane Wade)
What Allen said
: "I got texts from both of them. It wasn't me as much that they influenced. But it was the people around me that it excited. It showed them that these guys really like you and want you on their team. As much as they seem bigger than life on TV and just won a championship, they took the time out to reach out and to say something nice about you. The people who care a lot about me and love me, it meant a lot to them."
What it means
: As Allen said earlier, the fact that the Heat won a title and still felt they needed him on the roster to be even better next season carried a lot of weight with him at a sensitive time. The Celtics and Heat have ended the other team's season each of the past three years. There's a history of mutual respect there. Assuming health, jobs on the court just became easier for Allen and his new teammates.
July, 9, 2012
7/09/12
4:37
PM ET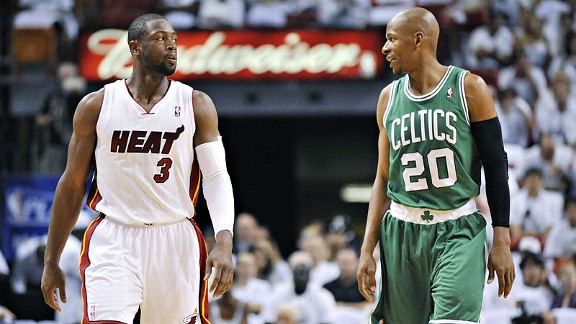 David Dow/NBAE/Getty Images
Dwyane Wade is going to work on his shooting while he recovers. That new guy might help.
MIAMI -- For nine years, Dwyane Wade's NBA career has largely been defined by overcoming odds off the court combined with graceful skill and athleticism on it.
It's been a virtual spin cycle of knock down, get up, bounce back. Repeat.
But at least one of his characteristics has been understated along the way: impeccable timing.
That was never more the case than Monday, when Wade underwent arthroscopic surgery on his long troublesome left knee to correct an ailment that deeply affected his play during the Heat's march to an NBA title this season.
Well, for LeBron James and the rest of the Heat, it was a march.
For Wade, it was more of a laboring limp. At least by his lofty standards.
Wade repeatedly downplayed the issues with his knee throughout the playoffs. But after ESPN.com's Heat Index first reported he had the knee drained during Miami's second-round series against Indiana, Wade could only do his best to disguise the problem and play through the soreness.
But, privately, he could no longer honestly deny it.
By having surgery, Wade has chosen to attack the problem that has been the cause of so much pain, discomfort and distortion in his game that many have started to question whether the only "prime" remaining in his career is affiliated with late-night dinners at the Prime One Twelve restaurant on South Beach.
From a timing standpoint, Wade's projected rehab and recovery schedule from Monday's surgery is expected to last up to two months. Barring a setback, that timetable should allow Wade to be ready to join his Heat teammates for the start of their title defense when training camp opens in late September.
Heat president Pat Riley sounded more hopeful than absolutely confident that Wade would be completely ready for action when the Heat gather for what is expected to be an earlier-than-usual camp, in anticipation of Miami being selected for one of the NBA's preseason trips overseas.
Somewhat overlooked in all of the analysis of Ray Allen's impending free agency addition to the Heat's roster later this week is the impact the sharp-shooting guard's signing will have on Wade's progress. Like Wade, Allen will also be coming off summer surgery when the season starts. But Allen is already well into the recovery stage from having bone spurs removed from his ankle last month -- just days after the Heat eliminated his former Celtics team in the conference finals.
On the surface, Allen gives the Heat yet another knockdown, 3-point shooter who happens to have made more treys than any player in NBA history. But beyond that, Allen, 36, is also an early-season insurance policy of sorts for Wade at shooting guard. Conventional wisdom would suggest that each player should lessen the physical burden on the other next season.
Minutes, as in playing time, won't be a pressing problem.
Instead, maintenance should -- and will -- be the priority.
In some ways, Wade has already gotten a jump-start on the recovery process. He has had several sessions with noted NBA personal trainer Tim Grover even before the decision to undergo surgery. Wade and Grover have worked together for the past five years, ever since Wade first had surgery on that same knee in 2007.
But the Heat will be in no rush to work Wade back into heavy game action when he's cleared to resume basketball related activities. This is why bringing in Allen was as big a move for Wade as it was to complement LeBron's ability to break down opponents and set up shooters for wide-open looks on the perimeter.
Neither the Heat nor Wade will acknowledge it, but there very well might be concerns that the issues with Wade's left knee could be chronic. That it could require extensive maintenance along with reduced wear and tear. That so many years or relentless and remarkably reckless attacks on the basket might have finally started to catch up to Wade, who refers to it as his "explosion knee ... the one I jump and cut off of to explode and attack."
It's fair to wonder just how much spark and spring are left in a knee that has required two known surgeries, controversial shock-therapy treatments and at least a couple of excess fluid draining procedures over the past five years.
But again, Wade's career has been defined by the cycle.
Knocked down. Get up. Bounce back. Repeat.
But this time, Wade should be motivated less by what he may feel he needs to prove and more by what he needs to preserve at this point in his career.
In other words, his approach needs to be completely different than the last time his knee issues lingered. After sitting out the final months of the 2007-08 season, as Miami wrapped up a franchise-worst 15-67 finish, Wade opted for the shock-therapy treatment a year after his initial surgery in May 2007.
At that time, he was determined to get his body -- which had also endured 2007 shoulder surgery -- right by the time the 2008 Olympics rolled around. Not only did Wade steel his body through rigorous rehab, he also stole the show in Beijing that summer to lead Team USA in scoring and on to a gold medal.
This time around, instead of pushing to get his body prepared for the Olympics, he wisely chose to skip next month's Olympics to get his body prepared for the Heat's title defense. Wade also has talked about hiring a shooting coach to work with him this offseason for the first time in his career.
Which brings it all back to Wade's perfect timing.
There might not be a better shooting coach in the league than the free agent Miami is set to sign when the league's moratorium ends Wednesday.
Well before Allen is worked into the Heat's playing rotation, he could prove his worth in potential offseason workouts with Wade. Few players in NBA history have adjusted their games with age more productively than Allen.
He wasn't always the sweet-shooting "Sugar Ray" we've seen these past five seasons in Boston, where he helped the Celtics win a title in 2008.
There was a time when Allen would drive and dunk on defenders just as seamlessly as he would dice them up from deep with his jump shot. But Allen gradually altered his game to finish with far more finesse than athletic fury.
Right now, it's hard to imagine Wade ever becoming the kind of jump shooter who could consistently beat teams with his range. The same could've been said at one time about Michael Jordan, Patrick Ewing, Jason Kidd and several other elite players who evolved their skills amid declining athleticism and aging.
Wade's track record of comebacks from setbacks suggests he still has plenty left as one of the top-10 players in the league. But his history with that balky left knee also means he shouldn't take anything for granted from this point on.
So as Wade looks to alter his game after another adjustment and recovery process, Allen's presence should offer more than early-season relief.
He'll also be a worthy resource.
For Wade, the timing couldn't have been better.
June, 2, 2012

6/02/12

7:22

PM ET



BOSTON -- Heat guard Dwyane Wade insists the knee is fine and that there are no physical limitations affecting his play beyond the normal wear and tear from a long playoff run.

But Wade is trying to shake off something else that has been bothering him: Boston's defense.

"It's not a secret, guys; I'm getting doubled at the top of the key, I'm getting doubled in the paint," Wade said as Miami, up 2-1 after Friday's loss, prepared for Game 4 on Sunday. "We're going to have to find other ways. I'm a patient person. Things will hopefully loosen up."

Wade has challenged his coaching staff and himself with making adjustments that will free up his game and allow him to operate more effectively against the Celtics. If there's been a commonality in each of the first three games of the series, it's that Wade consistently has gotten off to slow starts against Boston.

In Game 3, the Celtics' plan against Wade was their most effective yet: They simply swarmed him with defenders each time he touched the ball and forced him to pass. Wade finished with 18 points on 9-of-20 shooting from the field and had just six points at the half.

By the time he found some operating room against the Celtics in the third quarter, the Heat were already on their way to trailing by as many as 24 points. Wade also didn't attempt a free throw Friday, marking the first time he hasn't done so in a playoff game since his rookie season.

Wade had his best stretch of success when the Heat sped up the tempo on offense and committed to running in transition -- even after made baskets by the Celtics. The less Wade had to go against a set Boston defense, the better he played.

But even Wade had to smile at the irony of yet another struggle in Game 3 of a playoff series. In the Heat's previous series against the Pacers, Wade had the worst playoff game of his career during a Game 3 loss in which he scored only five points.

Before that game, Wade had his troublesome left knee drained of excess fluid and was visibly sluggish. After a few days of rest, Wade responded with a three-game stretch in which he scored 99 points as the Heat finished off Indiana for a 4-2 series win.

Wade said the knee isn't giving him any additional problems this series. He probably wouldn't admit it if it was. Instead, Wade chose to give a nod to Boston's defensive strategy. The Celtics have mixed the coverages on Wade with defenders that have included Rajon Rondo, Ray Allen, Mickael Pietrus, Marquis Daniels and even Kevin Garnett.

Boston has been able to gamble and commit two defenders on Wade, in part, because of the absence of Chris Bosh, who remains sidelined with an abdominal strain. Without a third scorer they believe can seriously hurt them, Boston has been able to load up on Wade or James. For Game 3 at least, they decided to target Wade.

The defense hasn't completely stopped Wade, who is shooting 52.1 percent from the field and averaging 21 points, 5.0 assists and 4.3 rebounds in three games. But Boston has effectively slowed him down for long stretches.

"Give Doc [Rivers] and them credit for coming up with the scheme," Wade said. "Now, we have to do our jobs in making adjustments."
April, 1, 2012
4/01/12
12:41
PM ET
As you get ready for Sunday's nationally televised showdown between the regrouping Heat and the resurgent Celtics, here are five reasons why leaving Boston with a victory will be a very difficult task for Miami if LeBron James and Co. don't bring their "A" game to the Garden.


October, 27, 2010
10/27/10
11:01
PM ET
By ESPN Stats & Info
ESPN.com
Archive

One night after the
Boston Celtics
handed the
Miami Heat
and
LeBron James
their first loss, Boston falls to James' old team 95-87 in Cleveland. The Celtics' Big Three of
Kevin Garnett
,
Paul Pierce
and
Ray Allen
combined for just 34 points on 12-for-33 (36.4 percent) shooting, as they are unable to match their 49-point, 15-for-31 (48.4 percent) performance from last night.
The Heat traveled down to Philadelphia for their second game of the season and beat the 76ers 97-87 to avoid their first 0-2 start since 2007-08. Only six teams had started a season with two consecutive losses before going on to win the championship, and none since the Bulls in the 1990-91 season.
The trio of James,
Dwyane Wade
and
Chris Bosh
was much more effective Wednesday night, combining for 61 points and outscoring the 76ers on the floor by five points in the 25 minutes they played together.

Tuesday night the Heat had trouble finding consistency on catch-and-shoot jump-shots, connecting on just 27 percent of their attempts when spotting up against the Celtics. On Wednesday, Miami was able to capitalize when the 76ers' defense collapsed on the interior, going 11-for-21 (54 percent) on spot-up jumpers, including 7-for-13 on contested shots.