Miami Heat Index:

Carlos Boozer
May, 14, 2011
5/14/11
8:11
PM ET

By Michael Wallace
ESPN.com
Archive
MIAMI -- For a guy who's one of the quietest stars in the NBA, Chris Bosh certainly finds himself in the crosshairs of controversy and criticism quite frequently.
It's been that way all season.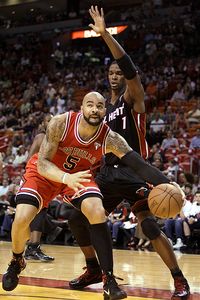 AP Photo/Lynne Sladky
Carlos Boozer and Chris Bosh: The pivotal matchup?
Bosh wouldn't expect anything different entering the Eastern Conference finals, where he'll take his normal seat under the spotlight of scrutiny as the Miami Heat prepare for Game 1 against the Chicago Bulls on Sunday at the United Center.
"Bad games are going to happen," Bosh said Saturday in trying to both justify and dismiss that career-worst, frigid 1-of-18 shooting performance from his last visit to the Windy City. "I can't point the finger at anything on that one. I just want to force myself to be more aggressive."
With the Heat and Bulls each having distinct matchup advantages in the series, it's Bosh's presence -- or potential lack thereof -- at power forward that could prove to be pivotal in this showdown.
Before moving forward, let's quickly recap how we arrived at the place where Bosh became the key that could unlock the Heat's door to the NBA Finals. Here's a quick matchup breakdown:
Point guard
: No brainer. League MVP Derrick Rose will dominate, and there's nothing the Heat can do about it -- other than continue to curse those wretched pingpong balls that bounced Chicago's way in the 2008 draft lottery. So no sense in debating it. Simply check this one off for the Bulls.
Shooting guard
: Apply everything I just said in the point guard matchup, sans the lottery reference, to this position and score it in favor of Dwyane Wade and the Heat.
Small forward
: While Luol Deng is certainly versatile, and will make LeBron James work extremely hard on both ends of the court -- much the way Ray Allen did last series with Wade -- it's clear LeBron and the Heat have the upper hand here as well.
Center
: Be honest here, folks. If you were holding a draft of only the centers on both rosters, Joakim Noah would go first and Omer Asik would be second. Some might even take Kurt Thomas third. Erik Spoelstra would tell you that it's no indictment on the serviceable Joel Anthony, Zyrdunas Ilgausas and crew. But honestly, it is.
Bench
: Here's where Gar Forman earned his share of the league's executive of the year award. Pat Riley stocked up on top-heavy talent in Wade, James and Bosh and caught a few bad breaks beyond that in rounding out the roster. Forman struck out on stars but built a superb supporting cast. C.J. Watson, Ronnie Brewer, Kyle Korver, Taj Gibson and Asik win this matchup easily for the Bulls.
Two other categories --
coaching and intangibles
-- are pretty much even. So, if you're keeping score so far, that leaves one position that could very well tip the balance of power in the series.
Power forward
. Bosh versus Carlos Boozer. Two players who have rotated between scapegoat, X factors and heroes throughout their first seasons with their respective teams. Two players who have a lot more in common than it would appear on the surface, including their initials.
There are times when home fans wish these contracts came with return policies.
And there have been just as many times when teammates of Bosh and Boozer have labeled them the most important pieces to their teams' success.
So, it's no coincidence that Boozer and Bosh both opened the previous series struggling and finished them on productive surges.
"He's a great player," Spoelstra said Saturday. "He's playing well now. We saw that in the series before. He just needed all of those games and criticism as fuel. You can expect that. Everybody was writing him off, and he responded."
Spoelstra could just as easily have been referring to Bosh in those statements, considering the flak the Miami forward took after admitting he was psychologically shaken by the atmosphere in Boston before the Heat's Game 3 loss at TD Garden.
Instead, Spoelstra was talking about Boozer, who was vehemently booed at the United Center early in the series against the Atlanta Hawks as he struggled to play through a nagging toe injury.
Their respective teammates spent last series taking up for Boozer and Bosh. This series, they're turning to them to fill in the gaps as potential difference-makers.
Including the playoffs, the Bulls are 28-6 this season when Boozer gets a double-double in points and rebounds. As the Bulls finished off the Hawks, Boozer had 11 points and 12 boards in Game 5, then 23 points and 10 rebounds in the series clincher in Game 6.
"I'm just trying to get a little bit better every game," Boozer said. "I'm just playing my game, playing off my teammates, playing off the MVP [Rose]."
There's a parallel line with Bosh's production. The Heat are 27-7 this season when Bosh posts a double-double, including a 6-0 mark in the playoffs.
Do the math. And it's a simple equation.
"I think that's probably the key matchup," James said of the Boozer-Bosh showdown. "When Booz plays well, Chicago's pretty much tough to beat. When C.B. plays well for us, we're pretty much tough to beat. So if they both play well for both teams, then it's going to be a great game."
But the Heat want more than great games out of Bosh. They want victories. So Wade came up with his own formula for success in the series, which includes getting at least 12 rebounds a game from Bosh.
"He can be a huge factor for us," Wade said of Bosh. "We're going to need his outside shot. We're also going to need his rebounding. [The Bulls] are a really great offensive rebounding team. We're going to need him to be big down there rebounding the ball, averaging at least 12 rebounds a game. What we do and are successful at, Chris is very, very big in that. He understands that and knows that. We just want him to go out and play. He did some great things last series that can carry over."
After hearing about Wade's 12-boards-a-game challenge Saturday, Bosh set the bar even higher.
"The more the merrier," said Bosh, who averaged 16.3 points and 9.6 rebounds this season. "I definitely think it'll help. If D-Wade wants me to get 12, I'll try to get 13. I'll shoot for the stars on this one, man."
Bosh would rather not overstate the importance of his matchup against Boozer.
"I don't think it's about individual matchups in this one," Bosh said. "It's a collective effort. We're a different team. This is a different game now. Over the course of the season we've gotten better. They're one of the teams that helped us get better because we realized we had a long way to go in terms of chemistry and execution."
There's a chance, as James pointed out Saturday, that the two might not be assigned to defend one another. Chicago could just as easily decide to have the more defensive-oriented Noah assigned to Bosh, which would allow Boozer to match up with Anthony, the Heat's offensively challenged center.
That strategy would allow Boozer "to be a roamer" defensively, James said. And Bosh's ability to step out on pick-and-rolls and help defend Rose could be just as important as offsetting Boozer's production at power forward in the box score.
"He needs to be an active participant," Spoelstra said of Bosh's multi-demensional role. "Defensively, he's a catalyst for us, and we'll need that, dealing with all of Rose's pick-and-rolls. He needs to play the role we need him to play to be successful."
There's also a back story that adds intrigue to the Boozer-Bosh tale of the tape.
They entered free agency last summer as the two of the top power forwards on the open market. Boozer, who owns a home in Miami, where his children had been attending school, openly campaigned for consideration from the Heat.
Riley and the Heat were more enamored with Bosh, who shared an agent with Wade and was always considered part of a package deal. The Bulls also recruited Bosh, and Boozer didn't appreciate having his free agency essentially put on hold until Bosh made up his mind.
Bosh joined the Heat and Boozer was quickly snatched up by the Bulls.
So it created only more suspense when Boozer, asked about facing the Heat after the Bulls eliminated the Hawks, mentioned that Miami had two great players. It was widely viewed as a shot at Bosh as much as it was an offering of praise for Wade and James.
No problem. Bosh has been taking those type of hits on and off the court all season.
It's kind of been a nonstop, round-trip journey between overlooked and underappreciated. Boozer has racked up frequent flier miles along that route, too, this season.
Bosh has bounced back strong before to quiet the skeptics.
If the Heat are to win this series, they'll need Bosh to do so again.
February, 23, 2011
2/23/11
9:11
PM ET

By Brian Windhorst
ESPN.com
Archive
AP Photo/Charles Cherney
Heat vs. Bulls features a bunch of compelling stories, including a battle between Wade and Rose, two Chicago natives.
MIAMI -- If you want to know particulars about the Chicago Bulls, just ask LeBron James. He can give you the vitals right off the top of his head.
"Even with Joakim Noah out for the last 30 games, they went 22-8 in the span," James said as if he were reading the line right off the Bulls' daily media notes.
"Along with us and Boston, we all rank 1, 2 and 3 in the defensive categories," James said accurately, referring to points allowed, defensive field goal percentage and rebounding differential, among others metrics where the Bulls rank near the top.
James has clearly been studying the Miami Heat's Thursday night opponent in what is once again shaping into a serious Eastern Conference test for the Heat. Miami hasn't passed many of these so far. They are 0-3 against the Boston Celtics and 0-1 against the Bulls. They are 2-1 against the Orlando Magic and have split a pair of games with the Atlanta Hawks in Miami.
It was less than two weeks ago that the Heat faced this same sort of crucible in Boston, and they delivered their worst performance in weeks in a loss to the Celtics. It was a defeat that cost them what could be a valuable tiebreaker in the Eastern Conference standings.
Losing that game to their major rivals was more than just about the standings, though, it was a psychological blow that clearly affected the team for two days.
The stakes are high again on Thursday. The Bulls, who are right on the Heat's tail in the standings, can clinch the tiebreaker with a victory. Chicago will also be at full strength with Noah back and expected to play. So will the Heat, who lost last month in Chicago when James was out and Chris Bosh couldn't play in the fourth quarter with an ankle injury.
But deeper than the impact on the standings will be the effect of the game on the ego. The Bulls, who like to play rough, especially with big men Noah and Carlos Boozer, will want to send a message.
The Heat have a fantastic record over the past three months, but don't have a signature win in their own conference yet. Another loss, especially with their big three healthy, will be tough to swallow.
"It's the second half of the season so every has [the playoffs] in their minds now," Bosh said. "We don't want to give anyone confidence. We want to show them that we can go in there and be a handful.
The Chicago-Miami matchup is simply intriguing for several reasons, not the least of which is, right now, it projects to be a second-round playoff series.
The Bulls are strongest at the Heat's weakest positions, point guard and center. Dealing with Derrick Rose and Noah will be a challenge for Miami for one night or over a seven-game series. The Bulls are also a physical team with their big men, not a strong suit of the Heat, who had been starting a couple of finesse big men, Bosh and Zydrunas Ilgauskas. Erik Spoelstra changed his starting lineup on Tuesday, inserting the more rugged Erick Dampier at center, in part, because of this very reason.
"Booz is an undersized 4, [Bosh] has him in height and Boozer has [Bosh] in weight," James said, breaking down the big-man matchups. "With [Dampier] and Joakim, Damp is a bit stronger and Joakim is more agile. It should be interesting, we'll have to be on our A game as far as rebounding."
Second, the Heat are a challenge to the Bulls' style of defense. Chicago has good perimeter defenders, especially the underrated Ronnie Brewer. But historically, James has eviscerated his opposite number on the Bulls, Luol Deng. And the combination of Wade and James on the attack will strongly test the Bulls' goal, which is to prevent dribble penetration and force lower percentage outside shots.
Third, there's the non-basketball factors that add spice to the budding rivalry. Both James and Wade considered signing with the Bulls last summer but decided to pass. At the time, Rose was not aggressive in recruiting them. Also, Chicago is Wade's hometown, and he is now getting booed there, while Rose, another hometown star, takes up residence as the most popular Bull since Michael Jordan.
"I've had some games where I've struggled there," Wade said. "I really wanted that game [last time in Chicago] and there's not many games that I really come in and say that."
It is probably going to be the same this time around with the stakes naturally higher. The Heat, who have been a targeted team all season, aren't dodging that reality. They know this is one of the games that the result will be magnified much more than just a regular-season game.
"I think it's a huge test," James said. "We look forward to the challenge."
January, 15, 2011
1/15/11
12:08
PM ET
By Kevin Arnovitz and Tom Haberstroh
ESPN.com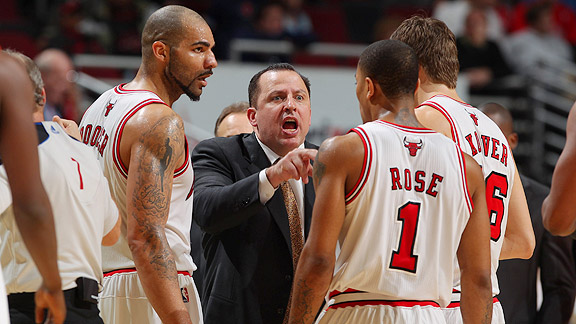 Gary Dineen/NBAE/Getty Images
Tom Thibodeau has the Bulls playing the league's best defense.
Grinding it out against the Bulls' defense
It's hardly a surprise to see the Bulls under coach Tom Thibodeau ranked as the league's stingiest defense. Thibodeau was the architect of the Celtics' championship defense, one that's been replicated all over the league over the past three seasons. When you ask Erik Spoelstra how opponents are defending the Heat, he'll tell you that teams are loading up on the strong side by bringing an extra guy into the paint to help on penetration by Dwyane Wade and LeBron James (who is listed as day-to-day). No coach in the league has refined that general tactic more than Thibodeau, whose defensive units have used it to frustrate perimeter slashers for years. Thibodeau demands that every defender on the floor be poised to multitask: Apply ball pressure. Show hard on pick-and-rolls. After the initial action, recover by getting back into the paint. Make the next rotation. If the ball gets inside, contest the shot. With or without James on Saturday, the Heat will have to work for every shot. They'll have to combat that strongside pressure by patiently reversing the ball. Carlos Arroyo and Mario Chalmers will probably have the cleanest looks on the weak side, and all of the Heat's weakside threats will have to drain shots for the Heat to have a successful offensive night.
Life without LeBron?
The Heat sorely missed James' contributions during Thursday night's defeat at the hands of the Nuggets, but not where you'd most expect: on the defensive end. The Nuggets drilled 15-of-31 3-pointers on the night and that's typically James' domain. LeBron-less lineups with Wade and Chris Bosh struggled with closing out on swing passes and thus allowed a whopping 71 points in 25 minutes (equivalent to 133 points in a 48 minute game). The two-time MVP is so valuable defensively, despite the lack of blocks and steals, because he can cover long distances in short amounts of time. Shooters rarely get open when James patrols the perimeter. What does this mean for the Bulls matchup tonight? If LeBron doesn't go (his status is still in flux), then you can expect more open looks for the Bulls' 3-point shooters, Luol Deng, Derrick Rose and Kyle Korver. The Bulls aren't nearly as deadly from downtown as the Nuggets, but they still have some firepower.
Finding Rose's thorns
It used to be that teams could sag on Derrick Rose on the perimeter because he wasn't a 3-point threat. But that's changed now. Much to the rest of the league's chagrin, the 22-year-old has added a 3-point shot to his already dynamic scoring arsenal, making him a nightmare for opponents to guard. Now, he can hit it from anywhere on the floor. But while Rose is always good for one or two jaw-dropping circus shots around the basket, the bigger picture tells a different story. The average point guard normally makes 59.1 percent of his layups. Rose? 58.6 percent, not what you'd expect from the incredibly athletic finisher. And he doesn't get to the line as often as you'd like, either. The key is to contest Rose's layups straight up without swatting aggressively and the Heat's front line does a terrific job in this area -- especially Zydrunas Ilgauskas, who is as long as any player in the NBA. This will be a tough matchup for Arroyo and don't be surprised if Spoelstra goes with the quicker, longer Chalmers for most of the game.
Dwyane Wade, defensive rover
As stellar as the Bulls have been defensively this season, they've been a decidedly mediocre offensive club,
ranking 17th in offensive efficiency
. The weak spot on the floor for Chicago has been the shooting guard spot. Keith Bogans gets the start for the Bulls, while Ronnie Brewer logs the majority of the minutes at the 2. Brewer is a unique, heady offensive player who can make smart reads and decisive cuts to the basket, and offers the kind of defensive effort Thibodeau requires from his wings. But in 918 minutes on the court this season, Brewer has made only 31 shots beyond 15 feet in 84 attempts. Both numbers are problematic for Chicago, because Brewer's lack of proficiency from distance has allowed opposing shooting guards to sag into the lane and make life more difficult for Rose and the other offensive threats. When it comes to roving shooting guards, Wade is the best in the business. His instincts are already fine-tuned toward disruption and flying around the floor looking for steals and deflections. Allow him to shirk his primary assignment and play the passing lanes and he'll wreak havoc on the Bulls' half-court game.
Booz cruise


After dabbling in the free agency summer sweepstakes, the Bulls ultimately settled on Carlos Boozer as their key acquisition in the offseason. Boozer continues to be one of the league's more formidable pick-and-roll players, though he and Rose are still finding their rhythm as a tandem. Defensively, Boozer is smarter than he is mobile. Allow him to defend in a straight post-up situation, and he'll use his bulk and wherewithal effectively. But force Boozer to move in a pick-and-roll scheme and he can be beat. Wade, in particular, should look to get Boozer backpedaling by attacking the Bulls off screens. If Bosh draws Boozer, he should be active in the half court by setting picks, then popping out to 18 feet where he can launch his jumper or drive to the hole, something he's been doing more willingly lately. The Bulls are very responsive with their help defense, but forcing them to do more of it by pressuring their most vulnerable defenders will help the Heat find shots.