Miami Heat Index:

Chauncey Billups
July, 1, 2013
Jul 1
2:52
PM ET

By Tom Haberstroh
ESPN.com
Archive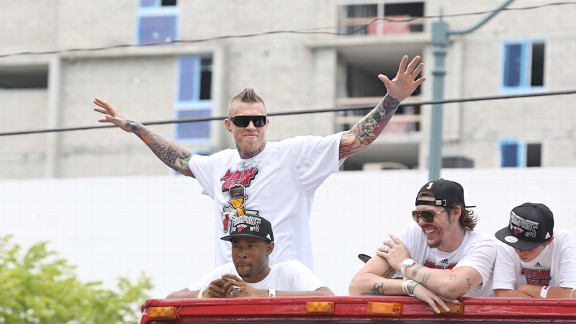 Aaron Davidson/WireImageChris Andersen was a key cog in Miami's run to a second straight title. Will he be back for more?
For Pat Riley, most of the work is already done.
While the rest of the NBA jumps into the free-agency frenzy that began at midnight Sunday night, the Heat figure to spend most of their time watching from afar. With
Ray Allen
opting in on Friday, the Heat already have 13 spots on their roster filled for next season (if you include Jarvis Varnado's nonguaranteed contract).
To recap:
LeBron James
,
Dwyane Wade
and
Chris Bosh
are locked in for 2013-14 (did you hear they could be free agents next summer?); the Heat employ a quintet of veteran sharpshooters in Allen,
Shane Battier
,
Mike Miller
,
Rashard Lewis
and
James Jones
;
Udonis Haslem
,
Joel Anthony
and Varnado will bolster the front line;
Mario Chalmers
and
Norris Cole
will hold down point guard duties.
That's 13 there. Only two spots remain to fill the 15-man roster next season.
What will they do with those two spots? Here are three things to know about the Heat in free agency.
1. The Bird is the word.
Riley has made it clear that
Chris Andersen
, who is an unrestricted free agent, is the Heat's No. 1 priority in free agency. Andersen finds himself in a unique position this offseason because he's still collecting a $4.8 million check from the
Denver Nuggets
next season. Considering he'll be paid handsomely no matter what next season, the 34-year-old will probably prefer familiarity, winning potential and team fit more than your typical free agent.
So what can the Heat offer Andersen? As taxpayers, the Heat can only offer two carrots: a raise on his veteran minimum contract worth a total of $1.7 million or the taxpayer's midlevel exception (commonly known as the "mini" midlevel) which can be up to three years starting at $3.2 million per year.
The Heat went from good to historically good when Andersen came on board, and his camp knows that. The likely scenario is that Andersen pushes for the mini midlevel seeing as though the Heat went 54-8 in games that Andersen played, thanks to his 17.4 player efficiency rating off the bench and a ridiculous 81 percent field goal percentage in the postseason. Expect the Heat to bring him in on a multiyear deal even though he will turn 35 next week. Other teams will be interested, but money might not matter; Andersen could earn $8 million next season if he signs in Miami.
2. Mike Miller has a $23.1 million price tag next season.
Miller is a prime candidate to be waived under the amnesty provision for three reasons:
• He is the highest-paid player outside Miami's star trio.
• The Heat have a fleet of sharpshooters to replace him.
• At 33, Miller has been as durable as a wet paper towel.
Still, Riley has insisted that he
won't use the amnesty provision on Miller this offseason
because the Heat "don't like change."
That's a big commitment from Riley because -- warning: collective bargaining agreement math ahead -- according to our own CBA expert Larry Coon, the Heat would save an estimated $16.9 million in tax penalties next season if they use the amnesty provision to release Miller. (That's using the safe assumption that the tax line remains at the latest projected figure of $71.6 million, Andersen is brought back at the mini midlevel and the Heat sign someone to replace Miller in addition to another free agent at the veteran minimum.)
A sum of $16.9 million is a lot of cash, even for billionaire Heat owner Micky Arison. To clarify, if the Heat were to use the amnesty clause on Miller, they would still have to pay his remaining contract worth $6.2 million, but his contract wouldn't count against the cap or be subject to tax penalties.
Combining his $6.2 million salary and the $16.9 million tax hit, Miller would, in essence, cost the Heat $23.1 million next season to keep him around.
And that's before we discuss the "repeater" tax sledgehammer that comes in 2014-15. The accelerated tax rate could potentially turn Miller's $6.6 million salary for 2014-15 into more than $25 million of additional tax dollars if the Heat keep him on the books and maintain a similar payroll. Cut bait now and the Heat could save more than $40 million over the next two seasons in tax penalties.
The Heat could also use the amnesty provision on Anthony, the seldom-used backup center who is due $3.8 million next season. But the Heat aren't as deep in the frontcourt and the potential savings may not be worth the liability underneath, especially with Haslem needing offseason knee surgery. The Heat would hate to cut either player, but sentiment has no place in this new CBA. The two spots could turn into three.
3. Keep an eye on Greg Oden, Elton Brand, Lamar Odom and Chauncey Billups.
Assuming the Heat bring back Andersen and keep Varnado around, that would leave one roster spot for the Heat to sign a free agent. The Heat will likely be on the lookout for another
Rashard Lewis
type -- a veteran at the end of his career looking to play for a championship contender at a steep discount.
Who are those players? Money talks for most players, but like Lewis, there are plenty of over-the-hill free agents who have secured more than $100 million in their careers and could be looking for more than just a big payday (like, say, a chance to be part of a three-peat). Some names that could fit the bill: Brand, Odom and Billups.
Of course, the Heat would be thrilled to land any of the three with a veteran minimum contract, but they remain long shots because, unlike Lewis, neither of them will be receiving an amnesty paycheck to supplement their Heat income.
Even if the Heat don't strike out on those veterans, they'd be wise to turn their attention to Oden, who is an unrestricted free agent. Oden has been on the
Heat's radar ever since James, Wade and Bosh joined forces
. Bringing in Oden along with another veteran would likely mean Varnado's departure, but that's a small price to pay. Furthermore, the Heat could also bring in their
2013 draft pick
,
James Ennis
, to fill out the roster, though he might be better suited in the D-League or overseas.
Other free-agent names to watch:
Samuel Dalembert
,
Lou Amundson
,
Nazr Mohammed
,
Chris Wilcox
and
Jason Collins
.
December, 9, 2011
12/09/11
1:12
PM ET

By Tom Haberstroh
ESPN.com
Archive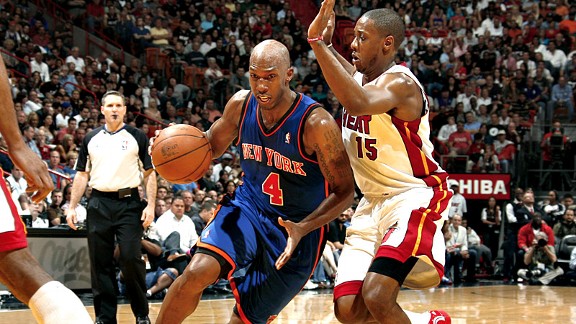 Issac Baldizon/NBAE/Getty Images
How Chauncey Billups and other amnesty candidates could potentially become available to the Heat.
One of the biggest questions circling the Miami Heat these days is whether they will be able to make a play for players cut via the amnesty rule.
Can Baron Davis, Chauncey Billups, Richard Jefferson, and other amnesty candidates be possibilities to join the Heat if they are indeed released by their respective teams?
It's a great question. The short answer: it's possible, but chances are slim. The long answer is written by our CBA guru Larry Coon at TrueHoop,
who explains what we know about the amnesty rule at this point
[bolded text mine]:
One concern with the concept of amnesty is that every released player would simply pack his bags and head to South Beach to sign with the Heat. The league came up with a clever idea to keep this from happening. Before clearing waivers, the players will go through a "secondary waiver" process where teams under the cap can submit a bid. (That's right, it's a silent auction, just like when you bid on that trip to Tahoe at your kid's school fundraiser.) The highest bidder gets the player. Only players who clear both the regular waiver process and these new secondary waivers will actually become free agents.
Teams have to utilize cap room in order to bid for an amnestied player. This means that teams that are over the cap are automatically out of the running. A capped-out team like the Heat or Lakers has to wait for an amnestied player to clear secondary waivers before they have a chance to sign him. It is assumed that all the good players – including possible amnesty cuts Baron Davis and Chauncey Billups – will be snatched-up in the secondary waiver process, and won't make it all the way to free agency.
If a team acquires an amnestied player through secondary waivers, then it is likely they will be able to trade the player after 30 days – just like any other player claimed through the waiver process. This is another detail that has not yet been confirmed by the league. Nor is it known what the player's trade value will be for salary matching purposes, but it will likely be the amount the team is actually paying the player (i.e., the amount of their bid).
While this has also not been confirmed by the league, it is likely that teams will not be allowed to re-sign or re-acquire (for example, through a trade) their amnestied player for the length of his amnestied contract. For example, if the Magic, as expected, use their amnesty on Gilbert Arenas – with three years left on his contract – he can't play for the Magic again for three seasons. This rule also existed in the 2005 amnesty provision.
Lots of stuff to chew on for the Heat here. What's clear is that the Heat will closely monitor the secondary waiver process for potential amnesty cuts like point guards Davis and Billups. If teams under the cap offer a bid, then the only way the Heat can acquire the player is by trading for him, but only after the presumed 30-day window expires.
So, one possible scenario: The Knicks use their amnesty provision on Billups and the Nuggets submit a winning bid. The Nuggets could then trade Billups after 30 days, if they were so inclined, to the Heat sometime in January.
But that assumes that the Heat could entice the Nuggets, or whichever team claims him, with a trade offer. Would a possibly healthy Mike Miller become trade bait? Would the Heat actually dangle Udonis Haslem if it meant a legitimate starting point guard was on the way? Those could become important questions.
There's also a chance that agents will scare off potential bidders in order to secure an appealing destination in free agency. Billups' agent has already reportedly growled that his client won't be exactly thrilled to play for a team not of his choice. Whether that growling actually is effective or not is yet to be seen. Still, it's unlikely that Billups or any other amnestied players fall into the Heat's lap.
February, 28, 2011
2/28/11
10:41
AM ET

By Kevin Arnovitz
ESPN.com
Archive
When the Heat were dropping games early in the season, Erik Spoelstra would sit behind the podium in the interview room at AmericanAirlines Arena and explain that the Heat were enduring a
process
. In Spoelstra's estimation, his team was a living organism. All that ugliness we were witnessing on the floor -- the lack of execution, direction and performance? Those were all natural parts of the transformation a team undergoes as it learns what it is.
Spoelstra's theory seemed smart after the Heat started to pull it together. As it turned out, the Heat needed "20 games to jell," even though that seemed like coach-and athlete-speak at the time. There were still some rough edges. The Heat were having trouble beating elite teams and still had a lousy record in close games, but those shortcomings were also part of the process and would be addressed in due time.
Due time arrived last night with the Heat leading the Knicks 84-78 with about three minutes left in the game. A six-point lead with six or seven possessions remaining in regulation gives a team a healthy margin for error. Grind out a bucket or two and you're basically requiring the opponent to run the table if they want to win or extend the game.
That being the case, we can tell a lot about a team's poise and competence by how it executes these possessions.
How did the Heat choose to approach these opportunities? Did they resort to hero ball, something they've been prone to do at their worst moments? Did LeBron James and Dwyane Wade trust their teammates, something Spoelstra preaches as gospel? Did the Heat use their superior talent and instincts to make smart basketball plays? Was each possession approached with a purpose?
With that six-point cushion, the Heat didn't need to be perfect. In fact, they didn't even need to be average. Even after Carmelo Anthony trimmed that six-point lead to four, Miami could withstand being significantly worse than New York and probably still survive.
It's one thing to say that a team has trouble closing out games, but that doesn't offer a specific diagnosis as to why.
How did the Heat manage only two points over their final seven possessions on Sunday?
Possession No. 1 (Heat up four, 2:50)
The Heat's lineup for the stretch drive includes Wade, James, Mike Miller, Chris Bosh and Joel Anthony.
Credit the Heat for a defined plan on this possession: to go to their shuffle/UCLA cut, something they've been using successfully over the past month or so. James brings the ball up the left side. Miller sets a back screen for Wade at the left elbow. If executed to perfection, Wade's man, Bill Walker, will get hung up on that screen and Wade will fly to the hole where he'll either be completely alone or, if Billups (who is assigned to Miller) makes the switch, Wade will have deep, deep post position.
Miller's screen doesn't get any space for Wade, but it's not the end of the world. This is a resourceful set with plenty of options. Once Wade clears, Miller quickly offers James an angle screen on the left wing, which gets LeBron a mismatch when the Knicks switch.
Miller is a busy dude. Once LeBron draws Billups to the top of the floor, Miller sets a pindown for Wade, who curls counterclockwise along the left sideline.
This is good stuff because there are few things more dangerous in the NBA than Dwyane Wade on the move. For months we've begged the Heat to do more work off the ball, and that's precisely what's going on here.
One problem: As Wade swings around with Walker trailing well behind him, LeBron's bounce pass is snared by Billups and we go the other way.
You can't fault the scheme whatsoever. This is a beautifully drawn play and, if LeBron can execute the simplest pass to Wade on the move, almost certainly results in a layup or at the very least a couple of free throws if a help defender can wrap Wade up in time.
Possession No. 2 (Heat up four, 2:22)
Again, it's difficult to fault what the Heat have conceived here. They want a two-man game with Miller and Bosh on the right side. When Amare Stoudemire fronts Bosh in the mid-post, Bosh offers a step-up screen for Miller in order to get open. He's successful, as Miller passes the ball to Bosh at the right foul line extended area.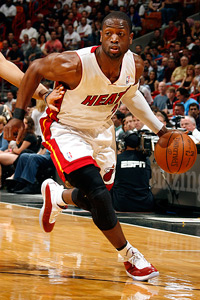 Isaac Baldizon/NBAE/Getty
Dwyane Wade: "We get the shots that we want."
It's debatable whether Bosh has sufficient room to launch an open jumper from 18 feet, but it's safe to say Bosh has attempted that shot with less daylight.
It's no matter, though, because the Heat have spaced the floor beautifully. Wade has been parked in the left corner. Once the Heat set the play in motion on the right side, Shawne Williams and Walker (Wade's man) cheat over. The moment Wade is no longer the focus of Walker's attention, he makes a sharp cut along the baseline to the basket, where Bosh tries to hit him with a pass.
Not unlike the previous possession, the Heat get Wade on the move to the hole. You can't ask for much more, except to make a clean pass. The feed from Bosh isn't horrible, but it's clunky enough to allow the Knicks to recover. By the time Wade gathers the ball, he's surrounded by a scrum of blue jerseys. Wade has to take a dribble in traffic, move from beneath the backboard, where he doesn't have a good angle, and launch the shot off-balance.
If he looks behind him, Wade would find Miller with not a soul within 10 feet of him behind the arc and Bosh wide open at his favorite spot at 17 feet. But with the ball that close to the hole and his propensity for drawing contact, Wade stays with the play.
The shot is no good.
Possession No. 3 (Heat up two, 1:41)
After Billups makes a runner, James -- unquestionably the Heat's primary point guard during this stretch drive -- brings the ball up.
Of the first three sets, this is far and away the least coherent, and it breaks down fairly quickly. After getting freed up from a down screen by Anthony, Wade received the ball from James at the top of the floor and gets a double stack high from Anthony and Chris Bosh. This is a play the Heat have run routinely and one that's also popular in Boston. Wade goes to the left of the screen, while Anthony rolls to the hoop.
Not that hitting Anthony with a pass inside is a very inspired idea, but Wade's feed is deflected slightly. Anthony is able to grab the ball but at this point he's surrounded by Knicks. Anthony manages to get the ball back to Wade along a congested baseline.
With the play disintegrating into chaos, Bosh does something smart: He streaks down a wide-open lane where Wade hits him on the move. But as he elevates for a close-range shot, Bosh has the ball slip out of his hands. The Heat get lucky, though, as the rock lands in Wade's hand on the right side at about 12 feet. With the shot clock clicking down, Wade launches a fadeaway that's short.
Sunday's night game was uncharacteristically sloppy, with plenty of poor passes and slippery execution. Place this possession into evidence.
Possession No. 4 (Heat down one, 1:01)
This possession follows Billups' enormous step-back 3-pointer.
Much of what Miami does offensively originates with the ball going into Bosh at the elbow. As is often the case, the nominal point guard (on this possession that's Wade) lobs an entry pass into Bosh, then moves to the corner to set a screen for his teammate on the wing. That's what Wade does, but Bosh senses a one-on-one advantage against Stoudemire at the elbow.
We often criticize Bosh for not being more willing to put the ball on the floor and attack, yet that's what he does here. As he drives middle, Williams moves off Anthony (and why not?) to help, which prompts Bosh to kick the ball out to the perimeter. Unfortunately, Bosh performs one of the cardinal sins of basketball and elevates before he knows where he's going with the pass. Bosh's intended receiver is Miller ... but the actual one is Billups.
Possession No. 5 (Heat down three, 0:43.2)
When the Heat get jittery, they often go back to the most rudimentary solution: put the ball in the hands of LeBron James.
James wants a high screen and, more importantly, a mismatch against a Knicks' big man. That's what he gets when Bosh screens Anthony at the floor. James promptly puts his head down and drives to the rack, beating Stoudemire and drawing the foul on the attack.
There's something almost poetic -- and somewhat ironic -- about the Heat's only two points in the final three minutes of the game coming from a set with the utmost simplicity. The Heat probably can't win a seven-game series running 3-4 and 3-5 pick-and-rolls for James more than a couple dozen times per game, but there are few things more reliable in basketball than James devouring a backpedaling big man on a dribble-drive.
Possession No. 6 (Heat down one, 0:12.7)
Eddie House is now in the game for Joel Anthony. Miller inbounds the ball to James who this time doesn't get a screen. The Heat spread the floor wide for James for a one-on-one drive against Melo in isolation. James attacks left and Carmelo does a solid job walling off the paint. James never gets the kind of space he wants, but still manages to get off a shot at close range.
But that's when Stoudemire darts over from the right side to challenge James at the rim. Stoudemire swats the ball away into the hands of Williams.
Whoever had the tandem of Anthony and Stoudemire stopping James on a decisive drive to the basket can claim clairvoyance. The defensive stand by the Knicks was as incredible as it was improbable.
Possession No. 7 (Heat down three, 0:06.7)
The Heat confronted this same scenario exactly two weeks earlier in Boston
.This time, Miller inbounds from the right sideline into the half court.
Rather than rely on one of his 3-point shooters (and the Heat's best one, James Jones, is sitting on the bench), Spoelstra opts for the ball to be inbounded to James. LeBron gets open up top, courtesy of a sturdy pindown from Bosh at the top of the arc. Bosh pastes Carmelo Anthony as James darts to the top of the floor to receive the inbounds pass.
James has a reasonably clean look at about the 5.7-second mark, but as Carmelo eventually frees himself from Bosh to close out, James buys a little more time and space with a quick ball fake as Anthony approaches. LeBron then takes a single dribble to his left.
With 4.7 seconds remaining, James has another look, but he also has Wade open to his left. Wade has gotten himself free, like James, thanks to a down screen from Bosh.
Wade is a less proficient 3-point shooter (33.8 percent for James, 31.3 percent for Wade), but a more open one at this instant.
James takes the shot, and it misses. Game over.
Down three, does Spoelstra give his team a better shot at the win if he designs a play for Jones (again, not in the game), Miller or House? Does he give the ball to his superstar in this situation, irrespective of probabilities? How much of this decision is informed by Miller's inability to drain the shot in Boston?
After the game, Wade was asked by Brian Windhorst why the Heat have had trouble executing in late-game situations. Wade challenged the premise:
"I would disagree with you," Wade said. "I think we got good offensive execution, but all our shots haven't gone down all the time. We got what we wanted at the end of the game, with LeBron driving to the basket, and they made a very athletic play. I think we've executed pretty well. We get the shots that we want, that our coach draws up for us, that we as players want. A lot of times they just don't go in. But we don't win 43 games without being able to execute."
It's not so much the 43 wins as it is the 17 losses, including several games in recent weeks against the kind of Eastern Conference competition the Heat will encounter this spring. These seven possessions suggest that the Heat have the talent and schemes to generate points in pivotal situations, whether they're running a UCLA cut, crafty off-ball action or just relying on LeBron James to be LeBron James.
But even the best talent and most creative sets require sharp passes and smart decision-making and getting the ball to the right guys at the right spots at the right moments.
Can the Heat, with a straight face, say they accomplished what they wanted to last night?
February, 28, 2011
2/28/11
1:42
AM ET

By Michael Wallace
ESPN.com
Archive
MIAMI -- This is what a real point guard sounds like.
"It's pride," Chauncey Billups, the newly acquired New York Knick and long-time clutch performer, said after his work was done on Sunday night. "That's really what a team is all about. Different jersey. Different everything. But the pride and the passion stay the same."
This is what a true point guard does down the stretch. When the New York Knicks needed direction stating their case to referees, nailing clutch shots and making a game-clinching defensive stand, Billups was the cop in the middle of the busy intersection after the traffic light went haywire.
This is how a legitimate leader carries himself at the most important position on the court. Billups was the calm amid the chaos. He was the confident catalyst who engineered the comeback that saw the Knicks overcome 40 minutes of terrible basketball with a total of eight minutes of chemistry and execution to slip past the Miami Heat 91-86 on Sunday night at AmericanAirlines Arena.
And this, essentially, is the difference a quality point guard would make for the Heat.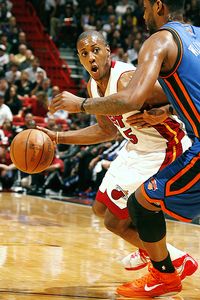 Isaac Baldizon/NBAE/Getty
Mario Chalmers has his moments, but the Heat miss the point.
Don't get this twisted. This is no plea to find a proven playmaker who could help this team address the harsh reality that's been staring Miami in the face all season. When you're the Heat and have LeBron James, Dwyane Wade and Chris Bosh on your roster, you're in no position to complain about what you don't have. Any sliver of sympathy Miami might have garnered for the holes that exist elsewhere on the roster was lost the moment the new arrivals celebrated their free-agency hookup last July the way NBA champions usually toast in June.
You can put together stars who load up on stats, blow out bad teams, beat up on mediocre ones and occasionally flirt with a breakthrough moment or two during the course of a long regular season. But when it's time to take that next step from contender to champion, from talking about how it'll all come together eventually to ultimately showing proof of that progress, the Heat are missing a key ingredient.
A point guard -- especially one like Billups.
The Heat have all the talent in the world in their starting lineup at three of the five positions on the floor. But the team that won Sunday's much-hyped showdown that was supposed to be all about the star power of Lebron, Dwyane, Carmelo and Amare was won by the team that had a championship point guard.
The Knicks had Billups, who dropped in a 27-foot dagger for the go-ahead score in the final minute of the game. The Heat had Mario Chalmers, who despite some inspired play recently, blew a point-blank, breakaway layup earlier in the second half.
The Knicks had a veteran who didn't hesitate to take control of his team on both ends of the court and steer the stars without a second thought. The Heat, yet again, closed the game without a point guard on the court, and trusted that LeBron and D-Wade could win it with hero-ball.
The result was another explanation from Heat coach Erik Spoelstra about the process his team is going through in games like these, and the consistent progress it has yet to make. This is the second time in three games the Heat built a double-digit lead against a playoff-caliber opponent. Last week it was the Chicago Bulls. Sunday night, it was the Knicks.
What do the Heat have to show for it? L.L. -- as in Cool J. And clutch play at the point guard position was the difference in both outcomes. Last week, it was Derrick Rose with the game-winning dime to Luol Deng. This week, it was Billups with the go-ahead jumper and the game-sealing steal.
Billups had 16 points, four rebounds, two assists, three steals and five turnovers -- not a monster game by any stretch. But he was mistake-free in the clutch, with seven points and two steals in the fourth quarter.
"I always feel like the fourth quarter is a new game," he said.
New game from Billups, same old song from Spoelstra.
"We will have our breakthrough," Spoesltra said. "As painful as it is right now, there will be a time when we break through, execute and win a game like this against a quality opponent going down the stretch. What you hope is that the pain of a game like this resonates enough to make a change."
But the results won't change until the personnel does. As things now stand, the Heat are playing at a disadvantage -- without a legitimate point guard.
I've suggested a solution in the past
. The best way for the Heat to address this problem is to convince Wade to take over the position full-time and commit to it on both ends of the court.
Miami's best perimeter lineup is Wade, LeBron and Mike Miller, anyway. But the problem is there's too much freelancing in the closing stretches of tight games. When other teams go to their point guard, the Heat goes to, well, roles that never seem quite defined.
When the Knicks were headed in that direction Sunday, when Stoudemire and Carmelo were on the verge of trying to upstage one another as the savior, Billups got things straight and restored order.
"He made big plays down the stretch, and I think he's a key part to their success," said Bosh, who almost sounded envious as he talked about Billups' impact on the game. "Chauncey is big for them because he gives them experience at the point guard position. That's the most important position on the court. He's going to run the show and spread the court at the same time. I'm sure they're banking a lot of their success on him."
Meanwhile, the Heat are banking on a breakthrough at some point at the point without really playing with a point in the most pivotal points of games.
Perhaps this problem will be addressed in the next couple of days, when the Heat could have options among players who are bought out by their current teams. Players who reach contract buyouts and are released by Tuesday are playoff eligible when they sign with another team.
Hope that T.J. Ford gets his wish and is released by the Indiana Pacers this week. Keep your fingers crossed that Mike Bibby would be foolishly generous enough to give back a nice chunk of his salary this season and next to be set free by the Washington Wizards.
When you've got Wade, James and Bosh, you can't have it all. But it's really a shame that you still don't have enough -- especially at a spot where seemingly every other contender in the East has an All-Star at the position.
Sunday offered yet another painful reminder.
"We know about Melo," James said. "We know about Amare. But people always seem to forget about Chauncey. We never do. He continues to make big shot after big shot. That's why it's his nickname."
The Heat can't seem to catch a break at point guard.
Meanwhile, the Knicks catch a keeper as a so-called throw-in on that Carmelo Anthony trade.
"That's why," Spoelstra said, "it's an absolute mockery to say that he was a throw-in on that deal."
Well said.
Especially for a team that just hasn't gotten the point all season.