Miami Heat Index:

Chicago Bulls
January, 4, 2013
1/04/13
1:24
PM ET
Steve Mitchell/US PresswireWill Carlos Boozer and the Bulls be able to handle the Heat on Friday night?
Winners of eight of their past 10, the
Miami Heat
host the
Chicago Bulls
on Friday night (ESPN, 8 ET). Are the Bulls a threat in the East when
Derrick Rose
returns? Is the NBA world taking
LeBron James
for granted? Our panel breaks it down.
Tom Haberstroh:
Fiction. Do the Heat have a lack of motivation? Probably. Of the top eight teams in Hollinger's Power Rankings, seven of them are from the West (the Heat are sixth). Not much competition to drive them out East and they already know they don't need a top seed to win it all. But is it a real problem? That's where I disagree. They'll get by.

Michael Wallace:
Fiction. Are the Heat playing absolutely inspired basketball every quarter, every game? Certainly not. But name another team that has. Miami's play raises some legitimate concern at times. But c'mon, man. The Heat are first in the East, have one of the best records in the league and are led by two players posting the most efficient shooting numbers of their careers.
Brian Windhorst:
Fiction. They have the comforting reality that they play in the Eastern Conference. Other than their terrific overall shooting this season, they have not played up to their potential in any other phase. Yet they are still at the top of the conference standings and, in my mind, are still the overwhelming favorite to win the East. Let's revisit this conversation in March because, before then, I don't think it's an issue.
---
2. Fact or Fiction: The Bulls with a healthy Rose are the biggest threat to the Heat in the East.
Haberstroh:
Fact. Key: healthy. But they won't maximize Rose until they upgrade their shooters. If Joakim Noah keeps up his defensive dominance and Taj Gibson returns to form, watch out.
Wallace:
Fiction. That's the highest of hypothetical questions we're pondering here. Rose's injuries have impacted two seasons now. Because of their size, front-line depth, smart point guard play and prolific 3-point shooting, I say a healthy Knicks team represents a bigger potential problem for the Heat.
Windhorst:
Fact. But I do not expect a healthy Rose this season. Those adidas commercials were cool, but I don't think they were fair to him. They feed the assumption that he's going to be stronger than ever when he comes back. That could be the case in the future but with his style of play, especially offensively, it is not fair to assume he will be himself when he returns.
---
Haberstroh:
Fact. Or at least in general, I think so. The guy is averaging 26.5 points, 8.7 rebounds and 7.1 assists on 54 percent shooting. No one's ever done that before and, yet, many people don't think he's the most valuable player in the game. The world spent several years nitpicking his flaws because he hadn't won a title. It's going to take some time to move away from that. Now that he's won that elusive title, maybe we can start fully appreciating what he's done rather than what he hasn't done. Also, he just turned 28 last week.
Wallace:
Fact. LeBron's best attribute -- beyond the scoring, facilitating, leadership, defense, etc. -- is his durability. That alone separates LeBron from even the league's elite-level players. He's a tank. His ability to play through nagging injuries and still deliver near triple-doubles each night is simply expected. He's supposed to be superhuman, and that's just not fair.
Windhorst:
Fact. Let's start with this question: Who is the MVP so far? If there is even a discussion, then the answer is an overwhelming yes on taking him for granted. He's having the best shooting, 3-point shooting (by a lot) and rebounding season of his career so far. This is a career with three MVP awards already. With apologies to others, especially Kevin Durant, LeBron has no true peer right now.
April, 19, 2012

4/19/12

11:30

AM ET

MIAMI - With the Heat in position to move within a game of Chicago in the loss column Thursday night, LeBron James and coach Erik Spoelstra discuss Miami's mentality heading into a make-or-break showdown for the East's No. 1 seed.





Spoelstra wouldn't overstate the potential importance of Thursday's game against Chicago, but he did stress his team has an opportunity to take advantage of in the standings with four games remaining after facing the Bulls.


April, 19, 2012
4/19/12
12:48
AM ET

By Brian Windhorst
ESPN.com
Archive
MIAMI -- In general, the NBA is a fragile league in which momentum and outlooks often change quickly. In a season like this, in which the games come out of a fire hose, that tenet is magnified.
So a week after the
Miami Heat
were dejected following an overtime loss in Chicago, not only do they get another shot at the Bulls, but they get one with some meaning.
After beating the
Toronto Raptors
96-72 on Wednesday without
Dwyane Wade
and
Chris Bosh
, the Heat have won four games since losing the April 12 meeting with the Bulls. Chicago, meanwhile, stumbled and lost to the
Washington Wizards
on Monday, essentially resetting the scenario that existed last week.
When the Heat host the Bulls on Thursday in the last of four meetings (Chicago leads the season series 2-1), the Eastern Conference's No. 1 seed, which seemed as good as gone last week, is back in play. The Heat are two games back in the loss column and a victory Thursday would make things fairly interesting.
There's a series of cascading tiebreakers but, basically, if the Heat win there would be some new pressure on the Bulls to win out.
"Everything is still up for grabs right now," said Heat coach Erik Spoelstra. "So if you have an opportunity, you have to take it."
With the win over Toronto, the Heat locked up no worse than the No. 2 seed. The argument could be made that being in the second spot is even more advantageous than the top spot because it would be on the opposite side of the bracket as the
Boston Celtics
, who have won the last two meetings with Miami. And that spot may even wind up being on the opposite side of the
New York Knicks
, one of the hottest teams over the past month, depending on how the next week goes.
Nonetheless the Heat, who are a league-best 26-4 at home, do value home-court advantage.
"We need to play for something," said
LeBron James
, who had 28 points in three quarters against Toronto. "It's not all about the No. 1 seed, it's about continuing to get better, and if it happens we'll relish that moment. None of us want to go into the postseason losing games."
Beyond the seeding, the Heat could also use the confidence boost. They've lost the past two meetings against Chicago, one played without
Derrick Rose
and the other played on a night when Rose had one of the worst shooting games of his career (1-of-13).
Rose, who has missed the past two games, including the Bulls' win Wednesday in Charlotte, might not play again because of a fluid buildup in his foot.
Luol Deng
also didn't play Wednesday because of bruised ribs. Regardless of who is in uniform, the Bulls have been better than Miami in the past two meetings because of their depth.
Last week it was gruesome, as Chicago's reserves outscored the Heat bench 47-7. In the previous meeting a month before, it was a 56-15 margin.
It appears the Heat, after giving rest to a handful of players over the past few days, will be at full strength on their bench and reasonably rested for this meeting. Wade hasn't played since Sunday, Bosh since Monday and
Ronny Turiaf
since the last meeting with the Bulls.
Mike Miller
had his highest-scoring game since Jan. 30 on Wednesday, putting up 13 points on 5-of-8 shooting.
"I know the guys will be looking forward to it," Spoelstra said. "All things being equal, we would probably prefer this one was on the road again and have the opportunity we had last week. I'm sure both sides are looking forward to it."
January, 28, 2012
1/28/12
3:35
PM ET
MIAMI - Heat guard Dwyane Wade said both Chicago and Miami are better teams now than when they met last season in the Eastern Conference Finals. After Saturday's practice, Wade addressed Sunday's showdown with the Bulls and the challenges the Heat face as defending conference champions.


January, 28, 2012
1/28/12
11:57
AM ET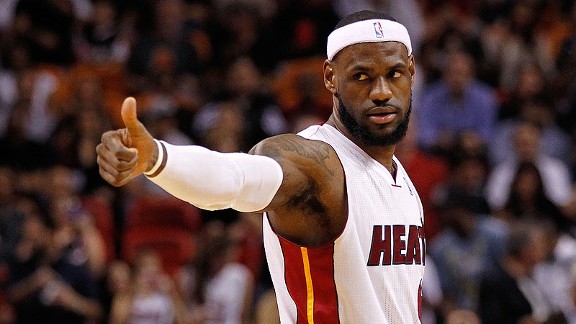 Mike Ehrmann/Getty Images
LeBron James got the thumbs-up from Dwyane Wade to facilitate the crunch-time offense.
MIAMI - The conversation needed to happen at some point.
There simply was no way around it. After sitting out the past six games to recover from a combination of ankle, foot and calf injuries, sooner or later Miami Heat guard Dwyane Wade and forward LeBron James were going to have to discuss the most seamless way to reunite their dominant play.
After all, James and the Heat had redefined their playing style and rotation pecking order to the tune of a 5-1 record in the most recent stretch of games Wade missed. In that time, James found a productive comfort zone and strung together a run of MVP-worthy performances. He even started referring to his recent play as that of the Cleveland LeBron.
Well into their second season together in Miami, James and Wade still, at times, don't play as much
with
each other as they do
around
one another. Finding their Kanye West/Jay Z balance, their Miles Davis/John Coltrane rhythm - especially in the fourth quarter of close games - remains the final frontier yet to be crossed for this Heat tandem.
In some cases, you can play your way through it - feel your way along in game action - and eventually work out some of the kinks. At other times, it takes a conversation and clear communication. By all indications, James and Wade took the latter route before Wade made his emphatic return for Friday's 99-89 win against the New York Knicks.
Wade made several highlight plays and grabbed most of the attention in finishing with 28 points, five steals, four assists and two blocks in 33 minutes against the Knicks. But the underlying theme for the Heat was that James wasn't reduced - or, rather, didn't reduce himself - to a glorified spectator down the stretch. Even with Wade back, this was more about James and whether he would abandon Cleveland LeBron and return his relatively more routine Heat role.
James responded by continuing to put on a Cleveland clinic in Miami, closing out the Knicks with a game-high 31 points, eight rebounds, seven assists and - perhaps most importantly - another huge fourth quarter outburst to secure the win.
But the key to the dual dominance from James and Wade in their first game back together wasn't only how well they co-existed at the finish. It was also how openly and honestly they communicated before the start.
"D-Wade just told me to keep playing my game - even with him returning," James said of his talk with Wade, a message that was reinforced throughout the game against the Knicks. "I'm going to do that for sure. Last year was definitely a learning experience for myself, just trying to learn how to play alongside him."
That continues to be a work in progress as the Heat look toward Sunday's home showdown against the Chicago Bulls. But James and Wade will try to pick up where they left off in Friday's fourth quarter.
You want a blueprint that lays out exactly how lethal James and Wade can be when working as a cohesive tandem instead of mutually exclusive forces? Just take a snapshot of the final 12 minutes against the Knicks.
It started with rest. Heat coach Erik Spoelstra opened the period with Wade on the bench and James playing the first three minutes. He was free to revert to 'Cleveland LeBron' mode, and an assist on a Mike Miller jumper broke a tied game to give the Heat a lead they kept.
At the 9:13 mark of the fourth, James went to the bench and was replaced by Chris Bosh. During that same substitution, Wade replaced Shane Battier. It was Wade's time to lead and James' opportunity to rest - something he didn't get much of during the fourth quarters of close games when Wade was injured.
Wade's jumper and putback came during a stretch when the Heat pushed their lead to seven. At the 6:25 mark, James reentered for the finish. This was when James carried out Wade's pregame advice. James was the facilitator, Wade the finisher. There were at least two occasions when Wade crossed halfcourt and immediately wanted the ball. But James kept it, set things up and motioned for Wade to run off screens.
Wade's team? Wade's town? Those things don't matter. This was LeBron's show. It was his time to prove that the only adjustment he would make in Wade's return was to be even more like the player who clearly carried the team the previous six games. Wade's job was to fit in.
"They did a very good job of playing off each other," Spoelstra said. "Getting out in the open court, playing off each other on cuts in the half court, and one guy being aggressive, the other guy playing off that. LeBron really has (taken) another step forward in terms of his aggressiveness. Those are positive steps forward for us."
James insists he won't regress.
"I understand that down the stretch, I have to be aggressive, I got to get to the free-throw line, help us stop the clock and get easy buckets. Even with (Wade) playing as great as he did, I stayed into my offensive game."
The high-water mark came when James fed Wade for a lob dunk with about four minutes left in the game. It capped a quarter in which the two combined for 19 of Miami's 25 points and made nine of their 10 free throws. In fact, James' fourth quarter with Wade on Friday was no less dominant than his final period without Wade the other night in Detroit. That's when James finished off the Pistons with 10 points, three assists, two rebounds and made all eight of his free throws over the final 12 minutes of the 101-98 road victory.
Heat forward Chris Bosh is as cerebral as they come in the NBA. He knows this reunion moving forward won't always be as smooth between James and Wade as it was Friday night. But how it played out remains the ideal.
"We have to get back used to Dwyane's tendencies again," Bosh said. "We just have to get used to it again. We just have to continue to stay on the same page. We'll talk about it again (Saturday) and see how we can continue to get better and continue to execute on Sunday."
It takes more than talent for the Heat to work their way through this. It also requires talk. Real talk. And, a willingness to listen and take heed.
That's exactly what happened when Wade approached James and essentially told him not to change the way he's been playing these past few weeks. It was a discussion that could prove to be pivotal, a conversation that defines the rest of their season.
Was it the first step toward Wade, 30, quietly handing James, 27, the reigns as the closing catalyst in Miami? Or was it just a nice way of Wade promising not to step all over James' toes in his first game back?
The answer isn't clear. At least not yet, anyway. We'll see how this plays out in Sunday's game against the Bulls and into the playoffs when it really counts. It doesn't really matter if he's Cleveland LeBron or Miami LeBron right now. The truth is, no one doubts regular-season LeBron. It's Finals LeBron we wonder about.
But what does matter most right now is that James took Wade's advice and ran with it. Literally. And neither of them should turn back now.
The Heat's script was flipped.
And it was just the kind of assist Miami's best facilitator needed from the team's incumbent finisher.