Miami Heat Index:

Chris Bohs
November, 26, 2011
11/26/11
7:31
PM ET

By Michael Wallace
ESPN.com
Archive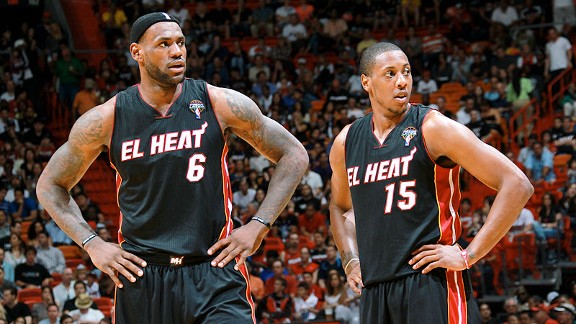 Victor Baldizon/Getty Images
From LeBron's Finals response to Mario Chalmers' free-agent future, a lot is up in the air in Miami.
Perhaps all it took was a bit of holiday spirit between the NBA's owners and players to finally put some of those key differences aside in their bitter labor dispute.
Or maybe everyone just got tired of Shaquille O'Neal hogging the lockout spotlight by picking apart players, coaches, owners and franchises one excerpt release at a time in his latest tell-all book.
Either way, basketball is back. At least it soon will be, assuming the sides won't find a way to undo the handshake agreement reached early Saturday morning after a marathon negotiating session.
It would be hard to find a team more eager to get back to NBA action than the Miami Heat, who enter what will likely be a 66-game regular season that starts on Christmas Day as likely favorites to reach the Finals for a second consecutive season -- and, just maybe, finish the job this time and win a title.
But for now, LeBron James, Dwyane Wade and Chris Bosh anchor a team that continues to raise more questions than it answers as the Heat embark on what is sure to be another polarizing, adventurous run.
For now, let's take a look at the Tentative Ten questions/issues/concerns facing the Heat as they prepare for the likely Dec. 9 opening of NBA training camps:
1. If it comes to a vote, do the Heat, by and large, support the latest deal?
The Heat are unique in that they have an owner in Micky Arison who has been pushing for a deal to get done for weeks; Arison even absorbed a $500,000 fine for venting his frustrations about the lack of a deal on Twitter. They also have high-end players in James, Wade and Bosh who were unwilling to accept a bad deal from the owners and were stable enough financially to sit out the entire season to prove it.
From a roster standpoint, the Heat are a team of extremes. They are made up of elite players and mostly low-budget veterans who play for the minimum. It's the mid-level, middle-class guys who might take the biggest hits in a new CBA, but the Heat don't have many of those players around.
2. Does the fire from last season's collapse in the Finals still burn?
The key players all say the right things, mostly, about learning from last season's mistakes and coming back stronger as a team. But it's still baffling how Miami let that 2-1 series lead slip away against the Mavericks. James spent part of his summer working out with low-post guru Hakeem Olajuwon to better that part of his game. Bosh appears to have bulked up some to strengthen his game and his resolve after both were tested late last season. And Wade wants you to believe that part of the reason the Heat didn't win the title last season was because they were too focused on shutting up their critics than they were on shutting down their opponents. I'm not sure I'm buying the validity of that. But they all know there aren't many more excuses they can use for coming up short moving forward.
3. Are the Heat prepared to hit the ground running from a health standpoint?
The silver lining in this lockout is that Udonis Haslem and Mike Miller had extra time to recover from multiple offseason surgeries between them. The truth is we never saw the real Heat team as a whole last season because of severe injuries to those two players. Both have returned to basketball-intensive activities in recent weeks and should be ready to roll without any limitations when camp opens. Beyond them, center Joel Anthony, guard Mario Chalmers and the Big Three have all worked out relentlessly during the time off and should be in decent shape. If there are any real conditioning concerns, they are about the health of the comatose center position.
4. Where's the bench?
Last season, the answer was easy: injured. The injuries to Miller and Haslem forced the Heat to dig a lot deeper than they wanted to on a regular basis last season. If you recall, things got so bad and bare at one stage, Jerry Stackhouse was summoned from the social security line. Several players had their moments in reserve, but there was absolutely nothing that resembled consistency from a group that included Juwan Howard, James Jones, Eddie House, Chalmers and a "duck, duck, goose" rotation of not-always-serviceable centers. The bench clearly needs a few upgrades, even if Haslem and Miller can stay healthy.
5. Should the Heat bring back Chalmers?
Yes. But that tells you more about the potential market for free-agent point guards than it does about any lasting imprint Chalmers has left on the coaching staff, his teammates or the front office. This is a classic case of it's cheaper to keep him than it would be to find someone slightly better to replace him. It's going to be interesting to see what kind of outside interest there is in the restricted free agent, considering his numbers don't wow you and his mistakes truly frustrate you after three seasons in the system. There was a time when the Heat's front office pegged Chalmers to be Miami's version of Rajon Rondo. He was clearly miscast in those pipe dreams. But he is serviceable and, for the right price, a starter smart enough to know when to get out of LeBron's and Dwyane's way when needed.
6. What's coach Erik Spoelstra's future?
Considering the way coaches in this town have been rewarded recently for mediocrity -- or less -- Spoelstra must be shaking his head in bewilderment at the fact that he's working on the last year of his deal. That tells you about the expectation level of the Heat these days. A Finals appearance isn't enough. This is a "win-or-possibly-get-gone" situation at the head of that bench. For all we know, Spoelstra, team president Pat Riley and Arison have already hammered out the details of a modest contract extension that would technically make the lame-duck status label disappear. But make no mistake, Spoelstra is a man coaching for his job this season. A shortened, pressure cooker of a season only intensifies matters. Ultimately, I think he's safe and will be here for a long time. On the other hand, I don't think he survives the same sort of rough start Miami had last season.
7. Will Mike Miller be the Heat's amnesty man?
Miller certainly raised even more suspicion when he recently put his $9 million home on the market and openly spoke as if he were bracing for the possibility of being released by the Heat during a recent interview with the South Florida Sun-Sentinel. On the surface, it would seem like a panic move for the Heat to dump Miller so soon before he ever really had a chance to have an impact on the team. James and Haslem are certainly in Miller's corner, and the versatile shooter did take less money in 2010 free agency to join this polarizing outfit. There was talk that Miller's time in Miami could be short. Very short. But as
Heat Index colleague Brian Windhorst reported
, some proposed 11th-hour concessions in the latest CBA appear to make it easier for the Heat to hold onto Miller and still have enough money to land a decent center and address the point guard position.
8. Who will Miami target in free agency/amnesty?
If you're taller than 6-foot-9; can jump higher than a stack of, say, one phone book, can catch a post-entry pass and aren't afraid to at least look at the rim on offense every now and then, you should send your resume to Pat Riley. With those minimum qualifications, you've already beat out the lot the Heat players that rotated at center most of last season. Where the mid-level exception falls will be critical in determining Miami's options to upgrade in the middle.
Second-year center Dexter Pittman should earn a look this season but still might not be NBA ready. Tyson Chandler and Nene top the free-agency list at the position, but they are also well outside of Miami's price range. Samuel Dalembert might make the financial sacrifice, but it's a tough, tough call. That leaves the likes of Kwame Brown and, possibly taking a low-risk flier on Eddy Curry. Don't laugh. Brown is coming off a relatively solid season in Charlotte and Curry is coming off Weight Watchers -- if you believe the hype.
Still, it's impossible to be much less productive than the Heat were at times at the position last season. Also, I know there's some controversial history there to prevent it from happening, but Delonte West would be a perfect fit on this Heat roster. Seriously. Riley loves gritty, defensive-oriented, long and somewhat mentally unstable guards. And West certainly has some John Starks in him, doesn't he?
9. Is LeBron really, truly, unequivocally, absolutely, re-embraceable by fans nationally?
From where I sit, I believe James is truly a sensitive guy. What you say, tweet, broadcast, write or podcast about him does matter to him. Yes, even coming from you. Don't let the 6-foot-8, muscular body and steely demeanor fool you. All of the negativity and anger that surrounded LeBron affected him and his game at times. The way he handled his Cleveland departure wasn't exactly classy, but neither was the reaction it immediately drew from people who are supposed to be responsible, professional and mature adults. More than a year has passed since "The Decision" and some of the wounds have healed. Or, at least they should have. LeBron is -- or, at least, should be -- aware that he brought a lot of the angst on himself with how he handled things in interviews and on Twitter. But the bottom line is that he'll always be a villain to most in Cleveland. But Memphis, Portland, Sacramento and San Antonio might actually be a little less harsh on him this time around.
10. How far will the Heat go in the 2011-12 season?
I had them pegged for a 63-win season in Year 2 of the Big Three experiment had the season actually played out in full 82-game fashion. Obviously, that's not possible with the proposed 66-game shortened slate. But I'll stick with the winning percentage I had, and roughly go with a 50-16 record and a return to the NBA Finals, with a showdown this time against the Lakers. Logic says the Heat win. But I'm "tentatively" inclined to take the Lakers in seven until James shows more fourth-quarter killer instinct.
December, 29, 2010
12/29/10
12:59
AM ET

By Brian Windhorst
ESPN.com
Archive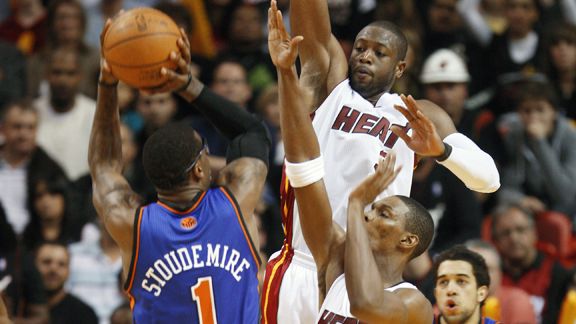 AP Photo/J Pat Carter
The Heat's game formula is becoming familiar: play strong defense and maintain the lead.
MIAMI -- All of the Miami Heat's games are starting to look the same.
Not in the way that the league can sink into the winter doldrums between the holidays and the All-Star break, though that malaise could come at some point too.
It is fair to say that simply winning in December can be fleeting and quickly forgotten by spring. But the Heat are dispatching opponents with a monotonous brand of mastery.
The latest victim was the New York Knicks, who put up a quality fight with an aggressive fourth quarter, but ultimately lost to the Heat on Tuesday night, 106-98. That makes it 15 wins in the past 16 games for Miami, a streak that seems hard to track because few of the wins are truly distinctive.
The Heat have developed some productive and effective habits, beyond just getting consistent and strong play from Chris Bosh, Dwyane Wade and LeBron James. Although, those three did it again in this one.
Bosh had 10 of his 18 points in the third quarter and finished with 10 rebounds. James had eight points, five rebounds and four assists in the fourth quarter to complete a well-rounded night with 18 points, 10 rebounds and eight assists.
Wade took the lead this time, scoring 15 of his season-high 40 points in an explosive final quarter that saw the Knicks trim what was once a 22-point lead down to three.
For the most part, those details will probably fade in the coming days. The victory over the Knicks will likely endure as just one of a team-record 14 wins in December. What seems to be more impressive is the repetitive way the Heat are piling up these victories. They seem now to have adopted a predictable style.
The Knicks, the second highest-scoring team in the league coming into the night, failed to crack 100 points. They tried, putting together a 33-point fourth quarter that frustrated the Heat. But like in the 15 games before, the Knicks still couldn't do it.
The streak of 16 performances -- the one loss was by two points to the strong Dallas Mavericks last week -- has coincided with the Heat's routinely clamping down on defense and playing the game at a pace they're clearly comfortable with.
They've now done it twice to the Knicks in that span, holding them to 42 percent shooting this time. During the Heat's current three-game win streak they have held three of the top six offenses in the league -- the Phoenix Suns, Los Angeles Lakers and now Knicks -- under that key threshold.
In the past three games the Heat have trailed for a total of two minutes in the final three quarters of the games, another trend that illustrates the kind of routine they've developed.
It is a little early to be issuing congratulations. There's a lot of season left, but these achievements are something.
"I'm sure with a little more time I'll probably have better perspective on it," Heat coach Erik Spoelstra said.
"Right now all I can think about is the 33 points we gave up in the fourth. Overall, that has been our identity and to keep that many teams under 100 in this league, with the rules and the talent level and offensive mentality of so many teams, it probably is notable."
Indeed, it may seem like just a nice factoid, but it actually does seem to carry some meaning. The Heat are 1-4 this season when they allow 100 points and are now 23-5 when they don't.
It isn't just the consistency of the defense. During the 16-game spell, the Heat have been outrebounded only twice and that has all been without leading rebounder Udonis Haslem. Tuesday against the smaller Knicks, the Heat won the rebound battle by a 50-32 count.
That run has gotten the Heat to fifth in the league in rebounding differential, not something that was expected with a team without Haslem, using a varied rotation of aging centers.
But again, the Heat expect this every night, no matter the opponent.
"The most important thing with our style of play is we want to dictate how the game is played at both ends of the court," Spoelstra said. "I think the best teams in the league are multi-dimensional."
The Heat can stake claim to that label during their strong month of play and are getting it done with more than just the big three.
James Jones has drawn 18 charges. Carlos Arroyo is fourth in the league in 3-point shooting. Joel Anthony is one of the league leaders in blocks for players that come off the bench. Zydrunas Ilgauskas and Erick Dampier have traded off having impacts on games. On Tuesday, Ilgauskas had 14 points and 10 rebounds in just 14 minutes.
Pile it all together and the Heat continue to look like a team that is going to be there near the end.
"I think we did our job, I think we did what we're supposed to do," Wade said Tuesday in a comment that could be applied to most of the games of the past month. "We're getting total efforts."