Miami Heat Index:

Chris Paul
December, 13, 2010
12/13/10
12:56
PM ET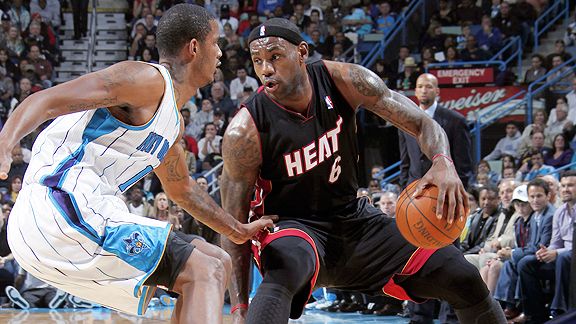 Layne Murdoch/NBAE/Getty Images
The Hornets will try to turn LeBron James into a long-range jump shooter on Monday night.
Heavy Rotation
New Orleans carved up Miami in the half court on November 5. The Heat were powerless to stop the Hornets' basic pick-and-roll attack, and allowed the frontcourt troika of David West, Emeka Okafor and Jason Smith to combine for 53 points on 40 true shots -- the vast majority of which were catches from Chris Paul coming off a pick-and-roll. Apart from Paul's otherworldly vision, there's no magic to what the Hornets do. They rightly assume the defense will trap Paul, which means the roll man -- West, Okafor and Smith -- is open from midrange unless another Heat defender rotates over to put a body on him. If the rotation
does
arrive promptly, then here's where Paul really distinguishes himself as an artist. He'll simply make the pass to the man left open by the rotation. Either way, a capable jump-shooting big man is facing up for an uncontested shot from 17 feet. Even though the Hornets have struggled offensively over the past month, the Heat have some tough choices to make. Court-smart veterans Zydrunas Ilgauskas and Erick Dampier understand the Heat's pick-and-roll coverages, but don't have the speed to make that rotation in time. The fleet-footed Joel Anthony moves well, but was caught off-guard repeatedly in New Orleans with poor defensive reads.
Get Creative
The red carpet rolled out by the teams from Northern California this past weekend for LeBron James and Dwyane Wade? The Hornets don't operate like that, and they also feature a steady transition defense that gets back the instant their shot goes up. The Hornets' primary defensive objective is to lure James and Wade into a series of 20-foot jump shots. Both superstars have been hot from distance of late and they'll be tempted like crazy when they see the wall the league's fourth-ranked defense builds around the paint. Along with Atlanta's Al Horford, Okafor has turned into one of the league's most effective, roving big men. Normally, offenses like to draw opposing centers from beneath the basket. But Okafor is willing and able to meet guys like Wade and James on a dribble-drive. Rather than wait until they're at the rim and it's too late, Okafor operates as another long defender at the edge of the paint. Rather than become jump shooters, Wade and James need to look for each other off the ball. The Hornets tend to flood the strong side of the floor, which means with the right floor balance and off-ball movement, the Heat should be able to capitalize on reversals and crafty interior passes -- not only to the perpetually open Arroyo on the wing, but to the superstars on the kinds of weak side cuts and curls we saw on the Heat's recent 4-0 road trip.
Bosh on the Spot
David West might not take home any hardware for NBA All-Defense, but Monty Williams has the Hornets playing a strong brand of interior-defense-by-committee. Not unlike the Jazz, whose physicality and constant presence made Bosh uncomfortable, the Hornets will not allow the Heat's power forward to get comfortable at his favorite spot at the high post. Watch the film from the first meeting and you'll see Okafor -- even though his defensive assignment was the Heat's center -- watching Bosh's every move off the screen. On Miami pick-and-rolls, the Hornets jumped out on Carlos Arroyo, Wade and James, while Okafor almost reflexively moved toward Bosh, smothering him in open space. If the Hornets body up on Bosh much the way they did in New Orleans, he needs to find a way to draw contact. In Game 1, he didn't earn a single trip to the stripe. Given his quickness and the Hornets' willingness to play close, that shouldn't happen. Bosh has put together a string of solid performances on the glass recently, a trend he'll have to continue on Monday night because one rebound -- his total in 34 minutes at New Orleans -- won't get the job done. Because the Hornets' pick-and-roll attack scrambles the Heat's big men, Bosh often found himself out of position for a carom and beaten to the ball by Okafor and West. Bosh stated on Saturday that his fluency with the Heat's defensive schemes -- something he didn't have in the early part of the season -- should help in this capacity.
Size Matters
Heat coach Erik Spoelstra said on Saturday that his capacity to play conventional lineups has helped stabilize the Heat in recent days. Mario Chalmers logged a DNP-CD in New Orleans and the Heat hadn't yet inked Dampier to a deal. The Heat relied on some small lineups, the Haslem-Bosh frontcourt and too much Eddie House in that game. As a result, Miami got punished in the paint on putbacks, and dribble-penetration. The Heat simply can't allow the Hornets to shoot 21-for-31 from 10 feet in. Expect Dampier to help in this capacity. He's not necessarily the guy you want to run a blitz at Paul on a high screen attack, and he might not be as effective challenging those face-up jumpers, but he's a space-eater who is constitutionally unwilling to let his counterparts in the frontcourt get easy looks inside or, even more, allow guards to dance into the paint without thinking twice. The Heat could also use a hand from James tonight. Miami might be better served by having James check some of that dribble-penetration, even if it means leaving Ariza, a 30 percent shooter from the arc, on the weak side. Force Paul to the sideline (easier said than done) and the Heat can eliminate a lot of risk on the back side of their defense.
Manifest Destiny


The Heat have won each of the eight games on their winning streak by double-digits. They've developed a strong belief there isn't a game on the schedule that isn't winnable. Miami has cultivated a swagger -- cockiness with a purpose -- which they unleash during their big second and third quarter runs. Fueled by strong defensive stands that ignite easy transition buckets, these "skirmishes" -- as the Heat call these spells -- break the back of the opposition. The Heat have been carrying around ugly early-season losses to New Orleans, Utah and Dallas. Last week, they avenged the Utah loss in resounding fashion. Next Monday, they'll have a chance to exorcise the demons from Dallas, the loss that produced "The Bump." Tonight, they must show that the softness they displayed during the loss at New Orleans was an aberration. Do that, and the conflicts and doubts that marred the first quarter of the season will seem quaint.
November, 9, 2010
11/09/10
11:32
AM ET
November, 6, 2010
11/06/10
2:13
AM ET

By Michael Wallace
ESPN.com
Archive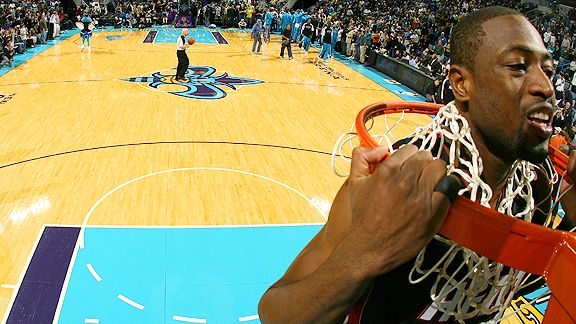 Chris Graythen/NBAE/Getty Images Sport
Dwyane Wade and the Heat will have to pull themselves up after a lackluster effort in New Orleans.
NEW ORLEANS – Dwyane Wade knew it had the potential to be one of those games. He said as much hours before the Miami Heat faced the New Orleans Hornets on Friday.
Even with a Heat roster this lethal, this loaded, there would be occasional lapses and lethargic performances. On most nights, Miami's talent will take over and bail LeBron James out of a sluggish outing, relieve Wade from mistake-filled stretches and compensate for Chris Bosh's disappearing acts. But Friday night wasn't one of those nights.
Before the Heat's 93-96 loss to the still unbeaten Hornets, who moved to 5-0 for the first time in franchise history, Wade called it a "progress game." Yet Miami clearly took a step backward.
"I don't think people would have looked at the schedule early on and thought that," Wade said. "They beat some darn good teams. We look at the top teams we've played (and) this is one of them."
As dominant as the Heat have been in the previous four games they won by a combined 91 points, the NBA schedule will throw Miami an occasional curve ball. But this wasn't initially supposed to be one of those games. But Paul and the undefeated Hornets aren't exactly playing to expectations set by the court of conventional wisdom. These same Hornets that were supposed to be rebuilding -- supposed to be overly concerned about keeping Paul happy in the wake of that summer semi-trade request -- have a surprising sting to them right now.
And they had enough bite to snap Miami's four-game winning streak and send the Heat back to South Florida looking to regroup from their first loss since the season-opening setback against Boston. The NBA scheduling gods must have a sense of humor and forgiving spirit, because one game after the Heat were served a dish of humility in New Orleans, they'll get to feast on the New Jersey Nets at home on Saturday on the second night of this back-to-back set.
And if there's at least one thing James is convinced the Heat will take from Friday's loss and carry into Saturday's therapeutic session, it is a greater sense of self awareness.
"What we have to continue to learn is that no matter who we're going against, we can't just show up because we have this uniform on (and) we have who we have on the court," James said after one of his most complete games of the season -- 20 points, 10 assists, seven rebounds, three steals and a block -- wasn't good enough. "It's not about Xs and Os. It's about the energy level. In first quarter, we didn't have any energy. We know we can still make a comeback because of the talent we have. But a team is always going to be excited to play us. It doesn't matter, from the bottom to the top."
Heat Index colleague Brian Windhorst covered
the specific points the Hornets followed to beat the Heat
, but New Orleans actually began executing its game plan a night early, which underscores the point James made about the Heat's sudden lack of energy at the start of the game.
Way before Paul carved up the Heat's defense with 19 assists and 13 points, he softened up his good buddies James and Wade on Thursday night by picking up the dinner tab at NOLA restaurant, the critically-acclaimed upscale seafood spot created by celebrity chef Emeril Lagasse. That was unofficially Paul's first impact assist against the Heat -- a meal so hearty that it had Wade still raving about the feast at Miami's shootaround Friday morning.
"It was great to have friends who can pay for a great meal," Wade said before the game. "I appreciate Chris for paying for that meal for us. It was awesome. New Orleans is a great place to come and eat. I love it."
But then came the first quarter Friday night, a 12-minute stretch in which the Heat appeared bloated. Meanwhile, the Hornets were blazing their way to a 29-17 lead. All of a sudden, Wade and his crew didn't appreciate Paul's generosity so much anymore.
Hornets coach Monty Williams had the one thing he needed to withstand the Heat.
"That buffer," Williams said. "I saw how Boston got off to a good start and nullified (Miami's) great run. Not to say we anticipated a need for a buffer. We're tougher than people have advertised."
James and Spoelstra each pointed out afterward that the Heat eventually led 90-89 with a minute left in the game, and had their chances to win down the stretch. But too much energy was extended in the comeback effort, and there wasn't enough left to finish. Perhaps it was the gumbo. Or the Shrimp and Grits. Maybe even the Bourbon mashed sweet potatoes.
Whatever the case -- or the entree -- the Heat was a step slow.
"If we don't match that effort early, it's always an uphill battle the whole game," James said. "And that's what it was – an uphill battle."
The Heat won't find themselves in too many battles like that this season. There are enough Nets, 76ers, Raptors, Pacers and Wizards on the schedule between those big-time showdowns against the Lakers, Celtics, Magic, Mavericks and Spurs of the league.
Take Saturday for example, which starts a six-game homestand during which Wade, James and Bosh all said gives the Heat a chance to really get their act together and build some momentum.
"When you play the games, your energy is always going to be different," Bosh said. "When you're playing games you're expected to win, those are the more difficult games sometimes because you have to find a way to get going. Everybody else might not be as pumped as you are. So you kind of have to sometimes find your own fuel."
Perhaps the Heat simply underestimated the Hornets.
Or, maybe they overate the night before. Either way, they'll enter Saturday's game against the Nets having stomached an upset courtesy of Chris Paul and Emeril.
November, 6, 2010
11/06/10
1:13
AM ET

By Brian Windhorst
ESPN.com
Archive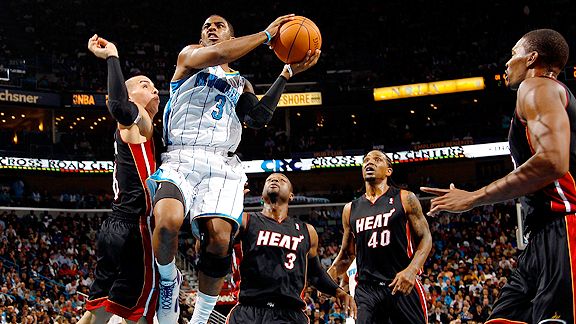 Chris Graythen/NBAE/Getty Images Sport
The Heat did a lot of watching as Chris Paul and the Hornets racked up 50 points in the paint.
NEW ORLEANS -- The New Orleans Hornets did the rest of the NBA a favor Friday night. And, in a way, the Miami Heat can be grateful as well.
The streaking Hornets, off to a franchise-best 5-0 start, unveiled a road map to beating the Heat with their 96-93 win. Hornets head coach Monty Williams and his already impressive coaching staff cooked up a formula -- one that will probably be recycled by upcoming Heat opponents.
No, it wasn't the first time the Heat have been beaten; the Boston Celtics handled them on opening night. But that was a throat-clearing loss by a team still searching for cohesion following a choppy preseason.
The big three had no legitimate excuses on this night. Dwyane Wade, LeBron James and Chris Bosh combined for 63 points, 18 rebounds, 13 assists and five steals -- though Bosh's performance did not deserve praise; more on that in a moment.
The Heat were defeated by a quality opponent and a well-crafted game plan that featured several distinct facets. The Heat could learn just as much by studying the areas where they were exposed.
Attack and be physical with Bosh


There is no doubt the Hornets reviewed what happened last Sunday when the Heat played in New Jersey in their game preparation. New Orleans likely saw that Bosh did not react well to the physical play of Brook Lopez and Derrick Favors.
The Heat beat the Nets easily, but Favors and Lopez were able to shove Bosh around, especially on loose balls as the Heat power forward managed just one rebound. Emeka Okafor, David West and Jason Smith were relentlessly physical and aggressive with Bosh on Friday, muscling him out of the way for rebound after rebound from the opening tip.
Okafor, who was 12-for-13 shooting and finished with 26 points and 13 rebounds, was sensational. Frankly, it will take performances like that from any upset-minded opponent to beat the Heat. But Okafor often excelled at the expense of Bosh, particularly on the glass.
West and Smith combined for 27 points and 13 rebounds. To be fair, Joel Anthony, Udonis Haslem and Zydrunas Ilgauskas were out there, too. But it was Bosh who seemed to be the Hornets' biggest target.
Already, league advance scouts are noticing that Bosh does not yet appear very comfortable with the Heat. He's far less assertive than in previous seasons, something that's showing up in his rebound numbers.
Bosh played 34 minutes and scored 15 points, making an array of midrange jumpers. But he again had only one rebound. After six games, Bosh is averaging only 5.5 rebounds in 32 minutes per game.
Limit transition chances and transition fouling


It is always a good idea to keep turnovers to a minimum against an athletic team like the Heat -- no secret there. But the Heat have thrived by forcing fouls in transition. In fact they were second in the NBA in drawing shooting fouls off rebounds and turnovers.
The Hornets made it a priority not to foul after turnovers and did so with success. Until late in the fourth quarter, when Wade and James were able to force some fouls by pushing the tempo, New Orleans successfully executed this strategy. For the game, the Hornets gave up only 14 points off turnovers and just 12 transition points.
Get into the paint on the dribble


The Heat have put together some amazing defensive performances already. They generally have excellent perimeter protection and, when working together, provide strong help defense. It is easy to see that they have a weakness in their post defense against certain opponents, but they have shown they can overcome it with their sound principles.
One area where they haven't been as sturdy, however, is keeping the ball out of the paint off the dribble. The Hornets, armed with one of the most dynamic point guards in the league in Chris Paul, exploited that weakness and racked up a stunning 50 points in the paint on Friday.
Part of the Heat's vulnerability to dribble penetration can be attributed to matchups. Most notably, the Heat don't have a strong point guard defender. Carlos Arroyo played only 16 minutes and Mario Chalmers, who was drafted primarily to contain opposing point guards, never left the bench. Wade spent time guarding Paul, but there were times when James Jones and Eddie House were on the floor and neither thrive at preventing dribble drives.
The Heat were so overwhelmed by Paul off pick-and-rolls that the Hornets' point guard was able to repeatedly set up his teammates for easy shots near the rim. In all, New Orleans attempted 36 shots in the paint.
But there's another area the Hornets targeted to get some of those paint points. James and Wade habitually gamble in the passing lanes. New Orleans made a point of using ball fakes and head fakes to lure the Heat's best wing defenders out of position and then drove past them.
Play the law of averages
The Heat aren't going to lose many games when Jones nails five 3-pointers, which he's done on several occasions already. The reason Jones, House and eventually Mike Miller are on the team is to take advantage of open shots.
On Friday, though, Jones and House combined to shoot just 2-of-13 on 3-pointers. House missed a 3 at the buzzer that would've forced overtime. Coming into the game, Jones was hitting 53 percent of his 3s and House was shooting 63 percent from beyond the arc.
The Hornets played well -- they wouldn't have won if they didn't. But they got their biggest win of the season by following their plan and ambushing a Heat team playing average basketball.
The Heat will be just average a lot this season, but they'll have to improve in several of these areas if they want to avoid more losses like the one they suffered at the hands of a well-prepped Hornets squad.
November, 6, 2010
11/06/10
12:21
AM ET
By ESPN Stats & Information
ESPN.com
Archive
In the
Miami Heat
's first loss of the season, the
Boston Celtics
'
Rajon Rondo
had 17 assists. On Friday,
Chris Paul
had 19 assists, just the fifth player with at least 19 assists against the Heat, and the first since
Andre Miller
had 20 on Dec. 8, 2006.
Dwyane Wade
committed a season-high seven turnovers, and much of the credit goes to
Marco Belinelli
. The offseason acquisition forced five of Wade's seven turnovers and did his best to keep Wade off the free throw line, where he scored 13 of his game-high 28 points.
The Heat still have not allowed 100 points in a game this season, but on Friday the
New Orleans Hornets
shot 49.4 percent from the floor and scored 50 of their 96 points in the paint. Both were season-highs against the Heat in their first six games.
The Heat have been at their best when they have been efficient in the half-court. In four wins, Miami has shot 47.9 percent from the floor and scored 87.8 points in its half-court offense. In two losses, the Heat have shot just 36.7 percent from the floor, scoring 71.0 points.
Emeka Okafor
's 92.3 field goal percent (12-13 FG) is the highest in Hornets' franchise history for a player who took at least 13 shots.
Elsewhere in the NBA:
Anderson Varejao
joins
Zydrunas Ilgauskas
(2007-08) as the second Cleveland Cavalier in the last 25 seasons to go 10-for-10 from the floor.

The Cavaliers have won eight straight road games against the
Philadelphia 76ers
. That's tied for the fourth-longest road win streak any team has ever had against the 76ers. However, that's not even the Cavs longest road win streak against Philadelphia. From 1991-97, Cleveland won 12 straight games in Philadelphia.
Dwight Howard
(30 points, 16 rebounds) now has 23, 30-15 games since his rookie season in 2004-05. That's by far the most in the NBA during that span. Next on the list are
Yao Ming
and
Zach Randolph
, each with 12.
From the Elias Sports Bureau:
With seven assists on Friday,
John Wall
has 38 in his first four games, only Oscar Robertson had more (40) in his first four games. However, Wall has committed 17 turnovers in the last two games after turning it over just three times in each of his first two games.
November, 4, 2010
11/04/10
5:30
PM ET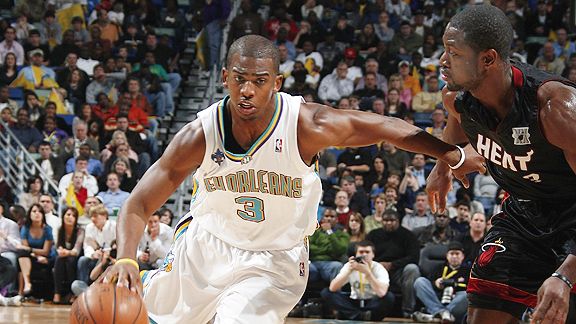 Layne Murdoch/NBAE/Getty Images
After some easy Ws, Dwyane Wade and company will have their hands full with Chris Paul.
Editor's note: This is another installment of Hoop Schemes, in which TrueHoop editor Kevin Arnovitz takes apart NBA strategy and puts it under a microscope.
You've seen the New Orleans Hornets run it thousands of times since Chris Paul arrived in the Big Easy:
The high pick-and-roll.
The Hornets' rendition of this scheme is one of the most lethal in basketball, a menacing play that even the league's most capable defenses have trouble containing.
"It's a very, very tough offensive set," Dwyane Wade said. "They can run it the whole game and it would be tough to guard."
To review: One of the Hornets' big men -- usually power forward David West, center Emeka Okafor or, this season, forward Jason Smith -- steps up to provide a strong pick for Paul. This action ignites Paul and gets the Hornets into their half-court offense.
Then all hell breaks loose.
"[Paul] can find any kind of small crack and he can make any kind of play," Erik Spoelstra said. "He's the great equalizer because he breaks your defense down."
Paul's brilliance stems from more than just his speed with the ball and his capacity to squirt through those openings. In addition to probing the defense, Paul's talent gives him a bevy of choices in the half court. Virtually every team in the league runs some variation of the 1-4 middle pick-and-roll. What makes New Orleans' so special is that range of possibilities defenses have to account for.
"He can create so many options off that pick-and-roll," center Joel Anthony said. "It's definitely a team effort with that 4-man and that 1-man really containing him on that pick-and-roll. Then after that, there's a rotation. That's what buys us time to make the right coverage as a team. But it isn't much time."
Even with the most aggressive trap, Paul's size and speed allow him split the defenders off that pick-and-roll. When that happens, the Hornets essentially have a 4-on-3 advantage because both Paul's on-ball defender and the guy guarding the screener have been left in the dust. Paul now has a full menu of options. He can burst ahead, beating help defenders to the rim for an easy layup. If the designated rotator -- usually the opposing center -- collapses on Paul in the lane, then there's a good chance David West is hanging out at 17 feet ready for a flip pass from Paul. But if that rotating center has committed to West, then who's guarding Okafor? Remember those epic alley-oops from Paul to Tyson Chandler back in the day? Those were often the result of Chandler's man picking up West at the foul-line extended. Okafor doesn't have Chandler's springs, but there's a reason his field-goal percentage as a Hornet under Paul is well above 50 percent.
As the Heat's power forward, Chris Bosh figures to spend a lot of time at the top of the floor deterring Paul from penetrating. As that big man on the trap, there's absolutely no time for deliberation.
"If you get caught off-guard and are kind of late just a little bit, they're too good for that," Bosh said. "Chris Paul is one of the best playmakers in the league. So you can't really give him any room. Our pick-and-roll coverage has to be good tomorrow to contain him. You have to limit his vision If he comes off and you give him options, he's going to tear you apart."
Heat center Zydrunas Ilgauskas has been studying coverages since the Lithuanian national team was wearing tie-dyes. A dozen years into his NBA career, Big Z still recognizes how difficult this stuff is to defend. As the 5 man, Ilgauskas is often charged with the responsibility of making those split-second decisions. Does he collapse on Paul? Does he rotate onto an open West? Does he hang back to ensure Okafor isn't open for a simple pass from Paul, who can find anyone, anywhere on the floor?
"You have to start working your way out and start shrinking the floor just in case [Paul] splits the pick-and-roll or there's a drive straight through the middle if he rejects the pick-and-roll," Ilgauskas said. "You also have to be ready to rotate onto the 4 for the pick-and-pop in case our 4 gets stuck on the pick-and-roll. In your mind, you also have to keep your body on Okafor. You can't forget about him because he's really good at ducking in and taking up space. And that's where you help comes from your teammates. Another guy has to come down to help if Okafor is ducking and you have to rotate out.
To complicate matters
even further
, the Hornets' 5 man will often pin the rotator, rendering a guy like Ilgauskas or Anthony helpless to do much of anything. This buys an acre of real estate in open space for West or Smith for their mid-ranger jumper. West has parlayed that face-up jumper into two All-Star selections, in no small part because Paul has a preternatural sense of where West is on the floor at any given moment.
And what if the defense and rotations on Paul, West and Okafor are air tight?
"They also stretch the floor with shooters coming around," Wade said.
Fortunately for the Heat, that roster of shooters includes Marco Belinelli, Trevor Ariza, Marcus Thornton and Willie Green. These guys aren't chopped liver, but nobody will mistake them for Mike D'Antoni's Phoenix Suns teams.
The Heat have built a gaudy defensive rating of 87.9 points per 100 possessions, but they've compiled that total against some abject offensive squads. On Friday night, they'll confront the league's best point guard whose competitive edge and ability to create can challenge the Heat's mettle. Of course, the Heat still have an uncanny ability to blanket the court from arc to rim.
"I think we have the athletes to cover it," Wade said. "But it's not going to be an easy task at all."