Miami Heat Index:

Danny Green
June, 10, 2013
Jun 10
5:07
PM ET

By Michael Wallace
ESPN.com
Archive
MIAMI -- As the
Miami Heat
were in the midst of a dominant second-half run on the way to a Game 2 victory in the Finals against the
San Antonio Spurs
, point guard
Mario Chalmers
approached
LeBron James
near midcourt with a message.
"I felt like we had them on the ropes," Chalmers said of the powerful and brief conversation with James. "I told [James], 'Let's go for the kill.' He said, 'I'm with you.'"
Actually, it probably should have been the other way around. With Chalmers leading a group of Heat role players who sparked a 33-5 run to put Sunday's game away, it was James' supporting cast that served notice its presence would be felt as the Heat tied the series 1-1.
While much of the focus in the Finals will be on the respective Big Three members of the Heat and Spurs, the outcome of the games will likely continue to hinge on which team gets the biggest boost from its supporting cast.
That developing trend continued in Game 2 of the Finals, when Chalmers and Miami's role players stepped up in the decisive moments of the game. James got off to a sluggish start and didn't get going until late in the third quarter. Meanwhile,
Dwyane Wade
and
Chris Bosh
combined for 22 points, 12 rebounds and 10 assists in a rather pedestrian, yet productive outing from Miami's Big Three unit.
But it was the next four players in the Heat's rotation that made the difference. Chalmers had 19 points and didn't commit a turnover;
Ray Allen
continued his shooting resurgence with 13 points off the bench; and
Mike Miller
and
Chris Andersen
combined to make all six of their shots for 18 points to spark Miami's 103-84 victory.
"Obviously, there are going to be certain games where guys will have to be special," Wade said. "But we like to have games like this, where everyone is involved and the ball is moving around and guys are feeling like they're involved and they're comfortable and confident."
The most impressive aspect of the Heat's 33-5 run was that the damage was done with Wade and Bosh enjoying all but a combined two minutes of it from the bench. Chalmers, Allen, Miller and Andersen scored 22 of the 33 points and made seven of eight shots during the run. James scored the other 11 points as Miami went from trailing 62-61 late in the third to leading 94-67 midway through the fourth.
"It's the key," James said of role players swinging the series in either team's favor. "The Big Three on both sides, you know you can kind of rely on them at all times. But I think the supporting cast is really why both teams are here. They've been making an impact all year long. [The Spurs] feel like their supporting cast is better. We feel like our supporting cast is better. It's who goes out and does it each and every night to help seal the wins."
Miami's answer Sunday came in response to big plays made by role players in support of
Tony Parker
,
Tim Duncan
and
Manu Ginobili
in San Antonio's Game 1 win. Parker's miraculous bank shot in the final seconds provided the biggest highlight from Thursday's series opener. But it was
Danny Green
's 3-pointer with 2:29 left that gave the Spurs enough of a cushion to hold on for a 92-88 win.
Green,
Kawhi Leonard
,
Tiago Splitter
and
Gary Neal
accounted for 36 points and 19 rebounds in Game 1 to help make the difference. The Heat had the edge in Game 2 as Chalmers, Miller, Allen and Andersen combined for 50 points on 65.3 percent shooting, along with nine rebounds.
"This series probably is defined by all the little things," Heat coach Erik Spoelstra said. "Small things will make a major difference because the talent level is pretty equivalent. So it's going to be loose balls, rebounds, execution, guys coming in with confidence, being aggressive and that type of thing. Everybody's fine with it."
Spurs coach Gregg Popovich said the outcome of Sunday's game was determined by the struggles of his future Hall of Famers and not a lack of support from others.
Parker, Duncan and Ginobili missed 23 of their 33 combined shots in Game 2 against a Heat defense that was more aggressive and disruptive than it was the previous game. After forcing just four turnovers in Game 1, the Heat scored 19 points off 17 San Antonio turnovers Sunday.
"Tony, Manu and Timmy were the ones that were 10 for 33," Popovich said. "I'm not going to put that [responsibility for the loss] on the bench. That's when every team is at their best, when the perimeter is making shots, when the bench is playing well, when you have a lot of contributions. That helps you win basketball games."
Despite the sloppy play, the Spurs got 14 rebounds from Leonard and a perfect shooting night from Green, who made all six of his shots, five of which were 3-pointers. But even with Leonard, Green, Splitter and Neal contributing 40 points and 18 rebounds Sunday, it wasn't nearly enough.
The Spurs expect to regroup as the series moves to San Antonio for the next three games, starting Tuesday night.
"We know one of the main reasons why we are here [in the Finals] is because they had a terrific season," Ginobili said of the Spurs' role players. "Kawhi grabbing 14 rebounds, Danny shooting 5-for-5 [on 3-pointers], that really helped us. So Tim, Tony and me, we have to step up. We have basically no shot winning a game against [Miami] if none of us played good. So we definitely have to step up."
Meanwhile, Chalmers looks for those he refers to as Miami's "others" to maintain their impact moving forward.
"It's very important," Chalmers said. "Their second unit had a big game in Game 1. Our second unit had a big game [Sunday]. So it's going to be the tale of 'The Others.'"
June, 7, 2013
Jun 7
2:36
AM ET

By Tom Haberstroh
ESPN.com
Archive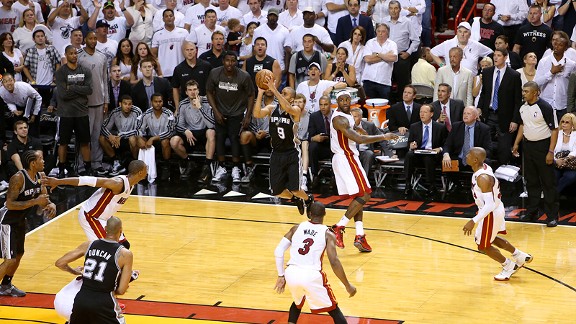 Mike Ehrmann/Getty Images
The San Antonio Spurs took Game 1 of the NBA Finals thanks to Tony Parker's late heroics.
Tony Parker made a shot at the end of the shot clock to put the San Antonio Spurs up 92-88 with 5.2 seconds remaining to help ice the Miami Heat in Game 1 of the NBA Finals.
Here's how it happened ...
... in their own words.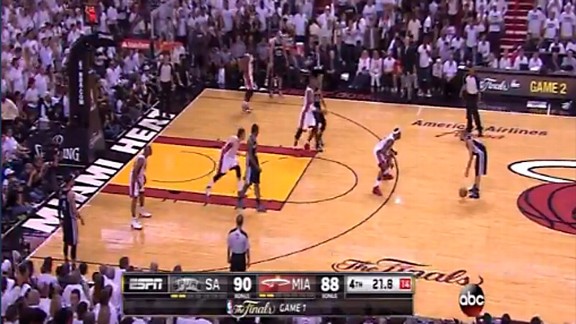 Erik Spoelstra:
That seemed like a 26-second possession.
LeBron James:
You're going to make me go back to that play?
Manu Ginobili:
He had LeBron on him.
Tony Parker:
I knew he was coming. Obviously a lot of NBA teams, they put bigger guys on me.
Tim Duncan:
I think at this point my mind was just blank. I just wanted him to get a shot up in the air.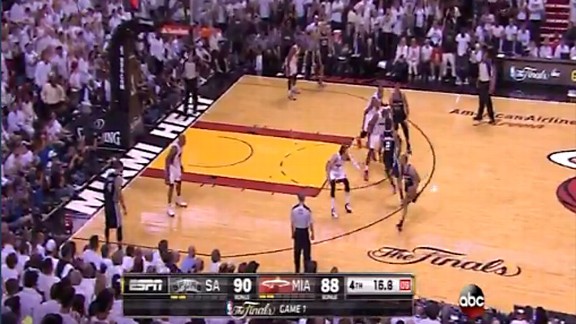 Parker:
If LeBron is on me, I just have to try to keep playing the same way, pick-and-rolls.
Ginobili:
I think we waited too long for him to play that pick-and-roll, and they are so good guarding that and helping and rotating and long arms on the ball.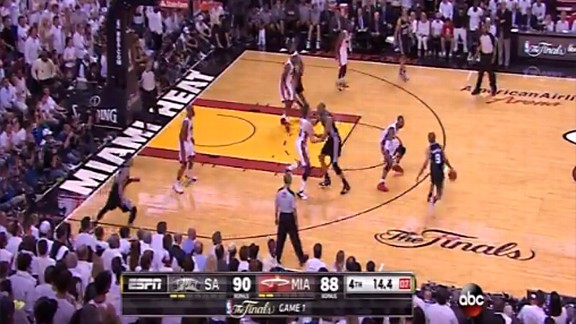 Duncan:
I was trying to get position on the board, trying to work Bosh up the lane a little bit, so I could get back to the board.
Spoelstra:
We played it all the way through. That's probably what this series is about.
Parker:
It felt forever. It didn't work out like I wanted it to.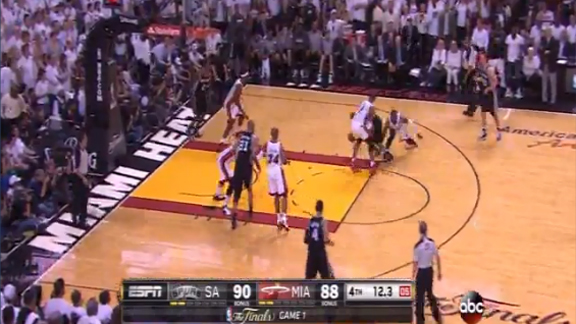 James:
He stumbled two or three times.
Spoelstra:
There were a couple of loose balls where it might have been an opportunity to make it a jump ball, and then he just broke through.
Gregg Popovich:
It looked like he lost it two or three times.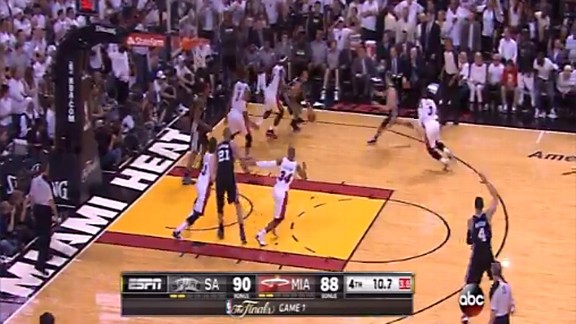 Ginobili:
He lost it twice, so I was trying to just [chase] him around to get him an outlet.
Danny Green:
That wasn't drawn up, but he made it look like it was.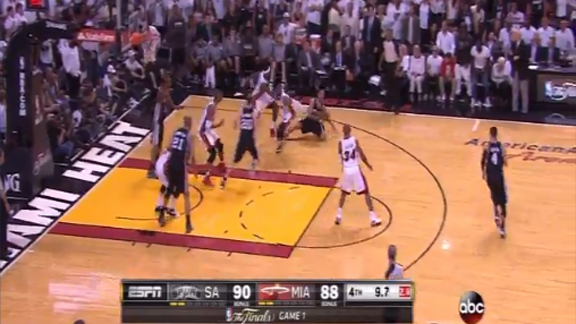 James:
He fell over, and when he fell over, I was like, 'OK, I'm going to have to tie this ball up.'
Duncan:
I see him go down and I'm just praying he gets a shot off. He does just about everything in the book that he had.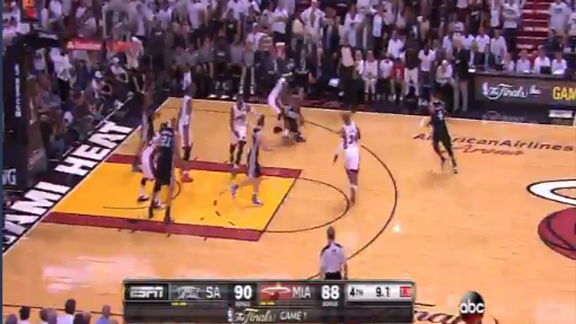 Parker:
I thought I lost the ball three or four times.
Popovich:
He stuck with it. He kept competing.
Spoelstra:
It's going to go down to the last 10th of a second.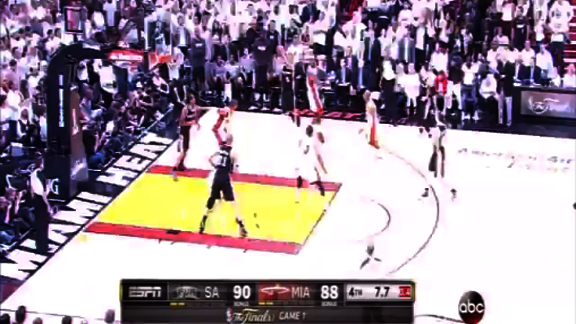 James:
He got up and went under my arm. I got a great contest, and he even double-pumped it and barely got it off.
Spoelstra:
You can't leave it to chance, even if it's right there at the end of the clock, a body in front. Hopefully you try to make him shoot over the top, but he made a tough play.
Parker:
At the end, I was just trying to get a shot up. It felt good when it left my hand.
Popovich:
He got it up there on the rim.
Ginobili
When he turned to the other side and threw it up, I thought it was late. But going back in the timeout, they told me it was good.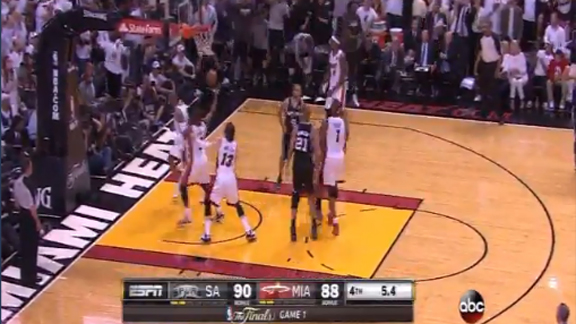 Parker:
I was happy it went in.
Duncan:
It was just amazing.
Ginobili:
And of course Tony's shot is one of those things that happens sometimes. We got lucky today. One of those things that could have been either way. It was just so close, but it was an unbelievable shot. That was the game winner.
Green:
That last one wasn't executed the way we wanted, but Tony made a big play.
Popovich:
We were very fortunate. Great effort by Tony, and as I said, we were fortunate.
Spoelstra:
He made a tough play, and you have to give him credit for that.
James:
Tony did everything wrong and did everything right in the same possession. That was the longest 24 seconds that I've been a part of.