Miami Heat Index:

David West
June, 1, 2013
6/01/13
1:29
AM ET

By Michael Wallace
ESPN.com
Archive
One step away from a third consecutive trip to the NBA Finals, struggling
Miami Heat
teammates
Dwyane Wade
and
Chris Bosh
aim to regain enough of a stride to help
LeBron James
finish off the
Indiana Pacers
.
A sore right knee continues to limit Wade's effectiveness during the least-productive playoff series of his 10-year career, while a sprained right ankle has contributed to Bosh's scoring and rebounding woes the past two games.
Both Wade and Bosh hope to bounce back Saturday when the Heat carry their 3-2 series lead into Bankers Life Fieldhouse for Game 6 with a chance to close out the Pacers and advance to the Finals to face San Antonio.
"Nobody is 100 percent," Bosh said Friday before the Heat's team flight to Indianapolis. "It's just really all mental. Just knowing you have to come in, you have to do your job better than the other guy and know that everyone is ailing a bit. But that's part of the game, especially this time of the year. Everybody has to rise to the challenge."
That challenge grew steeper for Bosh when the NBA announced Friday that Heat reserve center
Chris Andersen
is suspended for Game 6 for his role in Thursday's altercation with Pacers forward
Tyler Hansbrough
.
The absence of Andersen's interior scoring, defense, rebounding and energy will create a void for the Heat that demands more production from Bosh,
Udonis Haslem
and seldom-used center
Joel Anthony
against Indiana's physical and productive big men in
Roy Hibbert
and
David West
.
Bosh said the only choice is to embrace the opportunity.
"[You] have to love pain, love basketball, love the game," Bosh said. "And love the position you're in."
May, 23, 2012
5/23/12
6:36
PM ET

By Michael Wallace

ESPN.com

Archive



Considering all of the hard fouls, bloody cuts and tough talk that have permeated this brutal playoff series between the Heat and Pacers, it's difficult to imagine a player from one team rooting for anything that has to do with the opposing squad.

But that's exactly where Heat guard Dwyane Wade stands entering Game 6 of this best-of-7 series. Wade said Wednesday he hopes Indiana is as close to full strength as possible when the teams head to Bankers Life Fieldhouse on Thursday night, with the Heat leading 3-2 and having a chance to close out the series.

Why? Well, because Keith Bogans is still haunting Wade after all these years. Yes, Wade still has a sore spot for Kentucky fans who suggest the Wildcats would have knocked off Marquette in the 2003 NCAA Tournament had Bogans been healthy instead of trying to play through a high ankle sprain. Wade went on to notch a triple-double against Kentucky in a performance that not only launched Marquette into the Final Four but also cemented his status as a top-five lottery pick.

So that, in a nutshell, is why Wade wants Pacers' swingman Danny Granger (sprained left ankle) and forward David West (sprained left knee) to recover as quickly as possible from injuries that knocked them out of Miami's Game 5 victory. Granger sat out of the Pacers' practice Wednesday, but West participated in the light workout. Both players are expected to play Thursday.

Wade explains the motivation behind wishing the Pacers well in the video above, and also comments on team president Larry Bird calling his own team "soft."
December, 13, 2010
12/13/10
12:56
PM ET

By Kevin Arnovitz
ESPN.com
Archive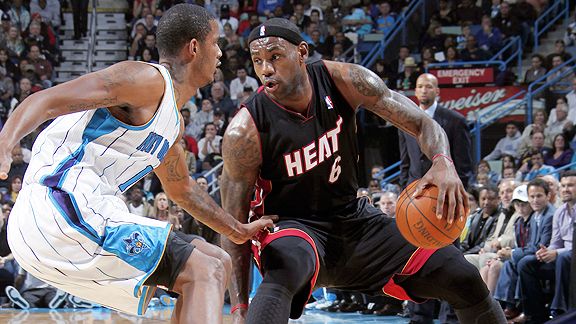 Layne Murdoch/NBAE/Getty Images
The Hornets will try to turn LeBron James into a long-range jump shooter on Monday night.
Heavy Rotation
New Orleans carved up Miami in the half court on November 5. The Heat were powerless to stop the Hornets' basic pick-and-roll attack, and allowed the frontcourt troika of David West, Emeka Okafor and Jason Smith to combine for 53 points on 40 true shots -- the vast majority of which were catches from Chris Paul coming off a pick-and-roll. Apart from Paul's otherworldly vision, there's no magic to what the Hornets do. They rightly assume the defense will trap Paul, which means the roll man -- West, Okafor and Smith -- is open from midrange unless another Heat defender rotates over to put a body on him. If the rotation
does
arrive promptly, then here's where Paul really distinguishes himself as an artist. He'll simply make the pass to the man left open by the rotation. Either way, a capable jump-shooting big man is facing up for an uncontested shot from 17 feet. Even though the Hornets have struggled offensively over the past month, the Heat have some tough choices to make. Court-smart veterans Zydrunas Ilgauskas and Erick Dampier understand the Heat's pick-and-roll coverages, but don't have the speed to make that rotation in time. The fleet-footed Joel Anthony moves well, but was caught off-guard repeatedly in New Orleans with poor defensive reads.
Get Creative
The red carpet rolled out by the teams from Northern California this past weekend for LeBron James and Dwyane Wade? The Hornets don't operate like that, and they also feature a steady transition defense that gets back the instant their shot goes up. The Hornets' primary defensive objective is to lure James and Wade into a series of 20-foot jump shots. Both superstars have been hot from distance of late and they'll be tempted like crazy when they see the wall the league's fourth-ranked defense builds around the paint. Along with Atlanta's Al Horford, Okafor has turned into one of the league's most effective, roving big men. Normally, offenses like to draw opposing centers from beneath the basket. But Okafor is willing and able to meet guys like Wade and James on a dribble-drive. Rather than wait until they're at the rim and it's too late, Okafor operates as another long defender at the edge of the paint. Rather than become jump shooters, Wade and James need to look for each other off the ball. The Hornets tend to flood the strong side of the floor, which means with the right floor balance and off-ball movement, the Heat should be able to capitalize on reversals and crafty interior passes -- not only to the perpetually open Arroyo on the wing, but to the superstars on the kinds of weak side cuts and curls we saw on the Heat's recent 4-0 road trip.
Bosh on the Spot
David West might not take home any hardware for NBA All-Defense, but Monty Williams has the Hornets playing a strong brand of interior-defense-by-committee. Not unlike the Jazz, whose physicality and constant presence made Bosh uncomfortable, the Hornets will not allow the Heat's power forward to get comfortable at his favorite spot at the high post. Watch the film from the first meeting and you'll see Okafor -- even though his defensive assignment was the Heat's center -- watching Bosh's every move off the screen. On Miami pick-and-rolls, the Hornets jumped out on Carlos Arroyo, Wade and James, while Okafor almost reflexively moved toward Bosh, smothering him in open space. If the Hornets body up on Bosh much the way they did in New Orleans, he needs to find a way to draw contact. In Game 1, he didn't earn a single trip to the stripe. Given his quickness and the Hornets' willingness to play close, that shouldn't happen. Bosh has put together a string of solid performances on the glass recently, a trend he'll have to continue on Monday night because one rebound -- his total in 34 minutes at New Orleans -- won't get the job done. Because the Hornets' pick-and-roll attack scrambles the Heat's big men, Bosh often found himself out of position for a carom and beaten to the ball by Okafor and West. Bosh stated on Saturday that his fluency with the Heat's defensive schemes -- something he didn't have in the early part of the season -- should help in this capacity.
Size Matters
Heat coach Erik Spoelstra said on Saturday that his capacity to play conventional lineups has helped stabilize the Heat in recent days. Mario Chalmers logged a DNP-CD in New Orleans and the Heat hadn't yet inked Dampier to a deal. The Heat relied on some small lineups, the Haslem-Bosh frontcourt and too much Eddie House in that game. As a result, Miami got punished in the paint on putbacks, and dribble-penetration. The Heat simply can't allow the Hornets to shoot 21-for-31 from 10 feet in. Expect Dampier to help in this capacity. He's not necessarily the guy you want to run a blitz at Paul on a high screen attack, and he might not be as effective challenging those face-up jumpers, but he's a space-eater who is constitutionally unwilling to let his counterparts in the frontcourt get easy looks inside or, even more, allow guards to dance into the paint without thinking twice. The Heat could also use a hand from James tonight. Miami might be better served by having James check some of that dribble-penetration, even if it means leaving Ariza, a 30 percent shooter from the arc, on the weak side. Force Paul to the sideline (easier said than done) and the Heat can eliminate a lot of risk on the back side of their defense.
Manifest Destiny


The Heat have won each of the eight games on their winning streak by double-digits. They've developed a strong belief there isn't a game on the schedule that isn't winnable. Miami has cultivated a swagger -- cockiness with a purpose -- which they unleash during their big second and third quarter runs. Fueled by strong defensive stands that ignite easy transition buckets, these "skirmishes" -- as the Heat call these spells -- break the back of the opposition. The Heat have been carrying around ugly early-season losses to New Orleans, Utah and Dallas. Last week, they avenged the Utah loss in resounding fashion. Next Monday, they'll have a chance to exorcise the demons from Dallas, the loss that produced "The Bump." Tonight, they must show that the softness they displayed during the loss at New Orleans was an aberration. Do that, and the conflicts and doubts that marred the first quarter of the season will seem quaint.