Miami Heat Index:

Deron Williams
November, 2, 2013
11/02/13
1:00
AM ET

By Brian Windhorst
ESPN.com
Archive
NEW YORK -- As the
Brooklyn Nets
and
Miami Heat
headed into opposite tunnels late Friday night, players stole looks over their shoulders at each other.
Games between these two teams are side-eye specials. There's a little vinegar in almost every possession, be it
Jason Terry
encouraging the crowd to boo behind LeBron James' back when he's at the foul line or
Dwyane Wade
doing little fly-bys of the Nets' bench after baskets.
But as they retreated after the Nets' 101-100 victory in the first of what could be many intriguing games this season, the stares were appraising in nature.
Yes, this is a rivalry, with slights and bruises going back a decade in some cases. That's all understood. But on this night, the two teams learned something about each other. Beyond the drama of the final minute, in which the Heat almost erased a five-point deficit in a near Finals flashback. Beyond a free throw
Ray Allen
should've made and
Chris Bosh
should've missed. Beyond the Nets getting their first win against the Heat since 2009, were more substantial lessons.
The Heat felt just how deep and flexible the Nets' $180 million roster can be and tasted the sort of issues it could cause them over the long haul. And the Nets felt just how hard it can be just to beat the Heat one time -- even on a good night -- and tasted the reality of just how hard it might be to have to beat them four out of seven in a playoff series down the road.
"They're impressive," said Wade, who looked healthy in scoring 21 points. "They're going to be a team we're going to battle with. They made the Eastern Conference tougher. They're going to be a good team, there's no secret about that."
The impressive part to the Heat is not the star power. It sells tickets and drives ratings, but the Heat are well past the point of getting impressed with playing against teams stacked with All-Stars, current or former.
No, what got to them was just how many different ways the Nets could come at them.
The Heat's opposition has had three years to manage their rosters and make moves to combat the powerhouse in South Florida. No organization has been as aggressive as Brooklyn, and most of its moves have been aimed at taking down the Heat's strengths. The Nets' progress in this area was evident right away.
The automatic response when looking at the two teams is to look at the Nets' size advantage. But size has never scared the Heat, and it has yet to beat them since they added pieces such as
Shane Battier
, Ray Allen and
Chris Andersen
that make their space-conscious lineups so hard for opponents to handle.
But the Nets aren't just big. They can be small, they can play all perimeter-based players at once if they want and they can even play reasonably fast.
The Nets played center
Brook Lopez
just 20 minutes Friday -- he was in foul trouble, but it didn't really matter. They moved
Andrei Kirilenko
around. They played
Kevin Garnett
at both power forward and center. They got quality minutes and multiple positions from
Alan Anderson
. Even
Andray Blatche
gave the Heat problems at times.
"They're similar to us, they can play different styles," Heat coach Erik Spoelstra said. "That should serve them well."
That's a compliment and an understated "game on" from Spoelstra, who engineered a system with the Heat that allows them to create matchup advantages because so many of his players can swing between positions.
The Nets don't have James, who can play all five positions, and they don't have a creator like Wade. But they can put five players on the floor at once who aren't afraid to take a pressure shot and have to be respected.
Friday,
Paul Pierce
had 17 points in the second half and a few clutch plays down the stretch, including what had to be a satisfying block of James, who also had 17 of his 26 points after halftime. But it could just as easily have been
Deron Williams
,
Joe Johnson
or Garnett who came up big. Those terms sound a lot like describing the Heat.
When the game was over, it was noted Miami hadn't lost back-to-back games since last January and they hadn't been below .500 -- they're now 1-2 -- since losing their first game in Boston back in 2010.
If you were to ask the Heat, the last time they were below .500 was when they were down 3-2 to the Spurs in last season's Finals. The point being they never panic. They were down 12 points with 2:47 to go and nearly forced overtime because with their experience, athleticism and array of 3-point shooters, there is no such thing as a safe lead.
Just ask the Spurs about that.
There's a reason they're 11-1 in playoff series over the past three years and they've come from behind over and over. They are always just a possession or two away from being great. So no matter how much you spend, how deep your roster is or how big your lead might be, the Heat are always dangerous.
"We've played in every kind of game you can imagine," James said. "We understand what we have to fix and correct."
January, 30, 2013
1/30/13
1:37
PM ET
Jesse D. Garrabrant/NBAE/Getty ImagesAfter their White House trip, LeBron and the Heat head north to Brooklyn to face Joe Johnson's Nets.
In another installment of the Heat Index's 3-on-3 series, our writers give their takes on the storylines before the Heat face the Nets on Wednesday
(8 p.m. ET, ESPN)
.
1. Fact or Fiction: Chris Bosh deserved an East All-Star spot.
Tom Haberstroh:
Fact. He's shooting 54.3 percent this season despite taking jumpers more than ever. His per-game numbers (17.2 points, 7.5 rebounds) don't scream All-Star, but that's mostly because his minutes are down. Sure, the rebounds could be higher, but funny thing: You don't hear complaints about Kevin Garnett's 7.3 rebounds per game, and he's starting for the East.

Michael Wallace:
Fact. While Bosh's scoring and rebounds are down this season, he's on pace to shoot the highest field goal percentage of his career. His rebounding totals should be much better, but league coaches are smart enough to know he's the biggest victim of a talented, top-heavy roster in Miami.
Brian Windhorst:
Fact. I've seen where people have said Brook Lopez should've made it over Bosh, but they were not in competition. Bosh is a sure-fire All-Star. His play has been uneven, but there are few players in the league like him, and he's having the best shooting season of his career. Lopez's quibble should be that two Bulls (Luol Deng and Joakim Noah) made it.
---
2. Fact or Fiction: Mario Chalmers is a top-10 point guard.
Haberstroh:
Fiction. But Chalmers probably has a top-10 confidence level regardless of position. He probably isn't where he is today without thinking that he's better than he is. Confidence can go a long way in a sport marked by failure. But let's be serious: He might not even be a top-10 point guard in the East; he's 25th among East point guards in Estimated Wins Added.
Wallace:
Fiction. Let me say it again: absolute fiction. But supreme confidence is what makes Mario the player and person he is. I can quickly name five
backup
point guards in the league who are better: Kyle Lowry, Jarrett Jack, J.J. Barea, Eric Bledsoe and Andre Miller. And I probably could keep going.
Windhorst:
Fact ... in his own mind. This is Chalmers' greatest attribute, his confidence. Without it, he couldn't take constant abuse from LeBron James and Dwyane Wade and still be able to hit clutch shots. Of course he isn't in reality, but Mario is unburdened by such things.
---
3. Fact or Fiction: Deron Williams is a top-five point guard.
Haberstroh:
Fact, if we only go by healthy point guards. Derrick Rose, Chris Paul, Stephen Curry and Rajon Rondo rank higher on my if-healthy list, along with Kyrie Irving, Tony Parker and Russell Westbrook. And you can probably throw Jrue Holiday in there, too. I'll say Williams sneaks in ahead of Damian Lillard and Mike Conley thanks to his strong play of late.
Wallace:
Fact. Yes, he's having a down season, but the product of his entire career so far makes this an easy pick. If the list starts with Paul, Rondo and Westbrook, then Williams would slot into one of the next two spots along with Derrick Rose. But Irving, Holiday and Curry are nipping at the heels of that group.
Windhorst:
Fiction. And I'm invested in "fact," too, because for years I argued I'd rather have him than Paul because of Williams' size. Then again, I also bet a friend once Ryan Leaf would have a better career than Peyton Manning. Williams actually has had a great month, but in the past three seasons, he has gone downhill offensively while Paul, Westbrook, Rose, Rondo and Parker have taken off.
April, 16, 2012
4/16/12
12:05
PM ET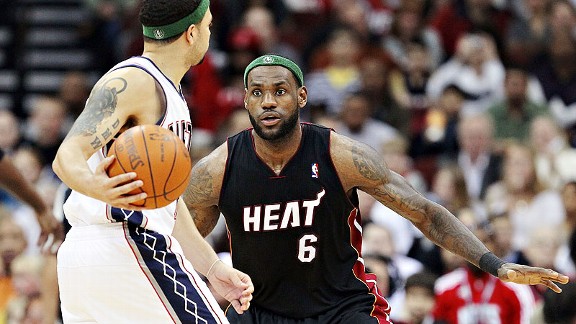 Jim McIsaac/Getty Images
Will Monday night be the last time we see LeBron James check Deron Williams in New Jersey?
In another installment of the Heat Index's 3-on-3 series, our writers give their takes on the storylines before the Heat visit the Nets (22-39).
1. Fact or Fiction: This is the last time Miami sees D-Will in a Nets uniform.
Tom Haberstroh:
Fiction. Deron Williams isn't the type to make a public stink with a trade demand, but I think it's telling that he has been outwardly OK with the Nets' rebuild. Perhaps it's because he assumes Howard will finally join him this summer if New Jersey can come up with the pieces in a trade (that 2012 first-rounder would've come in handy). Patience may indeed be a virtue.

Michael Wallace:
Fact. I guess there's still a bit of fleeting hope that the Nets could somehow land Dwight Howard this offseason and keep Deron Williams. But the reality is that no team has struck out more times since that 2010 free agency bonanza than New Jersey. Williams is all but certain to be on the move this summer - and it probably won't be along for the ride with the Nets going across that bridge to Brooklyn. He's done his time and has given the Nets two seasons to build something around him besides loads of losses.
Brian Windhorst:
Fiction. Williams does indeed seem like he's going to test the market and there's a comfy spot waiting for him in Dallas. While I'm not guaranteeing Williams will be back, I think there's a lot that could happen involving the Nets between now and July 1 that could affect Williams' decision. I do think the Dwight Howard trade sweepstakes will be re-opened soon after the Magic conclude their season. There's also a chance the Nets jump up in the lottery to the top three and keep their pick and get in position to draft an impact player. There's still a decent chance Williams is a Net next year.
---
2. Fact or Fiction: Your best guess is that LeBron gets the night off.
Haberstroh:
Fact. But I've been wrong on these calls many times before. If he doesn't get the night off, then something's up. The Heat can't afford LeBron to be less than full strength for the playoff run and they know that. Another playoff flameout would be a disaster and a night off could go a long way especially with his gimpy ankle. Why risk it?
Wallace:
Fact. But it might take a stern directive from Pat Riley at the top. LeBron made it clear the other night when logged 29 minutes against the Bobcats that playing through nagging injuries and late in the regular season "is just who I am, man. It's just how I've always been." LeBron even suggested he would have vetoed coach Erik Spoelstra's attempt to rest him. But after tweaking an ankle Sunday against the Knicks, it just wouldn't be wise to push it a night later - even without having to fly to face the Nets.
Windhorst:
Fact. There's a ready-made reason: his rolled left ankle that he suffered in New York Sunday afternoon. Plus it's the fourth game in five nights and he's played in the other three. Plus, as I've been harping on for 10 days now, giving him time off is just a really good idea.
---
3. Fact or Fiction: Chris Bosh's rebounding remains Big Three's biggest question mark in playoffs.
Haberstroh:
Fact. But Dwyane Wade's post-halftime issues are a close second. Bosh's rebounding void continues to perplex the masses. Sure, Wade and LeBron gobble up a few of his boards every night and
the Andrea Bargnani Effect
can't be discounted, but 20 days shouldn't go by between Bosh's double-digit rebound outings. Considering their energy-burning defensive schemes, the Heat cannot afford to give up deflating second-chance opportunities in the playoffs. That hinges on Bosh.
Wallace:
Fiction. I wouldn't just stop at rebounding. In fact, Bosh's overall play and consistency on both ends of the court are the biggest question marks facing any member of the Heat's Big Three, although there appears to also be something a bit off with Dwyane Wade. I've said it plenty of times: Bosh needs to play like an All-Star for this team to reach its full postseason potential. His 16-point, 14-rebound effort against the Knicks must be bottled up and carried into the playoffs. It is essential to overall success.
Windhorst:
Fact. The Heat are such a different team when Bosh is more active on the glass. It allows them to get in transition more, it gets them extra possessions on offense and overall when Bosh is more active going after rebounds usually it carries over to other parts of his game. Rebounding has been a constant battle for the Heat all year. Bosh is supposed to be their best rebounder but he's had one of the worst rebounding years of his career. But it's not too late for him to turn it around. Though I do believe the opponent had something to do with how well Bosh performed on Sunday.
December, 8, 2010
12/08/10
10:45
AM ET
By Kevin Arnovitz and Tom Haberstroh
ESPN.com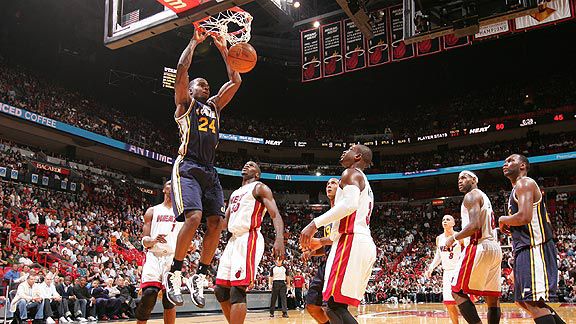 Mike Ehrmann/Getty Images Sport
The Heat saw a little too much of this during Utah's incredible comeback win in Miami.
Stop that guy
For Chris Bosh, there's an especially incriminating defensive possession at the 8:50 mark of the first quarter of the Heat's first meeting with the Jazz last month in Miami. Early in the possession, Paul Millsap holds the ball in the high post, passes it back up top, then makes a sharp cut to the basket. Bosh is well-positioned between Millsap and the hoop to defend this dive, but gets bumped out of the lane as Millsap gobbles up the space, catches the ball on the move and finishes with an uncontested layup. It's a perfectly legal move but Bosh puts up precious little resistance, and was generally manhandled by Millsap for the entire game. Utah's power forward was able to get deep catches in the paint in early offense situations and move freely in half court. Millsap flashed to the top of the key, cut baseline and rolled to the basket with ease -- and Bosh rarely laid a hand on him. On Wednesday night, Millsap will do whatever is necessary to control the interior on the offensive end. How capable is Bosh to do anything about that?
... and him too


Millsap burned the Heat during Utah's furious second-half comeback but, as is often the case, Deron Williams lit the match. For every improbable Millsap 3-pointer, there was a gorgeous touch pass from Williams on a cut. For every bull-in-a-china-shop isolation drive by Millsap, you'll also find a graceful slip-screen choreographed by Williams that turned Carlos Arroyo and Bosh into spectators. Erik Spoelstra tried everything down the stretch. In an effort to throw additional size and ball pressure, Spoelstra moved Dwyane Wade and LeBron James onto Williams. Once Jazz center Kyrylo Fesenko checked into the game, the Heat threw a few traps Williams' way. Didn't matter. On Wednesday night, the Heat's big men must do a better job stepping out on Williams. And on possessions when Ronnie Price is in the game and Williams effectively acts as an off-guard, Wade and Miami's help defenders need to communicate as Williams moves off the ball around screens. Additional pressure won't stop Williams, but it will raise the level of difficulty on those pinpoint passes to cutters. In a close game, one or two field goals can provide the margin for a win or a loss.
Locking down LeBron


Which team inhibits opponent shots more than the Heat? You guessed it: the Utah Jazz. Looking at the league leaderboards, Miami and Utah rank 1-2 in opponent effective field goal percentage (which gives proper weighting to 3s) and the Heat did in fact struggle to convert in Game 1. The Jazz combine toughness and length to swarm the perimeter with Andrei Kirilenko and Williams, causing opposing teams to shoot a league-low 30 percent from beyond the arc. But the key for the Utah defense tonight will be stopping James for a second time. People will remember that he notched his first triple-double but don't forget, he also missed 13 of his 18 field goal attempts and only made only lay-up in the half-court. Kirilenko got the individual assignment against the two-time MVP but the entire Utah team did a superb job of rotating and clogging the paint to deter James' attack. Can they do it again?
Heat forced to play big


Less than a month has passed since their last meeting but a lot has changed for the Heat. Miami will be without Udonis Haslem who played a big role in Game 1, grabbing 9 rebounds in 31 minutes. More importantly, Haslem enabled the Heat to go small and play Bosh at the five, an arrangement they deployed against the Jazz for nearly 20 minutes. While it makes some sense to play mobile bigs out there to keep up with the Jazz offense, Utah outscored Miami 56-46 with Haslem and Bosh on the floor together. This time around, circumstances will prevent the Heat from going small again as Erick Dampier, who's approaching 300 pounds, has filled in for the sidelined Haslem. Dampier has only taken four shot attempts in 70 minutes of action this season and until he gets into game shape and fully acclimated to the Heat offense, he's limited to put-backs in the half-court. His conditioning will be tested in this one.
Looking for a signature win
The Heat have built a five-game winning streak vanquishing Washington, Detroit, Cleveland, Atlanta and Milwaukee. You can only play the games on your schedule (although true greatness finds a way to beat opponents who aren't on the schedule), but it's been nearly six weeks since the Heat beat an elite team (Orlando) and they've yet to notch an impressive road win. Has the Heat's improvement been a product of their easy schedule or have they made sustainable improvements that can carry them against the league's best competition? Are the Heat playing inspired defense because they've tighten the screws on the interior, or have they not really been challenged in earnest? Have James and Wade established real chemistry or are they merely overwhelming inferior defenses with their sheer talent? The Jazz aren't easily overwhelmed and they always challenge in earnest -- so Energy Solutions Arena on Wednesday night should be a proving ground for the we've-turned-the-corner Heat.