Miami Heat Index:

Doug Collins
April, 24, 2011
4/24/11
6:54
PM ET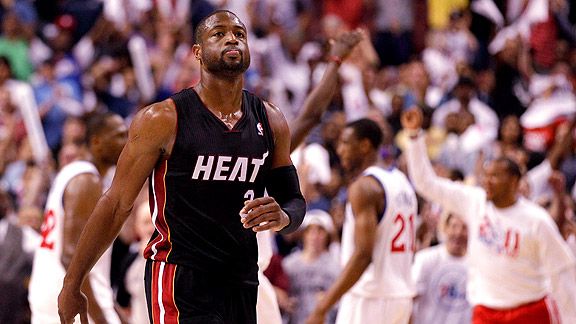 Rob Carr/Getty Images
Dwyane Wade and the Heat saw some old themes resurface in their Game 4 loss at Philadelphia.
PHILADELPHIA -- During the upcoming offseason, extended as it may be, there's a good chance the Philadelphia 76ers will look back on Sunday afternoon as their finest moment. For the Miami Heat, it will either be completely forgotten or the first red flag hoisted up the postseason pole.
In a best-of-seven series, every underdog usually has his day and that's what the Sixers enjoyed in their 86-82 Game 4 victory. It was a game they probably shouldn't have won, down six points with less than 90 seconds left in their season and sitting on eight straight missed shots. The only reason the home fans were on the edge of their seats was because they were about to leave.
But basketball is a fragile game and the Sixers stunningly made three straight baskets. Meanwhile, the Heat started staring into the past -- namely that attention deficit disorder in fourth quarters that was supposedly buried two weeks after the All-Star break.
The Sixers celebrated like a team that hasn't won an elimination game in years, which they hadn't since Allen Iverson was in his prime. The Heat shrugged it off as a speed bump, which it could be depending on how they react to it when these events surface again.
"It meant the world," said second-year guard Jrue Holiday at the end of his first career playoff win.
"Easter Sunday and I told our guys after the game if you have faith you have hope," Philly coach Doug Collins said, his eyes glassy with pride as he waxed poetic about the gravity of the single win. "And if you have hope you have life. Our guys fought to stay alive."
Charming and memorable indeed.
The loss was disturbing for the Heat, not because of the loss or because LeBron James missed another late-game shot to win or tie -- this one came with 3.8 seconds left when Elton Brand blocked his tentative lob attempt -- but because the Heat thought they had put these moments behind them.
The last-second shot stuff is only a fraction of the issue. Let's get this part out of the way from the start. James (1-of-6) and Dwyane Wade (0-of-5) are now 1-of-11 this season on shots in the final five seconds to win or tie games.
Considering the weight so many put on those types of shots, it doesn't make them look very good. But it is also an opportunity for detractors to invoke the names of Michael Jordan and Kobe Bryant, et al.
The Heat also lost traction with the way they finished this game. They had been closing games out much better over the past month and a half, putting those fourth-quarter failures when they didn't use teamwork to bed. In fact, they did a nice job of finishing off the Sixers in that manner in Games 1 and 3.
With a likely series upcoming against the Boston Celtics -- the best finishers in the game -- there's no time for backpedaling, or for doubt. It proved hard to close out the Sixers, a .500 team without reliable go-to finishers. It's only going to get tougher from here.
"We have been doing so much better with our execution down the stretch of close games," Miami coach Erik Spoelstra said quite correctly. "We've proven we've been better than that. ... This was uncharacteristic."
Uncharacteristic recently, yes, but still a season-long Achilles' heel dating back to November. This time Spoelstra wanted to point to defense. Holiday and Lou Williams drained 3-pointers and Evan Turner hit a runner and two free throws to complete a 10-0 run on the Heat in the game's last 1:22.
On the Holiday 3-pointer, Wade looked like he was standing in sand as he didn't challenge the wide-open look.
"It froze me," Wade said. "He got off a shot probably not many people in the arena expected him to shoot."
Um, Holiday is shooting 55 percent from 3-point range in the series and his team was down four points with 47 seconds left. Actually, it was a shot that was expected. But Wade is entitled to a mental error or two. He just happened to have about twice that in the final few minutes.
While the defense let the team down during that last stretch, the Heat held the Sixers to 41 percent shooting and 86 points. Most of the time, that's sufficient. But Miami managed just 16 points in the fourth quarter and a meager 35 in the second half. That's not enough against any opponent.
The biggest culprit was a breakdown in offensive teamwork, a place where the Heat had recently shown so much progress. Of course, there was limited help from the supporting cast. Mike Bibby, Mario Chalmers, Zydrunas Ilgauskas and James Jones combined to shoot 5-of-23. But this is nothing new -- the Heat have become used to dealing with and overcoming that.
The problem was James and Wade didn't use each other or Chris Bosh, who had his worst offensive game of the series, as well. In the final minutes they played isolation basketball and ignored when others were open.
Once Wade disregarded James when a switch left him alone in the post being guarded by the much smaller Holiday. Another time Wade settled for a low-percentage turnaround fadeaway, despite an offer of a screen from Bosh.
Nothing, though, was more passive and solitary than James' last shot, when he tried to flick the ball over Brand even as both Wade and Bosh were open against the Sixers' collapsing defense.
Games are 48 minutes long and series are much longer than that. The Heat will survive the loss in this series, and it hardly sullies their recent run of good play. But it was a sobering final few minutes. When they break down the tape they will sigh, knowing it is ground they've been covering and recovering for months.
"I think sometimes you get a little tight and it is tougher to execute down the stretch," Bosh said. "We've been talking about trust all this [season], so we're going to have to do it when it counts most. It is easy to trust when you're up 2-0, 3-0. When it is time to close teams out and it is time to get to those other elite teams, if we're going to have a chance to compete against them, we're going to have to do the same thing. We're going to have to trust each other."
April, 20, 2011
4/20/11
3:20
PM ET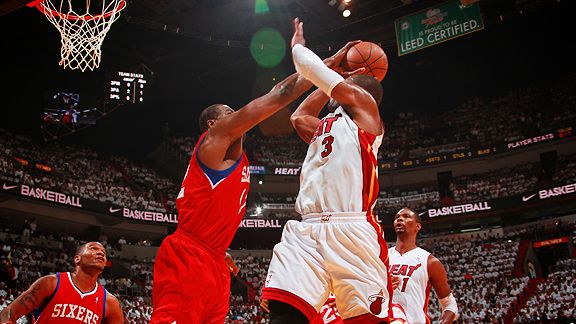 Victor Baldizon/NBAE/Getty Images
Doug Collins and the 76ers have decided to throw the kitchen sink at Dwyane Wade.
PHILADELPHIA -- At their heart, the Miami Heat are built on a "pick your poison" premise. Two games into their series the Philadelphia 76ers are indeed picking their poison -- version No. 3 -- and perhaps setting a precedent other teams will follow in the postseason.
Sixers coach Doug Collins has been refreshingly frank about his team's situation thus far in the postseason. He has conceded that when the Heat play well his squad is the lesser team. The Sixers have yet to win a game, down 2-0 to Miami as the series moves to Philly for Thursday's Game 3 and probably the Sixers' last chance to make it competitive.
But Collins' more significant declaration is that he believes Dwyane Wade is the Heat's most important offensive piece. His game plans have reflected it. The Sixers attempted to squeeze Wade in the first two games of the series. Regardless of the statistics or anything else, Collins thinks that cutting Wade off as much as possible gives his team, and perhaps any team, the best chance to win.
"We feel like Wade is going to be their primary scorer late in games and we've wanted our best defender on him," Collins said. "You're going to have to match up and that's what we've decided to do."
Not just late in games, either. The Sixers' strategy has clearly been to slow Wade and try to beat what is left, the guys named LeBron James and Chris Bosh. Collins has been using a two-pronged approach: double-teaming Wade for stretches during the game, then going with his top defender, Andre Iguodala, on Wade in crunch time.
In two games, Wade is averaging just 15.5 points and shooting just 41 percent because of that strategy. He may have been impacted by the effects of a migraine, but he mostly hasn't been able to score because he's had to give up the ball. Wade has done most of his damage in transition, when the Sixers can't align their defense to trap him.
Sitting on the sidelines for these games have been scouts from the Boston Celtics and New York Knicks, taking notes on the strategy. Rest assured that other potential opponents are watching as well, pondering it.
Wade took only 24 shots in the first two games, six fewer per game than his regular-season average, one of the major reasons his scoring is off by 10 points per game. Meanwhile, Bosh has taken 30 and James 33. It is impossible to eliminate Wade but if you reduce his time with the ball, his scoring is naturally going to drop. And Collins believes that is to the Sixers' advantage.
It hasn't meant victories for Philadelphia yet and it certainly appears that it isn't going to stop the Heat from advancing to the second round. This is mostly because Bosh has raised his game, averaging 23 points on 57 percent shooting. James has had one good game and one below-average outing, averaging 25 points, shooting 43 percent from the field and 21 of 24 at the foul line.
But is it really prudent to dare a scoring star like James or a capable scorer like Bosh to score by focusing so much on Wade? Maybe.
"We feel like we need to hold those three to less than 75 points to have a chance," Collins said. "That's our goal."
Collins didn't just make up that number. Of the Heat's 24 losses during the regular season, 22 of them came when the Big Three scored 75 points or less. Most of the time when the Heat lost, they combined for fewer than 70 points. This is more of a reflection of the bench than those three, who collectively average 72 points a game. The belief is that if you hold one of them down, your chances of winning go up because there isn't as much backup support as the
Heat had hoped for at the start of the season.
It's not ironclad. The Heat won plenty of games this season when the three scored under 75 points. But it does seem like a sound strategy to attempt, to bog down Wade and hope either Bosh or James isn't quite up to his normal game. There were plenty of times this season when Bosh became passive and settled for lower percentage shots in a pressure game.
Against the Sixers and their offensively challenged roster, it may not turn out to be an issue even if Collins' strategy holds water. Against a team like the Celtics or Bulls, should those matchups develop, the Heat may have less of a margin for error.
Gambling that the depleted supporting cast couldn't beat them, the Celtics edged the Knicks Tuesday night by aggressively double-teaming Carmelo Anthony down the stretch. With Wade as the Heat's designated finisher during their recent run of strong play, that could be seen again if Boston and Miami advance.
The Heat probably like their chances if there's less attention paid to a former scoring champ like James and a versatile scorer like Bosh. If Collins' peers see the same things, the Heat might get a chance to prove it under pressure. Or prove that Collins is ahead of the curve.
April, 18, 2011
4/18/11
12:48
PM ET
By Kevin Arnovitz and Tom Haberstroh
ESPN.com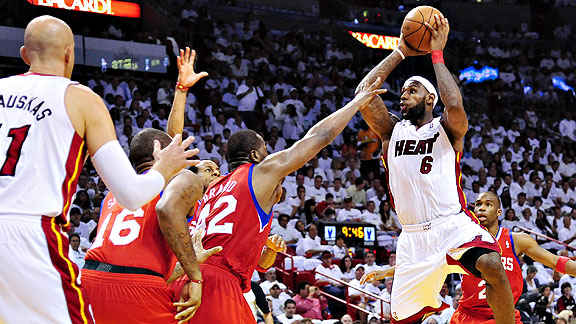 Steve Mitchell/US Presswire
LeBron James has pledged to expand his game and be more aggressive on Monday night in Game 2.
How Heat can continue winning the free throw battle
This is a matchup of the one of the best foul-drawing teams and one of the worst foul-drawing teams. Drawing whistles from the refs doesn't require hypnosis or magic tricks. To get the violation called, it's pretty simple: you need to make contact.
"We attack the rim," Chris Bosh said after Monday's shootaround. "It's nothing new. If you look at the season as a whole, we've been right up there as far as free throw attempts. There's a reason for that. We always put pressure on them and when you attack the rim, you draw a lot of fouls."
In Game 1, there was a lot of contact on one end of the floor and very little on the other. If you want to cite evidence for ref wrongdoing, merely pointing out the free throw disparity will not suffice. The stat we want does not exist -- instances of illegal contact between two players. And rewatching Game 1, the Heat were aggressive and welcoming those collisions in the paint. The Sixers were not.
However, not every Philly player joined Doug Collins' lead and alluded to unfair refereeing in Game 1. After Sunday's practice, Sixers supersub Lou Williams, who's playing with a bum hamstring, said he deserves some of the blame for the free throw disparity. "I'm not able to be as aggressive as I usually am," Williams said. "It kills half of my game when I can't get into the lane and create fouls." Williams totaled just two free throws in Game 1 while failing to get a shot off at the basket.
This is a key development to the series because Williams ranks as the best whistle-inducer on the Sixers -- nearly half of his shots come at the free throw line -- and he admitted that his gimpy leg forces him to settle for jumpers. The Heat smell blood and have been vigilant in exploiting Williams in the half court with traps and smothering. Look for Miami to continue to neutralize Williams in Game 2. If they can keep Williams and Andre Iguodala in check, the Heat will win the free throw game again.
LeBron's Game 2 plan
LeBron's Game 1 line was nothing to sneeze at. He scored 21 points, collected 14 rebounds and racked up five assists. But he shot only 4-for-14 from the field -- though he worked his way to the line for 14 free throw attempts, no small thing. But he confined himself to the perimeter for much of the game.
A familiar pattern: The ball would go to LeBron on the wing. Rather than attacking, LeBron would hold the ball, wait for the double-team, then look to pass to the open man. That's a noble strategy, and LeBron's squads have won many games over the years because LeBron leveraged those double-teams. Yet Saturday's effort seemed passive.
A fastidious prep guy, LeBron naturally hit the Game 1 tape like it was the Zapruder film, spending hours breaking it down. LeBron coyly told the media at shootaround that he wouldn't divulge his findings, lest the Sixers take advantage of his insights, but he was certain of one thing: "I know I will attack the defense tonight better than I did in Game 1," James said.
Philly didn't deploy anything fancy against James. Iguodala defended James intelligently, walling off the paint while Philly sent some weakside help as a second line of defense. Collins' key defensive goal against James is to prevent him from getting out in the open court.
"For them, it's transition," Collins said. "He and [Dwyane] Wade had six transition points in the game. That's critical. If they're out in the open court running, then we're going to be in tough straits. But if we can keep them out of the paint, we've got a chance."
LeBron generated five transition opportunities, drawing fouls on three, converting a field goal and tossing up a missed 3-pointer.
Those fast-break opportunities will certainly enable LeBron, but when the game gets tight, he'll ultimately have to find ways to manufacture points in the half court, something he didn't do all that effectively on Saturday. Look for the Heat to feed LeBron closer to the cup, particularly in their small lineups.
The Heat's half-court contingency plan: The Wade-Bosh pick-and-roll

The Heat have refined their half-court offense over the past several weeks -- the Heat have exceeded the league average in offensive efficiency in 17 of their past 20 games. One of the catalysts of that improvement has been the Dwyane Wade-Chris Bosh angle pick-and-roll. With the exception of "Kevin Durant just makes something happen," the Wade-Bosh pick-and-roll might be the most effective late-shot clock play call in the NBA right now. Against a strong Sixers base defense that guards the Heat's initial stuff quite well, that bailout play is crucial for Miami.
Bosh explains the dynamic of this play that's working wonders for Miami:
"Philly usually plays the first two triggers pretty well," Bosh said. "If things break down, we want to go right to something else. When you have Dwyane Wade, it's a quick pick-and-roll. [Sixers' defenders] coming from a help position, that's pretty tough as a big and a guard. Usually, he's going to be attacking coming downhill, so that works to our advantage. It's always something good to go to when everything else doesn't work and there are still five or six seconds left on the shot clock, and we worked our offense, worked from side to side two or three times. It's good to have that."
As Bosh describes, this action compromises the defense much the way the vaunted Wade-James pick-and-roll does. More times than not, the Heat might not have achieved their first two objectives, but they've also managed to draw the defense to the ball side. A quick swing pass over to Wade on the weak side in tandem with a decisive screen from Bosh ahead of the defensive recovery gives the Heat a huge advantage. Above all, it's yet another way to involve Bosh offensively above and beyond his elbow jumper.
Will we see Heat go zone again?
Were you surprised to see Heat coach Erik Spoelstra employ a zone defense on Saturday? The Sixers were stunned, as well. Philly point guard Jrue Holiday said after practice on Saturday that the Heat's switching to zone coverage blindsided him. "That was really out of the blue. When they came down, I was just like, 'Wow, they're really in a zone?'"
They did and it worked. Over the course of the game, the Heat went with the zone for nine possessions and the Philly offense managed to score on only two of them. But the zone was effective partly due to the element of surprise, an advantage the Heat won't enjoy going forward. The Sixers hadn't prepared to play against the zone and with good reason; the Heat went zone for just 2 percent of their defensive possessions in the regular season, according to Synergy Sports video tracking.
Here's the thing: Spoelstra doesn't like to go zone. Why? "It means our man-to-man defense is getting chewed up," Spoelstra said Sunday after Heat practice. "But I'm also not afraid to pull that trigger to change the rhythm of the game. The game will dictate it."
Consider the zone defense a last resort. The Heat have one of the best man-to-man defenses in the league but the Sixers forced Spoelstra's hand by starting the game ablaze. If the Sixers go on anther tear, don't be surprised if Spoelstra goes to it again, especially if the Sixers' 3-point shooters are sitting on the bench. To beat a zone defense, crisp passes, strong 3-point shooters and players who can exploit the seams (the space between zone defenders) are critical. We may not see the Heat go zone in Game 2, but it was so effective that Spoelstra won't hesitate to pull that card out of his back pocket. The Sixers won't be blindsided again.
The rebounding battle
The 76ers are acutely aware of their limitations, one quality that allowed them to lift themselves from a 3-13 start. Doug Collins know his team has trouble scoring in isolation, doesn't have many reliable spot-up shooters and, above all, lacks size. With early offense, the Sixers compensate for many of their shortcoming rather well (or they wouldn't be here), but there are certain tasks you just can't sweep under the court -- and rebounding is one of them.
Collins has cited the disparity in foul calls as a decisive factor in Game 1, but it was the glass where the Heat really gained the upper hand on Saturday night. Miami collected more than a third of its missed shots for offensive rebounds and held the Sixers off the defensive glass, as well.
For the Sixers, controlling the boards is a festering problem. They've done an admirable job all season treading water -- ranking 18th in rebounding rate, despite their personnel. Philadelphia plays Spencer Hawes at center and Elton Brand at power forward, neither of whom sniffs the top 20 in rebounding rate at their respective positions. To compound problems, Brand shifts to the 5 when Thaddeus Young -- who's a bit of a tweener forward himself -- enters the game. Andre Iguodala, whose numbers are fairly strong for a shooting guard, is slotted at the small forward position.
On top of that, the Sixers deploy a stay-at-home strategy on opposing shooters, their No. 1 imperative being to keep the ball out of the corners. As a general defensive scheme, it's working. But it also means that, more times than not, Philly's defenders are nowhere near the basket when a Miami shot attempt goes up. To further compound this problem, when the Heat go small -- for instance, with James Jones and LeBron James at the forward spots -- Jones drags Young to the perimeter.
Collins acknowledged that going small, which helps the Sixers' transition game, is a tough proposition. "It's hard for me because Thad plays so hard," Collins said. "It's too many minutes. Elton was actually too many minutes [on Saturday]. 40 is too many minutes ... When I went to my bench, I went to [Marreese Speights] first ... so Thad could finish the game." Again, that's a rotation that can work for Collins in a general sense, but Speights and his 16.5 rebounding rate is average for league centers (20th out of 59 qualified 5s).
One way or another, Collins will have to figure out how his team will keep Miami, the NBA's third-ranked rebounding team, at bay. Any suggestions?
April, 17, 2011
4/17/11
5:37
PM ET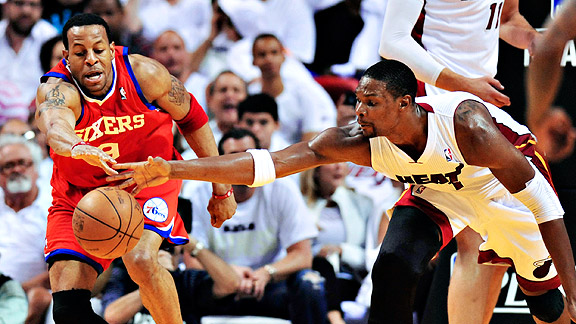 Steve Mitchell/US Presswire
Road wins for underdogs are elusive in a seven-game series. Did Philadelphia let one get away?
MIAMI -- A day after his team's near miss of an upset in Game 1, Philadelphia 76ers coach Doug Collins was still focused on free throws.
"We beat them in every statistic except the free-throw line," Collins said, referring to the Miami Heat's 39 free throws compared to the 76ers' 15 in Miami's 97-89 Game 1 victory. "And that was the difference."
That's not completely accurate. The Heat narrowly had a higher field goal percentage and pounded the Sixers on the boards. But Collins had good reason to be disappointed, though not just because of his perceived injustice at the foul line.
The veteran coach knew his young team had let one slip away in the series opener. In fact, there's a chance it might be as close as the Sixers get to scoring a road victory -- or any victory for that matter -- against the heavily-favored Heat in this series.
Simply, the Heat generally played below average in their first playoff game together, and in different circumstances they might not have gotten away with it -- but they did. Collins might argue it came with an assist of the officials, ignoring the Heat shot 437 more than 76ers during the regular season, but it allowed the Heat to take control of the series.
"I would give us a B-minus or a C-plus," said LeBron James, grading the Heat's overall performance on Saturday night. "We won but we can play a lot better. Everyone looks at us as the better team but this was our first playoff game and it was a 'feel out' game for us."
James shot just 4-of-14 and he didn't make a basket until the late stages of the second quarter. Dwyane Wade was mired in foul trouble and had just 12 points before he led a surge at the end of the game to give the Heat their final separation in the last four minutes. It turned out Wade was battling the beginning stages of a migraine, an issue that held him out of practice on Sunday.
The Sixers showed much more energy and poise from the start and held a 12-point lead after the first quarter. That was a big red flag for Miami, as they were 0-4 this season when trailing by more than 10 points after the first 12 minutes.
Normally when one of the Heat's three All-Stars plays below his average the Heat are in trouble, especially against playoff-quality opponents. Saturday both Wade and James, who scored the fewest amount of points (21) in 10 games, admittedly were off. Yet the Heat survived to win their 16th game in the past 19 tries.
Prudence would dictate that Philadelphia may have missed their shot and the Heat know it.
"It was huge for us [to] win when we shot so poorly as a team," James said. "We know we can play better and they can probably say the same thing. But we were able to win with our defense.
After shooting 61 percent in the first quarter, the Sixers shot just 34 percent the rest of the way as the Heat changed up their defense by introducing some zone. Still it was a one-point game with two minutes to play before Philadelphia missed six of its last seven shots, including two crucial missed free throws by Thaddeus Young.
Had even one of the Sixers' late jumpers gone in, things may have finished differently. Instead, the Heat escaped and vowed to make improvements for Game 2. The expectation is that they will, regardless of Wade's status, and the mountain for the Sixers to climb will likely get taller.
Even as Collins warmed up his gamesmanship with the referee pool, he understood what might have slipped through his fingers.
"We gave ourselves a chance but we could get that big basket," Collins said. "We just couldn't cash in."
April, 16, 2011
4/16/11
11:00
PM ET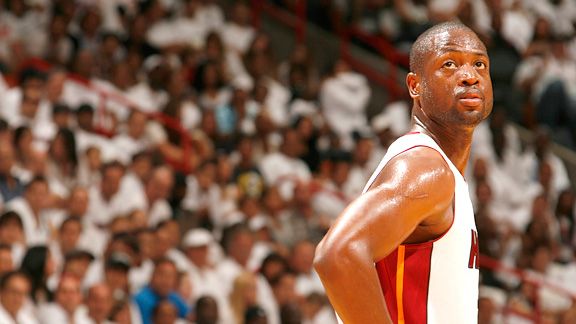 Issac Baldizon/Getty Images
Doug Collins was certain that Dwyane Wade would get the ball down the stretch. He was right.
The Heat won a somewhat inelegant, but hard-fought test in Game 1 vs. the Sixers, 97-89. A few of the more interesting developments
:
Andre Iguodala gets the call on Dwyane Wade
One of the most revealing moments of the afternoon came in the game's closing minutes with the Sixers knocking on the door. After guarding LeBron James for most of the game, Andre Iguodala shifted over to Dwyane Wade down the stretch.
Sixers head coach Doug Collins, in his postgame news conference, was asked about the decision and answered very matter-of-factly. "Wade is going to have the ball," Collins said with an air of certainty. "We had planned on that coming in, that if it came down to crunch time at the end of the game, we wanted our best individual defender on Wade because when Miami really took off this year, they put the ball in Wade's hands."
Considering that Erik Spoelstra has remained adamant that no such designation exists for the Heat, Collins' certitude speaks volumes. Is Spoelstra bluffing when he said, rather petulantly, "I think that's probably so overstated," in regard to the notion that Wade is his closer?
It's possible that both Collins and Spoelstra have legitimate points. If you're Collins, you can do a lot worse than sticking one of the game's most capable perimeter defenders on Wade. In turn, Spoelstra has a point. While Wade has certainly seen his share of the ball in crucial possessions recently, much of the action has been run as a two-man game, with Chris Bosh and the spot-up shooters in prime position to wreak havoc. It's almost unthinkable to believe that James won't be taking crucial shots this spring inside of two minutes.
Still, Collins' position raises an eyebrow. He's a basketball lifer with sharp instincts, and doesn't make defensive assignments without serious consideration.
Philadelphia's first quarter
The Sixers finished the regular season as the 17th-ranked offense in the league, but you wouldn't have known it from their 31 points on 21 first-quarter possessions (a 147.6 efficiency rating if you're scoring at home). The Sixers picked up a few buckets in transition and early offense, as well as a handful of second-chance points, but the bulk of their production came in the half court, a place they usually don't prosper. Overall, they shot 64.7 percent from the field in the first quarter.
How did the Sixers accomplish that? They did it the way efficient teams do -- by getting players the ball where they're most effective. Elton Brand converted five of Philadelphia's 14 field goals in the quarter. After the game, Brand's defender in the first quarter, Bosh, confessed that he was outwitted and put up less resistance than he should have. "There were a couple times he caught me off-guard, and he ducked in and that was my mistake," Bosh said.
The play Bosh is referring to came at about the 6:15 mark of the first quarter. Brand is working on the left block as a screener. First he sets a pindown for Andre Iguodala to free him up to catch the ball up top, then another one for Jodie Meeks who spots up on the left side. Meanwhile, Jrue Holiday sets up on the right side, where Iguodala delivers him the ball. Holiday gets a nice side screen from Spencer Hawes, then moves baseline. Bosh begins to cheat off Brand. Though Holiday almost coughs the ball up, Brand is already a free man. Once Holiday reclaims the ball, Brand simply cuts behind Bosh along the baseline. Holiday finds him underneath, where Brand slams it home -- picking up the foul from Wade, who tries to help.
Brand has his way on the block, but the Sixers also get some nice movement from his teammates. When Holiday penetrates off a side screen from Brand, the Heat defense drops to the level of the ball. Hawes simply flashes into the paint, where Holiday finds him with a bounce pass in traffic.
The Heat ultimately adjust their defense, first with a matchup zone (discussed below), but also by denying the Sixers the ball in their favorite spots. Brand isn't really a factor after the first period. Bosh explains why: "I tried to front him in the post, work him off the block a little bit. I wanted to take away his easy touches. ... I knew that eventually he'd try to move into his sweet spot and try to get good position."
Those sweet spots are the key for Philly, and many of those easy touches Bosh spoke of originate because Holiday is aggressive. After the first quarter, Holiday didn't attack as fiercely. Part of that was a function of the Heat's intensified defense, but some of it wasn't.
Miami's second-quarter zone
After hemorrhaging in the first quarter, the Heat went to a 2-3 zone to start the second quarter. "I had to try something," Spoelstra said. "We've been working on it. It's not something I want to do a steady diet [of] for a whole game, but certainly to try to break their rhythm."
Specifically, what about the Heat's zone disrupted the Sixers? First off, the pairing of Mario Chalmers and Joel Anthony is the Heat's best defensive combination at the point guard and center, respectively. Both guys are rangy and have quick feet. In a scheme that requires quick lateral movement, decisiveness and the ability to shift direction with the movement of the ball, you couldn't cast a better tandem than Chalmers and Anthony. On the very first possession in the zone, a tentative Evan Turner penetrates. Chalmers challenges him at the top of the circle, but Anthony awaits in the paint and swats Turner's floater away.
The Sixers are a team particularly susceptible to the zone because they can't stretch you out with knockdown perimeter shooters. Meeks is the only Sixer shooting anywhere close to 40 percent, and he isn't on the floor for the start of the stretch (though he returns after four disastrous possessions). As a result, the Heat have less ground to cover, and cover it they do. One of the steadfast rules to beating the zone is attack it in the middle. That's what Thad Young tries to do on the next possession -- but there's Anthony again, dashing to foul line the instant Young flashes. Young initiates his left-handed drive, but Anthony is with him the whole way. Young's flip shot isn't close.
On possession No. 3, the ball meanders around the perimeter. When Andres Nocioni finally feeds a flashing Hawes, the Heat knock the ball away -- another turnover. The ball never even crosses the arc on possession No. 4, as Turner and Nocioni play hot potato. Nocioni ultimately settles for a contested jumper.
"The zone kind of keeps everyone out on the perimeter, and it just caught them off-guard," James said. "The few possessions we went to the zone allowed us to get back into the game."
Over the seven possessions the Heat countered the Sixers with the zone in the second quarter, Philadelphia scored only twice. When the Heat experimented again with the zone in the fourth quarter, the Sixers failed to score in two possessions.
Chris Bosh as offensive decongestant
Bosh isn't a screener in the Kendrick Perkins or Tyson Chandler mold. He's not going to paste the opposing point guard or give his teammate a swath of open space the size of Saint Peter's Square. But over the past several weeks, Bosh's screening action has been vital to the Heat's offensive resurgence.
For most of the night, the Sixers did a superb job of containing the Heat's first option. The Heat would run their bread-and-butter elbow sets, clear their point guard to the corner, where he'd set a screen for Wade. But for much of the night, nothing much materialized. The Sixers, as is their modus operandi, chased Miami's shooters off the line. They did a nice job converging on Wade in the paint. And they bumped cutters and bodied up on James.
What opened up the Sixers' defense that was clogging the Heat in the half court?
Bosh in motion.
Simply put, when Bosh dives to the hole, with or without the ball, it scrambles the defense and invariably opens up space. Those angle pick-and-rolls he orchestrates with Wade are producing prolific results. More times than not, Bosh finishes. But even when he doesn't, his presence compromises the defense so much that other opportunities arise. Take a possession in the first quarter. It's a familiar action -- an angle screen-roll with Wade and Bosh. Philadelphia chooses to double Wade, which leaves the weakside big man, Hawes, to pick up Bosh on the roll. Bosh's close-range shot falls off the front lip of the rim, but because Hawes had to help, Zydrunas Ilgauskas has set up shop under the backboard for the easy putback.
We marvel at the Wade-James pick-and-roll, and for good reason -- it's unstoppable. But a Wade (or James) and Bosh combination offers another benefit. When Bosh moves to the perimeter for a stepup screen, he drags the opponent's best big defender out to the perimeter with him. If the defense chooses to trap -- often a good idea if Wade or James have the ball in their hands -- someone has to pick up Bosh. And now you're playing 4-on-3 or, if the defense rotates promptly to Bosh, 3-on-2.
For a defense like Philadelphia's that places a premium on orderliness, staying at home and individual base defense, Bosh on the move with the ball in Wade's hand presents a real problem.
The Heat's traps
Miami's pick-and-roll coverage is one of its defensive calling cards. Given the Heat's personnel, they tend to opt for a "hard show," with their big man jumping out on at the ball handler at the point of attack, then recovering to his original assignment (or, if the other big man has picked up that assignment on the rotation, the other big man).
Many teams choose to trap the ball handler in pick-and-roll situations, but the Heat deploy that tactic very selectively. Spoelstra will rarely call for the trap if the roll man can hurt you from distance with a pop. Furthermore, big men like Ilgauskas, Dampier and (when he plays) Magloire aren't very good candidates to trap. With Joel Anthony, Spoelstra has a bit more leeway because Anthony can smother a guard 25 feet from the basket and quickly drop back to the paint if the play demands it.
Spoelstra is most likely to call for the trap when he wants to pry the ball from a specific point guard's hands. The Heat ran traps at Russell Westbrook, for instance, but most nights call for a straight-up show.
On Saturday, we saw a surprising number of traps on Philadelphia pick-and-rolls. The Sixers run a steady stream of side pick-and-rolls, and more times than not, the Heat would try to pin Holiday against the sideline with the ball by trapping -- even if it means leaving Brand at the foul line extended on the strong side. But even Lou Williams encountered a trap from Mikes Bibby & Miller after a high screen at the top of the floor from Young, then again in the fourth. In the third quarter, Bibby and Ilgauskas trapped Holiday 30 feet from the basket. And Andre Iguodala encountered a trap from James Jones and Anthony as the Sixers were rallying in the fourth quarter.
Spoelstra seems to be varying his pick-and-roll coverage quite a bit, and it will be interesting to see if this is just a Philly thing, or if he plans to continue throwing traps at whomever the Heat confront in the playoffs. With potentially Rajon Rondo and Derrick Rose on deck, could the Heat become -- gasp -- a born-again trapping team?
Follow Heat Index on Facebook
!
April, 15, 2011
4/15/11
7:36
PM ET
By Kevin Arnovitz and Tom Haberstroh
ESPN.com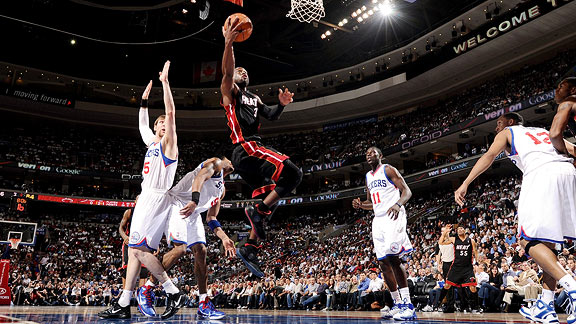 Jesse D. Garrabrant/NBAE/Getty ImagesDwyane Wade's attack will put a ton of pressure on the Sixers' disciplined defense.
Transition could tilt everything
"If they force a turnover, forget about it. It's a dunk on the other end. They're as fast as any team I've seen this year -- other than us."
Those are the words of Erik Spoelstra, but they just as well could have been the words of Doug Collins, the coach on the other end of the sidelines. These two teams love getting out in the open court, and they do it better than anybody else. Spoelstra will tell you the Heat are a running team. He has said this all season. And yet, despite Spoelstra's insistence, the Heat rarely put their foot on the gas. Just 13.1 percent of the Heat's offense this season has come out of transition, ranking them 13th in the NBA in transition frequency. Looking at pace factor -- the number of possessions per 48 minutes -- the Heat rank as the 10th-slowest team in the NBA. They don't play fast.
So what is Spoelstra talking about? He's referring to the team's strength, not frequency. The Heat are lethal when they decide to run, posting the best efficiency in the NBA when they get out in the open floor in transition, scoring 1.224 points per play (the Sixers rank second). But getting into transition is always the hard part. Zoom back to the second quarter of the last Heat-Sixers game, when the Heat went on a 22-3 run, and you'll see how destructive the Heat can be when they poke the ball away. With the rubber-band-stretchy lineup of Mike Bibby, Dwyane Wade, Mike Miller< LeBron James and Chris Bosh, the Heat were relentless on defense, causing turnovers and scoring at will in transition. As LeBron James and Wade barreled down the middle of the court, the Sixers were defenseless against them.
But here's the issue: The Sixers are the least turnover-prone team in the NBA. If the Heat want to go up 1-0 in the series, they have to put on the pressure and exert their athleticism on the Sixers -- without rest. If the Heat get their skirmishes in front of their home crowd, this one could get out of reach early.
Dwyane Wade's opportunities ... and challenges

It seems like an eternity ago when Wade was practicing his post game against Jerry Stackhouse at the far end of the Heat's practice court. After that workout session, a sweaty Wade confessed that, at 28, he'd started to realize it was about time to supplement his aggressive attack game with a post-up game, the sort of evolution Kobe Bryant has undertaken over the past several seasons.
We've seen traces of that commitment from Wade over the course of the season, but in the Heat's previous meeting against Philadelphia on March 25, Wade looked to post up Sixers guard Jodie Meeks at every opportunity. Collins is very reluctant to send double-teams, but Wade's deep position and command over Meeks down low forced Philly's hand. Wade often would pass out against a scrambling Sixers defense. It's a scheme both Wade and Spoelstra like a lot. Will Wade spend considerable time in the post versus Meeks? "No question," Wade said.
While Meeks might have vulnerabilities against Wade as a defender, the Sixers sharpshooter presents a certain challenge for Wade, who has a tendency to slough off his man to help, sometimes unnecessarily, in the paint. Meeks drained three of seven shots from beyond the arc in the teams' previous meeting, and if Wade isn't more selective, Meeks has the potential to burn him again.
How LeBron can beat Iguodala
LeBron James is familiar with Andre Iguodala's game. Maybe too familiar. Talking after the Heat's practice Friday, James rambled off this factoid offhand: "Besides myself, he's the only one in the league this season to average 14 points, six assists and five rebounds." Impressive.
After going head to head against Iguodala over the years and playing with him on the USA teams, James calls Iguodala one of his toughest defenders. And the Heat know how to get the upper hand in the matchup: by not having Iguodala guard James at all. To accomplish this objective, the Heat like to have Bibby set ball screens while James is dribbling out on the perimeter. Bibby is one of the most underrated screeners in the game because he gets his elbows out and discretely grabs the other player's jersey at the point of contact. It's not legal by any means, but he's been getting away with it for years and it works. After Bibby sets the screen, James forces the mismatch on Bibby's man, either Jrue Holiday or Lou Williams, and pounds the ball in the post.
At practice, Spoelstra said we should expect the Heat to employ this strategy (Bibby screening for James) more often in the playoff opener, but he also expressed some discipline. "That's part of our game right now, so I don't think we have to go out of our way to do it," Spoelstra said. "We'll try to exploit a lot of those different things without overdoing it when [the Sixers] get into a rhythm."
There's a thin line between doing it and overdoing it. But keep a close eye on the creativity that the Heat use in getting James mismatches. In the last meeting between these two teams, the Heat had Bibby set down screens on James' man to free the two-time MVP up to do his work on someone else. ESPN Stats and Information tells us that James has shot 25.0 percent (3-for-12) when guarded by Iguodala and 56.3 percent (18-for-32) when guarded by every other Sixer. If Miami can get James matched up against someone other than Iguodala, the Heat will look to capitalize. Moreso now than ever, each advantage counts.
Turning the tables on the Sixers' strong defense
After the last meeting, we discussed
how the Heat were able to take advantage of Philadelphia's disciplined defensive scheme
. Collins has instilled a stay-at-home philosophy. He demands strong one-on-one base defense from his guys, and will send help and double-teams if absolutely necessary. Furthermore, Collins is adamant that his team take away its opponent's 3-point shot.
The Heat leveraged this strategy by forcing the issue in the middle of the floor. What did Miami do? It went to its small lineup, which spaced the floor and allowed Wade and James and, to some extent, Bosh to attack the Sixers off the dribble. This aggressiveness forced the Sixers into a series of bad choices. The Sixers, adamant to stay at home, weren't able to to sufficiently protect the paint against James and Wade. Philadelphia also doesn't have very many shot-blockers to deter those drives.
This is the primary reason Wade was able to go off for 39 points and earn 11 attempts at the stripe. In their small lineup, the Heat also tested Philly by unleashing the Wade-James pick-and-roll on seven possessions, generating an impressive 10 points (1.43 points per possession).
The Sixers can insist that their individual defenders control penetration, but it seems like a futile tactic against the likes of Wade and, to some extent, James (Iguodala might be the one guy on the Sixers' roster who can contain a perimeter attacker like James). How will Collins adjust? We'll see.
The hive of yellow jackets
If you're Bosh, what kind of opponent do you want to see in a seven-game series? Ideally, you'd prefer a team without a true formidable defensive force down low. Fortunately for Bosh, he won't confront many rim protectors against the Sixers. Elton Brand is still a crafty, physical defender with solid instincts, but at this point in his career, Bosh might be a little too quick a cover. Ditto for Spencer Hawes, who bodied up on Bosh for a handful of possessions March 25. Although his big body provided some resistance down on the block, Bosh also has a quickness advantage, particularly rolling to the rim. Fellow Georgia Tech alum Thaddeus Young also drew the Bosh assignment for stretches, but Bosh can easily shoot over the undersized forward. "Chris has an advantage over Thad, off the dribble and on the block," Paul Hewitt, who coached both Bosh and Young at Georgia Tech, said Friday.
Young might be the most fascinating player in the series. He's a candidate for both sixth man of the year and most improved player. Young played the 3 in college but has seen most of his minutes at the power forward slot in Collins' speedy, smaller unit. Hewitt, who makes a point to watch both Bosh and Young whenever he has the chance, has come around on Young's appropriate position. "The more they've played him at the 4, the more confident he's become," Hewitt said Friday. "Now he's playing the 4, but what makes him dangerous is that he's taken those attributes as a 3 with him to the 4."
Whether Young is a 3 or a 4 might be immaterial, given how much Philadelphia's second unit runs, and Young is one of the catalysts for that transition attack. "He's one of the keys to the series because he'll keep one of those three guys busy, whether it's LeBron, Bosh or Wade," Hewitt said. "They have to run up and down the court with him."
Follow Heat Index on Facebook
!
March, 26, 2011
3/26/11
10:30
AM ET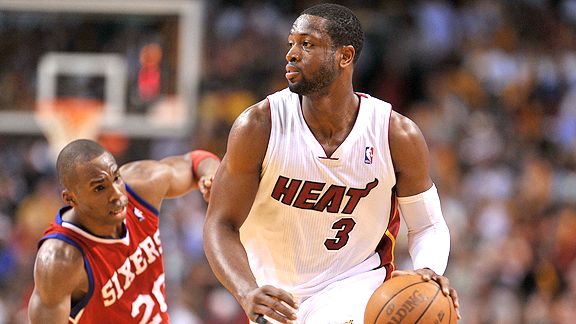 Steve Mitchell/US Presswire
The Heat's plan of attack in a postseason series with the Sixers would start with Dwyane Wade against Jodie Meeks.
MIAMI -- After the Heat's win Friday night over Philadelphia, Sixers coach Doug Collins held his usual postgame interview outside his team's locker room. Every coach in the NBA has a defined style, but Collins' manner might be the most familiar in the league, largely because we listened to his color commentary for years each Thursday night during the season.
The carryover effect from those broadcasts informs not only his delivery, but the substance of what he says. He's more forthcoming about X's and O's, almost as if he's scribbling on a telestrator or breaking it down for the audience at home.
Collins is vested in his team's performance and loves the way his guys have played. He'll tell you that Thad Young and Lou Williams are the two best sixth men in the league, that he's so proud of how players have collectively bought into the simple but demanding brand of defense he expects from them. And Collins is also acutely aware that if the Sixers encounter a Heat team playing its best basketball, Philly is a certain underdog.
"They just have another gear," Collins said of the Heat. "This team is such a great team. They have so many options they can go to. Then when they go to that small lineup they're lethal."
Ever since Udonis Haslem went down with a foot injury Nov. 20, Heat coach Erik Spoelstra has been very selective with his use of that small lineup. For one, both LeBron James and Chris Bosh prefer playing the small and power forward spots, respectively, a scheme that demands a traditional center on the floor. Second, against the Celtics, Magic and Lakers of the world, a small Heat unit presents certain issues, namely the lack of big bodies to contend with opposing 7-footers.
But Philadelphia isn't Boston, and Spencer Hawes and Elton Brand aren't Andrew Bynum and Pau Gasol. Not leveraging the Heat's power and versatility to buy more space for James and Dwyane Wade would be coaching malpractice. Usually there's a price to be paid on the defensive end for going small, but as Collins pointed out after the game, "We're not very big."
Spoelstra is well aware of this, fielded a traditional front line for only 22 of 48 minutes and abandoned it altogether for the final 15 minutes of the game. In their 26 minutes, small units finished +17.
Both at the morning shootaround and after the game (and for years on the air), Collins was emphatic that James is a matchup nightmare as a power forward.
"When you put LeBron at the 4, that's his best position," Collins said. "That's where he is a monster because you can't guard him. And he's big enough to guard you. He's bigger than Karl Malone because he's got speed and quickness and power and grace and agility and skill. So when they go small -- and that's what you're going to see in the playoffs, as much as Chris Bosh probably doesn't want to play the 5, when they put Wade out there and LeBron at the 4 and Bosh and a couple of other guys who can shoot that ball -- they're tough."
For Heat fans and observers who have been wanting to see the team unleash its primal athleticism, Collins' premonition has to be welcoming. But the Sixers' defense is no pushover. Philly came into the game leading the NBA in opponents' 3-point shooting. That tells you something important.
"We don't double team a lot and we don't scramble," Collins said. "Because when you double and you scramble, you give up offensive rebounds and then you're chasing the ball and normally you give up corner 3s."
This is a very Popovichian approach and one reason the Sixers entered last night as the league's ninth-ranked defense. But that philosophy doesn't come without compromise. By faithfully staying home on the perimeter, the Sixers risk having Wade and James abuse the rim if the scorers can beat their men off the dribble. Surrounded by three perimeter shooters and Bosh -- with no Joel Anthony or Erick Dampier clogging up the floor or allowing a defender to help without cost -- there's far more room to do that.
That's what we saw Friday night when the Heat found their game. They forced the Sixers to make an unpalatable choice: Abandon a defensive blueprint that has won them a ton of games since New Year's Day or allow Wade and James to play one-on-one basketball and/or make plays in open space.
In some sense, this is the hallmark of an elite basketball team (or starting pitcher or field general or chess player):
Challenge the opposition to question its core principles, the very beliefs that have allowed it to be successful.
Anyone can take advantage of a weakness, but the really great teams exploit an opponent's strength. That's what Spoelstra and the Heat did Friday night.
Heat Index's
Brian Windhorst provided a prime example
in his game column. As Windhorst noted, the Heat unveiled a new play that worked wonders against Philadelphia's defense. We saw it during the Heat's second-quarter spurt that turned a double-digit deficit into a halftime lead, and it's a winner.
Wade is the ball handler in this set on the right side, with LeBron set up in the right corner. The action is happening off the ball. Mike Bibby is a wily and effective screening guard and Spoelstra has designed a bevy of sets in the last couple of weeks to capitalize on Bibby's capacity to screen big men. Bibby heads over to the left block, where he sets a down screen for Bosh. Once Bosh is freed up, he then sets an angle screen for Wade. Meanwhile, Bibby has vacated to the left wing (courtesy of a screen from Mike Miller), where he spots up beyond the arc.
Wade literally has five options on the play:
Drive down the gut of the lane off the screen from Bosh.
If trapped and he can thread the needle, he can hit Bosh on the drag.
If Andre Iguodala (LeBron's man) opts to collapse, Wade can hit LeBron with a kickout for a wide open 3-pointer (no Sixer is in close enough proximity to close on LeBron).
If Wade moves left off the screen, he has an easy kickout to Bibby if Bibby's man lends help.
Miller is lingering off the left block. His man is a likely helper, so watch for Miller to possibly make a baseline cut or retreat to the left corner, where he can spot up.
As Collins described, Philadelphia is reluctant to scramble, which means Option No. 1 tended to be the best course of action Friday night. After all, is a respectable defense really going to help
off
LeBron James? Let Chris Bosh roll untouched to the rim? Leave 3-point shooters wide open? For Doug Collins and the Sixers, the answer is no.
But this reliance on strong base defense also explains why Wade racked up 39 points and 11 free throw attempts. Jodie Meeks, Wade's primary defender, is probably Philadelphia's weakest man defender. That matchup compounded the problem of Wade for Sixers, who rely on their defenders to contain penetration individually.
Wade was the central figure in the story, but James' work off the ball was also a crucial ingredient, as was Spoelstra's engineering. The Heat were somehow able to construct a play where "LeBron standing over in the corner" actually paid dividends. They also had James screen for Wade eight times in seven possessions Friday.
The yield from those seven possessions? Ten points, or 1.43 points per possession.
Off those pick-and-rolls (usually aided by a down screen for LeBron so that his man is trailing him as he sets the screen for Wade), the Heat generated two mismatches for LeBron (four points), a dribble-drive and-1 for Wade and a kickout to James Jones for an open 3-pointer.
Is Philadelphia an easier matchup for the Heat than either Atlanta or New York? Probably not. Collins has been making adjustments all season long and he's certain to come up with a couple of antidotes if these teams meet next month.
But in many respects, Philly's defensive philosophy -- far more advanced than anything the Hawks or Knicks run -- is a blessing in disguise for Miami. The Heat can't just roll the ball out and try to out-hero the defense. They have to craft a coherent, studied game plan to break down the Sixers.
Though the Heat might not always realize it, that's precisely the kind of exercise that can help tap their full offensive potential.
March, 26, 2011
3/26/11
12:52
AM ET

By Michael Wallace
ESPN.com
Archive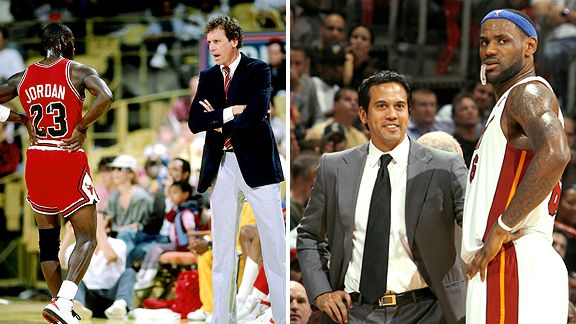 Getty Images
Doug Collins can relate to Erik Spoelstra's plight this season.
MIAMI -- For Doug Collins, Friday night had to feel a lot like looking into a mirror that revealed a reflection from 25 years ago.
When Collins glanced across the court to near the home team's bench at AmericanAirlines Arena, he saw not only a coach he recognizes and deeply respects in Erik Spoelstra, but he saw the type of challenge and talent he once had back when he was Spoelstra's age.
In his third or fourth act as a head coach in the NBA, Collins has quietly delivered one of the NBA's best performances in guiding the Philadelphia 76ers from last year's draft lottery to playoff contention this season.
But he's been more impressed with the job Spoelstra has done in Miami amid all the noise.
"My hat's off to Erik," Collins said Friday before the Heat's 111-99 victory over the 76ers. "They're the most scrutinized team in the NBA, and so every day, he has to deal with every different kind of issue you could deal with. That takes its toll. And that doesn't even count coaching the game."
Spoelstra has frequently addressed the "white noise" and scrutiny that have engulfed the Heat this season because of the presence of LeBron James, Dwyane Wade and Chris Bosh -- as well as the boastful, in-your-face way they came together in free agency last summer.
The Heat coach has had to manage several mini-crises, including complaints leaked to the media that some of his players were dissatisfied with the system during that 9-8 start in November. He's also withstood relentless speculation about his job security, with team president Pat Riley looming in the shadows.
Through it all, Spoelstra has publicly maintained an even temper, a tough chin and an unwavering commitment to holding his stars accountable on both ends of the court. With Friday's victory, the Heat improved to 50-22, giving the franchise its first 50-win season since the 2005-06 championship run and the seventh in franchise history.
Spoelstra's win total has improved over each of his three seasons since he succeeded Riley on the bench following the 2007-08 season. Collins has admired Spoelstra's work from afar, even though it's unlikely Spoelstra will land any higher than fourth on most ballots for coach of the year.
Collins remembers the blessings -- and curses -- that can come with coaching a roster loaded with promising talent and filled with expectations. He said Friday that there might be some similarities between the coaching challenges he faced while leading Michael Jordan, Scottie Pippen, Horace Grant and the Chicago Bulls in the late 1980s, and what Spoelstra has to deal with guiding the Heat's big three.
But there also are a few distinct differences.
"When Scottie and Horace came in, they were not established," Collins said of the first three seasons Jordan, Pippen and Grant played together. "But you're talking about LeBron James and Dwyane Wade being megastars. I obviously had Michael, who was a megastar. Scottie became a megastar. Aside from Michael, our guys had never really played before."
In essence, Collins' job was to mesh an elite star in Jordan with promising young sidekicks in Pippen and Grant. That process proved difficult enough for Collins, who went 137-109 and advanced to the playoffs each of the three seasons he coached the team. He was replaced before the 1989-90 season by then-assistant Phil Jackson, who presided as the Bulls blossomed into six-time NBA champions.
Spoelstra has had to find a way to get three established NBA All-Stars on the same page and guide the team through its growing pains under one of the most intense media spotlights the league has ever seen over the course of an 82-game regular season.
Collins had the challenge of coaching only one Michael Jordan. Spoelstra has the task of trying to manage the ego, pride and talent of two players who are seen, in some circles, as comparable to "His Airness" in many regards.
That, in and of itself, makes the job Spoelstra has done this season stand out among many, Collins said.
"You're taking guys who were averaging 25 points a game and putting them all on the same team," Collins said the very night James, Wade and Bosh each had a double-double, and combined for 91 points, 31 rebounds, 10 assists, six steals and six blocks. "Not only that, they're larger-than-life figures off the court. So you're dealing with that dynamic as well."
Collins was in his late 30s when he coached the Bulls, about the same age Spoelstra is now. Collins was swallowed up by all of the pressures, issues, clashes and expectations that accompanied the challenge.
These days, Collins is older, wiser and more patient, and approaches his job with the rapidly improving 76ers almost as much as an educator as a coach. He has taken on a team that was expected to go nowhere and has guided it into a potential first-round playoff matchup with the Heat.
Yes, Spoelstra's team. If nothing else, Collins is familiar with the temperature of the pressure cooker Spoelstra has had to work inside this season.
"What he's done with this team -- first of all, they're a terrific defensive team," Collins said of Spoelstra. "When you add those kind of offensive stars, and you're trying to get them to share the ball and do the things they're doing, Erik has done a great, great job. He's one of the young, rising stars in this business. I think he's handled himself with incredible class and dignity."
If the Eastern Conference standings hold true to current form, Collins could be seeing a lot more of Spoelstra next month when the games and the moments matter far more than they did Friday night.
The older, wiser, veteran coach has done some of his best work in the relative shadows, while the younger, spunkier leader has had to grind under the spotlight.
There might not be a lot of envy between Collins and Spoelstra, who have had two of the tougher jobs in the league this season.
But there's certainly plenty of admiration.
March, 25, 2011
3/25/11
12:42
PM ET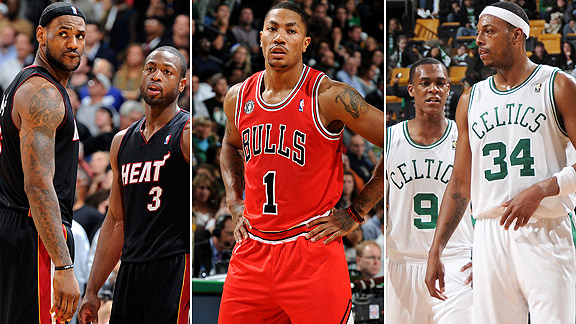 NBAE/Getty Images
The Eastern Conference is back, and the NBA is better for it.
Drawing conclusions from anecdotal evidence provided by taxi drivers, old friends and bartenders can be dangerous. But we don't need a full demographic survey to know that the NBA's regular season has captured the attention of people who were previously disinterested in pro ball -- certainly before mid-May.
The television ratings are conclusive. Ratings are up 27 percent on ESPN and 38 percent on ABC over last season. And it's not just the Heat driving interest. Strip away Miami games and ratings are still up 17 percent over last season on ESPN. The nation's economy is sluggish and much of the United States has endured a brutal winter, conditions that tend to keep folks inside and in front of their sets.
But there's a more likely diagnosis for the uptick in interest: The league is more competitive and its storylines more fascinating than ever. And much of that can be attributed to a revitalized Eastern Conference.
It's not just that superstars have relocated or that the overall strength of the conference has increased. Sure, competitive balance always makes for a more interesting landscape, but what's emerged is far more riveting than that. The current Eastern Conference reads like a good novel.
For the first time in a long while, we have a scrap heap atop the standings of teams that have carved out compelling identities. The upstart Chicago Bulls have established themselves as a squad with a high collective basketball and emotional I.Q. --
a team that has fully bought in
and doubled-down on the defensive philosophies of the rookie savant coach who paces the sideline. Watching the Bulls' confidence grow over the season has been hugely entertaining.
You can't ask for a better incumbent power than the Boston Celtics. The C's are struggling right now -- just as they did a year ago at this juncture of the season -- but there isn't a team more serious about the business of basketball than the Celtics. That level of austerity has repeatedly victimized and intimidated playoff opponents, no matter how much raw athleticism, star power and camaraderie those opponents bring into a series.
Fair or not, the Heat elicit more hate than any team in NBA history. The late-80s Pistons more readily embraced their loathsomeness, but nothing compares to the venom the Heat attract from detractors. Maybe that's a manifestation of the Internet and the several million ways fans can convey their disgust for the Heat, but like our editor here says, that hate is the salt in the ocean that is the 2010-11 NBA season. Even though that ire doesn't make a whole lot of sense to me, I appreciate it as an essential feature of the story. The NBA needs villains as a narrative vehicle and LeBron James, Dwyane Wade and Chris Bosh have served admirably in that capacity.
The Magic's gutsy but desperate attempt to hang in the ranks of the East's elite has made for good theater. Some nights, Howard's presence under the rim and the precision of their inside-out half-court scheme look like the machine that hummed through the bracket in 2009 (and the first two series in 2010). The Magic's precariousness coupled with the ingenuity of their combustible coach make Orlando the wild card as the No. 4.
For dramatic purposes, it's good for the 5-through-8s to carry some intrigue, and no team has offered more than the Knicks. Carmelo Anthony's protracted story continues to swirl, as the success of his former team outshines what's transpired on the west side of Manhattan since the trade. After crawling through the wilderness for the better part of a decade, Knicks fans unleashed a barrage of boos on their team Wednesday night as the seconds ticked away on another home loss.
The reclamation project in Philadelphia has coaches studying film furiously to identify exactly what Doug Collins has injected into the bloodstream of his squad. The Heat might not say it aloud, but they'd much rather try to score buckets against New York or Atlanta than grind out games against the Sixers' quick, athletic and responsive defense. Even poor Atlanta, wallowing in its lost potential, will every once in a while show flashes of that team we fell in love with when they scrapped with Boston as the No. 8 seed in the 2008 postseason.
Arguing about the best (or worst) sports cities in North America is a timeless parlor game, but New York, Boston and Chicago are unquestionably in a select group -- old, ethnic cities that place a premium on civic pride (which is different than boosterism). These cities serve as national reference points. They aren't places I want to live -- I hate it when my contact lenses freeze onto my eyeballs -- but their relevance as NBA destinations draws in impartial fans and excites the more diehard ones.
The East has been building momentum for a few seasons, but its full-scale relevance has finally arrived. It's no longer the NBA's alternate reality -- but its actual one.