Miami Heat Index:

Dwayne Wade
May, 29, 2014
May 29
8:57
PM ET

By Michael Wallace
ESPN.com
Archive
MIAMI -- The
Indiana Pacers
have coveted the Miami Heat's undivided attention all season.
And if they didn't gain it completely over the first four games of the Eastern Conference finals, they certainly have it now after stubbornly avoiding elimination by any means necessary -- and at all costs -- to force Game 6 on Friday at AmericanAirlines Arena.
After racking up $40,000 in player fines over the past three days for flopping violations and complaints about officiating, the Pacers have officially become a clear nuisance to the Heat. Add in the reaction to Indiana guard Lance Stephenson's shenanigans that have included blowing into the ear of
LeBron James
during the Pacer's 93-90 victory Wednesday, and it would be an understatement to say Miami is annoyed.
At this stage, the Pacers fall somewhere between pesky mosquitos invading a picnic and a group of petulant children acting out at a toy store in the mall.
"It's the Eastern Conference finals," Heat center
Chris Bosh
said Thursday of the irritant Indiana has become. "I've never seen anything like that at a level of basketball like this. I treat it like the kids, for all of us who have kids. If they throw a tantrum on the floor, just leave them alone and they'll stop. We just have to concentrate on what we're doing and leave all those other extra-curricular activities alone."
[+] Enlarge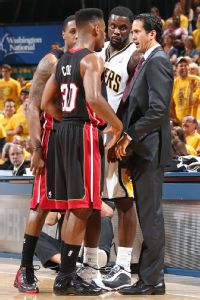 Nathaniel S. Butler/NBAE/Getty ImagesAfter doing his best to get under Miami's skin, what will Lance Stephenson do for an encore in Game 6?
Bosh missed a potential game-winning 3-pointer in the final seconds on Game 5 that would have ended the series and advanced Miami to the NBA Finals for the fourth straight season. Now back home for Game 6, the Heat get another shot to rid themselves of their Pacers problem.
But much like any pest, the Heat know these Pacers won't go away easily.
And a strong case can be made that Indiana is a more dangerous threat now that, as the No. 1 seed in the East, they escaped what would have been a demoralizing and more embarrassing ouster on their home court. With James coming off the worst playoff game of his 11-year career, an outing reduced to 24 minutes, five fouls and a career-low seven points, Miami enters Game 6 with a Game 7 mentality.
Despite everything that went wrong the previous game, the Heat took some solace in knowing they overcame several challenges to still have a shot to win it at the end of Wednesday's game. But the three-point loss produced three key concerns Miami worked on Thursday to address.
With James sitting for extended stretches of the first three quarters, the Heat didn't attack the paint and the rim nearly enough and finished with just eight free-throw attempts. With reserve center
Chris Andersen
, Miami's leading rebounder and most active big in the series, sitting out a second straight game with a bruised thigh, the Pacers corralled 16 offensive rebounds to extend possessions.
But the most disturbing stat for the Heat was seeing Indiana convert Miami's 17 turnovers into 21 points.
In other words, Stephenson's sideshow may have gotten under Miami's collective skin. But the Pacers were far more productive as a team in knocking the Heat out of rhythm after they won three straight games to take a commanding 3-1 series lead.
That, in part, explains why James seemed to be more annoyed with questions after Thursday's practice about Stephenson's actions than he is with the feisty guard's play during the games.
"I'm not going into [Game 6] worried about Lance or his antics," James said. "I'm just trying to win a game. For me, I move on and that's why I'm able to stay to the grind I'm in and be better the next day."
James said several factors contributed to the Heat's loss beyond picking up his fifth foul early in the third quarter. Pacers forward
Paul George
torched Miami for 37 points and six steals in his best game of the series, and
Roy Hibbert
and
David West
combined 29 points and 22 rebounds.
"We just didn't get to the free-throw line," James said, voicing similar concerns that George expressed after games in Miami earlier in the series. "We were aggressive, we shot the ball well. We just didn't get to the line. I feel like we played well enough to win. They made some big shots. It's the two best teams in the Eastern Conference for a reason. They'll make adjustments. We'll make adjustments."
Heat coach Erik Spoelstra suggested that any tweaks at this point in the series would be minimal, and primarily mental. From a personnel standpoint, Andersen remains questionable for Game 6 and the Heat likely will continue to rely on smaller lineups to stretch the floor with shooters.
Miami was 15-of-31 from 3-point range in Game 5, with six different players knocking down at least one from beyond the arc. The shooting display was highlighted by a breakout performance from
Rashard Lewis
, the once seldom-used veteran who was 6-for-9 on 3-pointers.
If the Heat were haunted or frustrated by the one 3 that didn't fall at the end, Spoelstra wanted his team to use Thursday's light practice and film session to dissolve any hard feelings or lingering issues.
"I wanted that frustration and anger and emotion today," Spoelstra said. "[Friday], it's [about] clear heads. We didn't want to leave it all to [Friday]. It still comes down to the main thing being the main thing. It's two contrasting styles. Who can get the game on their terms? Can we impose our identity on the game and play it more on our terms?"
The Heat aim to find answers quickly and keep the Pacers from gaining more confidence and traction.
Fewer than four percent of teams in NBA history have rallied from a 3-1 deficit to win a series. A Heat loss sends the series back to Indiana on Sunday for Game 7 -- the exact scenario the Pacers have targeted since their Game 7 of the conference finals last year in Miami.
A victory sends the Heat back to the Finals, where they attempt to become just the fourth franchise in NBA history to win three consecutive championships. If the last game was filled with bizarre moments, expect the intensity and desperation to reach even higher levels with so much at stake Friday.
"We're at home to close out a series -- that's the best scenario for us," Heat guard
Dwyane Wade
said. "So we're in a good position. We've seen it all, they've seen it all. Everyone has their own tactics and antics. What we have to do, what we've always done, is focus on the task at hand, focus on basketball."
That means focusing like never before on these attention-seeking, pesky Pacers.
May, 9, 2014
May 9
1:33
AM ET

By Israel Gutierrez
ESPN.com
Archive
MIAMI -- After a surprisingly comfortable win in the series opener against the Nets, the Heat spent a day and a half discussing how much more of a grind Thursday's game would be.
In fact, Erik Spoelstra said after Miami went up 2-0 in the series that "maybe we talked about it too much." It seemed they'd done such a thorough job convincing themselves this Game 2 would be ugly that the Heat found themselves easily caught in Brooklyn's web.
Slower ball movement, more isolation play and a handful of uncharacteristic shots had Miami fulfilling that prophecy before the game could even develop its own identity.
Dwyane Wade
was a major contributor to those early struggles. He missed six of his first seven shots, had a difficult time containing
Shaun Livingston
, who led the Nets starters with 15 points, and it appeared this would be a game where
LeBron James
would have to do much of the heavy lifting if Miami was going to head to Brooklyn with a 2-0 series lead.
Fortunately for Miami, all the talk predicting this style of game had Wade in grind mode from the start.
[+] Enlarge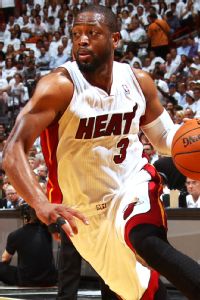 Issac Baldizon/NBAE/Getty ImagesAfter a slow start to Game 2, Dwyane Wade turned it up during Miami's fourth-quarter charge.
Regardless of the missed shots and initial defensive missteps, the mindset for Wade was to do the dirty work, figuring there would be plenty of it available.
You saw signs early, like when he missed an open 3-pointer then immediately stole an outlet pass from Livingston, leading to a new possession that ended in James free throws.
But it wasn't until the fourth quarter that Wade was truly rewarded for willingly performing all the menial chores.
Miami entered the fourth quarter leading 69-67 and with LeBron on the bench for his regularly scheduled rest.
That's when Wade saw his chance to drag the Heat out of the quicksand.
He started by backing down the bigger, sturdier
Mirza Teletovic
for a short shot in the lane.
He picked up a steal from a
Kevin Garnett
pass and added a 20-foot jumper. Four free throws later, Wade was able to stretch Miami's lead to 79-73, all without any help from LeBron.
Unless, of course, you count the encouragement LeBron offered in the opening half.
"In the first half, I went up to [Wade] and said, 'If you have a shot, you gotta take it. Don't turn up really great shots,'" James said. "In the fourth quarter, he got into his rhythm, got to his pull-up, got to the free throw line, and that definitely helped out a lot."
And on the possession that defined this game for Miami -- the 1-minute, 40-second possession that included three offensive rebounds and four chances for the Heat -- Wade was vital.
He tipped out LeBron's second miss of the possession (James took all four shot attempts in that extended possession) for one of his seven rebounds, and he finished off the possession with a no-look pass to LeBron for the layup that put the Heat ahead by 10 and gave Wade one of his seven assists.
Turns out, being in grind mode from the early moments helped make that moment possible for Wade and the Heat.
"You could tell early just how your night's going offensively," Wade said. "I saw I was struggling a little bit, so I wanted to do the little things. I wanted to do other things until that opportunity came where I could really help us offensively.
"Obviously, the fourth quarter became a big part of that, but throughout the game defensively, passing the ball, rebounding the ball, doing all the little things I needed to do until my offense came around."
Perhaps the best sign for Spoelstra was Wade's ability to play the entire fourth quarter. It's a rarity for Wade these days, but the situation called for a little extra from the Heat's all-time leading scorer.
"I thought that I was going to have to take him out at some point, but it was so close, and it got to the six-minute mark, five-minute, four-minute -- 'You're gonna have to finish this thing out,'" Spoelstra said. "He dug deep for that one, and that's what makes Dwyane special. He figures out different ways where you can impact a win. It's not just scoring."
Wade said he didn't even consider sitting in the fourth.
"We didn't even need to have that conversation," Wade said. "Winning time. If I needed [a break], I'd look at Coach and say, 'Give me a quick one.'
"I felt good as far as my wind, and everything like that."
And that has to make the rest of the Heat feel good. Through six games this postseason, Wade is averaging 16.3 points on 48.1 percent shooting. Last postseason, when a deep knee bruise limited him, Wade averaged 15.9 points on 45.7 percent shooting in 22 games.
Thursday's performance, though, felt more like one of last postseason's games for Wade, gutting it out however necessary.
The Nets did indeed make this contest significantly more uncomfortable for the Heat. It just so happens Wade looked rather comfortable in that setting.
December, 28, 2013
12/28/13
3:52
AM ET

By Michael Wallace
ESPN.com
Archive
SACRAMENTO, Calif. -- If there is any benefit to playing a tough back-to-back set on the road, it's that the
Miami Heat
won't have long to stew over the sting from Friday's overtime loss to the
Sacramento Kings
.
Up next on the schedule: Saturday's stop in Portland to face a Trail Blazers team that is tied with Oklahoma City for the NBA's best record at 24-5. Arguably the league's most surprising team, the Blazers will be catching a Heat team that will be limping into Portland.
LeBron James
strained his right groin and also aggravated his sprained left ankle in Friday's 108-103 loss to the Kings, and said he wasn't sure if he would play in Saturday's showdown between the two-time defending champions and the upstart Blazers.
The Heat are also dealing with injuries issues that kept
Dwyane Wade
(knee rest),
Ray Allen
(knee soreness) and
Chris Andersen
(back) out of Friday's game against the Kings. James has yet to miss a game this season despite dealing with a variety of nagging ailments that also include his early-season battles with back spasms.
James is slated for treatment throughout the day Saturday, and will be reevaluated before the game against the Blazers. Regardless of the injury report, Heat center
Chris Bosh
said Saturday's game still sets up as a significant test for both teams as they try to carry momentum into the new year.
"They're pumped up, and they feel that they have a pretty good chance this year," Bosh said of the Blazers. "I'm sure that they're using this game -- just like we are -- as a measuring stick for where they are, and just to get up there and compete. We're playing one of the best teams, record-wise, in the league and it should be a lot of fun."
Miami has split the first two games of the trip after beating the
Los Angeles Lakers
on Christmas. But the Heat will try to regroup from Friday's loss that ended a six-game winning streak -- and also stopped them one victory short of tying the Boston Celtics' record of 20 consecutive regular-season victories against Western Conference opponents.
The Heat squandered a 17-point, first-half lead and saw the Kings close the gap on a flagrant foul
Mario Chalmers
committed when he shoved
DeMarcus Cousins
with 1 minute, 19 seconds left in the fourth quarter and Miami ahead by four. Cousins made both free throws and
Rudy Gay
's jumper on the ensuing possession tied it at 89 and forced the extra period.
Despite the injuries -- and poor play in the third quarter, when the Kings outscored the Heat 29-18 -- Heat coach Erik Spoelstra said there were no excuses for the loss. Miami lost despite holding a sizeable lead and converting 23 Sacramento turnovers into 23 points. But that's behind the Heat now.
The next challenge on the schedule looms even larger.
"We'll have to rest up and get ready," Spoelstra said. "[Saturday] night at 7:30 [PT], we'll have to lace them up."
Wade, who is expected to be back in the lineup against Portland, said the Heat have a chance to respond to increasingly difficult opponents.
"Four games on the West Coast, and they get tougher and tougher as we go along," Wade said, with the trip ending Monday against Denver.
"But this should be a great test for us. Right now, we're just trying to find ways to win. And that's what the season is about. You're going to have some impressive nights and everything is going to go well. But sometimes it's not. And you just have to find a way. That's what this team is great about -- just finding a way."
January, 12, 2011
1/12/11
11:43
AM ET

By Tom Haberstroh
ESPN.com
Archive
Did you miss the Blazers game on Sunday night? Do you wish you saw how the Heat's small-ball lineups carved up the Blazers defense?
Don't worry,
Couper Moorhead at Heat.com
has you covered.
In a thorough and video-filled article posted yesterday on the team's official website, Moorhead analyzed the Heat's small-ball attack late in Sunday night's game. By planting James Jones in the corner and pulling LaMarcus Aldridge away from the paint, the Heat open up the key for Dwyane Wade and LeBron James to flourish. (
Jones talked about this very thing with Kevin Arnovitz after the game
).
But sometimes, they don't take advantage of that space. Moorhead explains how the Heat aren't maximizing their opportunities:
In overtime, though, despite scoring 1.55 points per possession, a small limitation of the line up cropped up, mostly due to shot selection. The Blazers had Camby on Bosh and Aldridge on Jones, both HEAT players drawing their men far outside the paint, and with bigs on the outside, Portland's rotation slowed, making it easier for Miami to earn open looks just from perimeter ball movement.

But, other than a pair of free throws, every single one of Miami's shots was a jumper after the Blazers had a break to slow down and adjust. Most fell, and the HEAT won, but taking perimeter shots with the middle of the floor wide open can defeat the purpose of the small lineup, and enlarge the defensive risks a team takes in using it. Basically, why have James guarding a center if the HEAT aren't going to fully utilize the spacing they've manufactured?

...

Against a skill five, or one that can throw his size around, things get tougher, because going small does nothing to change that Miami depends on getting stops in order to activate its transition offense.

But the broader point is that playing James at center is not intended to work every game or become the starting lineup. It's intended to be a weapon, one that can maximize the assets the HEAT already have by pulling opposing big men out of the lane, giving James, Wade and Bosh free range to work as they please in the middle of the floor.
Moorhead points out that we shouldn't expect to see small-ball every night despite their success on Sunday night. The Heat can ill-afford to play without a traditional center when the opposing five has scoring ability -- something that doesn't describe Camby.
But Sunday night wasn't the first time the Heat prospered with Chris Bosh being their tallest player on the floor. Far from it. Earlier this season, Spoelstra often featured Bosh there with 6-foot-8 Udonis Haslem at the power forward slot when the opportunity arose, and the Heat trounced their foes.
All in all, the Heat have shown the small-ball lineup for approximately 185 minutes this season and have outscored opponents 442-380 during that time. On a per-100-possession basis, that translates to 118.2-104.1 for a point differential of +14.1. The Heat's normal point differential is +11.1.
The Heat are scary good in small-ball lineups and Spoelstra knows it. But it's another thing to convince his players that it's worthwhile to be undersized. The scoreboard may be the only sales pitch he needs.
December, 7, 2010
12/07/10
12:11
AM ET

By Tom Haberstroh
ESPN.com
Archive
The Heat rolled to their fifth consecutive double-digit victory with their 88-78 win over the Bucks Monday night. But with the Utah Jazz coming up on Wednesday, the Heat better leave these three issues in Milwaukee.
LeBron and Bosh's Passive Play


Opposing defenses have made it a top priority to pack the paint against the Heat and force the Big 3 to beat them from the perimeter. It's a sound strategy but almost impossible to fully execute against all three. While Dwyane Wade was in full-on attack mode throughout the game on Monday night, LeBron James and Chris Bosh failed to follow suit, playing into the Bucks' hands.
Twenty of Bosh and James' 33 total shot attempts came outside the paint and the two stars combined for just four free throws the entire night (their lowest sum of the season). Bosh actually didn't even get to the line which marks the third time he failed to reach the stripe in a game this season. That's unacceptable against a foul-happy team like Milwaukee.
Ever since Cleveland, James has fallen in love with his mid-range game and his opponents should consider every fadeaway jumper a victory, regardless if he makes it or not. Credit Bogut for deterring his penetration on multiple occasions, but LeBron will have to show more aggression as the team heads out West.
Chalmers back to his old ways


With his gimpy ankle finally 100 percent, Mario Chalmers worked his way back into the Heat rotation and it looked like he put his disappointing sophomore campaign behind him. But the third-year point guard returned to earth on Monday night, trying to do too much with the ball when he didn't need to force things.
After recording just one turnover since November 13, Chalmers coughed up the ball four times on Monday night in just 24 minutes of action. The Kansas product turned it over within seconds of entering the game in the first quarter, losing the ball on an ill-advised dribble-drive, and that set the tone for his night. Whether it was catching his own airball after a forced layup on two defenders or retaliating after a hard pick from Andrew Bogut, Chalmers apparently left his composure back in Miami.
Chalmers certainly didn't instill much confidence heading into their Wednesday match-up against the Deron Williams-led Jazz team. The Miami backup point guard didn't play in the overtime loss against Utah earlier this season but after tonight's ugly performance, Spoelstra may be reluctant to give him important minutes again this time around.
Center of attrition


The Heat don't expect the world from the center position but the dearth of production as of late is mind-boggling. Up until Erick Dampier's put-back with 41 seconds left in Monday night's game, the Heat centers had failed to score a point dating all the way back to last Thursday's game in Cleveland when Joel Anthony hit an early fourth quarter jumper.
All in all, it was 106 scoreless minutes from the five spot.
Since that Anthony jumper in Cleveland, Miami centers Anthony, Zydrunas Ilgauskas and Erick Dampier put together what can only be assumed as one of the saddest collections of stat lines in NBA history. Combined, the three missed 10 of their 11 field goal attempts, recorded more personal fouls (18) than rebounds (17), and failed to reach the free throw line in 107 minutes of action.
It's hard to pinpoint which one of those stats is the most worrisome. But as staggering as the lack of scoring punch may be, it's the rebounding that should cause the greatest concern. Dampier was brought in to help fill the void after Udonis Haslem got injured but it's clear that at 35 years old, nailing his feet to the floor wouldn't make a difference. He collected a respectable five rebounds in 24 minutes but he's nowhere near the rebounding presence he was in Dallas. He and Ilgauskas have zero springs left but they'll continue playing the 5 spot as long as they have their stilts.