Miami Heat Index:

Eastern Conference finals
May, 29, 2013
5/29/13
2:45
AM ET

By Michael Wallace
ESPN.com
Archive
INDIANAPOLIS -- With the
San Antonio Spurs
having already advanced to the NBA Finals, coach Erik Spoelstra scoffed when asked at Tuesday morning's shootaround if the
Miami Heat
had any extra incentive to hurry up and finish off the
Indiana Pacers
in the Eastern Conference finals.
Expressing his displeasure with the line of questioning, Spoelstra pointed out the fact that the Heat had their hands full enough trying to finish off games against the Pacers.
"We had a four-point lead late in the fourth quarter in our building and lost Game 2," Spoelstra reminded reporters. "We're in an absolute dogfight of a series right now."
Spoelstra's message was clear Tuesday morning: If anyone had preliminary thoughts of a potential Heat-Spurs matchup, their minds were completely in the wrong place.
A few hours later Tuesday night, the Pacers went out and proved why the race to represent the East is far from over.
After answering multiple runs the Pacers made from the outset, the Heat sputtered down the stretch amid foul trouble and a late offensive drought in a 99-92 loss that tied the best-of-seven series at 2-2 entering Game 5 on Thursday.
The setback ended a five-game road playoff win streak this postseason for Miami, which had won 23 of its previous 24 contests away from AmericanAirlines Arena. But the Heat faltered after a handful of uncharacteristic problems and breakdowns in addition to stiff defense from the Pacers.
[+] Enlarge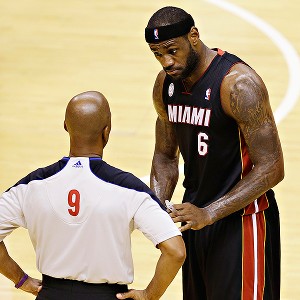 AP Photo/AJ MastLeBron James fouled out for just the second time in his playoff career on Tuesday night.
LeBron James
was disqualified on an offensive foul with 54 seconds left after picking up four of his six fouls in the final seven minutes of the game. And
Dwyane Wade
was whistled for a rare traveling violation the next possession. It was the culmination of a stretch in which the Heat were outscored 13-3 over the final five minutes of the game.
"You would like to be out there on the floor … be there for my teammates, especially in the closing minutes when we have a chance to win," said James, who fouled out of a game for the first time since Game 4 of last year's conference finals against Boston. "I wasn't able to do that."
James seemed to be affected by officiating calls throughout the game. He was assessed a technical foul at the 2:48 mark of the first quarter after a brief exchange with Indiana guard
Lance Stephenson
. James committed only one foul in the first half, but a steady stream of whistles started to come with two seconds left in the third when he was caught for extending his elbow into Pacers forward
David West
.
But James wasn't the only Heat player in a foul mood because of the officiating. Wade and
Mario Chalmers
each had five fouls and
Chris Bosh
had four.
Despite the foul trouble, Miami still rallied from a nine-point deficit early in the fourth to pull ahead 89-86 on
Ray Allen
's 3-pointer with 5:14 left in the game.
After the game, James went through the checklist of all the fouls that were called on him in the second half. He acknowledged fault on some, but questioned others.
"That's how the game goes sometimes," said James, who had 24 points, 6 rebounds, 5 assists, 3 blocks and a steal in 43 minutes. "I was able to get it going a little bit in the second half, but I played mostly with foul trouble."
The Heat were in a similar position in Game 2 at home when they led 88-84 with six minutes left before the Pacers closed on a 13-5 run to earn a split after losing Game 1. On Tuesday, Miami missed 12 of 19 shots in the fourth quarter and was outrebounded 16-4 in the period. It was an equal opportunity meltdown for the Heat, who sputtered offensively and couldn't keep the Pacers off the boards.
With
Roy Hibbert
and
Paul George
attacking and controlling the lane in the fourth, Indiana scored 14 of its 22 points in the paint. And seven of those points came after crashing the offensive glass and scoring on putbacks.
There were multiple explanations for the late miscues.
"It's different things," Spoelstra said. "This one was finishing our defense. When we had opportunities to finish the last five seconds all the way to the rebound, secure the possession … we just couldn't corral those second chances. It seemed like that was the biggest difference."
Offensively, Wade said the Heat just stopped hitting the same shots they made to answer each of the Pacers' previous spurts, which included an 11-0 start to the game.
"Take nothing away from them, they're a great defensive team," Wade said of the Pacers. "But we got good shots. We just didn't execute. It's tough, but that's the game of basketball. You win some and you lose some."
Bosh suggested the late-game issues were more complex and included instances of abandoning certain play calls.
"It's not our rhythm, we just have to focus a lot more," said Bosh, who played with a sprained right ankle in the second half and had seven points and three rebounds. "That's really it. Some plays we had, we didn't run them. Most of the time you just have to get right into it, trust what we do."
Bosh declined to talk about the extent of his injured right ankle, but said he expected to play Thursday in Miami after getting treatment throughout the day Wednesday.
"It's not [an] issue," Bosh said. "It's the playoffs. You're going to have ups and downs. It's not about what happens, but it's about how you respond. I'm just going to watch some cartoons, eat some cereal and get ready for Game 5."
For the second time in four games, the Heat felt they allowed a game to slip away. On some levels, they also believed Tuesday's outcome was beyond their control.
"We just couldn't catch a break, that was the main thing," said Chalmers, who had 20 points in his best game of the series. "Every time we got going, there was a whistle for a foul or a kicked ball or something like that. It's just something that we have to keep working through."
May, 23, 2013
5/23/13
11:31
PM ET

By Michael Wallace
ESPN.com
Archive
MIAMI -- Before the
Miami Heat
try to take a 2-0 series lead Friday in the Eastern Conference finals against the
Indiana Pacers
,
Chris Bosh
had a confession to make about the closing seconds of his team's overtime win in the opener.
He was never an option.
Not even close. At least not on the final play.
When
LeBron James
caught the inbound pass with 2.2 seconds left and drove for the buzzer-beater layup that downed the Pacers 103-102 in Game 1 on Wednesday, Bosh wasn't the Heat's second, third or fourth go-to player.
In essence, he was the getaway guy.
"I had to flare to the weak side," Bosh said of moving as far away from the ball as possible at the most pivotal point in the game. "If the lob was there, maybe [I'd get it]. But I knew it wasn't going to be there. I was never an option. When we drew up the play, we knew where it was going."
Pacers coach Frank Vogel still didn't come right out and admit it Thursday. But it was Bosh -- more than James -- that he feared on that last play in Game 1. So psyched out by the threat of Bosh's versatility, Vogel kept shot-blocking center
Roy Hibbert
on the bench in a move that cleared the path for Miami's victory. It was a smart gamble that backfired.
[+] Enlarge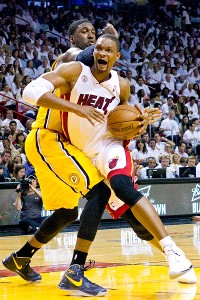 C.W. Griffin/Miami Herald/MCTChris Bosh's ability to score from inside and out could cause issues for the Pacers.
And as the Heat and Pacers make adjustments entering Game 2, Bosh will continue settling into his role as the most important chess piece in a clash of strategies that could ultimately determine the outcome of this series.
Don't classify Bosh as a glorified decoy. It doesn't do him justice. He's a dominating dilemma. If Game 1 proved nothing else, it confirmed that just the potential of Bosh's ability to stretch the floor with his shooting and quickness at center is every bit as vital as his actual execution.
In this series, that probably won't allow Bosh to be a late-game hero like James. And he also likely won't have the touches to provide all of those highlights like
Paul George
.
But Bosh will be the biggest headache to deal with in what promises to be a remarkably hard-fought series. No player will do more to impact these next few games without constantly having the basketball in his hands than Bosh.
"He's the most important player for us, has been for three years," Heat coach Erik Spoelstra said Thursday of Bosh, who scored just two points in the first half and got his first rebound midway through the fourth quarter in Wednesday's game.
Added Spoelstra, "[Bosh] just makes it all work, and everything works better when he's on the court. We force easier triggers when he's involved. And that's either when he's involved or when he's on the other side with his spacing. That's what makes him so unique. One way or another, he helps our attack."
The Pacers insist they'll avoid the ambush moving forward. Asked if his team spent too much time worrying about the mismatch Bosh creates on the court, George said the Pacers would be better off sticking with their identity.
"We just have to stay consistent in what we do," George said after Indiana's practice Thursday at AmericanAirlines Arena. "We've got to honor and respect what Chris Bosh can do, but just stay true to what we do."
Just one game into the series, the Bosh dilemma has the Pacers already dealing with a bit of an identity crisis. During his pregame media session about an hour before the start of Game 1, Vogel said his team hasn't -- and wouldn't -- adjust its style to counter an opponent's adjustments.
A few hours later, the message was different. Vogel justified his last-second lineup shuffle by pointing the pick-your-poison proposition presented by Bosh's presence.
"That's the dilemma they present when they have Chris Bosh at the [center] spot and his ability to space the floor," Vogel said. "Obviously, with the way it worked out, it would have been better to have Roy in the game. But you don't know. If that happens, maybe Bosh is making the jump shot, and we're all talking about that [instead]."
Causing psychological conundrums isn't a new role for Bosh. But it's one that he's gradually embracing even as it constantly evolves from one playoff series to the next.
During the Heat's first-round series sweep against Milwaukee, Bosh was matched up with equally nimble and athletic center
Larry Sanders
. So the challenge then was for Bosh to be a defensive anchor and play closer to the rim. He had 16 points and 14 rebounds in Game 3 against the Bucks and then blocked four shots in the series clincher.
Against Chicago in the next round, Bosh was charged with matching the energy and relentless play of
Joakim Noah
. He then delivered 20 points and a career-high 19 rebounds in Game 3 and another four-block performance in Game 4 before the Heat closed out the Bulls in five games.
But in this round, as he faces the 7-foot-2 Hibbert and rugged power forward
David West
, Bosh knows his production might be determined more by his technique than his touches.
"I'm just doing my best to stretch these guys out," Bosh said. "[Hibbert] is one of the best defenders as a big in the league. If you just give him one option, he's probably going to dominate. We want to give him a bunch of different looks, put him in a bunch of different positions where he has to make quick decisions. If you give him something else to think about, it changes the dynamic a little bit."
Bosh didn't have to bother baiting Hibbert with the game on the line Wednesday. Vogel made sure of it. But that might not be the case the rest of the series. After expressing his frustrations about sitting out the final seconds of Game 1, Hibbert said Thursday he met with Vogel and the two have a mutual understanding of his role in the matchup.
"Our size is our strength," Hibbert said of coping with the Bosh strategy. "But at the same time, I'm not the quickest guy out there on the perimeter. We have a plan for it. And if I'm on Bosh, I have to do a good job of moving my feet."
Meanwhile, Bosh will counter by forcing the Pacers' big men into what he describes as "unorthodox positions" in order to disrupt their comfort zone. Bosh knows it's not necessarily a glamorous job. It might not come with normal perks like points, rebounds or other statistical measures.
But there are fringe benefits that come with keeping the Pacers on the edge.
"I would like to think the threat of my impact is pretty strong," Bosh said. "I've had to learn that since coming here, how to be a more well-rounded player, how you can affect the game without many play calls. It's not easy. But I just hang in there. If I get their guys a couple of steps out of their areas and comfort zone, and LeBron and [Dwyane] Wade get in there and finish, then I've done my job."