Miami Heat Index:

Gregg Popovich
June, 7, 2013
6/07/13
2:36
AM ET

By Tom Haberstroh
ESPN.com
Archive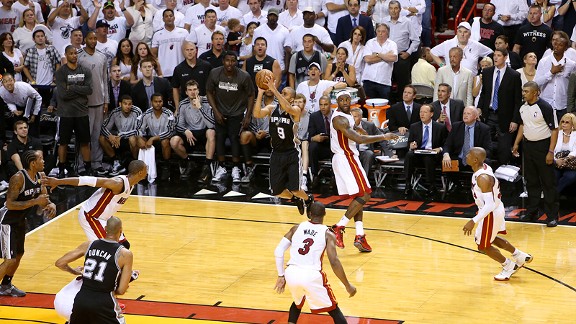 Mike Ehrmann/Getty Images
The San Antonio Spurs took Game 1 of the NBA Finals thanks to Tony Parker's late heroics.
Tony Parker made a shot at the end of the shot clock to put the San Antonio Spurs up 92-88 with 5.2 seconds remaining to help ice the Miami Heat in Game 1 of the NBA Finals.
Here's how it happened ...
... in their own words.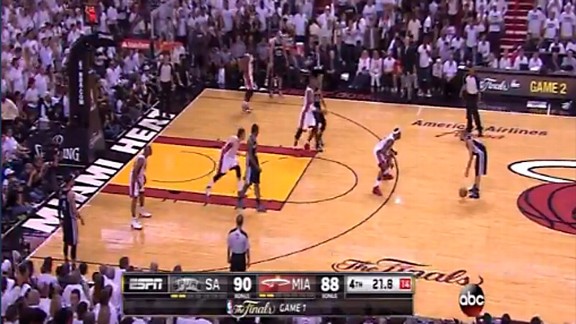 Erik Spoelstra:
That seemed like a 26-second possession.
LeBron James:
You're going to make me go back to that play?
Manu Ginobili:
He had LeBron on him.
Tony Parker:
I knew he was coming. Obviously a lot of NBA teams, they put bigger guys on me.
Tim Duncan:
I think at this point my mind was just blank. I just wanted him to get a shot up in the air.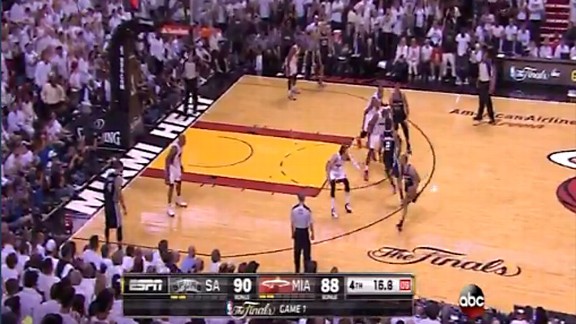 Parker:
If LeBron is on me, I just have to try to keep playing the same way, pick-and-rolls.
Ginobili:
I think we waited too long for him to play that pick-and-roll, and they are so good guarding that and helping and rotating and long arms on the ball.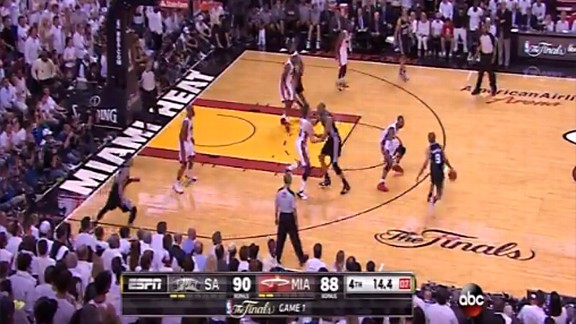 Duncan:
I was trying to get position on the board, trying to work Bosh up the lane a little bit, so I could get back to the board.
Spoelstra:
We played it all the way through. That's probably what this series is about.
Parker:
It felt forever. It didn't work out like I wanted it to.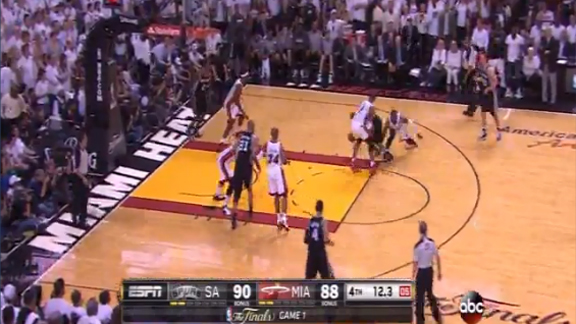 James:
He stumbled two or three times.
Spoelstra:
There were a couple of loose balls where it might have been an opportunity to make it a jump ball, and then he just broke through.
Gregg Popovich:
It looked like he lost it two or three times.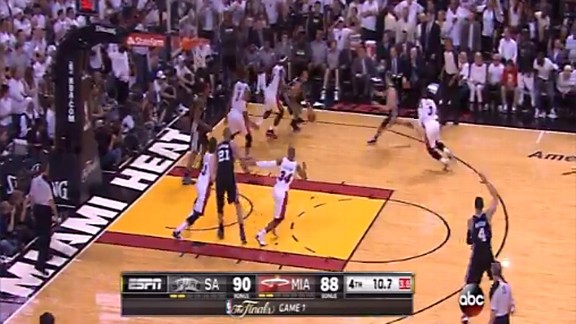 Ginobili:
He lost it twice, so I was trying to just [chase] him around to get him an outlet.
Danny Green:
That wasn't drawn up, but he made it look like it was.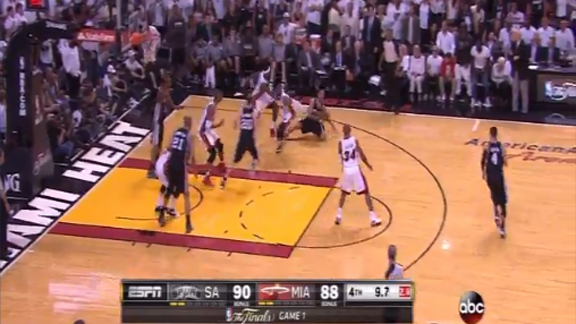 James:
He fell over, and when he fell over, I was like, 'OK, I'm going to have to tie this ball up.'
Duncan:
I see him go down and I'm just praying he gets a shot off. He does just about everything in the book that he had.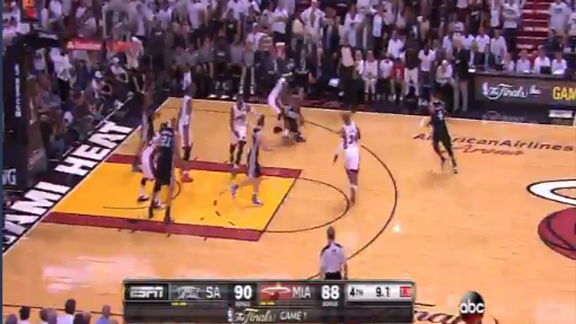 Parker:
I thought I lost the ball three or four times.
Popovich:
He stuck with it. He kept competing.
Spoelstra:
It's going to go down to the last 10th of a second.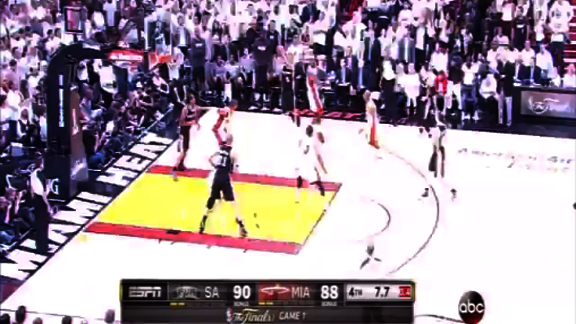 James:
He got up and went under my arm. I got a great contest, and he even double-pumped it and barely got it off.
Spoelstra:
You can't leave it to chance, even if it's right there at the end of the clock, a body in front. Hopefully you try to make him shoot over the top, but he made a tough play.
Parker:
At the end, I was just trying to get a shot up. It felt good when it left my hand.
Popovich:
He got it up there on the rim.
Ginobili
When he turned to the other side and threw it up, I thought it was late. But going back in the timeout, they told me it was good.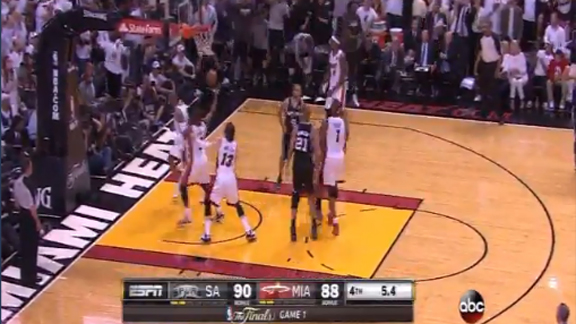 Parker:
I was happy it went in.
Duncan:
It was just amazing.
Ginobili:
And of course Tony's shot is one of those things that happens sometimes. We got lucky today. One of those things that could have been either way. It was just so close, but it was an unbelievable shot. That was the game winner.
Green:
That last one wasn't executed the way we wanted, but Tony made a big play.
Popovich:
We were very fortunate. Great effort by Tony, and as I said, we were fortunate.
Spoelstra:
He made a tough play, and you have to give him credit for that.
James:
Tony did everything wrong and did everything right in the same possession. That was the longest 24 seconds that I've been a part of.
March, 31, 2013
3/31/13
12:27
AM ET

By Brian Windhorst
ESPN.com
Archive
What would a potential Finals matchup between the teams with the two best records in the NBA, the
San Antonio Spurs
and
Miami Heat
, look like? What would be the strategy of the coaches? How would the individual defensive assignments work out?
No one knows.
In a league that thrives on rivalry development with regular-season meetings leading to a crescendo in the postseason, the Heat and Spurs might as well play on different continents. Because of scheduling quirks and Gregg Popovich's expensive decision on player rest earlier this season, the Spurs and Heat have only staged one legitimate game in the past 25 months.
All of which makes Sunday's Heat visit to the Spurs all the more interesting. There's an absence of data and an absence of feel between these two teams that could play for the title in June. Not to mention there's the race for the No. 1 overall seed. The Heat come in with a two-game lead in the loss column, and a victory would clinch the tiebreaker.
Dwyane Wade
has never played a regular-season game against
Kawhi Leonard
. The Heat's small-ball strategy has yet to deal with the
Tim Duncan
-
Tiago Splitter
front line.
If not for a meaningless preseason game that
LeBron James
didn't even play in last October, the Heat might not know that
Manu Ginobili
is still in the league. Ginobili hasn't played a regular-season game against the Heat since March 4, 2011, and he's dealing with a hamstring injury that will likely keep him out Sunday.
The past two games the teams played in which they put out their real lineups have been lopsided blowouts because of unusual hot shooting. The Heat won the only meeting in a lockout-shortened 2011-12 season when they set several records in shooting 68 percent in the second half. The Spurs won the Heat's last visit to San Antonio more than two years ago by 30 points when Miami was totally flat playing on the second night of a back-to-back that saw San Antonio take a 24-point lead … in the first quarter.
In December, Popovich famously sent Ginobili, Duncan,
Tony Parker
and
Danny Green
home on a commercial flight instead of playing them in the fourth game in five nights in a nationally-televised game in their only visit to Miami. Leonard and
Stephen Jackson
were injured at the time as well and did not play.
The Spurs' backups made it an interesting game with a gutty performance -- commissioner David Stern was not impressed and fined the Spurs $250,000 for Popovich's decision -- and the Heat barely pulled out a five-point win. But that game was as worthless as the preseason game when he comes to judging the two teams' relative strength against each other.
Schematically, the Spurs have the ingredients and the system to give the Heat plenty of problems. Parker's quickness is an antidote to the Heat's pressure defense, as is the Spurs' longstanding offensive style of moving the ball around the perimeter to set up 3-point shooters. The Spurs also have the ability to go small because of versatile big man
Boris Diaw
and Leonard's ability to guard so many different players.
San Antonio has also perfected a defensive trick that would be very useful against the Heat: avoiding fouls. The Spurs have given up the third fewest free throws in the league this season. The Heat are in the top 10 in free throws taken and fouls drawn.
In theory, and that's about all we have, the Spurs also have strong wing defenders in Leonard and Jackson, who at least give them a chance at making James and Wade earn their points.
Of course, the Heat own advantages over every opponent. Their athleticism and speed in transition would be a big issue for the Spurs, especially over a long series. Even with Duncan and Parker having terrific seasons, there is some doubt that San Antonio can overcome the troubles the
Oklahoma City Thunder
's young legs gave them in the playoffs last season. The Spurs are 2-1 against the Thunder this season with one more game coming in Oklahoma City.
The Spurs' defensive style of protecting the middle -- very successful over the past decade -- is the sort of system the Heat have been constructed to defeat. Miami's 3-point shooters are a tough cover for any team, and the Spurs would be no different. And wouldn't it be interesting to see James possibly defending Parker in the stretch run or even Duncan -- both are possible -- and give the Heat a lot of matchup flexibility?
The hope is some of those situations unfold in a real sample on Sunday. The game has real stakes and could, at last, give a real look at how these two juggernauts compare.
Then again, nothing with the Spurs and Heat has gone according to plan for awhile.