Miami Heat Index:

Hedo Turkoglu
February, 3, 2011
2/03/11
7:05
AM ET
By Kevin Arnovitz and Tom Haberstroh
ESPN.com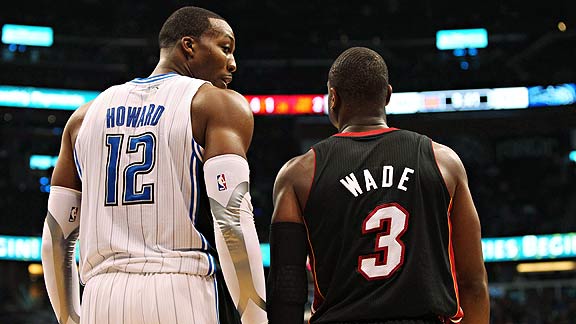 Kim Klement/US Presswire
Dwight Howard will be awaiting a slashing Dwyane Wade at the rim.
Taking advantage of Orlando's thin front line
Magic starting power forward Brandon Bass sprained his left ankle in Monday's game against Memphis, an injury that will keep him out of Thursday night's game against Miami. That leaves an already-thin Orlando frontcourt even more depleted, with Dwight Howard, Ryan Anderson and a hobbled Malik Allen as the only true Magic big men. How can the Heat expose this lack of depth? "It would obviously be ideal if we can get Dwight Howard into foul trouble," Erik Spoelstra said following the Heat's Wednesday practice. Spoelstra qualified this statement by saying that he doesn't anticipate his team necessarily posting up the Magic to draw the fouls. His preferred strategy is to scramble the defense by getting the Magic off-balance and out of position, then unleashing his attackers -- LeBron James, Dwyane Wade and Chris Bosh -- to the rim, though the Heat might also post Bosh up selectively.
Dealing with Dwight Howard
Though Heat center Erick Dampier has played sparingly in recent weeks, he's likely to play meaningful minutes as part of the Committee to Contain Dwight Howard. "What's going to happen, more likely, is that it'll be a three-center game," Spoelstra said. "[Howard] commands so much attention that it's hard not to get into foul trouble, and that's the luxury that we have." Whoever is out there for the Heat at the 5 will still have to contend with Howard, both on the block and in pick-and-roll situations. One of those Heat centers, Zydrunas Ilgauskas, described the challenge of defending Howard down on the block. "He's got enough to be the best center in the league as far as I'm concerned," Ilgauskas said. "You just try to prevent that first dribble. When he puts that shoulder down, you just have to meet him, take the first hit and try to push him as far as you can and get him into his hooks. If you can make him shoot his hooks -- he's gotten a lot better, but you have to limit his dunks because that's a 100 percent shot." Difficult as Howard is to slow in the low post, he might be even more lethal on pick-and-rolls. "When Dwight rolls to the hole, we have a team defense, so the guys have to check him and protect until I recover," Ilgauskas said. "Guarding pick-and-rolls and guarding Dwight -- one guy can't do it. You have to have team defense."
Will we see point-less lineups?
When it comes to Heat-Magic games, Mike Miller and Hedo Turkoglu could potentially send the point guard position into extinction. Sure, Jameer Nelson and Mario Chalmers will get the starting nods, but there's a good chance that their ball-handling skills will become superfluous over the course of the game. Say Miller enters the game for Chalmers -- does Stan van Gundy trust Jameer Nelson to guard Dwyane Wade? On Sunday, Oklahoma City coach Scotty Brooks was comfortable letting 6-foot-3 Russell Westbrook take on Wade defensively, but Nelson needs heels if he wants to stand that tall. But the Magic can counter. If they can stomach some misfires on the offensive end, they can go with Gilbert Arenas. Or they could go unconventional and let Turkoglu take over point guard duties. Turkoglu's positional flexibility becomes essential when the Magic go head-to-head with the Heat, and we could see the first Redick-Richardson-Turkoglu-Anderson-Howard lineup of the season. Basketball junkies everywhere won't want to miss it.
Reversing the settle trend
Sometimes the best way to grade the effect of a defensive post presence is to ignore the box score all together and bust out the shot chart. And from the looks of it, the Heat appear to feel a bit skittish about entering Howard's domain. How can we tell? In their first meeting, the Heat fired off a season-high 37 long 2s from 16-23 feet, according to Hoopdata.com. And in the second matchup, the Heat chucked up another 28 shots from just inside the arc. Those numbers rank above their norm of 25 attempts (which leads the NBA). Living in the midrange area is typically a losing strategy, and that's a big reason why Howard is so disruptive even if he's not blocking shots; he forces teams to settle for looks in the most inefficient area on the floor. But the Heat are improving in this department as they incorporate Miller into the lineup. The Heat are recognizing the rising opportunity cost of taking a bad shot, and they've started to consistently run their sets past the first option.
Jason Richardson vs. Dwyane Wade
Richardson isn't your prototypical shooting guard and he presents unique challenges, even for a capable defender like Wade. In addition to being one of the best rebounding wings in the league, and a potent option coming off curls and pin-downs, Richardson loves to post up opposing 2-guards. Though he's gotten off to a slow start in that capacity in Orlando, he has consistently ranked among the better post-up guards in the league in recent years. "He's a guy who's very strong, very physical and very athletic who can get his shot," Wade said. "You stick to your principles. Our scheme is never one-on-one. You always have to see other guys and I'm a pretty good post defender, and my biggest thing is to make a guy take a turnaround shot so I can contest it." In some sense, Richardson has emerged as a bellwether for the Magic. He has been slumping of late, but if he's able to get good looks in the half court, the Magic become much more difficult to defend. On the other side of the ball, Wade has a decisive advantage. He's far too quick for Richardson to stay in front of one-on-one. Orlando is one of the best help defenses in the league and will need every bit of assistance to keep a hyperaggressive Wade from slicing through its defensive front line -- even with Howard waiting at the rim.
December, 18, 2010
12/18/10
4:15
PM ET

By Kevin Arnovitz
ESPN.com
Archive
Reports indicate that the Magic have upended their roster in two separate deals with Phoenix and Washington, acquiring Jason Richardson, Hedo Turkoglu, Gilbert Arenas and Earl Clark while sending out Vince Carter, Rashard Lewis, Mickael Pietrus, Marcin Gortat, a 2011 first-round pick and a few shekels.
The Magic and Heat will be fighting for supremacy in the Eastern Conference's Southeast Division and could very well encounter each other in a postseason series. What does the turnover in Orlando mean for that matchup?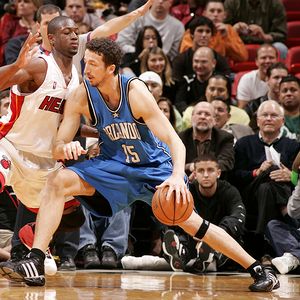 Victor Baldizon/NBAE/Getty
Dwyane Wade and Hedo Turkoglu: Intradivision rivals once again.
Orlando gets stretchier in the backcourt
Jason Richardson has been one of the most underrated shooting guards in the league for a good while. By some measurements,
he was a top-five player in the 2010 postseason
during Phoenix's exciting romp through the Western Conference. Richardson's true shooting percentage is a career-high 57.4, and he's a 42 percent shooter from beyond the arc. He's a far more lethal threat from long range than Vince Carter, is one of the fiercest rebounding guards in basketball and is a menacing post player. Gilbert Arenas' marksmanship has fallen off, but if we assume he'll take some of his minutes away from Chris Duhon, he represents an upgrade in that respect. And for all of Hedo Turkoglu's failings since he departed Orlando during the summer of 2009, he still commands respect from long range. Like Richardson, Turkoglu is shooting at a 42 percent clip from 3-point range, and his true shooting percentage of 56.7 this season is the second-best of his career. Incredible as it is, in the 6-foot-10 stretch hybrid category, Turkoglu's numbers best Rashard Lewis' as well as Mickael Pietrus', who is also on his way out.
The Heat have the length and discipline to chase these shooters off the line, but they'll have to be even more attentive now. Richardson, in particular, is a bear to defend coming around curls. And because he's second only to Landry Fields and Dwyane Wade as an offensive rebounder at the 2, Wade will have to be extra-careful about leaking out in transition, lest he give up second-chance points to the aggressive Richardson.
Stan Van Gundy's blue game card is more to his liking
Orlando's attack has always been predicated on flexibility in the pick-and-roll. Turkoglu has never been more valuable than he was in Van Gundy's system, where he could work as a popper with Jameer Nelson or a perimeter guard,
or
as the ball handler with a stretch big. Lewis was often Turkoglu's dance partner, but Ryan Anderson, who figures to inherit some minutes now that fellow stretch 4 Lewis is being shipped to Washington, will be a fine apprentice. Brandon Bass, who should move into the starting lineup as the Magic's power forward, adds another dimension as an expert roll man. All of this leaves Van Gundy with innumerable options to run his stuff. Pick any combination: Nelson-anyone, Turkoglu-Bass, Turkoglu-Howard, Richardson-Turkoglu, you name it.
The Heat's pick-and-roll coverage has been some of the best in the league, but Miami's task just got a little tougher. Chris Bosh, in particular, has his work cut out for him. The days of keeping an eye on Rashard Lewis out on the wing are over. Brandon Bass is more of a Paul Millsap analog, the kind of bruising power forward who eats up space and gives Bosh fits. LeBron James, who will draw Turkoglu, also must be prepared to both defend the ball and chase Turkoglu through screens, a job James can more than handle.
What happens when Dwight Howard picks up his third foul at the nine-minute mark of the second quarter?
With Brendan Haywood phoning it in with Dallas, Marcin Gortat had emerged as arguably the best backup center in the NBA. He was the consummate insurance policy for the occasionally foul-prone Dwight Howard. When Van Gundy wanted to maximize his frontcourt brawn, he'd even play Howard and Gortat together for stretches. With the Polish Hammer moving to Phoenix, the Magic are left with Anderson and rookie Daniel Orton as their backups for Howard. It's possible Magic GM Otis Smith has something in the works to acquire another big body, and he'll need one to contend.
In this respect, the Heat's oft-maligned center rotation catches a break. If Orlando opts to assign Anderson meaningful minutes at the 5, we'll likely see a scenario similar to Friday night's game at New York, during which the Heat went smallish. Gortat was by no means a huge difference-maker, but he afforded Van Gundy the luxury of not having to give up much on the glass when it was necessary to sit Howard.