Miami Heat Index:

J.R. Smith
May, 9, 2012
5/09/12
8:45
AM ET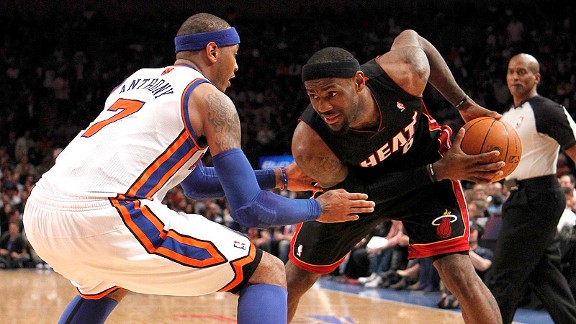 Jeff Zelevansky/Getty Images
Is this the look the Heat should have if Game 5 is on the line?
In another postseason installment of the Heat Index's 5-on-5 series, our writers give their takes on the storylines before the Heat host the Knicks in Game 5 Wednesday night.
1. Fact or Fiction: The Knicks were smart to hold Jeremy Lin out.
Jim Cavan, KnickerBlogger:
Fact. Look, we get the whole Willis Reed resurrection narrative thing. But Lin ain't no Reed, and these ain't no 1970 Knicks. Besides, I'm not totally convinced that a 60 percent Lin is any better than whatever 100 percent point platoon the Knicks end up going with. Better to wait until next year. We Knicks faithful are used to that anyway.

Tom Haberstroh:
Fact. This was fascinating to watch because the organization needed to weigh the short-term payoff versus the long-term risks. Play him now and try to fight your way back into the series at the risk of another knee injury? Sit him and ensure that you have a healthy point guard on the roster for next season? They chose the latter, and that was the smart decision; the realistic upside in playing him just isn't there.
Michael Wallace:
Fact. If Lin isn't ready to return from that knee injury, then he simply isn't ready. No need to rush it, especially after seeing two of his backcourt teammates blow out their knees already in this series. It just doesn't make sense to risk setting yourself back for the start of next season in order to play in a series that seems all but over at this point.
Brian Windhorst:
Fact. This is a complete no-brainer, to be honest. Let's assume you're Lin. Your knee doesn't feel right, probably more than you're even letting on to the media. Then you see Iman Shumpert and Baron Davis have to be carried off the court in the same week. Are you going to rush it?
Jared Zwerling, ESPN New York:
Fact. First of all, Lin hasn't had ample court time to prepare for the Heat's swarming pick-and-roll defense, which forced him into eight turnovers on Feb. 23. In addition, playoff games, in general, are a different beast. In recent scrimmages, Lin has moved a bit gingerly and hasn't played with full intensity, so there's no way he'd ready for that level of physicality. After a season with so many injuries, the Knicks would look stupid if Lin suffered a setback for a vain cause. They should invest in his health to make sure he's their long-term solution at point guard.
---
2. Fact or Fiction: Stoudemire's 20-and-10 was a bigger deal than Anthony's 41.
Cavan:
Fact. Carmelo Anthony has been on a rampage for a while now, but Amare Stoudemire's one-handed -- and level-headed -- performance proved how important his high-caliber play is to the success and effectiveness of the orange-and-blue. The optimist in me hopes his run-in with a fire squelcher proves to be a turning point. The realist in me thinks he just recovered really well from punching glass. Either way, the Knicks need a similarly sizzling Stoudemire on Wednesday night.
Haberstroh:
Fact. No one saw this coming. The Heat knew he had no jumper and no ability to comfortably drive left, but still he managed to register his first 20-and-10 game in weeks. You have to, well, hand it to the guy.
Wallace:
Fact. Considering the Knicks' shortage of players who can actually create their own shot, rebound and get to the free throw line, it baffles me that some thought New York was better off in this series without Stoudemire and no adequate replacement. Miami was able to absorb high-scoring games from Melo before and still won. But there's no excuse for allowing Stoudemire to go off for 20-and-10 with one good hand.
Windhorst:
Fact. Anthony won the game for the Knicks, but does everyone appreciate what Stoudemire did? His hand was being kept together by staples and stitches. The palm. The area that touches the ball. You cannot numb this area because you can't play with numb hands. You can't wear too large of a pad because it has the same effect. So you play one-handed. And you go for 20 and 10. Pretty remarkable, no?
Zwerling:
Fact. Just hear it from Anthony: "It was big-time. I was surprised at what he was able to do, due to his hand. But for him to just come back and just prove to us and to prove to everybody that what he did was a mistake ... it was a minor setback, he came back, he bounced back and we respect that out of him." The Knicks had been struggling to find a significant second scorer in Games 1 through 3 to complement Anthony, and Stoudemire provided that "punch," as Heat coach Erik Spoelstra said after the game.
---
3. Fact or Fiction: LeBron should be primary defender on Anthony.
Cavan:
Fiction: The one glimmer of hope the Stoudemire-less Knicks had for stealing Game 3 -- namely playing Anthony at the 4 and forcing the Heat to throw Bosh on him in stretches -- might've flickered out. If I were Erik Spoelstra, I'd start a hot-shooting Shane Battier at the 3 and put James on Anthony as much as possible. Derp.
Haberstroh:
Fact. Call me crazy, but I'd want James, the best isolation defender in the league, to guard the guy who lives on isolations. Battier isn't a poor defender against Anthony, far from it. He's just not the best option for the Heat. Udonis Haslem should take care of Tyson Chandler in normal circumstances; Sunday was the first time Haslem fouled out since Ricky Davis started for the Heat four years ago. Fluke situation.
Wallace:
Fiction. For three games, I gave credit to Battier for doing his job and making Anthony work extremely hard to make difficult shots. Battier didn't stop doing his job in Game 4. Anthony just proved why he's an elite scorer in this league. Besides, James has been in foul trouble the past two games -- and Anthony has had calls go his way recently. Asking James to carry such a burden on both ends for extended periods in the playoffs is a bit much to ask.
Windhorst:
Fact. At least in the clutch. The numbers speak for themselves. These teams have played five times over the past three weeks. It has been rather obvious with the eye test that Anthony doesn't drive on James as much and isn't able to create as much space against him.
Zwerling:
Fact. While Mike Woodson and Spoelstra have given Battier credit for his defense on Anthony, the numbers don't lie. Anthony has been shooting 52.6 percent against Battier in the series, but only 29.3 percent against James. There aren't many players in the NBA who can match up physically and athletically with the Knicks' star, but James can, and he has made Anthony's catches and drives difficult. In Game 5, Anthony better hope his jump shot is on, like in Game 2. The emphasis on closing out the series should be enough motivation for James to guard Anthony down the stretch.
---
4. Fact or Fiction: James should be ball handler on next do-or-die play.
Cavan:
Faction. As with most crunch-time calls, it's purely situational. If James is riding a Game 3-like fourth quarter, then sure, let him bring his boys home. He's been getting to the rim pretty much at will, after all. But if Spoelstra sees an exploitable matchup or scheme better suited for Wade or even Bosh, there's no reason the coach shouldn't roll those dice.
Haberstroh:
Fact. Not only is James the better option to run a pick-and-roll, but Wade is the better option as the basket cutter. Also, not enough people have mentioned this, but Bosh? He was open on the roll to the rim. Regardless, the most important thing is that all three of the Heat's stars are involved. That didn't happen in Game 4.
Wallace:
Fiction. Perhaps he should. But I wouldn't define it as a flat-out fact. It depends on what kind of game James is having to that point. It depends on potential matchup issues. There's no one-answer-fits-all equation to this scenario. The luxury Miami has that few other teams (if any) have is that either Wade or James can make game-winning plays in that situation. Both have had failures in those moments, as well.
Windhorst:
Fiction. Or Fact. Either way is fine from my point of view. There was nothing wrong with the idea of that play; it just wasn't executed. It would be interesting if James demanded the ball in that situation. But that hasn't been his position all season. Wade has three game winners this year.
Zwerling:
Fiction. During the series, James and Wade have both been effective in the all-important fourth quarter. James has been getting to the line (7-for-8), averaging 8.7 points in the period on 44.4 percent shooting, while Wade has been doing it from midrange, shooting 10-for-18 (55.6 percent). They're equally dangerous in a do-or-die situation because they demand double-teams and can get into the lane. And that's where they pose a big threat as passers because of their ability to find one of the Heat's potent 3-point shooters.
---
5. Fact or Fiction: Mike Bibby should be primary PG over Smith/Anthony.
Cavan:
Fiction. Bibby has been somewhat effective off the ball, where he is better capable of hitting the glass (something he's done well of late) and the occasional open J. If I'm Woodson, making Wade and James work as hard as possible in blanketing the ball-handling J.R. Smith or Anthony might be worth the price of the latter two getting gassed. Which sounds insane, and probably is.
Haberstroh:
Fiction. Big dilemma for the Knicks. Don't know how they can hide Bibby defensively; he won't be able to guard Mike Miller. But I also don't know how the Knicks can get the shots they want with Smith and Anthony initiating from the top of the key. If Smith didn't turn into Toney Douglas all of a sudden, this wouldn't be a huge problem. The Knicks might have to just rely on Anthony at point. Gulp.
Wallace:
Fact. Bibby isn't the player he was 10 minutes ago, let alone 10 years ago. But by process of elimination due to knee injuries, he's the only true hope the Knicks have at point guard. He still knows how to run a team and push the pace in stretches, even though his shot is inconsistent to nonexistent. Smith and Anthony will need to spell Bibby at times, but they shouldn't handle the bulk of the point guard duties. It takes away from their strengths.
Windhorst:
Fact. No one would ever mistake Smith or Anthony for a point guard. They're pretty much the exact opposite.
Zwerling:
Fiction. But it doesn't really matter. Smith and Anthony are going to be handling the ball the majority of the time. What Bibby needs to be able to do is knock down the open 3-point shot off of Smith's and Anthony's penetration, which he did in Game 4. Bibby hit two clutch long bombs at the end of the third quarter and the fourth to keep the Knicks ahead. At this point in his 14-year career, Bibby is really more of a glorified shooting guard because he's not quick enough as a playmaker to put pressure on the Heat's defense.
April, 28, 2012
4/28/12
10:35
AM ET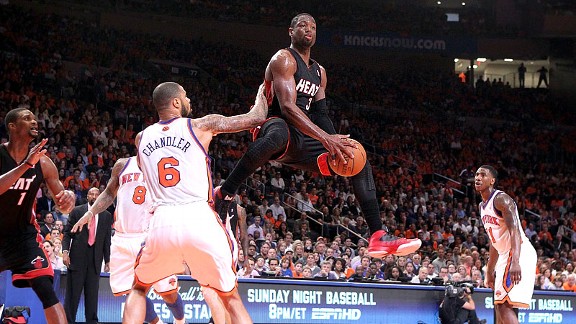 Jim McIsaac/Getty Images
Will Dwyane Wade show some rust in Game 1? Will the Heat win the series? It's time to debate.
In the first postseason installment of the Heat Index's special 5-on-5 series, our writers give their takes on the storylines before the Heat host the Knicks in Game 1.
1. Fact or Fiction: In crunch-time, you'd prefer Carmelo over LeBron.
Jim Cavan, Knickerblogger:
Fact. Melo's late-game effectiveness is well documented, and he absolutely could win one of these games down the stretch. That said, sooner or later LeBron's going to uncork a reputation-swinging crunch-time performance – it's just the law of averages. He has the ability to win games clandestinely, through all quarters and with all tools laid bare. I love Melo, but I'll take the latter.

Tom Haberstroh:
Fiction. For a last-second shot? Yeah, I'd probably take Carmelo. For a possession or multiple possessions, I'd probably take LeBron. For what it's worth, LeBron is shooting better than Carmelo in crunchtime this season (game within five points inside final five minutes), converting shots at 45.3 percent clip versus Carmelo's 37.8 percent. Put it this way: As a coach, I'm picking LeBron; he'll make the smart basketball play. As a fan, I'm picking Carmelo; he'll take the dramatic shot that I'll always remember.
Michael Wallace:
Fiction. I need more information than that. My choice would depend on the team I was playing against, the supporting cast on the court and other variables. Do I need a 3? Am I down 1? If I need a jumper, I'm going with Melo. If I need a general play to be made based on versatility, it's LeBron.
Brian Windhorst:
Fact. When they first came to the league most thought Melo and LeBron would be relative equals. This has not turned out to be the case, LeBron is the superior player. But Anthony's resume is unquestionably better in executing clutch shots. In this area, Anthony's really had no peer during his career.
Jared Zwerling, ESPNNewYork:
Fact. Among players who have taken at least 20 field goal attempts in game-tying or game-winning situations in the last 15 seconds of the fourth quarter or overtime in the past 10 years, Anthony ranks first in field goal percentage (46.2; 24-for-52), according to the Elias. His 24 field goals are second only to Kobe Bryant (26), but he's shooting only 30.2 percent in clutch situations (26-for-86). Melo's also shooting 46.7 percent on game-tying or go-ahead shots in the final 24 seconds of regulation or overtime -- the second-best mark in the last 16 seasons after the Mavericks' Shawn Marion (47.4 percent). As for LeBron? Not even close to the top of the list.
---
2. Fact or Fiction: Chandler is the most important player in this series.
Cavan:
Fact. For the Knicks, anyway. But – laugh all you want – J.R. Smith ain't far behind.As one of the few semi-reliable wing defenders the Knicks have, Smith's ability to slow down Wade and LeBron will be crucial. Ditto his shooting, where Earl's stellar April (16ppg on 42% from distance) has to continue if the Knicks have any hope of making this a series.
Haberstroh:
Fact. Let's frame it in hypotheticals. If the Knicks lose Carmelo Anthony for the series, I think they can still win a game based on sheer 3-point shooting and defense. If they lose Tyson Chandler, they get swept, in my opinion. He's that important to their defense and pick-and-roll attack, which will come in handy once the Heat stymie the isolation ball. As for LeBron, if the two teams were closer in talent level, I'd give the nod to LeBron here. But for the Knicks to have a chance, they need Chandler on the court.
Wallace:
Fiction. LeBron James is the most important player in this series. This is as close to a Finals feel for LeBron since, well, since he melted down late in the Finals against Dallas. Tyson certainly had a big series for the Mavs, but the Heat could have overcome all those issues if LeBron resembled anything close to himself late.
Windhorst:
Fiction. Chandler's ability to defend the rim is vital for the Knicks to have a chance. But the most important players in this series are the stars. Most of the time it's the stars who decide playoff series.
Zwerling:
Fiction. LeBron James. After disappearing in the NBA Finals last year, succumbing to rookie mistakes by fumbling the ball, making poor passes and looking rattled on his drives far too often, the likely MVP has a lot to prove heading into this postseason. And it starts with the first round. He's the most important player in this series because he's the best overall offensive and defensive player. If he can play efficiently as the point-forward and especially out of the post, where he's been excelling more this season, as well as make it difficult for Carmelo Anthony -- easier said than done, of course -- the Heat will have the clear advantage.
---
3. Fact or Fiction: The Knicks should start Amare Stoudemire.
Cavan:
Fiction. With Melo on a tear and the two's chemistry still in question, bringing Stat off the pine makes a lot of sense. At the very least the Knicks should consider giving him the bulk of his minutes with the second unit. No one says it has to be permanent; they'll have ample time to sort out the glitches this summer. But now's no time for basketball alchemy.
Haberstroh:
Fiction. He's weighed them down all season long. Take a strong whiff of these numbers: the Knicks are +8.4 points every 48 minutes when Carmelo plays without Stoudemire, but -2.4 when the two stars share the floor. Enough forcing the issue. It's the playoffs. Better to bring Stoudemire off the bench with the second unit and isolate the problem. I get that Stoudemire's making $18.2 million this season, but that's Jim Dolan's problem, not the Mike Woodson's.
Wallace:
Fact. He's a starting player in this league. This isn't like a Ray Allen situation in Boston. Amare is still capable of having a major impact on this team. I know Carmelo has flourished while Stoudemire has been out. But this team can't reach it's full potential if Melo and 'Mar'e can't coexist.
Windhorst:
Fact. In general, I don't really care who starts games. I'm much more interested in who finishes. In this case, I think having Stoudemire out there adds some challenge to the Heat defense. It forces James to defend Anthony more regularly, which the Heat would prefer to save until late in games.
Zwerling:
Fact. Well, first of all, if Tyson Chandler misses Game 1 with the flu, Stoudemire will have to start no matter what. But overall, STAT should be in the starting five. The first reason has to do with defensive matchups. With the Heat's Big Three, the Knicks wouldn't want to start Anthony at the four because that would mean Landry Fields would be on James. And that's a major mismatch. While STAT's not a consistently effective defender, he can make some stops against Bosh with his length and athleticism. Offensively, while Anthony and Stoudemire still don't play great together -- that's because Melo is much more heavy in isolation -- Stoudemire's midrange jumper should come in handy from Anthony's penetration. And Stoudemire is getting that pop back since his back injury.
---
4. Fact or Fiction: The Heat should be concerned about rust.
Cavan:
Factish. To the extent that stealing Game 1 would prove a potentially major coup for the surging Knicks, the Heat can't afford to lay an egg today. Then again, we're talking about a team buttressed by two players whose space age makeup is pretty much immune to earthly things like "rust." Considering the condensed season, rest > rust.
Haberstroh:
Fiction. They might be rusty, but I don't think a missed shot here and there is worth being concerned about in the big picture. Looking at the forest instead of the trees, the Heat needed LeBron, Wade and Bosh to be fully rested going into the playoffs. They'll be riding them more than ever.
Wallace:
Fact. I don't care how much talent you have, you just can't expect to roll out onto the court and pick up where you left off after two weeks of not playing together. There will be rust early. And if Miami is vulnerable in this series, it's in Game 1. But the Heat have shown they come get on track quickly.
Windhorst:
Fiction. Maybe it's a factor in Game 1. But they get to play that one at home, where they were 28-5 this season. Getting rest was vital.
Zwerling, ESPNNewYork:
Fiction. Maybe a bit in the first quarter of Game 1, but a few days won't derail the Heat throughout the course of a playoff environment. They will be fired up, especially playing at home to open the series. Now, heading into the playoffs, James is healthy, Dwyane Wade and Chris Bosh's trainer, Ed Downs, said they'll both be ready to go. Wade dislocated his left index finger earlier in the week and Bosh had been dealing with a left hamstring strain. By the way, let's not forget something here: The Knicks will have some rust, too.
---
5. Fact or Fiction: The Heat will win in six.
Cavan:
Fact. The Knicks could steal a pair, but their point guard and wing defense issues can only be masked so long. Sooner or later, the Heat's lane-hawking and point-bunch runs will turn tides, and the Flying Death Machine will reign victorious. But if the Knicks can somehow go up 3-2 and force a game 6 in the Garden, buckle your coaster belts.
Haberstroh:
Fact. But if Chandler isn't right for the beginning of this series, that'll shave off a game or two. As long as the Knicks understand that Steve Novak and J.R. Smith are their best options next to Chandler and Carmelo, they should steal at least a game. It's bound to happen. But the Heat's strong one-on-one defense will give them the edge in this series against the most iso-heavy team in the league.
Wallace:
Fact. That's exactly my prediction. Would I be stunned if the Knicks prove me wrong? Not really.
Windhorst:
Fiction. I'll say five. Though the Knicks have the shooters to steal an extra game if they get red hot.
Zwerling:
Fact. The Knicks will make things interesting by stealing one game on the road and winning one at home through a combination of their defense, Anthony's scoring exploits and J.R. Smith and Steve Novak's 3-point shooting. During the regular season, the Heat were one of the worst teams at defending threes because they try to utilize their perimeter athleticism to over-trap and over-play passing lanes, leaving guys like Smith and Novak wide open. But in the end, the Heat have too much firepower that will overwhelm the Knicks down the stretch (just like what happened on April 15) -- no matter how clutch Melo is.